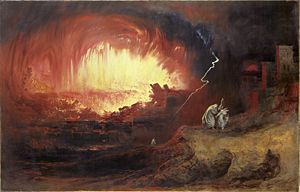 The Destruction of Sodom and Gomorrah
Homosexuals consider that June is "Gay Pride Month" and in addition to parades etc. here are some lies about the Bible and homosexuality that some wish to spread:
So here's the 2013 version of my annual update to "Frequently Asked Questions About God, Jesus, the Bible and Gay People."…

Is being gay a sin?
No. Sins are acts that separate us from God and keep us from loving our neighbors as ourselves. Being gay is not a sin…Putting yourself in the place of God to judge others is a sin…

Does the Bible really condemn homosexuality?
The short answer is no, it does not. The handful of passages in the Old and New Testaments that talk about God condemning specific sexual acts have nothing whatsoever to do with sexual orientation and everything to do with contexts such as cultic prostitution or gang rape…

So can gay men and women be priests in your church?
Yes. The Episcopal Church has been ordaining women to the priesthood since 1974, and we have women deacons, priests and bishops throughout the church…

Should I try to "pray away the gay"?
No. If you need to pray away something, pray away homophobia. Homosexuality doesn't need healing. Homophobia does.  http://www.huffingtonpost.com/rev-susan-russell/faqs-about-god-jesus-the-bible-and-gay-people_b_3386922.html?utm_hp_ref=religion&ir=Religion
Let's address each of the above points.
The Bible teaches that "sin is the transgression of the law" (1 John 3:4, KJV) and that "homosexuals, nor sodomites…will inherit the kingdom of God" (1 Corinthians 6:9-11). The Bible clearly judges homosexuality and condemns it.  Agreeing with what the Bible teaches on this subject is NOT sin.
Here are various scriptures that clearly condemn homosexuality and practices associated with it:
22 You shall not lie with a male as with a woman. It is an abomination. (Leviticus 18:22)

13 If a man lies with a male as he lies with a woman, both of them have committed an abomination. (Leviticus 20:13)

9 Know ye not that the unrighteous shall not inherit the kingdom of God? Be not deceived: neither fornicators, nor idolaters, nor adulterers, nor effeminate, nor abusers of themselves with mankind, 10 Nor thieves, nor covetous, nor drunkards, nor revilers, nor extortioners, shall inherit the kingdom of God. (1 Corinthians 6:9-10)
As far as being in the ministry, the Bible teaches the following:
5 For this reason I left you in Crete, that you should set in order the things that are lacking, and appoint elders in every city as I commanded you —  6 if a man is blameless, the husband of one wife, having faithful children not accused of dissipation or insubordination. 7 For a bishop must be blameless, as a steward of God, not self-willed, not quick-tempered, not given to wine, not violent, not greedy for money, 8 but hospitable, a lover of what is good, sober-minded, just, holy, self-controlled, 9 holding fast the faithful word as he has been taught, that he may be able, by sound doctrine, both to exhort and convict those who contradict.  (Titus 1:5-9)

34 Let your women keep silent in the churches, for they are not permitted to speak; but they are to be submissive, as the law also says. 35 And if they want to learn something, let them ask their own husbands at home; for it is shameful for women to speak in church. (1 Corinthians 14:34-35).
Men are to be married to a wife and have proper character.  This eliminates homosexuals and females from being ministers –though females can be deaconesses, etc. (for details, please see Women and the New Testament Church).
As far as "praying away the gay," the Bible is clear that homosexuals can and should change, and prayer would be a part of that.  Notice that the Bible teaches that homosexuals can change:
9 Do you not know that the unrighteous will not inherit the kingdom of God? Do not be deceived. Neither fornicators, nor idolaters, nor adulterers, nor homosexuals, nor sodomites, 10 nor thieves, nor covetous, nor drunkards, nor revilers, nor extortioners will inherit the kingdom of God. 11 And such were some of you. But you were washed, but you were sanctified, but you were justified in the name of the Lord Jesus and by the Spirit of our God.  (1 Corinthians 6:9-11)
Notice that Paul wrote that some of them WERE homosexuals, but now through accepting Christ they were washed and cleansed of that.  Otherwise they would be cut off from God and not inherit the Kingdom of God.
Teaching the truth about homosexuality is not homophobia.
Actually the Bible warns against accepting and condoning practices such as homosexuality and lesbianism:
18 For the wrath of God is revealed from heaven against all ungodliness and unrighteousness of men, who suppress the truth in unrighteousness…

24 Therefore God also gave them up to uncleanness, in the lusts of their hearts, to dishonor their bodies among themselves, 25 who exchanged the truth of God for the lie, and worshiped and served the creature rather than the Creator, who is blessed forever. Amen.

26 For this reason God gave them up to vile passions. For even their women exchanged the natural use for what is against nature. 27 Likewise also the men, leaving the natural use of the woman, burned in their lust for one another, men with men committing what is shameful, and receiving in themselves the penalty of their error which was due.

28 And even as they did not like to retain God in their knowledge, God gave them over to a debased mind, to do those things which are not fitting; 29 being filled with all unrighteousness, sexual immorality, wickedness, covetousness, maliciousness; full of envy, murder, strife, deceit, evil-mindedness; they are whisperers, 30 backbiters, haters of God, violent, proud, boasters, inventors of evil things, disobedient to parents, 31 undiscerning, untrustworthy, unloving, unforgiving, unmerciful; 32 who, knowing the righteous judgment of God, that those who practice such things are deserving of death, not only do the same but also approve of those who practice them. (Romans 1:18,24-32)
The 'gay' agenda will end in destruction.  Yet various writers and leaders are promoting it.  They apparently do not take the warnings of the Bible seriously.
Some items of possibly related interest may include:
The Bible Condemns Homosexuality "Same-sex marriage" for "gays" and lesbians is becoming more acceptable to many. What does the Bible teach about homosexuality? Can homosexuals change?
Cross-dressing and other assaults against your children. What should you do? Is there an agenda to turn your children and/or grandchildren away from biblical morality and towards practices promoted by homosexuals? What does the Bible teach about cross-dressing? What should parents do? If there is an agenda, what has been going on?  There is also a YouTube video on this, titled Cross dressing and Other Assaults Against Your Children.
Love, Marriage, and Sex It is important to get them in the right order.
Women and the New Testament Church Were women important in the New Testament Church? Which women and how were they involved?
What is the Meaning of Life? Who does God say is happy? What is your ultimate destiny? Do you really know? Does God actually have a plan for YOU personally?
What Did Jesus Teach About the Ten Commandments? This article quotes what Jesus actually said about them (His words are in red).
The Ten Commandments Reflect Love, Breaking them is Evil Some feel that the ten commandments are a burden. Is that what Jesus, Paul, Peter, James, and John taught?
The Ten Commandments and the Early Church Did Jesus and the Early Church keep the ten commandments? What order were they in? Here are quotes from the Bible and early writings.
Anglo – America in Prophecy & the Lost Tribes of Israel Are the Americans, Canadians, English, Scottish, Welsh, Australians, Anglo (non-Dutch) Southern Africans, and New Zealanders descendants of Joseph? Where are the lost ten-tribes of Israel? Who are the lost tribes of Israel? What will happen to Jerusalem and the Jews in Israel? Will God punish the U.S.A., Canada, United Kingdom, and other Anglo nations? Why might God allow them to be punished first?
Will the Anglo-Nations be Divided and Have People Taken as Slaves? Will the lands of the United States, United Kingdom, Canada, Australia, and New Zealand be divided? What about Jerusalem? What does Bible prophecy teach? Are there non-biblical prophecies that support this idea? Who will divide those lands? Who will end up with the lands and the people?
Barack Obama, Prophecy, and the Destruction of the United States-Second Edition for Second Obama Term This is a 160 page book for people truly interested in prophecies related to Barack Obama and the United States, including learning about many that have already been fulfilled (which the book documents in detail) and those that will be fulfilled in the future. It also has a chapter about a Republican choice. This book is available to order at www.barackobamaprophecy.com. The physical book can also be purchased at Amazon from the following link: Barack Obama, Prophecy, and the Destruction of the United States: Is Barack Obama Fulfilling Biblical, Islamic, Catholic, Kenyan, and other America-Related Prophecies? What About Republican Leaders? Second Edition for Second Obama Term.
Barack Obama, Prophecy, and the Destruction of the United States-Second Term-Amazon Kindle edition. This electronic version is available for only US$2.99. And you do not need an actual Kindle device to read it. Why? Amazon will allow you to download it to almost any device: Please click HERE to download one of Amazon s Free Reader Apps. After you go to for your free Kindle reader and then go to Barack Obama, Prophecy, and the Destruction of the United States-Second Term-Amazon Kindle edition.