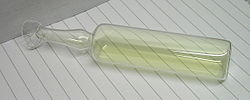 Chlorine Gas in an Ampoule (W. Oelen)
Syria's Assad reportedly has figured out a 'loophole' which he seemingly believes will allow him to use chemical weapons, even after he gives up various ones he agreed to last Summer:
Syrian dictator appears to find loophole in weapons ban

June 4, 2014

One of the reasons Syrian President Bashar al-Assad has survived this long is because he staved off U.S.-led strikes last summer by agreeing to hand over all of his banned chemical weapons materials, but recently, he appears to have found a loophole – attacking his own people with chlorine gas.

In some parts of Syria, Tuesday's election that won Assad a new seven-year term began with barrel bombs, not ballot boxes, CBS News' Clarissa Ward reports. In regime-held areas it was a dramatically different picture.

"I voted with my blood because I love our president and our country," voter Nahed Homsi said.

Assad is the clear winner in an election the U.S. State Department labels a "disgrace."

For Assad, this election was not so much a show of democracy as it was a declaration of victory. Over the past few months the regime has continued its relentless bombardment of rebel-held areas.

It appears the regime has found an alternative to banned chemical weapons materials. Chlorine gas, which can be used legitimately in water treatment, has also allegedly been used in recent government bombing attacks. The poison gas burns the lungs and can be deadly.

Dr. Hassan al-Arraj, a cardiologist from the Syrian town of Kfar Zeita, said that he has smelled the chlorine himself.

"The patients were choking and coughing up blood," Arraj said. "They were blue and trembling."

The most recent attack was just days ahead of Tuesday's vote.  http://www.cbsnews.com/news/syrias-bashar-assad-allegedly-uses-chlorine-gas-to-skirt-weapons-ban/

U.S. State Department Spokeswoman Marie Harf described Syria's presidential election Tuesday as "a disgrace," saying President Bashar al-Assad "has no more credibility today that he did yesterday."

"Detached from reality and devoid of political participation, the Assad regime-staged election today continues a 40-year family legacy of violent suppression that brutally crushes political dissent and fails to fulfill Syrians' aspirations for peace and prosperity," said Harf…

Opposition Syrian National Council spokesman Khalid Saleh said the results will have no real impact on the future of the Syria.

"Well, Assad still controls the army, still controls intelligence services, still controls to some extent the foreign militias," said Saleh. "So, even if one of those two other candidates wins, they have no way to run anything in the country. Assad has been very clear. He will control this country. He will kill anybody who's in opposition to him. And he will do whatever it takes to remain in power."

Rebel fighters have battled for more than three years to oust Assad from office.

Violence continued to rage Tuesday on the outskirts of Damascus with rebels firing mortars and government warplanes targeting opposition areas.

Assad has been in power since 2000, when he became president following the death of his father, and was the only candidate on the ballot when he won his second term in 2007.  http://www.voanews.com/content/us-calls-syria-election-a-disgrace/1928854.html
The situation in Syria is still horrible and those there need our prayers.
Here is some information about chlorine bombs:
A chlorine bomb is a small explosive device which uses the pressure of chemically produced chlorine gas or other chlorine-containing gases such as hydrogen chloride to produce an explosion. It is made with an airtight container part-filled with different types of chlorine tablet and other reagents. The reaction produces an expansive increase in pressure, eventually rupturing the container…

Such a device is a more toxic and acidic alternative to a dry ice bomb, … exposure to chlorinous gases and the reactive substances involved can cause respiratory problems from inhalation and also cause injury to other mucous membranes, similar to tear gas…

Pastor's Terrorism and Public Safety Policing outlines how Cprogram is emphasizing lessons learned in Iraq regarding chlorine bomb use on American soldiers… the chlorine bomb and other weapons systems in its class achieve this because they are easy to manufacture and thus represent a more fluid weapons delivery model for domestic and international terrorists. (Clorine bombs, Wikipedia, viewed 06/04/14)
So, chlorine bombs are like tear gas, but can be deadly.  And for some reason, chlorine bombs are considered to be a 'loophole' in the ban on the use of chemical weapons.
The USA was involved in brokering the deal to eliminate the chemical weapons, yet apparently Assad will still have chlorine bombs. Also, despite what the USA might hope for, there really is no major 'good side' in this conflict. A variety of interim deals and battles will likely occur, but not result in what the USA claims it wants.
More trouble is coming to Damascus, the capital of Syria, as it will be destroyed:
1 The burden against Damascus.

"Behold, Damascus will cease from being a city,
And it will be a ruinous heap. (Isaiah 17:1)
A worsening situation, which chlorine bombs and/or biological weapons used by Syria, could be a factor in speeding up this occurrence.
An Islamic confederation that will include the land of Syria is coming (Daniel 11:40-43; Ezekiel 30:1-8; Psalm 83:4-8), which means that there will be changes to the Assad regime.  'Loopholes' will not stop this.
"And what I say to you, I say to all: Watch!" (Mark 13:37).

Some articles of possibly related interest may include:
Damascus and Syria in Prophecy
Will Bashar Assad hold power as he has it? Does the Bible show that Damascus, the capital of Syria, will be destroyed? What will happen to Syria? Will the Syrians support the final King of the South that the Bible tells will rise up? Which scriptures discuss the rise and fall of an Arabic confederation? Does Islamic prophecy predict the destruction of Syria. This is a YouTube video.
The Arab World In the Bible, History, and Prophecy
The Bible discusses the origins of the Arab world and discusses the Middle East in prophecy. What is ahead for the Middle East and those who follow Islam? What does Islam teach about the Imam Mahdi?

Is the Future King of the South Rising Up?
Some no longer believe there needs to be a future King of the South. Might Egypt, Islam, Iran, Arabs, or Ethiopia be involved? Might this King be called the Mahdi or Caliph? What does the Bible say?

The Future King of the South is Rising
Does the Bible teach that there will be a future King of the South in Daniel 11? Is this kingdom rising up now? Did the old Worldwide Church of God (WCG) teach that there would be another one? And who is the King of the South? How will this involve Egypt? Is the final King of the South some type of Arab-Muslim confederation? Can Iran be involved? Is there a group that seems to be supporting the goals of the King of the South? Has the Obama Administration supported the rise of this power? This is a YouTube video.
Barack Obama, Prophecy, and the Destruction of the United States
This is a 160 page book for people truly interested in prophecies related to Barack Obama and the United States, including learning about many that have already been fulfilled (which the book documents in detail) and those that will be fulfilled in the future. It also has a chapter about a Republican choice. This book is available to order at
www.barackobamaprophecy.com
. The physical book can also be purchased at Amazon from the following link:
Barack Obama, Prophecy, and the Destruction of the United States: Is Barack Obama Fulfilling Biblical, Islamic, Catholic, Kenyan, and other America-Related Prophecies?