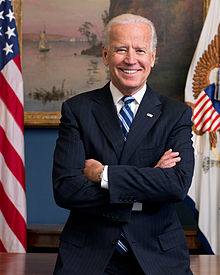 US VP Joseph Biden and Russian PM Dmitry Medvedev
US Vice President Joseph Biden warned Russia about Ukraine:
US Warns of More 'Costs' if Russia Fails to Help Stem Ukraine Crisis

June 19, 2014

U.S. Vice President Joe Biden said the United States will work with its partners to impose "further costs on Russia" if it does not use its influence to help halt separatist violence in eastern Ukraine.

The White House said Biden spoke by telephone Wednesday with Ukrainian President Petro Poroshenko, and that the two promised to "stay in touch" ahead of a meeting of European Union leaders next week.

The U.S. and EU imposed sanctions against a group of Russian individuals and companies after Russia annexed Ukraine's Crimean Peninsula in March.

Pro-Russian separatists have for months mounted a rebellion in eastern Ukraine, which the United Nations said Wednesday has involved killings, torture and abductions to instill a "climate of fear."

Gianni Magazzeni, a U.N. human rights office official, said the situation has created challenges for those caught up in the fighting.

"This has to so with access to public services whether it's schools, medical services, whether it's food, whether it's electricity, water. But it's also a question of a total breakdown in law and order, the inability to get protection when it comes to ill treatment, detention, abductions and possible also torture and executions that are, and we are reporting, are taking place in this pocket areas in the East in the course of the past month," said Magazzeni.

U.N. human rights chief Navi Pillay urged armed separatists to stop actions she says are leading to misery and destruction in the Donetsk and Luhansk regions.  She said "the time has come to put down the guns and talk."

President Poroshenko has proposed instituting a unilateral cease-fire as part of a peace plan to address the conflict.
April 22, 2014

Vice President Joe Biden called on Russia to pull back its forces from Ukraine's borders and "stop supporting men hiding behind masks" on Tuesday.

Biden also said that Ukraine was in a "struggle for its very future" as the U.S offered a $58-million package to the embattled country.

"We call on Russia to stop supporting men hiding behind masks in unmarked uniforms sewing unrest in eastern Ukraine," said Biden, who spoke at a joint press conference with Prime Minister Arseniy Yatsenyuk in Kiev after the pair met met behind closed doors.

"We have been clear that more provocative behavior will lead to more costs and greater isolation."  http://www.voanews.com/content/us-warns-of-more-costs-if-russia-fails-to-help-stem-ukraine-crisis/1940275.html
The USA keeps up with its rhetoric and not employing its military. The USA threatened significant costs if Russia ended up with Crimea, Russia ended up with it, and the 'costs' were mostly personal difficulties and insults.
Russia is holding to its position, holding on to Crimea, and is trying to decide the best way to get Eastern Ukraine under its influence.
USA threats may have slowed Russia down, but do not seem to have changed what Russia wants to accomplish in Ukraine.
About an hour after I wrote the above today, notice what else was reported:
19 June 2014

LONDON — NATO Secretary-General Anders Fogh Rasmussen said on Thursday that at least a few thousand more Russian troops were now at Ukraine's eastern border, a build-up he called a regrettable step backwards.

"We now see a new Russian military build-up around the Ukrainian border. At least a few thousand more Russian troops are now deployed," Rasmussen said in London.

"I consider this a very regrettable step backwards. It seems Russia keeps the option open to intervene further in Ukraine," he said. "The international community would have to respond in a firm manner if Russia were to intervene further in Ukraine." http://www.voanews.com/content/reuters-nato-chief-more-russian-troops-at-ukraines-border/1940356.html
The USA and EU are not intending to support the Kiev government militarily and hence Ukraine remains in a difficult spot. Ukraine also has serious economic problems that estranging itself from Russia may exacerbate.
The cease-fire from Kiev was likely down to reduce the probability of immediate Russian military intervention, but that too, does not seemed to have changed Russian intentions.
Vladimir Putin wants as much of Ukraine in his Eurasian Union as possible.  He will take economic, political, and military risks to do so–but even he has limits.
That being said, ultimately a massive Eurasian confederation will form with Russia holding some type of leadership position in which it hits the final European 'daughter of Babylon' hard (Jeremiah 50:41-43).  Until then, there will be changes that ultimately will allow this to come to pass.
Some items of possibly related interest may include:
Russia and Ukraine: Their Origins and Prophesied Future Where do the Russians come from? What about those in the Ukraine? What is prophesied for Russia and its allies? What will they do to the Europeans that supported the Beast in the end? Here is a link to a video sermon titled Russia in the Bible and in Prophecy.
Ukraine in Prophecy? What is happening in Ukraine? What is known and what is unsure about its future? What is the origin of those who live in Ukraine? What does the Bible teach about the role of the Medes in the end times? Will Ukraine split? Why might part of Ukraine end up in the European Union? Why might part of Ukraine end up in the Eurasian Union? Is war in the prophesied future for Ukraine? What is the ultimate destiny for nearly all Ukrainians?
The Eurasian Union, the Kings of the East, and Bible Prophecy Is there a Eurasian union that will be formed? Is one being formed right now? Are any leaders working on that in the 21st century? Does the Bible teach that there will be a Eurasian union? If some type of Eurasian union is formed, who might it benefit and who will it destroy? A related video would be Is The Eurasian Union Rising?
Is Russia the King of the North? Some claim it is. But what does the Bible teach? Here is a link to a video, also titled Is Russia the King of the North?
Europa, the Beast, and Revelation Where did Europe get its name? What might Europe have to do with the Book of Revelation? What about "the Beast"? Is an emerging European power "the daughter of Babylon"? What is ahead for Europe? Here is a link to a video titled: Can You Prove that the Beast to Come is European?
World War III: Steps in Progress Are there surprising actions going on now that are leading to WWIII? Might a nuclear attack be expected? Does the Bible promise protection to all or only some Christians? How can you be part of those that will be protected? A related video would be Is World War III About to Begin? Can You Escape?
Wars, rumors of wars, and the Apocalypse Jesus foretold a time before the end where there would be wars and rumors of wars. The Apocalypse (the Book of Revelation) warns of the red horseman of war. Now, even secular writers, like Larry Edelson, are worried that wars and rumors of war are the most menacing problem that now haunts the earth? Are they right? What is the solution? This is a video.
When Will the Great Tribulation Begin? 2014, 2015, or 2016? Can the Great Tribulation begin today? What happens before the Great Tribulation in the "beginning of sorrows"? What happens in the Great Tribulation and the Day of the Lord? Is this the time of the Gentiles? When is the earliest that the Great Tribulation can begin? What is the Day of the Lord? Who are the 144,000? Here is a version of the article in the Spanish language: ¿Puede comenzar la Gran Tribulación en 2013 o 2014? ¿Es el Tiempo de los Gentiles? You can also see the English language sermon video: The Great Tribulation from the Mount of Olives.
Blood Moons and Prophecy There are four 'blood moons' expected in 2014 and 2015. Do they signal the Day of the Lord or the return of Jesus Christ? A related YouTube video is also available: Blood Moons, Prophecy, 2014, and 2015.
Barack Obama, Prophecy, and the Destruction of the United States-Second Edition for Second Obama Term This is a 160 page book for people truly interested in prophecies related to Barack Obama and the United States, including learning about many that have already been fulfilled (which the book documents in detail) and those that will be fulfilled in the future. It also has a chapter about a Republican choice. This book is available to order at www.barackobamaprophecy.com. The physical book can also be purchased at Amazon from the following link: Barack Obama, Prophecy, and the Destruction of the United States: Is Barack Obama Fulfilling Biblical, Islamic Catholic, Kenyan, and other America-Related Prophecies? What About Republican Leaders? Second Edition for Second Obama Term.
Barack Obama, Prophecy, and the Destruction of the United States-Second Term-Amazon Kindle edition. This electronic version is available for only US$2.99. And you do not need an actual Kindle device to read it. Why? Amazon will allow you to download it to almost any device: Please click HERE to download one of Amazon s Free Reader Apps. After you go to for your free Kindle reader and then go to Barack Obama, Prophecy, and the Destruction of the United States-Second Term-Amazon Kindle edition.