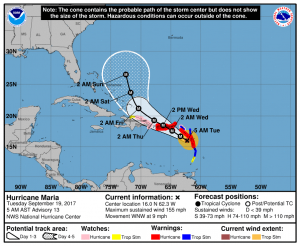 Hurricanes continue to be a major issue in the Caribbean:
September 19, 2017

ROSEAU, DOMINICA — 

Hurricane Maria smashed into Dominica with catastrophic winds, leaving what one official described Tuesday as "widespread devastation" from the monster storm now threatening Caribbean islands already ravaged by Hurricane Irma. …

Fierce winds and driving rain lashed mountainous Dominica for hours. A police official on the island, Inspector Pellam Jno Baptiste, said late Monday night that there were no immediate reports of casualties but it was too dangerous for officers to do a full assessment as the storm raged outside.

"Where we are, we can't move," he said in a brief phone interview late Monday night while hunkered down against the region's second Category 5 hurricane this month.

Maria weakened briefly before dawn Tuesday to a still major Category 4 storm after its rampage over Dominica. But the fluctuation in intensity proved short-lived as a hurricane hunter plane reported the storm had regained its fearsome Category 5 status within hours. …

Guadeloupe, Martinique, Puerto Rico

Officials in Guadeloupe said the French island near Dominica probably would experience heavy flooding and warned that many communities could be submerged. In nearby Martinique, authorities ordered people to remain indoors and said they should be prepared for power cuts and disruption in the water supply.

Authorities in the U.S. territory of Puerto Rico, which faced the possibility of a direct hit, warned that people in wooden or flimsy homes should find safe shelter before the storm's expected arrival there on Wednesday.

"You have to evacuate. Otherwise, you're going to die," said Hector Pesquera, the island's public safety commissioner. "I don't know how to make this any clearer."

Maria had maximum sustained winds of 160 mph (260 kph) late Monday when it slammed into Dominica before dipping for a time to a Category 4 major storm.

The U.S. National Hurricane Center said Maria's top sustained winds then returned to 160 mph (260 kph) strength shortly before daybreak Tuesday with the eye of Maria located about 65 miles (100 kilometers) west-southwest of Guadeloupe. The storm was moving west-northwest over the Caribbean at 9 mph (15 kph).

Fluctuations in intensity were expected, and forecasters have warned Maria would likely intensify over the next 24 hours or longer, noting its eye had shrunk to a compact 10 miles across and warning: "Maria is developing the dreaded pinhole eye."

That generally means an extremely strong hurricane will get even mightier, said Brian McNoldy, a hurricane researcher at the University of Miami. He said it just like when a spinning ice skater brings in their arms and rotates faster.

"You just don't see those in weaker hurricanes," he said.

The storm's hurricane-force winds extended out about 35 miles (45 kilometers) and tropical storm-force winds out as far as 125 miles (205 kilometers).

Hurricane warnings were posted for the U.S. and British Virgin Islands, Puerto Rico, Guadeloupe, Dominica, St. Kitts, Nevis and Montserrat. A tropical storm warning was issued for Martinique, Antigua and Barbuda, Saba, St. Eustatius, St. Maarten, St. Lucia and Anguilla.

Forecasters said storm surge could raise water levels by 6 to 9 feet (1.8 to 2.7 meters) near the storm's center. The storm was predicted to bring 10 to 15 inches (25 to 38 centimeters) of rain across the islands, with more in isolated areas.

The current forecast track would carry it about 22 miles (35 kilometers) south of St. Croix in the U.S. Virgin Islands late Tuesday and early Wednesday, territorial Gov. Kenneth Mapp said.

"We are going to have a very, very long night," Mapp said as he urged people in the territory to finish any preparations.

St. Thomas and St. John are still stunned from a direct hit by Hurricane Irma, which did extensive damage and caused four deaths on the two islands.

Barry University said it chartered a private plane to carry students and staff from its St. Croix facility to Florida in preparation for Maria. It said 72 people connected to the Barry's Physician Assistant Program and a few pets were on Monday's evacuation flight.

In neighboring Puerto Rico, nearly 70,000 people were still without power following their earlier brush with Irma and nearly 200 remained in shelters as Maria approached.

Gov. Ricardo Rossello said Puerto Rico had 500 shelters capable of taking in up to 133,000 people in a worst-case scenario. He also said the Federal Emergency Management Agency was ready to bring drinking water and help restore power immediately after the storm, which could hit as a Category 5 hurricane.

"That is catastrophic in every way," said Roberto Garcia with the National Weather Service in San Juan. "People have to act, and they have to act now. They can no longer wait for a miracle."

To the north, Hurricane Jose stirred up dangerous surf and rip currents along the U.S. East Coast, though forecasters said the storm was unlikely to make landfall. Big waves caused by Jose swept five people off a coastal jetty in Rhode Island and they were hospitalized after being rescued.

A tropical storm warning was posted for coastal areas in Rhode Island and Massachusetts, and tropical storm watches were up for parts of New York's Long Island and Connecticut. Jose's center was about 365 miles (590 kilometers) south of Nantucket, Massachusetts, early Tuesday and moving north at 9 mph (15 kph). The storm had maximum sustained winds of 75 mph (120 kph). https://www.voanews.com/a/hurricane-maria-lashes-dominica-now-menaces-other-islands/4034843.html
There are still problems in the Caribbean from Hurricane Irma, and now Hurricane Maria.
Hurricane Irma was the strongest hurricane ever in the Atlantic. Hurricane Irma wiped out most of the island of Barbuda, caused a million to lose power in Puerto Rico, devastated St. Martin's, hit Cuba, and hit Florida and caused millions to lose power.
Another hurricane, Hurricane Harvey, dropped the greatest amount of rainfall in any USA storm.
My prayers continue to go out to those affected by these storms.
As regular readers of this Church of God news page are aware, hurricanes are consistent with the following scriptures about rain and wind:
26 "Behold, God is great, and we do not know Him; Nor can the number of His years be discovered. 27 For He draws up drops of water, Which distill as rain from the mist, 28 Which the clouds drop down And pour abundantly on man. 29 Indeed, can anyone understand the spreading of clouds, The thunder from His canopy? 30 Look, He scatters His light upon it, And covers the depths of the sea. 31 For by these He judges the peoples; He gives food in abundance. 32 He covers His hands with lightning, And commands it to strike. 33 His thunder declares it, The cattle also, concerning the rising storm. (Job 36:26-33)

25 For He commands and raises the stormy wind,Which lifts up the waves of the sea. 26 They mount up to the heavens, They go down again to the depths;Their soul melts because of trouble. 27 They reel to and fro, and stagger like a drunken man, And are at their wits' end. 28 Then they cry out to the Lord in their trouble, And He brings them out of their distresses. 29 He calms the storm,So that its waves are still. 30 Then they are glad because they are quiet; So He guides them to their desired haven. 31 Oh, that men would give thanks to the Lord for His goodness, And for His wonderful works to the children of men! 32 Let them exalt Him also in the assembly of the people, And praise Him in the company of the elders. 33 He turns rivers into a wilderness, And the watersprings into dry ground; 34 A fruitful land into barrenness, For the wickedness of those who dwell in it. 35 He turns a wilderness into pools of water, And dry land into watersprings. 36 There He makes the hungry dwell, That they may establish a city for a dwelling place, 37 And sow fields and plant vineyards, That they may yield a fruitful harvest. 38 He also blesses them, and they multiply greatly; And He does not let their cattle decrease. (Psalms 107:25-38)

17 He casts out His hail like morsels;
Who can stand before His cold?
18 He sends out His word and melts them;
He causes His wind to blow, and the waters flow. (Psalms 147:17-18)

3 He sends it forth under the whole heaven, His lightning to the ends of the earth. 4 After it a voice roars; He thunders with His majestic voice, And He does not restrain them when His voice is heard. 5 God thunders marvelously with His voice; He does great things which we cannot comprehend. 6 For He says to the snow, 'Fall on the earth'; Likewise to the gentle rain and the heavy rain of His strength. 7 He seals the hand of every man, That all men may know His work. 8 The beasts go into dens, And remain in their lairs. 9 From the chamber of the south comes the whirlwind, And cold from the scattering winds of the north. 10 By the breath of God ice is given, And the broad waters are frozen. 11 Also with moisture He saturates the thick clouds; He scatters His bright clouds. 12 And they swirl about, being turned by His guidance, That they may do whatever He commands them On the face of the whole earth. 13 He causes it to come, Whether for correction, Or for His land, Or for mercy. (Job 37:3-13)
God controls the weather. Jesus' disciples got to see this first hand:
23 Now when He got into a boat, His disciples followed Him. 24 And suddenly a great tempest arose on the sea, so that the boat was covered with the waves. But He was asleep. 25 Then His disciples came to Him and awoke Him, saying, "Lord, save us! We are perishing!"

26 But He said to them, "Why are you fearful, O you of little faith?" Then He arose and rebuked the winds and the sea, and there was a great calm. 27 So the men marveled, saying, "Who can this be, that even the winds and the sea obey Him?" (Matthew 8:23-27)
Presumably, the disciples learned something from that experience.
Wet weather is sometimes used by God for judgment and correction. Hurricanes are consistent with prophecy (watch also the recent video Hurricanes and Prophecy).
As longtime readers of this page are aware, I have repeatedly warned of weather problems coming. Back in 2009, in my book, 2012 and the Rise of the Secret Sect, I warned about something that would soon happen:
Odd weather patterns result in … natural disasters. Matthew 24:7 …

The world is actually in a berserk transition … It is the beginning of sorrows. Matthew 24:8 (Thiel B. 2012 and the Rise of the Secret Sect. Nazarene Books, 2009, p. 240)
Since that was published, we have had record smashing heat, stronger hurricanes, and odd weather problems. These weather issues should serve as a wake-up call.
As far as prophecy and multiple hurricanes go, consider the following which was posted here in 2011 and 2015:
Since the USA is already in more debt than any nation in the history of the world, it may be that weather problems (such as one or two incidents like Hurricane Katrina), earthquakes, and crop failures may combine in what could be called a "perfect storm" to push the USA over the edge for it to fall. (Thiel B. Weather Affected Fall of Rome, Will it Affect the USA's Fall? COGwriter, January 16, 2011)

Weather events will negatively affect the USA and contribute to its downfall. …

The USA more and more trusts in perversity with its governmental acceptance of abortion, selling baby parts, pornography, massive debt, and the homosexual agenda. …

The USA did not repent after Hurricane Katrina. I do believe that something much worse than Hurricane Katrina will affect the USA. (Thiel B. Hurricane Katrina ten years later: Will something worse happen to the USA? COGwriter.com, August 28, 2015)
This seasons' hurricanes and the recent earthquake in Mexico are consistent with the following that Jesus said would happen:
8 And there will be earthquakes in various places, and there will be famines and troubles. These are the beginnings of sorrows. (Mark 13:8)
Earthquakes, floods, typhoons, and hurricanes are troubling. We are in the beginning of sorrows.
UPDATE: 1400 PDT: Mexico got hit with another earthquake!
BREAKING: At least 42 dead reported in the central state of Morelos

MEXICO CITY — On the anniversary of a deadly 1985 earthquake, Mexico City again shook with terrifying force on Tuesday, as a 7.1-magnitude temblor damaged buildings, knocked out power and caused alarm throughout the capital. https://www.washingtonpost.com/world/the_americas/strong-earthquake-shakes-mexico-damaging-buildings-and-causing-panic/2017/09/19/d2b044f6-9d6a-11e7-b2a7-bc70b6f98089_story.html?utm_term=.b5371cc53349
Weather events should serve as a wake-up call to all.
What will later happen to islands after a prophesied earthquake to come will be much worse (see Islands and Bible Prophecy).
As far as hurricanes go, here is a link to our video: Hurricanes and Prophecy.
Some items of possibly related interest may include:
Hurricanes and Prophecy Hurricane Harvey dropped the greatest amount of rainfall in any USA storm. Hurricane Irma was the strongest hurricane ever in the Atlantic. Hurricane Irma wiped out most of the island of Barbuda, caused a million to lose power in Puerto Rico, devastated St. Martin's, hit Cuba, and hit Florida. A news headline stated " 'Nature's gone crazy': Winds, fire, floods and quakes plague North America." Is there any tie to prophecy? Are heavy winds and rains discussed in the Bible? Any ties to homosexuality and other forms of immorality? What about Donald Trump and Jennifer Lawrence? Does God control the weather? What does God want people to do? Dr. Thiel addresses these issues and more. This is a video.
Weather Blessings and Sorrows Are weather problems a warning? What should be done? What does the Bible teach about weather? What about floods, droughts, heat, earthquakes, tornadoes, and solar storms? Here is a related YouTube video Does God Use Weather? A related item in the Spanish language would be Bendiciones y maldiciones del clima.
Islands and Bible Prophecy What's ahead for islands? What does the Bible prophesy about them?
Earthquakes Today and Bible Prophecy Contains a cool up-to-the-hour update of earthquakes around the world from USGS. It also explains what did Jesus teach about earthquakes and how the Bible describes "the big one" (as well as when it is expected).
The 'Unpardonable Sin' and 'Climate Change'? On September 7, 2016, Olav Fykse Tveit, Church of Norway Pastor, and the General Secretary of the World Council of Churches, essentially declared that those who ignore 'climate change' are committing the 'unpardonable sin' against the Holy Spirit. Are those two even related? In this video, Dr. Thiel answers that and explains from the Bible what the 'unpardonable sin' is and how you can avoid it. He also discusses aspects of Christianity and the environment.
The Bible, Christians, and the Environment How should Christians view the environment? Does the Bible give any clues? What are some of the effects of air, water, and land pollution? Is environmental pollution a factor in autism and death? Do pollutants seem to double the autism risk? What will Jesus do? A YouTube video is available titled Air Pollution, Autism, and Prophecy.
Mexico, Central America, South America, Brazil, and the Caribbean in Prophecy [Español: México, América central, Suramérica, Brasil y el Caribe en la profecía] [Português: México, América Central, Ámérica do Sul, e Brasil na profecia] What will happen to those of Latin America? Will they have prosperity? Will they cooperate with Europe? Will they suffer in the future? What role might the various Caribbean nations/territories play?
Christian Repentance Do you know what repentance is? Is it really necessary for salvation? A related sermon is also available titled: Real Christian Repentance.
The Bible Condemns Homosexuality "Same-sex marriage" for "gays" and lesbians is becoming more acceptable to many. What does the Bible teach about homosexuality? Can homosexuals change? A related video sermon is titled: What Does the Bible Really Teach about Homosexuality?
Pornography: A scourge on society Is pornography harmless fun? Does the Bible teach anything about it? What are the views of some involved with it? Here is a link to a YouTube video Pornography: Harmless Fun or a Scourge on Society?
Anglo – America in Prophecy & the Lost Tribes of Israel Are the Americans, Canadians, English, Scottish, Welsh, Australians, Anglo-Saxon (non-Dutch) Southern Africans, and New Zealanders descendants of Joseph? Where are the lost ten-tribes of Israel? Who are the lost tribes of Israel? What will happen to Jerusalem and the Jews in Israel? Will God punish the U.S.A., Canada, United Kingdom, and other Anglo-Saxon nations? Why might God allow them to be punished first? Here is a link to the Spanish version of this article: Anglo-América & las Tribus Perdidas de Israel. Information is also in the YouTube sermons titled Where are the Ten Lost Tribes? Why does it matter? and British are the Covenant People. A short YouTube of prophetic interest may be Barack Obama and the State of the Apocalypse.
Will the Anglo-Saxon Nations be Divided and Have People Taken as Slaves? Will the lands of the United States, United Kingdom, Canada, Australia, and New Zealand be divided? What about Jerusalem? What does Bible prophecy teach? Are there non-biblical prophecies that support this idea? Who will divide those lands? Who will end up with the lands and the people? Here is a link to a video titled Will the USA and other Anglo-nations be Divided and Their People Made Slaves? Here is a related item in the Spanish language ¿Serán divididas las naciones anglosajonas?