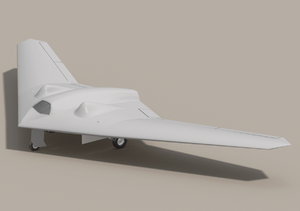 Rendition of US RQ-170 Stealth Drone (© TruthDowser / Wikimedia Commons / CC-BY-SA-3.0 & GFDL)
Iran unveiled a new military threat:
Iran has unveiled its own copy of an American stealth drone it captured in late 2011, claiming to have cracked the "secrets" of the bat-wing craft and added weapons capabilities…
Fars News Agency reported that while Iran's duplicate of the US RQ-170 Sentinel drone was smaller, it also had a "bombing capability to attack the US warships in any possible battle." The story in Persian was headlined: "America's nightmare has become reality."

State television showed footage on Sunday it said was of a US aircraft carrier in the Persian Gulf filmed by an Iranian drone.The drone replica was unveiled at an Islamic Revolutionary Guard Corps (IRGC) exhibition on Sunday, where Supreme Leader Ayatollah Ali Khamenei was briefed on how the drone, its systems, and structure had been reverse-engineered. He called it a "sweet day." http://www.csmonitor.com/World/Middle-East/2014/0512/A-nightmare-becoming-reality-Iran-unveils-American-drone-replica?cmpid=editorpicks&google_editors_picks=true
Iran has made many threats in the past towards both Israel and the USA.  It is now getting closer to being able to carry its threats out.
Iran has a lot of nuclear materials and could at least now produce what is called a 'dirty bomb."  A "dirty bomb" is one where radioactive materials are placed inside a conventional bomb.  The resultant explosion would contaminate an area and make it radioactively dangerous.  Many also believe that Iran is close to producing not just the possibility of dirty bombs, but actual nuclear bombs.  Iran having drone stealth technology puts the USA, Israel, and others at risk of being attacked with nuclear explosions.  This could very well happen.
Furthermore, another way that Iran could inflict major damage to the USA would be an effective use of electromagnetic pulse (EMP) weapons. Iran is believed to have that capability.
An EMP attack by Iran, in the proper locations, could greatly affect Israel, the USA, or even Europe.  Having a stealth drone could make this a reality.  But I should add that Iran test-fired a missile last Summer that was believed to be capable of delivering an emp bomb.  Thus, Iran probably is considering multiple ways of employing them.
Power transformers in the USA (and elsewhere) are at risk from emp bombs and this could cause major economic and other damage to the USA. Such emp weapons, however, have never been used large scale, so precisely what would happen is subject to debate. But the reality is that emp weapons, as well as solar flares which have similar potential, are threats to the USA, its defenses, and its economy.
The USA, despite its military strength, is vulnerable to being hurt by EMP weapons as well as nuclear weapons, chemical weapons, dirty bombs, terrorism, and biological weapons that Iran and/or its ally Syria possess. It has been shown in a test that EMPs can basically work as advertised, and this may give the Iranians more reason to look further into using them if they feel pressed.
As far as Iran itself goes, while it wants to lead all of Islam, it will fail in that objective — the Bible points to an Arabic power doing that in Daniel 11:40-43.  Because of that, I have long felt that it may be that Iran would be 'neutralized' before the final King of the South (Daniel 11:40) rises up.
Iran could be neutralized by internal unrest or other matters.  On the other hand, if it employs, or attempts to employ, certain weapons of mass destruction, it may well cause Israel, the USA, and/or others to turn on it and destroy aspects of its military capability.
"Neutralizing" Iran would allow most of the other Islamic states (like Saudi Arabia and Egypt) to continue to exist (Syria might not do well per Isaiah 17:1) and allow for the rising of the prophesied King of the South to rise up.
The top leadership of Iran has a Shi'ite Muslim agenda, which they have concluded includes causing chaos and war. I, for one, do not believe that Iran's leaders have given up on their goals of Islamic domination–and they do want weapons of mass destruction. But if they significantly act militarily with them (cf. Isaiah 22:1-14), it ultimately will not turn our well for Iran (e.g. Jeremiah 49:34-38).
Some items of possibly related interest may include:
Iran in Prophecy Is Iran in Bible prophecy? If so, what does the Bible teach? What names, other than Persia, may be used to describe Iran? There is also a YouTube video titled Iran in Prophecy. Here is a related video Iran In Prophecy.
Is the Future King of the South Rising Up? Some no longer believe there needs to be a future King of the South. Might Egypt, Islam, Iran, Arabs, or Ethiopia be involved? Might this King be called the Mahdi or Caliph? What does the Bible say? A YouTube video of related interest may be: The Future King of the South is Rising.
Damascus and Syria in Prophecy Will Bashar Assad hold power as he has it? Does the Bible show that Damascus, the capital of Syria, will be destroyed? What will happen to Syria? Will the Syrians support the final King of the South that the Bible tells will rise up? Which scriptures discuss the rise and fall of an Arabic confederation? Does Islamic prophecy predict the destruction of Syria. This is a YouTube video.
The Arab and Islamic World In the Bible, History, and Prophecy The Bible discusses the origins of the Arab world and discusses the Middle East in prophecy. What is ahead for the Middle East and those who follow Islam? What about the Imam Mahdi? What lies ahead for Turkey, Iran, and the other non-Arabic Muslims? An item of possibly related interest in the Spanish language would be: Líderes iraníes condenan la hipocresía de Occidente y declaran que ahora es tiempo para prepararse para el Armagedón, la guerra, y el Imán Mahdi. Another article related to Iran translated into the Spanish language is: Irán y líderes israelíes discuten las intenciones nucleares de Irán.
United Nations: Humankind's Last Hope or New World Order? Is the UN the last hope for humanity? Or might its goals end up with sinister results?
Jerusalem: Past, Present, and Future What does the Bible say about Jerusalem and its future? Is Jerusalem going to be divided and eliminated? Is Jesus returning to the area of Jerusalem?
Anglo – America in Prophecy & the Lost Tribes of Israel Are the Americans, Canadians, English, Scottish, Welsh, Australians, Anglo-Saxon (non-Dutch) Southern Africans, and New Zealanders descendants of Joseph? Where are the lost ten-tribes of Israel? Who are the lost tribes of Israel? What will happen to Jerusalem and the Jews in Israel? Will God punish the U.S.A., Canada, United Kingdom, and other Anglo-Saxon nations? Why might God allow them to be punished first? Here is a link to the Spanish version of this article: Anglo-América & las Tribus Perdidas de Israel. Information is also in the YouTube sermons titled Where are the Ten Lost Tribes? Why does it matter? and British are the Covenant People. A short YouTube of prophetic interest may be Barack Obama and the State of the Apocalypse.
Will the Anglo-Saxon Nations be Divided and Have People Taken as Slaves? Will the lands of the United States, United Kingdom, Canada, Australia, and New Zealand be divided? What about Jerusalem? What does Bible prophecy teach? Are there non-biblical prophecies that support this idea? Who will divide those lands? Who will end up with the lands and the people? Here is a link to a video titled Will the USA and other Anglo-nations be Divided and Their People Made Slaves? Here is a related item in the Spanish language ¿Serán divididas las naciones anglosajonas?
When Will the Great Tribulation Begin? 2014, 2015, or 2016? Can the Great Tribulation begin today? What happens before the Great Tribulation in the "beginning of sorrows"? What happens in the Great Tribulation and the Day of the Lord? Is this the time of the Gentiles? When is the earliest that the Great Tribulation can begin? What is the Day of the Lord? Who are the 144,000? Here is a version of the article in the Spanish language: ¿Puede comenzar la Gran Tribulación en 2013 o 2014? ¿Es el Tiempo de los Gentiles? You can also see the English language video The Great Tribulation Will Not Begin Before 2017.
Prophecies of Barack Obama? Reasons why Barack Obama is apocalyptic and reasons why Barack Obama is not the Antichrist. This article includes many biblical and non-biblical prophecies, from around the world, that seem to discuss Barack Obama. Did Nostradamus predict Barack Obama dealing with the Antichrist?  Might Barack Obama set the stage for the kings of the North and South as at least one Shiite prophecy suggests?  Read it and decide for yourself if President Obama seems to be fulfilling various prophecies. Watch also the YouTube Barack Obama and the State of the Apocalypse.