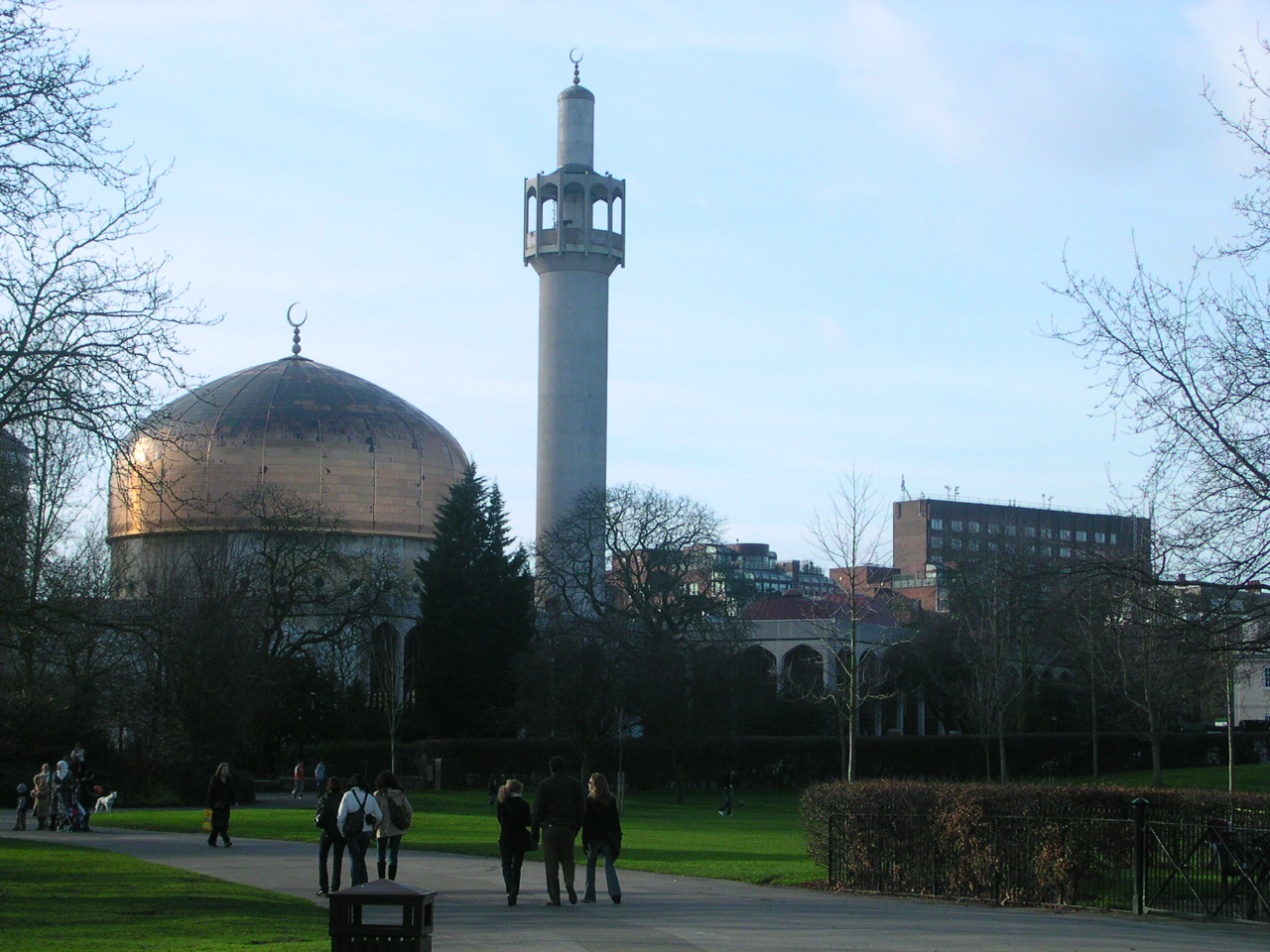 London Central Mosque

Is Britain becoming more Islamic? Notice the following:
The Islamization Of Britain
In 2016: "More Backwards Than Some Parts Of Pakistan"

January 10, 2017

Sharia courts administering Islamic justice in Britain are run by clerics who believe some offenders should have their hands chopped off, according to Muslim scholar Elham Manea. She described the prevailing attitude as "totalitarian" and as more backward than some parts of Pakistan.
Teaching children fundamental British values is an act of "cultural supremacism," according to the National Union of Teachers, which wants to replace the concept with one that includes "international rights."
More than 100,000 British Muslims sympathize with suicide bombers and people who commit other terrorist acts, according to a 615-page survey. Only one in three British Muslims (34%) would contact the police if they believed that somebody close to them had become involved with radical Islam. In addition, 23% of British Muslims said Islamic Sharia law should replace British law in areas with large Muslim populations.
Belmarsh maximum-security prison in London has become "like a jihadi training camp," according to testimony from a former inmate. The government was accused of burying a report on prison extremism. The report warned that staff have been reluctant to tackle Islamist behavior for fear of being labelled "racist."
Residents in Manchester received leaflets in their mailboxes, from a Muslim group called "Public Purity," calling for a public ban on dogs.
Voter fraud has been deliberately overlooked in Muslim communities because of "political correctness," according to a government report.
Police in Telford — dubbed the child sex capital of Britain — were accused of covering up allegations that hundreds of children in the town were sexually exploited by Pakistani sex gangs.

The Muslim population of Britain surpassed 3.5 million in 2016 to become around 5.5% of the overall population of 64 million, according to figures extrapolated from a recent study on the growth of the Muslim population in Europe. In real terms, Britain has the third-largest Muslim population in the European Union, after France, then Germany.

The growth of Britain's Muslim population can be attributed to immigration, high birth rates and conversions to Islam.

Islam and Islam-related issues, omnipresent in Britain during 2016, can be categorized into five broad themes: 1) Islamic extremism and the security implications of British jihadists in Syria and Iraq; 2) the continuing spread of Islamic Sharia law in Britain; 3) the sexual exploitation of British children by Muslim gangs; 4) Muslim integration into British society; and 5) the failures of British multiculturalism. …

Nearly 900 Syrians in Britain were arrested in 2015 for crimes including rape and child abuse, police statistics revealed.
I would add that diminished respect for the Bible and biblical standards is also a factor in the increased Islamization of the UK.
Will it be safe for the United Kingdom to have so many Muslims?
No.
Do Muslims really support terrorism and violence?
Many do.
Notice the following:
June 25, 2015

The Center for Security Policy (CSP) has released the results of a poll showing alarmingly high levels of support for sharia law and violence among the American Muslim community.

According to the nationwide survey, "significant minorities embrace supremacist notions that could pose a threat to America's security and its constitutional form of government."

A majority (51 percent) of Muslims surveyed said they "should have the choice of being governed according to shariah."

Almost 30 percent of American Muslims believe it is legitimate to use violence "against those that insult the prophet Muhammad, the Qur'an, or Islamic faith."

One quarter of Muslims said that "violence against Americans here in the United States can be justified as part of the global jihad."

Even more ominous, "nearly one-fifth of Muslim respondents said that the use of violence in the United States is justified in order to make shariah the law of the land in this country," the CSP polling data showed. http://www.americanthinker.com/blog/2015/06/poll_shows_high_levels_of_support_for_shariah_law_and_violence_among_american_muslims.html#ixzz3trmaHwv3

December 4, 2015

Brigitte Gabriel is a world-renown national security expert. Her concentration is on the – ahem – explosive rise in Islamic terrorism.

She notes that there are 1.2 billion Muslims in the world. Of them, intelligence agencies estimate that 15-25 percent are orthodox Muslims, meaning they actually follow the teachings of the Quran.

"That leaves 75 percent of [Muslims being] peaceful people," observes Gabriel. "But when you look at 15-25 percent of the world's Muslim population, you're looking at 180 million to 300 million people dedicated to the destruction of Western civilization. That is as big as the United States," she concludes.

Indeed, with these harrowing numbers in mind it's no small surprise that there have been nearly 27,500 terrorist attacks worldwide committed by faithful Muslims since 9/11. http://www.wnd.com/2015/12/christian-terrorists-dont-exist/#7rsy7IHgMlHt0Hjh.99
Furthermore, consider the fact that according to FBI Director James Comey, ISIS now has a presence in all 50 of the United States (ABC 7 News Chicago: https://archive.fo/OiEHM). There is a real risk.
Consider some biblical prophecies related to terrorism:
14 'But if you do not obey Me, and do not observe all these commandments, 15 and if you despise My statutes, or if your soul abhors My judgments, so that you do not perform all My commandments, but break My covenant, 16 I also will do this to you: I will even appoint terror over you, wasting disease and fever which shall consume the eyes and cause sorrow of heart. And you shall sow your seed in vain, for your enemies shall eat it. 17 I will set My face against you, and you shall be defeated by your enemies. Those who hate you shall reign over you, and you shall flee when no one pursues you. (Leviticus 26:14-17)

25 The sword shall destroy outside; There shall be terror within (Deuteronomy 32:25)

12 "Cry and wail, son of man; For it will be against My people, Against all the princes of Israel. Terrors including the sword will be against My people; Therefore strike your thigh. (Ezekiel 21:12)

12 Behold, these are the ungodly,Who are always at ease; They increase in riches…19 Oh, how they are brought to desolation, as in a moment! They are utterly consumed with terrors. (Psalms 73:12,19)

25 Because you disdained all my counsel, And would have none of my rebuke, 26 I also will laugh at your calamity; I will mock when your terror comes, 27 When your terror comes like a storm, And your destruction comes like a whirlwind, When distress and anguish come upon you. (Proverbs 1:25-27)

5 Also they are afraid of height, And of terrors in the way (Ecclesiastes 12:5).
Could this mean that Islam is the Beast of Revelation 13 or the final Antichrist?
No, despite the position that some hold (see Can the Final Antichrist be Islamic?) the Beast of Revelation 13:1-10 is European (watch Can You Prove that the Beast to Come is European?) and the Antichrist is essentially an antipope (see Some Doctrines of Antichrist) are not Islamic.
So, what is Islam's role? A person from lands that are currently dominated by Islam is prophesied to be involved with deals with the European King of the North Beast power (Daniel 11:27; Psalm 83:3-8).
The Bible specifically warns of problems from Arabic peoples in the end times (nearly all of whom are Muslim):
3 They have taken crafty counsel against Your people,
And consulted together against Your sheltered ones.
4 They have said, "Come, and let us cut them off from being a nation,
That the name of Israel may be remembered no more."

5 For they have consulted together with one consent;
They form a confederacy against You:
6 The tents of Edom and the Ishmaelites;
Moab and the Hagrites;
7 Gebal, Ammon, and Amalek;
Philistia with the inhabitants of Tyre;
8 Assyria also has joined with them;
They have helped the children of Lot. (Psalms 83:3-8)
Psalm 83 is very likely to involve terrorism.
Why?
Because taking "crafty counsel" sounds like plotting terrorism.
Furthermore, consider that some of the Palestinians along with some Syrians are prophesied to be involved in war, and apparently a terroristic one:
8 The Lord sent a word against Jacob, And it has fallen on Israel. 9 All the people will know — Ephraim and the inhabitant of Samaria — Who say in pride and arrogance of heart: 10 'The bricks have fallen down, But we will rebuild with hewn stones; The sycamores are cut down, But we will replace them with cedars." 11 Therefore the Lord shall set up The adversaries of Rezin against him, And spur his enemies on, 12 The Syrians before and the Philistines behind; And they shall devour Israel with an open mouth. (Isaiah 9:8-12)
Since the above prophecy involves Ephraim (UK, Canada, Australia, and New Zealand) and Samaria (the USA), this is indicative that the UK, Canada, and USA will be attacked (see Anglo – America in Prophecy & the Lost Tribes of Israel), apparently including terroristic tactics (hitting them before and behind).
Bringing in Muslim immigrants, which the UK, Canada (see Canada preparing for Syrian refugees–does the Bible warn against this?) and USA (see Obama Takes In 606% More Syrian Refugees Than Last Year, 98.8% Muslim) have been doing, will likely result in some of them fulfilling terroristic prophecies.
Without national repentance, the UK, Canada, and USA are doomed. Notice that lack of repentance is listed as a reason that the King of Assyria (the final King of the North) will become Ephraim's king:
3 I taught Ephraim to walk…5…But the Assyrian shall be his king, Because they refused to repent. 6 And the sword shall slash in his cities, Devour his districts, And consume them, Because of their own counsels. 7 My people are bent on backsliding from Me. Though they call to the Most High, None at all exalt Him. (Hosea 11:3a, 5b-7)
(See also: Isaiah 10:5-11; Habakkuk 2:6-8; Daniel 11:39). Ephraim is a reference to the British-descended nations.
The UK, Canada, and USA have been embarking on a dangerous path that, in time, will prove to be a fatal one.
Some items of possibly related interest may include:
Why Terrorism? Is Terrorism Prophesied? What does the Bible teach? Which nations may be affected? Here is a link to a related sermon: Terrorism, Christianity, and Islam.
Can the Final Antichrist be Islamic? Is Joel Richardson correct that the final Antichrist will be Islamic and not European? Find out. A related sermon is titled: Is the Final Antichrist Islamic or European?
Differences Between Islam and the Continuing Church of God What are some of the main differences? Are there any similarities? A video of related interest is titled: Islam: Any Christian Concerns or Similarities?
Christian Repentance Do you know what repentance is? Is it really necessary for salvation? A related sermon is also available titled: Real Christian Repentance.
When Will the Great Tribulation Begin? 2017, 2018, or 2019? Can the Great Tribulation begin today? What happens before the Great Tribulation in the "beginning of sorrows"? What happens in the Great Tribulation and the Day of the Lord? Is this the time of the Gentiles? When is the earliest that the Great Tribulation can begin? What is the Day of the Lord? Who are the 144,000? Here is a version of the article in the Spanish language: ¿Puede comenzar la Gran Tribulación en 2016 o 2017? ¿Es el Tiempo de los Gentiles? You can also see the English language sermon videos: The Great Tribulation from the Mount of Olives and Can the Great Tribulation begin before 2020? A shorter video is: Will the Great Tribulation Start in 2017?
Is the USA now an Evil Empire? Dr. Thiel gives many reasons to consider. A related video is also available: Is the USA an Evil Empire?
USA in Prophecy: The Strongest Fortresses Can you point to scriptures, like Daniel 11:39, that point to the USA in the 21st century? This article does.
Anglo – America in Prophecy & the Lost Tribes of Israel Are the Americans, Canadians, English, Scottish, Welsh, Australians, Anglo-Saxon (non-Dutch) Southern Africans, and New Zealanders descendants of Joseph? Where are the lost ten-tribes of Israel? Who are the lost tribes of Israel? What will happen to Jerusalem and the Jews in Israel? Will God punish the U.S.A., Canada, United Kingdom, and other Anglo-Saxon nations? Why might God allow them to be punished first? Here is a link to the Spanish version of this article: Anglo-América & las Tribus Perdidas de Israel. Information is also in the YouTube sermons titled Where are the Ten Lost Tribes? Why does it matter? and British are the Covenant People. A short YouTube of prophetic interest may be Barack Obama and the State of the Apocalypse.
Will the Anglo-Saxon Nations be Divided and Have People Taken as Slaves? Will the lands of the United States, United Kingdom, Canada, Australia, and New Zealand be divided? What about Jerusalem? What does Bible prophecy teach? Are there non-biblical prophecies that support this idea? Who will divide those lands? Who will end up with the lands and the people? Here is a link to a video titled Will the USA and other Anglo-nations be Divided and Their People Made Slaves? Here is a related item in the Spanish language ¿Serán divididas las naciones anglosajonas?
British are the Covenant People What do 'British' and 'Britain' mean in Hebrew? Are the descendants of the Anglo-Saxons people of the covenant? Does the British royal family connect to the throne of David? What does the Bible teach? What does history show us? Is there any DNA evidence related to British-Israelism? When did Christianity make it to the British Isles? Could Jeremiah have made it to the British Isles? What type of Christians made it to the British Isles? Did the last King of England believe in British Israelism?
Canada in Prophecy: What Does Bible Prophecy, Catholic Prophecy, and other Predictions Suggest About the Future of Canada? There are prophecies that suggest involvement with Canada. And many are not positive about its future.
Who is the King of the West? Why is there no End-Time King of the West in Bible Prophecy? Is the United States the King of the West?
The Mark of Antichrist What is the mark of Antichrist? What have various ones claimed? Here is a link to a related sermon What is the 'Mark of Antichrist'?
Mark of the Beast What is the mark of the Beast? Who is the Beast? What have various ones claimed the mark is? What is the 'Mark of the Beast'?
Europa, the Beast, and Revelation Where did Europe get its name? What might Europe have to do with the Book of Revelation? What about "the Beast"? Is an emerging European power "the daughter of Babylon"? What is ahead for Europe? Here is a link to a video titled: Can You Prove that the Beast to Come is European?
European Technology and the Beast of Revelation Will the coming European Beast power would use and develop technology that will result in the taking over of the USA and its Anglo-Saxon allies? Is this possible? What does the Bible teach? Here is a related YouTube video: Military Technology and the Beast of Revelation.
Some Doctrines of Antichrist Are there any doctrines taught outside the Churches of God which can be considered as doctrines of antichrist? This article suggests at least three. It also provides information on 666 and the identity of "the false prophet." Plus it shows that several Catholic writers seem to warn about an ecumenical antipope that will support heresy. You can also watch a video titled What Does the Bible teach about the Antichrist?
Can those in the USA/UK see the Handwriting on the Wall? Is everything fine in the USA/UK or is it like the days of Noah? Can we learn from the handwriting that appeared on a wall thousands of years ago? Here is a link to a related YouTube video Can you see the 'Handwriting on the Wall'?
Just What Do You Mean Conversion? Many think that they are converted Christians. But are they? Would you like to know more about conversion. Herbert W. Armstrong wrote this as a booklet on this important subject.
False Conversion Have you really been converted? Herbert W. Armstrong wrote this article on this important subject.
All About Water Baptism What is baptism? Would you like to know more about it. Herbert W. Armstrong wrote this as a booklet on this important subject. As far as early history, see also Baptism and the Early Church.
God's Grace is For All Is being Jewish a hindrance to salvation? What about not being a descendant of Israel? What does the Bible really teach?
Iraq, the King of the South, Armageddon, and Prophecy What will happen to Iraq? Is it the prophesied Mystery Babylon? What is Armageddon and how does that have to do with Iraq? Here is a related video Iraq, Armageddon, & Prophecy.
The Prophesied 'Islamic' Confederation Where is an Islamic caliphate prophesied? Will one happen? Should you be concerned about it? Here is a link to a related video video: Will an Arabic Calphiphate Destroy the West?
The Arab and Islamic World In the Bible, History, and Prophecy The Bible discusses the origins of the Arab world and discusses the Middle East in prophecy. What is ahead for the Middle East and those who follow Islam? What about the Imam Mahdi? What lies ahead for Turkey, Iran, and the other non-Arabic Muslims? An item of possibly related interest in the Spanish language would be: Líderes iraníes condenan la hipocresía de Occidente y declaran que ahora es tiempo para prepararse para el Armagedón, la guerra, y el Imán Mahdi.
Gaza and the Palestinians in Bible Prophecy What does the Bible teach about Gaza and the fate of the Palestinians? Here is a link to a related video: Gaza and Palestine in Prophecy.
Libya, Algeria, Morocco, and Tunisia in Prophecy What is ahead for North Africa? What does the Bible teach?
Damascus and Syria in Prophecy Will Bashar Assad hold power as he has it? Does the Bible show that Damascus, the capital of Syria, will be destroyed? What will happen to Syria? Will the Syrians support the final King of the South that the Bible tells will rise up? Which scriptures discuss the rise and fall of an Arabic confederation? Does Islamic prophecy predict the destruction of Syria. This is a YouTube video.
Is the Future King of the South Rising Up? Some no longer believe there needs to be a future King of the South. Might Egypt, Islam, Iran, Arabs, or Ethiopia be involved? Might this King be called the Mahdi or Caliph? What does the Bible say? A YouTube video of related interest may be: The Future King of the South is Rising. The Muslim Brotherhood and the Rise of the King of the South The Bible tells of the formation of a power of nations that are in the Middle East and North Africa that are part of the final "King of the South" (Daniel 11:40-43) The Muslim Brotherhood wishes to have an Islamic empire with basically the same nations. This YouTube video explains what to expect from such a confederation.
World War III: Steps in Progress Are there surprising actions going on now that are leading to WWIII? Might a nuclear attack be expected? Does the Bible promise protection to all or only some Christians? How can you be part of those that will be protected? A related video would be Is World War III About to Begin? Can You Escape?
Wars, rumors of wars, and the Apocalypse Jesus foretold a time before the end where there would be wars and rumors of wars. The Apocalypse (the Book of Revelation) warns of the red horseman of war. Now, even secular writers, like Larry Edelson, are worried that wars and rumors of war are the most menacing problem that now haunts the earth? Are they right? What is the solution? This is a sermonette-length video.