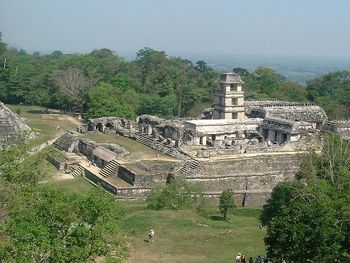 Maya Palenque Ruins

Concerns about the Mayan 12/21/12 calendar date are affecting many lands:
The county's public schools Tuesday said schools are receiving calls from parents attempting to confirm rumors that classes has been canceled on Friday due to the predicted end of the world. Stafford County schools spokeswoman Valerie Cottongim said just because the ancient Mayans predicted the world will end on Friday, it's business as usual for schools.

"The predicted end of the world is stressing out lots of kids, especially those in middle school and in high school," said Cottongim.  http://potomaclocal.com/2012/12/18/armageddon-fears-flu-concerns-prompt-calls-from-parents/

Many believers of the reported Mayan apocalypse may be heading to France for refuge, but in the case of Russia, the country seems to still be figuring out how they will handle the so-called "end of the world" on December 21.

The New York Times is reporting the supposed prophecy has been impacting Russia to the point where government officials had to publicly address the news. Inmates in a women's prison located near the Chinese border are said to have experienced a "collective mass psychosis" so intense that a priest has been called in to calm them. In eastern Moscow, "panicked citizens stripped shelves of matches kerosene, sugar and candles."

In a town called Chelyabinsk, a giant Mayan-style archway is being built out of ice.

"For those not schooled in New Age prophecy, there are rumors the world will end on Dec. 21, 2012, when a 5,125-year cycle known as the Long Count in the Mayan calendar supposedly comes to a close," says the newspaper. "Russia, a nation with a penchant for mystical thinking, has taken notice."

In response to the panic spreading throughout Russia, its minister of emergency situation stated Friday that he has access to "methods of monitoring what is occurring in the planet Earth." In addition to reassuring citizens that the world will not end this month, the country is still at risk of "blizzards, ice storms, tornadoes, floods, trouble with transportation and food supply, breakdowns ion heat, electricity and water supply."  http://latino.foxnews.com/latino/lifestyle/2012/12/03/mayan-doomsday-frightens-russia-government-responds/

That doomsday is indeed upon us — with Christmas just around the corner, heaven forbid — is one gloomy interpretation of a Mayan India calendar.

To wit, December 21 marks the end of a 5,200-year cycle on the Mayan "Long Count" calendar. It's a cause for celebration for many in Mexico and Central America, but spells doomsday for some believers.

In Argentina's central Cordova province, fallout will be felt at a mountain called Uritorco, which was sacred for indigenous peoples when their numbers were still large in Argentina.

Authorities will shut down access to it from December 20 to 22 because an appeal has gone out on Facebook for people to climb the hill December 21 and commit "massive spiritual suicide," said Gustavo Sez, mayor of the nearby town of Capilla del Monte. That name means chapel on a hill.

"It was a decision taken by consensus, to pre-empt any distortion of the Mayan prophecy," he said.  http://www.france24.com/en/20121218-argentina-fearing-maya-linked-suicides-closes-mountaintop

There has been an invasion of strangers in the sleepy hamlet of Bugarach, cradled in the foothills of the French Pyrénées.

According to doomsday theories, this tiny village in the south of France will be the earth's only safe haven on Dec. 21 — the date the world will come to an end, according to erroneous interpretations of the ancient Mayan calendar….

This week the village's two main streets have indeed been filling with people from all corners of the globe — though not of the New Age or End of Days variety. No, the strangers being encountered are of a third kind.

"It's all journalists — CNN, BBC, CBS News," says Patrice Etienne, who owns Bugarach's only store and has been bombarded with media requests. "People from Sweden, England, Germany …"

"It's the first time we have 200 journalists from all around the world coming for nothing. It's incredible."

http://www.thestar.com/news/world/article/1304202–french-doomsday-village-already-plagued-by-aliens
Many are unnecessarily concerned about doom occurring on the Mayan 12/21/12 calendar date.
Although there could be storms, earthquakes, civil demonstrations, violence, etc. this week (cf. Matthew 24:4-8), let me make it perfectly clear what will happen on December 21/22, 2012:
The world will continue and not end. It cannot end in a flood this week (Genesis 9:11,15), like some Mayan predictions may point to.
Planet X, also called Planet Nibiru, will not destroy much of the earth this week (that type of destruction will come much later with something that the Book of Revelation calls Wormwood–Revelation 8:11, see also Can the Great Tribulation Begin in 2012 or 2013? ).
Those who believe that the world was ending will react in different ways. But no matter what they say or do, the world is not ending for at least another 8 years (though there could be countries that will be devastated years before then).
Some associated with the New Age movement will see the lack of the world ending as validation that humanity is getting closer to a better age of peace (and they normally do not mean the millennium that Jesus Christ will usher in).
Although he claimed a week ago that he would not be giving any more warnings (see CGPFKG's Ronald Weinland's 'Last Warning' Today About Jesus Returning Pentecost 2013 Is False), CGPFKG's Ron Weinland made a post today, called 12/21/12 "Mayan Hype," then preceded to give another false hyped warning himself as he wrote:
…following December 21st God will begin to give credibility to His prophecies concerning the true "end-time," once the Second Trumpet of Revelation sounds. There can be no credibility given to Satan's mocking and crying of "wolf, wolf" that has only worked to lullaby mankind into deeper sleep and disbelief of what is true from God. There is a true "end-time" for mankind that is not about an end of mankind, but an end to man's self-rule and the beginning of God's true rule over a continuing mankind living on earth once the "prophetic end-time" is over.
The reason that the above is FALSE hype, is not that we are not close to the end, but that Ronald Weinland claims that the end will be at sunset on May 18th to no later than sunset May 19th, 2013.
Because of the Mayan matter and false prophets like Ronald Weinland, this tends to increase criticism of those of us who actually do understand a lot about Bible prophecy.
The Bible teaches, "We have also a more sure word of prophecy; whereunto ye do well that ye take heed, as unto a light that shineth in a dark place, until the day dawn, and the day star arise in your hearts" (2 Peter 1:19 KJV).
My reports about 2012 this week are based upon biblical prophecy and world events, and are accurate. As far as my track record related to 2012, world events have already aligned with at least 24 predictions in my 2009 book titled 2012 and the Rise of the Secret Sect, by the end of this month it will be at least 27. The Bible is true and proper prophetic explanations of it will always be proven to be true.
Of course, the Bible itself teaches that there will also be scoffers about end of the world prophecy in general–but eventually it will happen (2 Peter 3:3-7).
Some items that might be of assistance in understanding end-time events may include:
End of Mayan Calendar 2012–Might 2012 Mean Something? Are there Mayan calendar predictions for change in 2012? Changes were centuries ago predicted by the Hopi Native Americans. Do Mayan/Hindu/Hopi/Buddhist/New Age/Nostradamus prophecies have any value here? Why might Satan have inspired this date? Does the Dresden codex show destruction of the earth by flood? Can the great tribulation start before 2012? How might Barack Obama and Julia Gillard be involved in 2012? Have predictions written by Bob Thiel related to Barack Obama and Julia Gillard began to come to pass?
Russia: Its Origins and Prophesied Future Russia in prophecy. Where do the Russians come from? What about those in the Ukraine? What is prophesied for Russia and its allies? What will they do to the Europeans that supported the Beast in the end?
Is Russia the King of the North? Some claim it is. But what does the Bible teach?
Mexico, Central America, South America, Brazil, and the Caribbean in Prophecy [Español: México, America Central, Suramérica, y el Brasil en profecíal] [Português: México, América Central, Ámérica do Sul, e Brasil na profecia] What will happen to those of Latin America? Will they have prosperity? Will they cooperate with Europe? Will they suffer in the future? What role might the various Caribbean nations/territories play?
Does God Have a 6,000 Year Plan? What Year Does the 6,000 Years End? Was a 6000 year time allowed for humans to rule followed by a literal thousand year reign of Christ on Earth taught by the early Christians? Does God have 7,000 year plan? What year may the six thousand years of human rule end? When will Jesus return? 2019 or 202x?
Can the Great Tribulation Begin in 2012 or 2013? Can the Great Tribulation begin today? What is the "beginning of sorrows"? When is the earliest that the Great Tribulation can begin? What is the Day of the Lord? When is the earliest Jesus can return?
2012 and the Rise of the Secret Sect This is a link related to a book by Bob Thiel (COGwriter). This link also has YouTube videos. This book documents and explains hundreds of prophecies. And since it was published, world events have aligned with at least 24 predictions in the book and many more will to come to pass. Those who purchase the book at the www.thesecretsect.com website receive a lengthy bonus report documenting world events that aligned with the book.
2012 and the Rise of the Secret Sect (English Kindle edition). This is the 2nd edition of the book, released in January 2012, and includes a summary of many of the predictions that world events have aligned with since the book originally came out in September 2009.
2012 y el surgimiento de la secta secreta 2012 libro del Dr. Thiel en Español.
2012 und das Auftreten der geheimen Sekte (German Edition) 2012 Buch von Dr. Thiel in deutscher Sprache. 2012 und das Auftreten der geheimen Sekte (German Kindle Edition)
2012 e o Surgimento da Seita Secreta (Portuguese Edition) 2012 livro do Dr. Thiel em português. Este livro documenta e explica centenas de profecias. E desde que foi publicado pela primeira vez, pelo menos 24 já começaram a acontecer.
2012 e o Surgimento da Seita Secreta (2 ª Edição em português do Brasil): Um Guia Revolucionário de Sobrevivência Espiritual e Física para 2012-2020 (Portuguese Edition) 2012 livro do Dr. Thiel. 2 ª edição em português do Brasil. Este livro documenta e explica centenas de profecias. E desde que foi publicado pela primeira vez, pelo menos 24 já começaram a acontecer.2012 e o Surgimento da Seita Secreta (KINDLE Edição em português do Brasil) 2 ª edição.-Kindle.
Barack Obama, Prophecy, and the Destruction of the United States This is a 160 page book for people truly interested in prophecies related to Barack Obama and the United States, including learning about many that have already been fulfilled (which the book documents in detail) and those that will be fulfilled in the future. It also has a chapter about a Republican choice. This book is available to order at www.barackobamaprophecy.com. The physical book can also be purchased at Amazon from the following link: Barack Obama, Prophecy, and the Destruction of the United States: Is Barack Obama Fulfilling Biblical, Islamic, Catholic, Kenyan, and other America-Related Prophecies?
Barack Obama, Prophecy, and the Destruction of the United States–Amazon Kindle edition. This electronic version is available for only US$2.99. And you do not need an actual Kindle device to read it. Why? Amazon will allow you to download it to almost any device: Please click HERE to download one of Amazon's Free Reader Apps. After you go to for your free Kindle reader and then go to Barack Obama, Prophecy, and the Destruction of the United States–Amazon Kindle edition.)