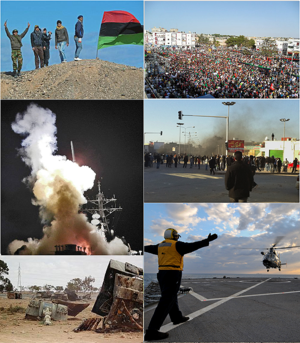 There are a lot of conflicts going on in the Middle East.  Here are some news reports about several going on today:
July 13, 2014

Fighting between rival Libyan militias erupted Sunday at Libya's airport near the capital.

Tripoli International Airport has been controlled by militia fighters from Zintan in northwestern Libya since the overthrow of Moammar Gadhafi in 2011.

British Airways and Turkish Airlines canceled flights Sunday as the fighting raged on.

Explosions could be heard on the airport road.

On Saturday, U.S. State Department spokeswoman Jen Psaki said in a statement that the U.S. is "deeply concerned" the ongoing violence in Libya could lead to "widespread conflict."  …

Libya has been in turmoil as government and parliament have not been able to control militias who helped oust Gadhafi, but now defy state authority. http://www.voanews.com/content/militia-battle-for-libya-airport/1956457.html

July 13, 2014

Iraqi militants have attacked a town north of Baghdad, seizing local government buildings and killing at least 6 people, including two police officers.

Officials say the assault on Dhuluiya, about 50 miles north of the capital, began early Sunday. Government forces had retaken Dhuluiya last month after it had been overrun by the militants, but a new drive toward Baghdad appears to be underway.

In another development, Iraq's deadlocked parliament adjourned its session Sunday after failing to choose candidates for top positions – a necessary step toward forming a new government.  The legislators plan to meet again Tuesday.

U.N. special envoy to Iraq Nickolay Mladenov had urged all Iraqi lawmakers to take part in Sunday's session, saying that failing to make progress on forming a new government could plunge Iraq into even more chaos.

On Saturday, gunmen stormed an apartment building in a Baghdad neighborhood, killing at least 29 people, mostly women. http://www.voanews.com/content/militants-seize-iraqi-town/1956460.html

July 13, 2014

GAZIANTEP, Turkey — After more than three years of civil war in Syria, government troops are advancing to retake Aleppo, the country's largest city, and possibly deliver a crushing blow to the rebellion against the regime of President Bashar Assad.

Defeating the rebels would give Assad a major victory as he prepares to be sworn in for a third term next week.

"It will be a huge loss for the revolution if Aleppo falls, as it became the biggest stronghold for the rebels after the fall of Homs," said Baraa al-Jabli, 20, of Aleppo, who works with the opposition.

Assad's gain would also be a loss for President Obama, who has called for the Syrian president to step down, citing mass atrocities against his own people, so new elections can be held. Obama recently proposed $500 million to aid more moderate rebels in southern Syria, a move that follows complaints by Sen. John McCain, R-Ariz., and other critics that the president has been too timid in supporting the rebellion.  http://www.usatoday.com/story/news/world/2014/07/13/aleppo-syria-fighting/12438911/

July 13, 2014

In a reminder of the Middle East's intertwined nature, the latest violence between Israel and Hamas has U.S. and Israeli officials lamenting the role of a key actor hundreds of miles east of Gaza: Iran.

"Who is the enabler for Hamas? Where do they get those rockets?" asked House Foreign Affairs Committee Chairman Ed Royce Friday morning. "It's Iran."

American and Israeli officials have long accused Iran of helping Hamas build up its massive arsenal of rockets, including some with a particularly long range, which it is now firing into Israeli cities and towns.

"Iran continues to do everything it can to push rockets into Gaza," says Israel's ambassador to Washington, Ron Dermer. "Iran obviously is a supporter of Hamas. And Islamic Jihad is a wholly-owned subsidiary of Iran" (Islamic Jihad is militant group smaller than Hamas that also operates within Gaza.) http://time.com/2977228/israel-iran-hamas/

July 13, 2014

Israel briefly deployed ground troops inside the Gaza Strip for the first time early Sunday as its military warned northern Gaza residents to evacuate their homes, part of a widening offensive that began against Hamas last week.

Neither Israel nor Palestinian militants show signs of agreeing to a cease-fire, despite calls by the United Nations Security Council and others to end the increasingly bloody six-day offensive that has claimed at least 160 Palestinian lives.

Several Israeli citizens have been wounded, but no one killed, by Palestinian rockets, which are being launched at longer range than in previous conflicts. Israeli defense forces credit their Iron Dome missile defense system, which intercepts rockets in mid-air, with preventing greater casualties.

With Israel massing tanks and soldiers at Gaza's borders, some fear that could signal a wider ground offensive that would cause heavy casualties.

Israel has launched more than 1,300 air strikes since the offensive began, military spokesman Lt. Col. Peter Lerner said Sunday. Palestinian militants have launched more than 800 rockets at Israel, including 130 in the last 24 hours, the Israeli military said Sunday.  http://www.voanews.com/content/israel-makes-first-ground-incursion-in-gaza/1956454.html
There are a lot of wars and battles going on in the Middle East right now!
Notice that turmoil in the Middle East is believed to increase terror risk to the USA:
July 13, 2014

Recent intelligence indicating that bomb-makers from Yemen have teamed up with terrorists in Syria to develop a new generation of undetectable explosives is "more frightening than anything" else the Obama administration has seen, Attorney General Eric Holder warned, becoming the first U.S. official to publicly confirm ABC News reporting on the threat.

In recent days, U.S. officials have boosted security measures at airports overseas amid deepening concerns that terrorists in war-ravaged Syria could be looking to down a U.S.- or European-bound plane, with help from one of the thousands of Americans and other foreign fighters carrying U.S. and European passports who have joined terrorist groups in the region.

Holder called it "a deadly combination," in which people with technical know-how are now "married" to "people who have this kind of fervor to give their lives in support of a cause that is directed at the United States and directed at its allies."

"It's something that gives us really extreme, extreme concern," Holder said. "In some ways, it's more frightening than anything I think I've seen as attorney general."  http://abcnews.go.com/ThisWeek/latest-syria-threat-frightening-holder/story?id=24538221
I also watched an ABC report today where they stated that because of the turmoil in Iraq and Syria, the threat to the USA has been raised and that the US government is going to increase more 'safety procedures' which will cause further delays for people who travel via air, especially when they are flying into the USA.
As far as the USA goes, it is spending $500 million more to oppose Syria's Assad, while it is trying to support Iraq's Malaki who is fighting ISIS, while ISIS is also fighting the Assad regime.  The USA should expect terrorism, as that is prophesied (see also Iraq, the King of the South, Armageddon, and Prophecy).
The situation in the Middle East is volatile.
The Bible tells of several improper deals that will happen there in Daniel 9:27, Daniel 11:27, and Psalm 83:2-8, all of which will also involve Europeans.  One of more of those deals may be the same one.
But the one to mention now is the one in Daniel 9:27.  Notice what the Bible teaches:
26… And the people of the prince who is to come
Shall destroy the city and the sanctuary.
The end of it shall be with a flood,
And till the end of the war desolations are determined.
27 Then he shall confirm a covenant with many for one week;
But in the middle of the week He shall bring an end to sacrifice and offering.
And on the wing of abominations shall be one who makes desolate,
Even until the consummation, which is determined,
Is poured out on the desolate (Daniel 9:26-27).
The 'one week' has generally been understood by prophecy watchers to mean a seven year deal, that is broken in the middle of it (after 3 1/2 years).
A seven year deal, which is expected to be broken, is also in Islamic prophecy:
Rasaullah [Muhammed] said: "There will be four peace agreements between you and the Romans [Christians].  The fourth agreement will be mediated through a person who will be the progeny of Hadrat Haroon [Honorable Aaron — Moses' brother] and will be upheld for seven years (Richardson J. Antichrist: Islam's Awaited Messiah. Pleasant Word, 2006, p. 48)

5 General anarchy and bloodshed, that no Arab household will be spared from it 6 Then a life of peace as a result of a peace agreement between you and the Banil Asfaar (Romans) which they will break and attack you with a force consisting of eighty flags and under each flag will be an army of twelve thousand men." (Hadith: Sahih Bukhari). (From "Signs of Qiyamah" (excerpts) by Mohammed Ali Ibn Zubair Ali. The Minor Signs of the Last Day. http://www.islam.tc/prophecies/qiyaam2.html viewed 07/03/14)
The above sounds similar to the seven year (one week in biblical language) agreement discussed in Daniel 9:27 that involves a "prince" who appears to be the one the Bible warns will become the King of the North and apparently the nation of Israel. It certainly would make sense that there would be Muslim representation in a peace deal.
Notice that Islamic prophecy (bolded earlier by me) says that a deal will come after a time of general anarchy.
Unrelated to that, for years I have warned that a 'peace deal' will likely not come until after a regional war or other conflict in the Middle East.  The news today is full of reports of war and conflict in the Middle East.
Neither Israel nor the Palestinians wish to give up claims to certain territories at this time for a peace deal. Iraq does not want to loose territory to ISIS or the Kurds.  Iran wants to pursue its nuclear and Islamic ambitions, while Syria's Assad wants to stop its civil war and stay in power–yet the time will come when Damascus will be destroyed per Isaiah 17:1 (watch also Damascus and Syria in Prophecy). It may well be that the deal will not come about until after weapons of mass destruction are used in the Middle East.
Well, there is a lot of conflict now.  And while a peace deal will be put in place sometime, more war will later come to the Middle East according to Bible prophecy (Daniel 11:40-43; Ezekiel 30:2-8).
While few wish to believe it, it will take the return of Jesus Christ and the establishment of the Kingdom of God to truly solve the conflicts in the Middle East and elsewhere.
Some items of possibly related interest may include:
The 'Peace Deal' of Daniel 9:27 This prophecy could give up to 3 1/2 years advance notice of the coming Great Tribulation. Will most ignore or misunderstand its fulfillment? Here is a link to a related sermon video Daniel 9:27 and the Start of the Great Tribulation.
The Prophesied 'Islamic' Confederation Where is an Islamic caliphate prophesied? Will one happen? Should you be concerned about it? Here is a link to a related video video: Will an Arabic Calphiphate Destroy the West?
Iraq, the King of the South, Armageddon, and Prophecy What will happen to Iraq? Is it the prophesied Mystery Babylon? What is Armageddon and how does that have to do with Iraq? Here is a related video Iraq, Armageddon, & Prophecy.
Damascus and Syria in Prophecy Will Bashar Assad hold power as he has it? Does the Bible show that Damascus, the capital of Syria, will be destroyed? What will happen to Syria? Will the Syrians support the final King of the South that the Bible tells will rise up? Which scriptures discuss the rise and fall of an Arabic confederation? Does Islamic prophecy predict the destruction of Syria. This is a YouTube video.
Iran in Prophecy Is Iran in Bible prophecy? If so, what does the Bible teach? What names, other than Persia, may be used to describe Iran? There is also a YouTube video titled Iran in Prophecy. Here is a related video Iran In Prophecy.
Is the Future King of the South Rising Up? Some no longer believe there needs to be a future King of the South. Might Egypt, Islam, Iran, Arabs, or Ethiopia be involved? Might this King be called the Mahdi or Caliph? What does the Bible say? A YouTube video of related interest may be: The Future King of the South is Rising. The Muslim Brotherhood and the Rise of the King of the South The Bible tells of the formation of a power of nations that are in the Middle East and North Africa that are part of the final "King of the South" (Daniel 11:40-43) The Muslim Brotherhood wishes to have an Islamic empire with basically the same nations. This YouTube video explains what to expect from such a confederation.
The Arab and Islamic World In the Bible, History, and Prophecy The Bible discusses the origins of the Arab world and discusses the Middle East in prophecy. What is ahead for the Middle East and those who follow Islam? What about the Imam Mahdi? What lies ahead for Turkey, Iran, and the other non-Arabic Muslims? An item of possibly related interest in the Spanish language would be: Líderes iraníes condenan la hipocresía de Occidente y declaran que ahora es tiempo para prepararse para el Armagedón, la guerra, y el Imán Mahdi.between these groups will put them in position to be part of the final end time Babylon that the Bible warns against as well as require improper compromise.
When Will the Great Tribulation Begin? 2014, 2015, or 2016? Can the Great Tribulation begin today? What happens before the Great Tribulation in the "beginning of sorrows"? What happens in the Great Tribulation and the Day of the Lord? Is this the time of the Gentiles? When is the earliest that the Great Tribulation can begin? What is the Day of the Lord? Who are the 144,000? Here is a version of the article in the Spanish language: ¿Puede comenzar la Gran Tribulación en 2013 o 2014? ¿Es el Tiempo de los Gentiles? You can also see the English language sermon video: The Great Tribulation from the Mount of Olives.
Blood Moons and Prophecy There are four 'blood moons' expected in 2014 and 2015. Do they signal the Day of the Lord or the return of Jesus Christ? A related YouTube video is also available: Blood Moons, Prophecy, 2014, and 2015.
The Gospel of the Kingdom of God was the Emphasis of Jesus and the Early Church Did you know that? Do you even know what the gospel of the kingdom is all about? You can also see a YouTube video sermon The Gospel of the Kingdom.
Just What Do You Mean the Kingdom of God? A booklet that was written by Herbert Armstrong answers questions about the Kingdom.
Must the Ten Kings of Revelation 17:12 Rule over Ten Currently Existing Nations? Some claim that these passages refer to a gathering of 10 currently existing nations together, while one group teaches that this is referring to 11 nations getting together. Is that what Revelation 17:12-13 refers to? The ramifications of misunderstanding this are enormous.
World War III: Steps in Progress Are there surprising actions going on now that are leading to WWIII? Might a nuclear attack be expected? Does the Bible promise protection to all or only some Christians? How can you be part of those that will be protected? A related video would be Is World War III About to Begin? Can You Escape?
Wars, rumors of wars, and the Apocalypse Jesus foretold a time before the end where there would be wars and rumors of wars. The Apocalypse (the Book of Revelation) warns of the red horseman of war. Now, even secular writers, like Larry Edelson, are worried that wars and rumors of war are the most menacing problem that now haunts the earth? Are they right? What is the solution? This is a sermonette-length video.
Europa, the Beast, and Revelation Where did Europe get its name? What might Europe have to do with the Book of Revelation? What about "the Beast"? Is an emerging European power "the daughter of Babylon"? What is ahead for Europe? Here is a link to a video titled: Can You Prove that the Beast to Come is European?
Who is the King of the North? Is there one? Do biblical and Roman Catholic prophecies for the Great Monarch point to the same leader? Should he be followed? Who will be the King of the North discussed in Daniel 11? Is a nuclear attack prophesied to happen to the English-speaking peoples of the United States, Great Britain, Canada, Australia, and New Zealand? When do the 1335 days, 1290 days, and 1260 days (the time, times, and half a time) of Daniel 12 begin? When does the Bible show that economic collapse will affect the United States? In the Spanish language check out ¿Quién es el Rey del Norte? Here is a link to a video titled: The Future King of the North.
Jerusalem: Past, Present, and Future What does the Bible say about Jerusalem and its future? Is Jerusalem going to be divided and eliminated? Is Jesus returning to the area of Jerusalem? There is also a related YouTube video you can watch titled Jerusalem To be divided and eliminated.
Anglo – America in Prophecy & the Lost Tribes of Israel Are the Americans, Canadians, English, Scottish, Welsh, Australians, Anglo-Saxon (non-Dutch) Southern Africans, and New Zealanders descendants of Joseph? Where are the lost ten-tribes of Israel? Who are the lost tribes of Israel? What will happen to Jerusalem and the Jews in Israel? Will God punish the U.S.A., Canada, United Kingdom, and other Anglo-Saxon nations? Why might God allow them to be punished first? Here is a link to the Spanish version of this article: Anglo-América & las Tribus Perdidas de Israel. Information is also in the YouTube sermons titled Where are the Ten Lost Tribes? Why does it matter? and British are the Covenant People. A short YouTube of prophetic interest may be Barack Obama and the State of the Apocalypse.
Barack Obama, Prophecy, and the Destruction of the United States-Second Edition for Second Obama Term This is a 160 page book for people truly interested in prophecies related to Barack Obama and the United States, including learning about many that have already been fulfilled (which the book documents in detail) and those that will be fulfilled in the future. It also has a chapter about a Republican choice. This book is available to order at www.barackobamaprophecy.com. The physical book can also be purchased at Amazon from the following link: Barack Obama, Prophecy, and the Destruction of the United States: Is Barack Obama Fulfilling Biblical, Islamic Catholic, Kenyan, and other America-Related Prophecies? What About Republican Leaders? Second Edition for Second Obama Term.
Barack Obama, Prophecy, and the Destruction of the United States-Second Term-Amazon Kindle edition. This electronic version is available for only US$2.99. And you do not need an actual Kindle device to read it. Why? Amazon will allow you to download it to almost any device: Please click HERE to download one of Amazon s Free Reader Apps. After you go to for your free Kindle reader and then go to Barack Obama, Prophecy, and the Destruction of the United States-Second Term-Amazon Kindle edition.