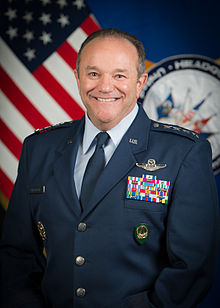 NATO Commander Philip Breedlove

NATO is concerned that since some in Moldova are looking to Russia, that Russia may decide to move to take at least part of Moldova over:
March 23, 2014

NATO's top military commander said on Sunday that Russia had a large force on Ukraine's eastern border and he was worried it could pose a threat to Moldova's separatist Transdniestria region.

"There is absolutely sufficient (Russian) force postured on the eastern border of Ukraine to run to Transdniestria if the decision was made to do that, and that is very worrisome," NATO's Supreme Allied Commander Europe, U.S. Air Force General Philip Breedlove, told an event held by the German Marshall Fund think-tank. "The (Russian) force that is at the Ukrainian border now to the east is very, very sizeable and very, very ready."

The warning comes a day after Russian troops fired shots and used armored vehicles to smash through the gates of Belbek air base Saturday. Ukrainian forces offered no resistance…Russian forces also took over a Ukrainian naval base in Novofedorovka.  http://www.voanews.com/content/unity-rally-set-for-kyiv/1877234.html

March 23, 2014

Breedlove said NATO was very concerned about the threat to Transdniestria, which declared independence from Moldova in 1990 but has not been recognized by any United Nations member state. About 30 percent of its half million population is ethnic Russian, which is the mother tongue of an overall majority.

Russia launched a new military exercise, involving 8,500 artillery men, near Ukraine's border 10 days ago.

"There is absolutely sufficient (Russian) force postured on the eastern border of Ukraine to run to Transdniestria if the decision was made to do that, and that is very worrisome," Breedlove said.

The president of ex-Soviet Moldova warned Russia last Tuesday against considering any move to annex Transdniestria, which lies on Ukraine's western border, in the same way that it has taken control of Crimea.

The speaker of Transdniestria's parliament had urged Russia earlier to incorporate the region.  http://www.reuters.com/article/2014/03/23/us-ukraine-crisis-idUSBREA2M09920140323
Vladimir Putin wants to restore as much of the territory of the old Soviet Union as he possibly can and this, at least in his view, includes Moldova.  Various groups in eastern Europe seem to feel that they have been betrayed and/or disappointed enough by the West, that they seem to prefer Russia and Vladimir Putin.
The idea of a restored Soviet Union has long been a hope of Vladimir Putin's.  His repackaged version is called the Eurasian Union, and steps he has taken with Ukraine and Crimea show that he will discount international opinion if he feels that the costs are not as high as the benefits he perceives.  Notice also the following:
What is Vladimir Putin up to? The crisis in Ukraine, brought to a boil when Russia's president sent troops into the Crimean peninsula, has created almost a cottage industry of guessing at the autocratic leader's intentions from one day to the next.

When it comes to Putin's long-term strategy, however, there is at least one concrete plan that offers some insight, and one specific date that Russia observers are looking ahead to. That date, Jan. 1, 2015, is expected to mark the birth of an important new organization linking Russia with an as-yet-undetermined constellation of its neighboring countries—an alliance Putin has dubbed the Eurasian Union.

Currently, only two nations besides Russia, Belarus and Kazakstan, have signed on. A number of other post-Soviet states, including Armenia, Kyrgyzstan, and Tajikistan, have signaled interest in joining. It's expected to build on an existing regional trade pact to establish common policies on labor migration, investment, trade, and energy…

For all its ambition and the grandeur of its name, the Eurasian Union hasn't been discussed much in the West outside of foreign-policy circles; when asked about it recently, the State Department declined to comment. This does not mean US officials aren't worried about its implications. In December 2012, then-Secretary of State Hillary Rodham Clinton made a remark that, to date, seems to represent the American government's only public position on Putin's idea: "There is a move to re-Sovietise the region," she said. And while of course the new entity wouldn't be called the USSR, she said, "Let's make no mistake about it. We know what the goal is and we are trying to figure out effective ways to slow down or prevent it."…

But it's worth noting, as the situation in Ukraine continues to unfold, that Russia experts have always considered that country the crown jewel—and even a necessary anchor—of any successful version of the Eurasian Union. "If you have Ukraine, the Eurasian Union moves a little further west, and puts it right on the border of the EU," said Hannah Thoburn, a Eurasia analyst at the Foreign Policy Initiative, a Washington-based nonprofit. "Russia desperately wants to have Ukraine."  http://www.bostonglobe.com/ideas/2014/03/09/putin-long-game-meet-eurasian-union/1eKLXEC3TJfzqK54elX5fL/story.html
The above partially explains why the USA has objected so loudly to a relatively peaceful takeover of Crimea (reportedly 1-2 people killed and a couple of people injured), in which the Crimeans themselves overwhelmingly voted to approve (see also Russian nuclear threat against USA, Crimea, EU, and WWIII).  I bolded the portion in the news item above as the Eurasian Union, while ignored by many, is something that has been regularly reported about here at COGwriter (and also we produced a video about it Is The Eurasian Union Rising?).
Notice also the following, both of which came out a few days ago:
Obama doesn't grasp Putin's Eurasian ambitions

March 19, 2014

IT'S EASY to conclude that Vladi­mir Putin's passionate defense of Russia's takeover of Crimea "just didn't jibe with reality," as Secretary of State John F. Kerry put it. In a speech…It's necessary, however, to take some of what Mr. Putin said seriously, because of the implicit threat it poses to European and global security. Mr. Putin advanced a radical and dangerous argument: that the collapse of the Soviet Union left "the Russian nation" as "one of the biggest, if not the biggest ethnic group in the world to be divided by borders." That, he suggested, gave Moscow the right to intervene in Crimea, and, by extension, anywhere it considers ethnic Russians or their culture to be threatened…

Western officials seem to be betting that Mr. Putin won't dare to extend his aggression beyond Crimea. But then, just last week they were saying they did not expect Moscow to move quickly on Crimean annexation. The Obama administration and its European allies have been too slow to grasp that Mr. Putin is bent on upending the post-Cold War order in Europe and reversing Russia's loss of dominion over Eastern Europe, the Caucasus and Central Asia.

Worse, some in and outside of Western governments may be feeding Mr. Putin's imperialism by rushing to concede "Russian interests" in Eurasia. President Obama and Mr. Kerry are among those who have said they recognize such "interests" in Ukraine.  http://www.washingtonpost.com/opinions/obama-doesnt-grasp-putins-eurasian-ambitions/2014/03/19/89439990-af7e-11e3-9627-c65021d6d572_story.html

Did Team Obama Blunder or Conspire in Ukraine

March 21-23, 2014 edition

We have a phone call between Assistant Secretary of State for European and Eurasian Affairs Victoria Nuland and U.S. Ambassador to Ukraine Geoffrey Pyatt, in which they talk about who should rule Ukraine next. Nuland says, "I don't think Klitsch [an opposition leader, Vitaly Klitschko] should go into the government. I don't think it's necessary, I don't think it's a good idea.… I think Yats [Arseniy Yatsenyuk, another opposition leader] is the guy who's got the economic experience, the governing experience." Yatsenyuk became the prime minister after Yanukovych's ouster.

Pyatt responds, "I think you reaching out directly to him [Yatsenyuk] helps with the personality management among the three [opposition leaders]."

The U.S. government worked to replace Yanukovych with its "guy" — which is not what the Obama administration tells the American people.

Pyatt adds, "But anyway we could land jelly side up on this one if we move fast.… [W]e want to try to get somebody with an international personality to come out here and help to midwife this thing."

This phone call made headlines because Nuland used an obscenity regarding the European Union. But the news is that, contrary to public statements, the Obama administration sought to "midwife" regime change.

One need not be a Putin apologist to ask how the Americans failed to see that this activity would provoke the Russian president.  http://www.counterpunch.org/2014/03/21/did-team-obama-blunder-or-conspire-in-ukraine/
Russia wants as much territory that the old Soviet Union had as possible. And wants cooperation with other states (China, India, and Brazil come to mind, as they along with Russia make up the so-called BRIC alliance of nations).
As far as Moldova goes, Vladimir Putin probably is weighing his options.  Possibly his preferred hope is to try to bolster the economy in Crimea, work to increase support in regions of Ukraine such as Donetsk (see also Russian forces storm Ukraine bases in Crimea and residents of Donetsk take to the streets calling for a vote to join Russia; cruise missile threat to USA?), and believe that the polls are right for the Communist party to win the upcoming election in Moldova (see More in Ukraine and Moldova look to Putin; Crimeans overrun Ukrainian naval base; Dumping dollars?).  If all that happens, Moldova may decide to ask to either join the Russian Federation or at least the upcoming Eurasian Union.
Under that scenario, Russia would not have to do much of anything militarily with Moldova and would not be subject to additional sanctions from the West.  The Bible tells of an end-time Eurasian confederation led by Russia and steps are being laid for that, whether or not Moldova participates.
NATO is concerned that Russia has military power, Russia is displaying military power, Russia is willing to use military power, yet those in Crimea, Donetsk, and parts of Moldova prefer Russia to the West.  This is not going the way USA President Barack Obama or the leaders of the European want.  So, Europe will likely decide it has to 'up its game' (and it has taken steps the past several days related to Ukraine, Georgia, and Moldova to try to do so).
Some items of possibly related interest may include:
The Eurasian Union, the Kings of the East, and Bible Prophecy Is there a Eurasian union that will be formed? Is one being formed right now? Are any leaders working on that in the 21st century? Does the Bible teach that there will be a Eurasian union? If some type of Eurasian union is formed, who might it benefit and who will it destroy? A related video would be Is The Eurasian Union Rising?
Is Russia the King of the North? Some claim it is. But what does the Bible teach? Here is a link to a video, also titled Is Russia the King of the North?
Russia and Ukraine: Their Origins and Prophesied Future Where do the Russians come from? What about those in the Ukraine? What is prophesied for Russia and its allies? What will they do to the Europeans that supported the Beast in the end?
Ukraine in Prophecy? What is happening in Ukraine? What is known and what is unsure about its future? What is the origin of those who live in Ukraine? What does the Bible teach about the role of the Medes in the end times? Will Ukraine split? Why might part of Ukraine end up in the European Union? Why might part of Ukraine end up in the Eurasian Union? Is war in the prophesied future for Ukraine? What is the ultimate destiny for nearly all Ukrainians?
Europa, the Beast, and Revelation Where did Europe get its name? What might Europe have to do with the Book of Revelation? What about "the Beast"? Is an emerging European power "the daughter of Babylon"? What is ahead for Europe? Here is a link to a video titled: Can You Prove that the Beast to Come is European?
European Technology and the Beast of Revelation Will the coming European Beast power would use and develop technology that will result in the taking over of the USA and its Anglo-Saxon allies? Is this possible? What does the Bible teach?
When Will the Great Tribulation Begin? 2014, 2015, or 2016? Can the Great Tribulation begin today? What happens before the Great Tribulation in the "beginning of sorrows"? What happens in the Great Tribulation and the Day of the Lord? Is this the time of the Gentiles? When is the earliest that the Great Tribulation can begin? What is the Day of the Lord? Who are the 144,000? Here is a version of the article in the Spanish language: ¿Puede comenzar la Gran Tribulación en 2013 o 2014? ¿Es el Tiempo de los Gentiles? You can also see the English language video The Great Tribulation Will Not Begin Before 2017.
Barack Obama, Prophecy, and the Destruction of the United States-Second Edition for Second Obama Term This is a 160 page book for people truly interested in prophecies related to Barack Obama and the United States, including learning about many that have already been fulfilled (which the book documents in detail) and those that will be fulfilled in the future. It also has a chapter about a Republican choice. This book is available to order at www.barackobamaprophecy.com. The physical book can also be purchased at Amazon from the following link: Barack Obama, Prophecy, and the Destruction of the United States: Is Barack Obama Fulfilling Biblical, Islamic Catholic, Kenyan, and other America-Related Prophecies? What About Republican Leaders? Second Edition for Second Obama Term.
Barack Obama, Prophecy, and the Destruction of the United States-Second Term-Amazon Kindle edition. This electronic version is available for only US$2.99. And you do not need an actual Kindle device to read it. Why? Amazon will allow you to download it to almost any device: Please click HERE to download one of Amazon s Free Reader Apps. After you go to for your free Kindle reader and then go to Barack Obama, Prophecy, and the Destruction of the United States-Second Term-Amazon Kindle edition.