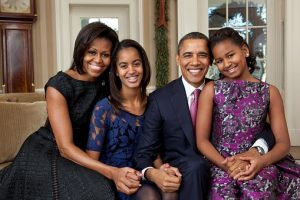 Obama family official photograph
The following caught my attention:
Obama Wants To Train "A Million Baracks And Michelles" To Create Progressive Utopia

March 7, 2019

Former President Barack Obama said this week that despite the "challenging times" we face, he remains hopeful that the future will be OK thanks to an army of young activists that will create a progressive utopia, https://www.zerohedge.com/news/2019-03-07/obama-wants-train-million-baracks-and-michelles-create-progressive-utopia

Obama: There's hope 'if we can train a million Baracks and Michelles'

WINNIPEG, Canada — Former President Barack Obama said Monday these are "challenging times" but he remains hopeful because of the next generation of leaders that he aims to guide.

Touching on his "third act," the 44th president spoke of programs that have become a central pillar of his Obama Foundation and its $500 million presidential center project in Chicago.

He told a packed arena at Bell MTS Place how he plans to create a "university for social change" that will serve as a hub for young people in the U.S. and around the world who are skeptical of the "old institutions."

He then amplified a vision he shared in Japan last year in which the new global class of future leaders are molded in his or his wife Michelle Obama's image.

"If we could form a network of those young leaders, not just in the United States, but around the world, then we got something," he said, adding, "if we can train a million Baracks and Michelles who are running around thinking they can change the world" hope is achievable. 03/04/19 https://www.washingtonexaminer.com/news/obama-theres-hope-if-we-can-train-a-million-baracks-and-michelles#
Barack Obama has claimed to be a Christian. Christians should place their hope in Jesus and the Kingdom of God.
The type of social change that occurred under the Obama Administration will not lead to utopia, but destruction.
One of his first official acts as US President was to fund abortions internationally.
Furthermore, while Barack Obama claimed to be against homosexual marriage when he first ran for the US presidency and took an oath to defend the US Constitution and related laws, formally came out and said his Administration would not enforce the Defense of Marriage Act.
He later pushed aspects of the LGBTQ agenda claimed that as an important part of his legacy (see Obama claims USA 'better' and 'stronger' because of him and his LGBTQ agenda). This is, and will be, biblically judged as immoral and destructive for the USA. Notice some verses in the Book of Romans:
18 For the wrath of God is revealed from heaven against all ungodliness and unrighteousness of men, who suppress the truth in unrighteousness, 19 because what may be known of God is manifest in them, for God has shown it to them. 20 For since the creation of the world His invisible attributes are clearly seen, being understood by the things that are made, even His eternal power and Godhead, so that they are without excuse, 21 because, although they knew God, they did not glorify Him as God, nor were thankful, but became futile in their thoughts, and their foolish hearts were darkened. 22 Professing to be wise, they became fools, 23 and changed the glory of the incorruptible God into an image made like corruptible man — and birds and four-footed animals and creeping things.

24 Therefore God also gave them up to uncleanness, in the lusts of their hearts, to dishonor their bodies among themselves, 25 who exchanged the truth of God for the lie, and worshiped and served the creature rather than the Creator, who is blessed forever. Amen.

26 For this reason God gave them up to vile passions. For even their women exchanged the natural use for what is against nature. 27 Likewise also the men, leaving the natural use of the woman, burned in their lust for one another, men with men committing what is shameful, and receiving in themselves the penalty of their error which was due.

28 And even as they did not like to retain God in their knowledge, God gave them over to a debased mind, to do those things which are not fitting; 29 being filled with all unrighteousness, sexual immorality, wickedness, covetousness, maliciousness; full of envy, murder, strife, deceit, evil-mindedness; they are whisperers, 30 backbiters, haters of God, violent, proud, boasters, inventors of evil things, disobedient to parents, 31 undiscerning, untrustworthy, unloving, unforgiving, unmerciful; 32 who, knowing the righteous judgment of God, that those who practice such things are deserving of death, not only do the same but also approve of those who practice them. (Romans 1:18-32)
Notice that the New Testament passages in Romans state that not just those engaged in sexual immorality, including homosexuality and lesbianism, but also those who approve those behaviors are condemned. This will be the true judgment of relevant history on this matter for Barack Obama.
The US nearly doubled its official national debt under Barack Obama and debt will also be a factor in the destruction of the US (cf. Habakkuk 2:6-8).
On international matters, Syria and Libya are worse off now as are parts of Iraq. As CBS reported before Barack Obama's actions and inactions made the environment for the terrorist group calling itself the Islamic State to rise up (see CBS, George Washington, and the Bible on Barack Obama's impact). The USA will have more terrorism (see Why Terrorism? Is Terrorism Prophesied).
The USA has become more anti-Bible since Barack Obama took office and was later named to the 'Hall of Shame' partially because of policies and practices of the Obama Administration against religion (see USA makes ICC's 'Hall of Shame' list of nations regressing in religious freedom).
To this, we could add a list of scandals under that Obama Administration (see Ethics, Scandals, and Barack Obama), as well as his promotion of abortion and pornography, his regressing of religious rights (see USA makes ICC's 'Hall of Shame' list of nations regressing in religious freedom), the revelations of a 'police state' through the Snowden leaks that are helping turn Europe against the USA (see The Snowden Leaks are Leading to the Destruction of the USA), hypocrisy on foreign interference (Brexit, Israel, Syria, and Ukraine come to mind), betraying Israel in the United Nations this month (we will see if he further betrays Israel this week), etc.
Want more details? A while back we put together a video: Is the USA 'a better, stronger place'?
That being said, the solution for what ails the US is also not Donald Trump nor any of the Democrats that hope to take his place as US president.
The Continuing Church of God (CCOG) put together the following video on our Bible News Prophecy YouTube channel:
Various politicians have announced their intentions to run for the office of the President of the United States in 2020. 'Politico' ran an article about the 'sorry state' of various candidates. Some candidates have felt the need to apologize for previous statements in support of biblical marriage and the need to endorse items of the LGBTQ agenda. Many also support abortion and other anti-biblical actions. Are these 'American values'? Should the English language be changed to eliminate male/female and singular pronouns? Does the Bible warn about female leaders? Does the Bible warn about leaders that lead people to err? What about condoning sexual immortality? Do the presidential contenders fit prophecies warned about in 2 Timothy 3:1-5? These are some of the subjects that Dr. Thiel addresses.
Here is a link to the sermonette video: Sorry state of the 2020 presidential campaign.
The US needs repentance and the Kingdom of God.
Training people to be like Barack and Michelle Obama is not the solution.
Some items of related interest may include:
Is the USA 'a better, stronger place'? Is the USA better and stronger in nearly all ways in 2017 than it was 8 years ago? Barack Obama made this claim. He pointed to economic factors, "marriage equality," Iran, and other items to attempt to bolster his claim? From a biblical and prophetic perspective is the USA better and stronger now than it was? What about debt, Syria, Libya, Iran, and the relationship with Europe? Will the USA be stronger ahead under Donald Trump? Dr. Thiel addresses these issues and more. A written article is also available Obama claims USA 'better' and 'stronger' because of him and his LGBTQ agenda.
USA in Prophecy: The Strongest Fortresses Can you point to scriptures, like Daniel 11:39, that point to the USA in the 21st century? This article does. A related sermon is titled: Do these 7 prophesies point to the end of the USA?
God's Grace is For All Is being Jewish a hindrance to salvation? What about not being a descendant of Israel? What does the Bible really teach? Here is a link to a related sermon titled Race and Grace; Do you view race as God does?
Who is the King of the West? Why is there no Final End-Time King of the West in Bible Prophecy? Is the United States the King of the West? Here is a version in the Spanish language: ¿Quién es el Rey del Occidente? ¿Por qué no hay un Rey del Occidente en la profecía del tiempo del fin? A related sermon is also available: The Bible, the USA, and the King of the West.
Is God Calling You? This booklet discusses topics including calling, election, and selection. If God is calling you, how will you respond? Here is a link to a related sermon: Could God be Calling You?
Christian Repentance Do you know what repentance is? Is it really necessary for salvation? A related sermon is also available titled: Real Christian Repentance.
Cross-dressing and other assaults against your children. What should you do? Is there an agenda to turn your children and/or grandchildren away from biblical morality and towards practices promoted by homosexuals? What does the Bible teach about cross-dressing? What should parents do? If there is an agenda, what has been going on? There are also three YouTube videos related to this, titled Transgender 'Woe to those who call evil good' and Cross dressing and Other Assaults Against Your Children and USA pushing gender confusion.
The Bible Condemns Homosexuality "Same-sex marriage" for "gays" and lesbians is becoming more acceptable to many. What does the Bible teach about homosexuality? Can homosexuals change? A related video sermon is titled: What Does the Bible Really Teach about Homosexuality?
Pornography: A scourge on society Is pornography harmless fun? Does the Bible teach anything about it? What are the views of some involved with it? A related sermons is titled: Pornography, False Comfort, and False Religion. Here a shorter YouTube video Pornography: Harmless Fun or a Scourge on Society?
Abortion, the Bible, and a Woman's Right to Choose Do you know what the Bible teaches on this? Has the Roman Catholic Church allowed abortions? What about the real Church of God? Some may also, or instead, wish to view the YouTube video Abortion, the Bible, and US Debt.
Why Terrorism? Is Terrorism Prophesied? What does the Bible teach? Which nations may be affected? Here is a link to a related sermon: Terrorism, Christianity, and Islam.
Who is the King of the North? Is there one? Do biblical and Roman Catholic prophecies for the Great Monarch point to the same leader? Should he be followed? Who will be the King of the North discussed in Daniel 11? Is a nuclear attack prophesied to happen to the English-speaking peoples of the United States, Great Britain, Canada, Australia, and New Zealand? When do the 1335 days, 1290 days, and 1260 days (the time, times, and half a time) of Daniel 12 begin? When does the Bible show that economic collapse will affect the United States? In the Spanish language check out ¿Quién es el Rey del Norte? Here is a link to a video titled: The Future King of the North.
Europa, the Beast, and Revelation Where did Europe get its name? What might Europe have to do with the Book of Revelation? What about "the Beast"? Is an emerging European power "the daughter of Babylon"? What is ahead for Europe? Here is a link to a video titled: Can You Prove that the Beast to Come is European?
The Snowden Leaks are Leading to the Destruction of the USA Can what happened with the leaks of what the NSA has done help the USA to be taken over? What does the Bible teach that seems to be related to this? Here is a related YouTube video titled Are the Snowden NSA leaks leading to the destruction of the USA?
Forbes' Brexit Monster is the Beast of Revelation Various ones have been properly convinced that there is a plan for a European superstate. Forbes' writer Tom Worstall wrote that the Brexit vote was about the United Kingdom "not joining the monster of the European Union to come." The Bible tells of a Beast monster that will arise in the end times in Europe. Dr. Thiel cites news reports, as well as the Old and New Testaments, to show that the monster many fear will arise in Europe, despite the vote by the British to exit the European Union.
Post Brexit Prophecy On June 23, 2016, the voters of the United Kingdom of Great Britain and Northern Ireland (UK) chose to leave the European Union. Now with this BRitish EXIT (Brexit) vote, what is prophesied to happen to the UK? Will the UK do well or be taken over and made slaves? Dr. Thiel explains from biblical prophecies what is ahead for the UK, Europe, and even the USA, Canada, Australia, and New Zealand. This is a video.
Anglo – America in Prophecy & the Lost Tribes of Israel Are the Americans, Canadians, English, Scottish, Welsh, Australians, Anglo-Saxon (non-Dutch) Southern Africans, and New Zealanders descendants of Joseph? Where are the lost ten-tribes of Israel? Who are the lost tribes of Israel? What will happen to Jerusalem and the Jews in Israel? Will God punish the U.S.A., Canada, United Kingdom, and other Anglo-Saxon nations? Why might God allow them to be punished first? Here is a link to the Spanish version of this article: Anglo-América & las Tribus Perdidas de Israel. Information is also in the YouTube sermons titled Where are the Ten Lost Tribes? Why does it matter? and British are the Covenant People. A short YouTube of prophetic interest may be: Are Chinese threats against Australia for real?
Will the Anglo-Saxon Nations be Divided and Have People Taken as Slaves? Will the lands of the United States, United Kingdom, Canada, Australia, and New Zealand be divided? What about Jerusalem? What does Bible prophecy teach? Are there non-biblical prophecies that support this idea? Who will divide those lands? Who will end up with the lands and the people? Here is a link to a video titled Will the USA and other Anglo-nations be Divided and Their People Made Slaves? Here is a related item in the Spanish language ¿Serán divididas las naciones anglosajonas?
World War III: Steps in Progress Are there surprising actions going on now that are leading to WWIII? Might a nuclear attack be expected? Does the Bible promise protection to all or only some Christians? How can you be part of those that will be protected? A related video would be Is World War III About to Begin? Can You Escape?
When Will the Great Tribulation Begin? 2019, 2020, or 2021? Can the Great Tribulation begin today? What happens before the Great Tribulation in the "beginning of sorrows"? What happens in the Great Tribulation and the Day of the Lord? Is this the time of the Gentiles? When is the earliest that the Great Tribulation can begin? What is the Day of the Lord? Who are the 144,000? Here is a version of the article in the Spanish language: ¿Puede comenzar la Gran Tribulación en 2018 o 2019? ¿Es el Tiempo de los Gentiles? You can also see the English language sermon videos: The Great Tribulation from the Mount of Olives and Can the Great Tribulation begin before 2020? A shorter and newer video is: Might the Great Tribulation start in 2019?
Donald Trump in Prophecy Prophecy, Donald Trump? Are there prophecies that Donald Trump may fulfill?  Are there any prophecies that he has already helped fulfill?  Is a Donald Trump presidency proving to be apocalyptic?  Two related videos are available: Donald: 'Trump of God' or Apocalyptic? and Donald Trump's Prophetic Presidency.
Trump Presidency Magic 8 Ball or Bible Prophecy? BBC reported that one might as well use a 'Magic Eight-Ball' to try to predict what will happen in the remaining time of Donald Trump's presidency. What is a 'Magic Eight-Ball'? Dr. Thiel not only explains that, but also briefly goes over 10 biblically-based warnings he wrote would happen if Donald Trump were elected that have already began to come to pass. He also goes over something he wrote back in 2008 that the Trump presidency is also helping lead to fulfillment. Should you trust Bible prophecy or not? Dr. Thiel says that Bible prophecy can be trusted, despite the view of skeptics and others that either overlook or despise the Bible. This is a video.
Donald Trump and America's Apocalypse This 188 page book is for people truly interested in prophecies related to Donald Trump and the United States, including learning about several that have already been fulfilled and those that will be fulfilled in the future. The physical book can be purchased at Amazon for $12.99 from the following link: Donald Trump and America's Apocalypse.
Donald Trump and America's Apocalypse-Kindle Edition This electronic version of the 188 page print edition is available for only US$3.99. And you do not need an actual Kindle device to read it. Why? Amazon will allow you to download it to almost any device: Please click HERE to download one of Amazon s Free Reader Apps. After you go to for your free Kindle reader and then go to Donald Trump and America's Apocalypse-Kindle Edition.
The Gospel of the Kingdom of God This free online pdf booklet has answers many questions people have about the Gospel of the Kingdom of God and explains why it is the solution to the issues the world is facing. Here are links to three related sermons: The World's False Gospel, The Gospel of the Kingdom: From the New and Old Testaments, and The Kingdom of God is the Solution.
Prophecies of Barack Obama? Reasons why Barack Obama is apocalyptic and reasons why Barack Obama is not the Antichrist. This article includes many biblical and non-biblical prophecies, from around the world, that seem to discuss Barack Obama. Did Nostradamus predict Barack Obama dealing with the Antichrist? Might Barack Obama set the stage for the kings of the North and South as at least one Shiite prophecy suggests? Read it and decide for yourself if President Obama seems to be fulfilling various prophecies. Watch also the YouTube Barack Obama and the State of the Apocalypse.