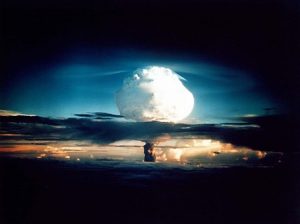 Hydrogen bomb blast

The USA is attempting to determine what to do related to North Korea and its nuclear capabilities:
November 5, 2017

WASHINGTON (AP) — The only way to locate and destroy with complete certainty all components of North Korea's nuclear weapons program is through a ground invasion. That blunt assessment from the Pentagon is in response to a letter from two Democratic congressmen asking about casualty assessments in a conflict with North Korea.

Rear Adm. Michael J. Dumont of the Joint Staff offered the assessment in response to a letter from Reps. Ted Lieu of California and Ruben Gallego of Arizona.

Dumont noted that the U.S. is evaluating North Korea's ability to target heavily populated areas of South Korea with long-range artillery, rockets and ballistic missiles. He also pointed out that Seoul, the South's capital with a population of 25 million, is just 35 miles from the demilitarized zone. The amount of casualties would differ depending on the advance warning and the ability of U.S. and South Korea forces to counter these attacks, he said.

"A classified briefing would be the best place to discuss in detail the capability of the U.S. and its allies to discuss capabilities to counter North Korea's ability to respond with a nuclear weapon and eliminate North Korea's nuclear weapons located in deeply buried, underground facilities," he said. He also mentioned the possibility that chemical and biological weapons might be used by the North in case of a conflict.

Military officials would be happy to join "the intelligence community to address these issues in a classified briefing," he said.

In a joint statement issued Saturday, 15 Democratic lawmakers and one Republican— all military veterans — called the assessment that a ground invasion would be required to destroy the North's nuclear arsenal "deeply disturbing" and that such an action "could result in hundreds of thousands, or even millions of deaths in just the first few days of fighting." https://www.apnews.com/fa5db4093bb145caa8ff4b4401d4d8c2/Grim-cost-predicted-in-effort-to-destroy-North-Korea's-nukes
Notice another concern:
EMP Bias Puts US at Risk as North Korea Threat Grows

"That's why he cannot have a … nuclear device deliverable to the homeland," stated General John Kelly, White House Chief of Staff, on October 30, responding to Fox News host Laura Ingraham's query about a North Korean electromagnetic pulse (EMP) attack killing 90 percent of Americans. …

At an October 12 congressional hearing on the threat from North Korea, Dr. William Graham, Chairman of the Congressional EMP Commission, and I warned in our joint statement about widespread media disinformation on the EMP threat: "Misinformation about EMP abounds in the media, and even in many allegedly serious studies, from uninformed persons posturing as experts, who have no competency in EMP. False claims are often made that the EMP threat is 'not real' but merely theoretical and greatly overblown."

Some journalists fear EMP justifies modernizing U.S. nuclear weapons and deploying space-based missile defenses — both anathema to the Left. Others fear acknowledging the EMP threat would undermine former President Obama's "world without nuclear weapons" and the Iran nuclear deal — because EMP attack makes even a single nuclear weapon a formidable deterrent and potential war-winner.

Others are just too stupid and too arrogant to educate themselves about the reality of the EMP threat. http://www.newsmax.com/PeterPry/emp-commission-north-korea/2017/11/02/id/823786/
Regular readers of this Church of God News page realize that I have warned about the EMP threat for many years. It is real and it could terribly weaken the USA (watch also Electrical End of the USA?).
US President Donald Trump made some comments:
November 5, 2017

President Trump kicked off his Asia tour Sunday with a warning that the U.S. will use its military might, if necessary, to fend off hostile threats.

"No one — no dictator, no regime and no nation — should underestimate, ever, American resolve," Trump told U.S. and Japanese troops, assembled inside a flag-draped aircraft hangar at the Yokota Air Base in Tokyo. "We will never yield, never waver and never falter in defense of our people, our freedom and our great American flag."

It was a message aimed, at least in part, at North Korean leader Kim Jong Un, whose aggressive nuclear and missile tests are expected to be a major focus of the president's trip. http://www.npr.org/2017/11/05/562167750/trump-launches-asia-trip-with-a-warning-to-north-korea
While the USA could obliterate North Korea, it is at risk of severe damage from North Korea. Many in South Korea could be killed. Japan, Guam, and possibly Hawaii are also at risk of damage.
The dilemma that the world's politicians face is that if they act against North Korea, perhaps thousands or even millions could die, yet if they do not act, North Korea intends to increase its nuclear weaponry and may use it anyway–and that use could cause even more thousands or millions to die.
In the event of an attack against it, North Korea is expected to try to destroy Seoul, South Korea and other areas. Furthermore, North Korea may have operatives try to detonate nuclear bombs and/or dirty bombs in the USA. North Korea may attempt to unleash chemical and/or biological weapons against the USA, South Korea, Japan, and/or Guam. Steps to prepare for some or all of this seems to have begun by the North Koreans. North Korea's leaders have indicated that if they are attacked they will attempt to cause the most damage possible. An EMP weapon attack may well be involved.
Jesus spoke of a time of wars, rumors of war, and troubles prior to the Great Tribulation (Mark 13:8). North Korea already is causing troubles and rumors of war.
For at least three years, my article, Four Horsemen of the Apocalypse, contained the following:
There may also be wars in parts of the world that have rarely had them (perhaps, for example, even between some South American nations), as well as wars in areas that have long been especially tense (like Korea, possibly involving other Asian nations). Damascus ultimately will be destroyed and could be a signal for destruction to come for Jacob (Isaiah 17:1-4). There will likely be civil unrest and perhaps rioting in scales not seen before, including within some Western nations (such as in Europe and North America). This will lead to military leaders rising up in various parts of the world. And one European (the final King of the North) will, after making one or more false peace deals/pronouncements (e.g. Daniel 9:26-27; 11:27; 1 Thessalonians 5:3), become the final Beast leader (Revelation 13:4) and he will take over many nations (Daniel 11:39-43).
North Korea, and US President Trump's reactions to it, are a threat to peace and seem to be related to the ride of the red horseman of war (Revelation 6:3-4).
As far as war goes, here is information on our latest BibleNewsProphecy video:
Various Europeans believe that Donald Trump has been 'warmongering' related to North Korea, Iran, Saudi Arabia, Afghanistan, and elsewhere. They believe that Europe must lead and that the US President must learn from Europe. Jesus spoke of a time called the "beginning of sorrows" that included wars and rumors of war, are we in the time of sorrows now? Could the red horse of the apocalypse be about to ride? Did the old WCG teach this was a future event in 1985? Does this ride start before or after the start of the "great tribulation"? What does the Bible show? Is Satan involved in this? What about Armageddon? How will all of this end? Dr. Thiel addresses these issues and more.
North Korea poses a variety of threats to the USA and other lands.
Some items of possibly related interest may include:
Electrical End of the USA?  Could problems with the electrical power grid caused by one or more electo-magnetic pulse bombs, solar flares, and/or other phenomena help weaken the USA to the point of allowing it to be taken over? Does such potential exist? If so, is this consistent with any biblical prophecies? What are some of the severe consequences that the USA would face in the event of a electrical power grid failure? Is there evidence in scripture that the USA will be taken over in the 21st century? Dr. Thiel addresses these issues and more. This is a video.
World War III: Steps in Progress Are there surprising actions going on now that are leading to WWIII? Might a nuclear attack be expected? Does the Bible promise protection to all or only some Christians? How can you be part of those that will be protected? A related video would be Is World War III About to Begin? Can You Escape?
Four Horsemen of the Apocalypse What do each of the four horseman of the Apocalypse represent? Have they began their ride? Did Jesus discuss the any of this? Might their rides coincide with the "beginning of sorrows? Do they start their ride prior to the Great Tribulation? Did Nostradamus or any other 'private prophets' write predictions that may mislead people so that they may not understand the truth of one or more of the four horseman? There is also a related YouTube video titled The Four Horsemen of the Apocalypse.
Syria, North Korea, and Prophecy On April 7, 2017, 59 US Tomahawk missiles hit a military installation in Syria. While praised by NATO nations, Israel, and Saudi Arabia, this was denounced by Syria, Russia, and North Korea. Is this the start of World War III? Will the Bashar al-Assad regime remain as it is? What about North Korea? What does the Bible show will happen? Dr. Thiel answers these questions and more. This is a video.
Korea in Prophecy, Any Witness? Where did the Korean people come from? Does God have a plan for the Koreans? Is Korea mentioned in any prophecies? Will Koreans be among the first in the Kingdom of God? Here is a machine-translated link to that article in Korean: 한국의 언어로 : 한국 예언, 모든 증인에?. Here is a link to a magazine with that article in Mandarin Chinese: 在预言中的韩国:有任何证人吗?. A prophetic video is also available: Syria, North Korea, and Prophecy.
What is the Gospel? True religion should be based upon the true gospel. What are some of the different gospels and where did they come from? Do you believe the true or a false gospel? Who is preaching the gospel? Here is a version in Korean 복음이란 무엇인가?.
China, Its Biblical Past and Future, Part 1: Genesis and Chinese Characters Where did the Chinese people come from? This article provides information showing that the Chinese peoples must have known about various accounts in the Book of Genesis up until their dispersion after the Tower of Babel. Here is a link to a version of this article in Spanish: ¿Prueban los caracteres chinos la exactitud de la Biblia?
China, Its Biblical Past and Future, Part 2: The Sabbath and Some of God's Witness in China When did Christianity first come to China? And is there early evidence that they observed the seventh day sabbath?
Asia in Prophecy What is Ahead for Asia? Who are the "Kings of the East"? What will happen to nearly all the Chinese, Russians, Indians, and others of Asia? China in prophecy, where? Who has the 200,000,000 man army related to Armageddon? A YouTube video of interest may be Is China THE Threat to the United States of America?
The Eurasian Union, the Kings of the East, and Bible Prophecy Is there a Eurasian union that will be formed? Is one being formed right now? Are any leaders working on that in the 21st century? Does the Bible teach that there will be a Eurasian union? If some type of Eurasian union is formed, who might it benefit and who will it destroy? A related video would be Is The Eurasian Union Rising?
Japan, Its Biblical Past and Future, Part 1: Any Witness? Where did the Japanese people come from? Have they had any witness?
Japan, Its Biblical Past and Future, Part 2: Prophecy Japan in prophecy. What is prophesied for Japan? Will God save the Japanese?
USA in Prophecy: The Strongest Fortresses Can you point to scriptures, like Daniel 11:39, that point to the USA in the 21st century? This article does. A related sermon is titled: Do these 7 prophesies point to the end of the USA?
Is Russia the King of the North? Some claim it is. But what does the Bible teach? Here is a link to a video, also titled Is Russia the King of the North?
Ezekiel 38: For Russia & Iran in Our Day? Is Ezekiel 38 about to be fulfilled? A related video is available titled Ezekiel 38: For Russia, Ukraine, & Iran Now? Another could be Russia, Iran, Syria, & the Bible (Code).
When Will the Great Tribulation Begin? 2017, 2018, or 2019? Can the Great Tribulation begin today? What happens before the Great Tribulation in the "beginning of sorrows"? What happens in the Great Tribulation and the Day of the Lord? Is this the time of the Gentiles? When is the earliest that the Great Tribulation can begin? What is the Day of the Lord? Who are the 144,000? Here is a version of the article in the Spanish language: ¿Puede comenzar la Gran Tribulación en 2016 o 2017? ¿Es el Tiempo de los Gentiles? You can also see the English language sermon videos: The Great Tribulation from the Mount of Olives and Can the Great Tribulation begin before 2020? A shorter video is: Will the Great Tribulation Start in 2017?
Jerusalem: Past, Present, and Future What does the Bible say about Jerusalem and its future? Is Jerusalem going to be divided and eliminated? Is Jesus returning to the area of Jerusalem? There are also two related YouTube videos you can watch: Jerusalem To be divided and eliminated and God's and Satan's Plan for Jerusalem.
Anglo – America in Prophecy & the Lost Tribes of Israel Are the Americans, Canadians, English, Scottish, Welsh, Australians, Anglo-Saxon (non-Dutch) Southern Africans, and New Zealanders descendants of Joseph? Where are the lost ten-tribes of Israel? Who are the lost tribes of Israel? What will happen to Jerusalem and the Jews in Israel? Will God punish the U.S.A., Canada, United Kingdom, and other Anglo-Saxon nations? Why might God allow them to be punished first? Here is a link to the Spanish version of this article: Anglo-América & las Tribus Perdidas de Israel. Information is also in the YouTube sermons titled Where are the Ten Lost Tribes? Why does it matter? and British are the Covenant People. A short YouTube of prophetic interest may be: Are Chinese threats against Australia for real?
Will the Anglo-Saxon Nations be Divided and Have People Taken as Slaves? Will the lands of the United States, United Kingdom, Canada, Australia, and New Zealand be divided? What about Jerusalem? What does Bible prophecy teach? Are there non-biblical prophecies that support this idea? Who will divide those lands? Who will end up with the lands and the people? Here is a link to a video titled Will the USA and other Anglo-nations be Divided and Their People Made Slaves? Here is a related item in the Spanish language ¿Serán divididas las naciones anglosajonas?
British are the Covenant People What do 'British' and 'Britain' mean in Hebrew? Are the descendants of the Anglo-Saxons people of the covenant? Does the British royal family connect to the throne of David? What does the Bible teach? What does history show us? Is there any DNA evidence related to British-Israelism? When did Christianity make it to the British Isles? Could Jeremiah have made it to the British Isles? What type of Christians made it to the British Isles? Did the last King of England believe in British Israelism?
Donald Trump in Prophecy Prophecy, Donald Trump? Are there prophecies that Donald Trump may fulfill? Are there any prophecies that he has already helped fulfill? Could a Donald Trump presidency be apocalyptic? A related video is titled: Donald: 'Trump of God' or Apocalyptic?
Trump Presidency Magic 8 Ball or Bible Prophecy? BBC reported that one might as well use a 'Magic Eight-Ball' to try to predict what will happen in the remaining time of Donald Trump's presidency. What is a 'Magic Eight-Ball'? Dr. Thiel not only explains that, but also briefly goes over 10 biblically-based warnings he wrote would happen if Donald Trump were elected that have already began to come to pass. He also goes over something he wrote back in 2008 that the Trump presidency is also helping lead to fulfillment. Should you trust Bible prophecy or not? Dr. Thiel says that Bible prophecy can be trusted, despite the view of skeptics and others that either overlook or despise the Bible. This is a video.
Donald Trump and America's Apocalypse This 188 page book is for people truly interested in prophecies related to Donald Trump and the United States, including learning about several that have already been fulfilled and those that will be fulfilled in the future. The physical book can be purchased at Amazon for $12.99 from the following link: Donald Trump and America's Apocalypse.
Donald Trump and America's Apocalypse-Kindle Edition This electronic version of the 188 page print edition is available for only US$3.99. And you do not need an actual Kindle device to read it. Why? Amazon will allow you to download it to almost any device: Please click HERE to download one of Amazon s Free Reader Apps. After you go to for your free Kindle reader and then go to Donald Trump and America's Apocalypse-Kindle Edition.
The Gospel of the Kingdom of God This free online pdf booklet has answers many questions people have about the Gospel of the Kingdom of God and explains why it is the solution to the issues the world is facing. Here are links to three related sermons: The World's False Gospel, The Gospel of the Kingdom: From the New and Old Testaments, and The Kingdom of God is the Solution.