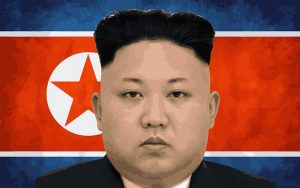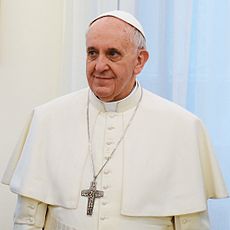 Kim Jong-un and Pope Francis
Pope Francis has apparently been invited to visit North Korea:
North Korea's Kim Jong-un invites Pope Francis to Pyongyang

10 October 2018

North Korean leader Kim Jong-un has invited Pope Francis to visit the country, South Korea's presidential office has announced.

The invitation to visit Pyongyang will be delivered by South Korean president Moon Jae-in who will be in the Vatican next week as part of a trip to Europe.

No pope has ever visited North Korea, though the late Pope John Paul II was once invited.

North Korea and the Vatican have no formal diplomatic relations.

"During the meeting with Pope Francis, [Mr Moon] will relay the message from chairman Kim Jong-un that he would ardently welcome the Pope if he visits [the North Korean capital] Pyongyang," Mr Moon's spokesman, Kim Eui-kyeom, told reporters.

The invitation is the latest reconciliatory gesture from North Korea. http://www.businessghana.com/site/news/Politics/174024/North-Korea

SEOUL, South Korea — North Korean dictator Kim Jong Un has invited Pope Francis to meet in Pyongyang, a South Korean spokesman said Tuesday.

Pope Francis is already set to meet with South Korean President Moon Jae-in Oct. 18 for an audience at the Vatican Apostolic Palace, where Moon will personally deliver the invitation from Kim Jong Un.

President Moon, a Catholic, will also participate in a Mass for peace on the Korean Peninsula in St. Peter's Basilica Oct. 17 celebrated by Vatican Secretary of State Cardinal Pietro Parolin.

During the most recent summit between Korean leaders in September, Kim told Moon that he would "greatly welcome" the Pope to Pyongyang, according to South Korea's presidential office.

South Korean bishops have been leading Catholics in prayer for the reconciliation and unity of the divided Korean Peninsula for decades.

"Since 1965, the Korean Catholic Church has been praying for the true peace of the two Koreas and the reconciliation of the nation," Archbishop Kim Hee-Jung of Gwangju wrote in April, following the first meeting between the Korean leaders and the chairman of the Korean bishops' conference in April.

"Through these prayers, something miraculous is happening in this land by the help of God, for whom nothing will be impossible," Archbishop Kim continued.

"Until the day when complete peace is established on the Korean Peninsula and divided peoples are united, the Catholic Church of Korea will accompany the journey for reconciliation of the people in unity." 01/09/18 http://www.ncregister.com/daily-news/kim-jong-un-invites-pope-francis-to-meet-in-pyongyang
This is not a surprise. Notice something I posted here four years ago:
Pope Francis is interested in Korea, China, and all of Asia. Because of prophecies in the Book of Revelation, I have long suspected that the time for some reconciliations between North and South Korea would take place. Perhaps Pope Francis, despite North Korea's actions, will be a factor. (Thiel B. Pope Francis in South Korea after sending a message to China. COGwriter, August 14, 2014)
Pope Francis has made a variety of interfaith and socialist statements, so Kim Jong-un likely feels he has nothing to lose, and a possible partial ally to gain, by inviting Pope Francis.
The fact that this has happened right after the Vatican agreed to sign a compromise deal with China regarding the appointment of Catholic bishops (see Vatican announces deal with China on bishop appointments) suggests that perhaps Kim Jong-un feels he can also negotiate something with the Vatican that would not have otherwise seemed possible.
Pope Francis has expressed interest in North Korea before:
August 17, 2014

Pope Francis has urged bishops from around Asia to listen to people of different cultures but still remain true to their own Catholic identity.

In a meeting with 60 bishops Sunday at South Korea's Haemi Martyrdom Holy Ground in North Chungcheong Province, Francis urged countries like China and North Korea to foster a proper dialogue with the Vatican. http://www.voanews.com/content/pope-beatifies-korean-martyrs/2415493.html
Hence a visit to North Korea would seem to be part of his agenda.
Which agenda?
The agenda to create strong cooperation and bonds between peoples around the world, so that all will be part of a one-world endorsed religion with the top leader in Rome.
China itself has writings that indicate that it will follow a Western faith for a time.  The following come from the Tang Dynasty (June 18, 618 – June 4, 907) that seems to support the concept of pan-Asian religious cooperation (although it only mentions three nations) after someone (who is apparently not really trustworthy) rises up in the West:
Beautiful people come from the West. Korea, China and Japan are gradually at peace (Pui-Hua R.  Ancient Chinese Prophecies Till the End of the World.  AuthorHouse, Bloomington (IN), 2008, p. 85).

All negative forces are subservient…China now has a saint.  Even if he is not that great a hero (ibid, p. 89).
The beautiful people may be the Beast and his false prophet which apparently will impress peoples in places including Asia. The "saint," who is not that great, will likely be "the false prophet," the final Antichrist (see also Some Doctrines of Antichrist).  I believe that Vatican efforts, combined with ancient Chinese writings and modern politics, along with signs and lying wonders (2 Thessalonians 2:9-12, will be factors in getting the Asians and others to cooperate, for a time, with the rising Beast power.
Catholic prophecies tell of a time many will come into their final faith:
Bl. Anna-Maria Taigi (19th century). Whole nations will come back to the Church and the face of the earth will be renewed. (Dupont, p.45)
The Bible reveals that after signs and lying wonders (2 Thessalonians 2:9-12), the bulk of the world will worship one in Europe (Revelation 13:1-4,8)–one that will promote a compromised version of a faith that will initially call itself Catholic.
Some items of possibly related interest may include:
Korea in Prophecy, Any Witness? Where did the Korean people come from? Does God have a plan for the Koreans? Is Korea mentioned in any prophecies? Will Koreans be among the first in the Kingdom of God? Here is a machine-translated link to that article in Korean: 한국의 언어로 : 한국 예언, 모든 증인에?. Here is a link to a magazine with that article in Mandarin Chinese: 在预言中的韩国:有任何证人吗? A prophetic video is also available: Syria, North Korea, and Prophecy.
Will the Interfaith Movement Lead to Peace or Sudden Destruction? Is the interfaith movement going to lead to lasting peace or is it warned against?
Beware: Protestants Going Towards Ecumenical Destruction! What is going on in the Protestant world? Are Protestants turning back to their 'mother church' in Rome? Does the Bible warn about this? What are Catholic plans and prophecies related to this? Is Protestantism doomed?
Do You Know That Babylon is Forming? How is the final Babylon forming? Are Protestants such as Joel Osteen and Kenneth Copeland are endorsing something dangerous? Could Pope Francis be the 'False Prophet' that the Bible warns against? Is an antipope expected to endorse a one-world religion? Here is a link to a related written article In Vatican City: New Babylon more openly forming!
Hope of Salvation: How the Continuing Church of God differ from most Protestants How the real Church of God differs from mainstream/traditional Protestants, is perhaps the question I am asked most by those without a Church of God background. As far as some changes affecting Protestantism, watch the video Charismatic Kenneth Copeland and Anglican Tony Palmer: Protestants Beware!
Why Should American Catholics Fear Unity with the Orthodox? Are the current ecumenical meetings a good thing or will they result in disaster? Is doctrinal compromise good? Here is a link to a related video Should you be concerned about the ecumenical movement?
United Nations: Humankind's Last Hope or New World Order? Is the UN the last hope for humanity? Or might its goals end up with sinister results? A related video would be United Nations and Vatican Are Planning the New World Order.
Which Is Faithful: The Roman Catholic Church or the Continuing Church of God? Do you know that both groups shared a lot of the earliest teachings? Do you know which church changed? Do you know which group is most faithful to the teachings of the apostolic church? Which group best represents true Christianity? This documented article answers those questions.
Who is the Man of Sin of 2 Thessalonians 2? Is this the King of the North, the ten-horned beast of Revelation 13:1-11, or the two-horned Beast of Revelation 13:12-16? Some rely on traditions, but what does the Bible teach? Here is a related link in Spanish/español: ¿Quién es el Hombre de Pecado de 2 Tesalonicenses 2? Here is a version in Mandarin: 主编: 谁是'大罪人'?Here is a link to a related YouTube video, in English, titled Who is the Man of Sin?
Some Doctrines of Antichrist Are there any doctrines taught outside the Churches of God which can be considered as doctrines of antichrist? This article suggests at least three. It also provides information on 666 and the identity of "the false prophet." Plus it shows that several Catholic writers seem to warn about an ecumenical antipope that will support heresy. You can also watch a video titled What Does the Bible teach about the Antichrist?
Could Pope Francis be the Last Pope and Antichrist? According to some interpretations of the prophecies of the popes by the Catholic saint and Bishop Malachy, Pope Francis I is in the position of "Peter the Roman," the pontiff who reigns during tribulations until around the time of the destruction of Rome. Do biblical prophecies warn of someone that sounds like Peter the Roman? Could Francis I be the heretical antipope of Catholic private prophecies and the final Antichrist of Bible prophecy? This is a YouTube video.
Korea in Prophecy, Any Witness? Where did the Korean people come from? Does God have a plan for the Koreans? Is Korea mentioned in any prophecies? Will Koreans be among the first in the Kingdom of God? Here is a machine-translated link to that article in Korean: 한국의 언어로 : 한국 예언, 모든 증인에?; here is a link to that article in Mandarin Chinese: 在预言中的韩国:有任何证人吗?
China, Its Biblical Past and Future, Part 1: Genesis and Chinese Characters Where did the Chinese people come from? This article provides information showing that the Chinese peoples must have known about various accounts in the Book of Genesis up until their dispersion after the Tower of Babel. Here is a link to a version of this article in Spanish: ¿Prueban los caracteres chinos la exactitud de la Biblia?
China, Its Biblical Past and Future, Part 2: The Sabbath and Some of God's Witness in China When did Christianity first come to China? And is there early evidence that they observed the seventh day sabbath?
Asia in Prophecy What is Ahead for Asia? Who are the "Kings of the East"? What will happen to nearly all the Chinese, Russians, Indians, and others of Asia? China in prophecy, where? Who has the 200,000,000 man army related to Armageddon? A YouTube video of interest may be Is China THE Threat to the United States of America?