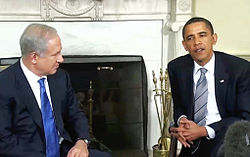 Israeli Prime Minister Netanyahu and US President Obama

An agreement in Gaza today is expected to negatively impact peace plans by Israel and apparently also the USA:
Obama did not formally wave the white flag, but his statements to the press make it clear that he thinks that currently, both Israeli Prime Minister Benjamin Netanyahu and Palestinian President Mahmoud Abbas are not partners for peace.

Obama's statements were neither planned nor orchestrated in advance. He was asked a question, and he answered honestly and directly that despite a year of supreme efforts by the American administration, both Netanyahu and Abbas were unwilling to show leadership. In Obama's opinion, both figures, motivated by political survival, don't want to make decisions which will begin to untie the Gordian knot called the Israeli-Palestinian conflict.

The American president termed the new American policy toward the peace process as a "pause." John Kerry called it a "transition to a holding period." In simple English, the two gave the signal over the weekend for the American retreat from the Israeli-Palestinian peace process.  http://www.haaretz.com/news/diplomacy-defense/.premium-1.587498

April 27, 2014 (Reuters) – Israeli Prime Minister Benjamin Netanyahu urged Palestinian President Mahmoud Abbas on Sunday to "tear up" his pact with Hamas, saying Israel would not take part in Middle East peace talks with a Palestinian government backed by the Islamist group.

Netanyahu also said Abbas's comments earlier on Sunday denouncing the Holocaust could not be reconciled with his alliance with Hamas.

"President Abbas has to decide whether he wants a pact with Hamas or peace with Israel. He cannot speak out of both sides of his mouth. He cannot embrace Hamas and say that he wants peace with Israel," Netanyahu said on the U.S. television program "Face the Nation," according to a transcript provided by the CBS network.

"In fact, what I say to him very simply is this: President Abbas, tear up your pact with Hamas. Recognize the Jewish state. Make peace. I hope you do that. But you can't have Hamas and peace with Israel."…. In an appearance on the CNN program "State of the Union," Netanyahu reiterated that Israel would not negotiate with a government backed by Hamas. http://www.reuters.com/article/2014/04/27/us-palestinian-israel-netanyahu-idUSBREA3Q0BO20140427
Will a peace deal ever happen?
Yes.
Now?
That looks doubtful.
President Obama's comments indicate that a deal is currently not close, as do Prime Minister Netanyahu's.
It remains my view that it is likely that a major peace deal, at least one consistent with Daniel 9:27, will not happen until various of the parties involved will be hit by more war and/or terrorism.
Because we do not seem to be close to having the deal of Daniel 9:27, this is one reason why I have been saying that the Great Tribulation cannot begin prior to 2017 and is likely not to occur until later.
That being said, a deal will come.
Notice in the book of Daniel there is a prophecy related to the end times that states:
26 And the people of the prince who is to come
Shall destroy the city and the sanctuary.
The end of it shall be with a flood,
And till the end of the war desolations are determined.
27 Then he shall confirm a covenant with many for one week;
But in the middle of the week
He shall bring an end to sacrifice and offering.
And on the wing of abominations shall be one who makes desolate,
Even until the consummation, which is determined,
Is poured out on the desolate (Daniel 9:26-27).
The 'one week' has generally been understood by prophecy watchers to mean a seven year deal, that is broken in the middle of it (after 3 1/2 years).
The idea of this being a seven-year end-time deal was also understood by the Catholic theologian Hippolytus (died 235) in the third century:
…the iron and the clay shall be mingled together. Now Daniel will set forth this subject to us. For he says, "And one week will make a covenant with many, and it shall be that in the midst (half) of the week my sacrifice and oblation shall cease." By one week, therefore, he meant the last week which is to be at the end of the whole world of which week the two prophets… will take up the half. For they will preach 1,260 days clothed in sackcloth, proclaiming repentance to the people and to all the nations…(Hippolytus. On Christ and Antichrist, Chapter 43. Online edition Copyright © 2008 by Kevin Knight).
So, the idea of this deal somehow having a seven-year component is not simply a recent one.  Based upon what the Bible teaches about the seven churches of Revelation 2 & 3, it is my position that the seven-year component will not be clear enough to Catholics, Protestants, nor most who claim to be in the Church of God (COG) for them to realize this is the deal.  Just like they do not consider certain prophetic matters clear enough (e.g. How To Determine If Someone is a True Prophet of God), the vast majority will not truly understand the prophetic implications when the related deal is made.
The result of the deal in Daniel 9:27 is that 3 1/2 years after it is confirmed, a military force from Europe will enter Israel (Daniel 11:31), and according to Jesus will be a sign that the Great Tribulation is about to begin (Matthew 24:15-19).
Although he has several events out of sequence, even the late, famed, Protestant theologian John Walvoord understood the importance of the deal in Daniel 9:27:
The seven-year peace treaty with Israel; consummated seven years before the second coming of Christ (Dan. 9:27; Revelation 19:11-16). (Walvoord J. The Prophecy Knowledge Handbook. Victor Books, 1990, p. 551)
Why is this believed to be a peace deal? There are several reasons, but notice some other scriptures that discuss this leader:
25 And through his policy also he shall cause craft to prosper in his hand; and he shall magnify himself in his heart, and by peace shall destroy many: he shall also stand up against the Prince of princes; but he shall be broken without hand. (Daniel 8:25, KJV).

23 And after the league is made with him he shall act deceitfully, for he shall come up and become strong with a small number of people. 24 He shall enter peaceably, even into the richest places of the province; and he shall do what his fathers have not done, nor his forefathers: he shall disperse among them the plunder, spoil, and riches; and he shall devise his plans against the strongholds, but only for a time. (Daniel 11:23-24, NKJV)
So this leader gives people the impression that there will be "peace" and is involved in some type of deal. Term is translated as "peace" in Daniel 8:25 is from the Hebrew term shalvah and essentially means security. In other words, this leader will destroy "many" who are under the impression that they are secure because of some type of security arrangement. Such arrangements are now commonly referred to as peace deals.
So, a deal will come.  But it may take a regional war and/or other disasters to get the parties serious enough to actually agree to one.
Some items of possibly related interest may include:
The Great Tribulation Will Not Begin Before 2017 When will the Great Tribulation begin? Can it begin in 2104 as some have indicated? What are the biblical requirements that precede the Great Tribulation? What did Jesus teach would happen prior to the Great Tribulation. Are there definite clues in the Book of Daniel that Christians should look out for? Is there a King of the North or a King of the South yet? Where does the 'prince' of Daniel 9:26-27 come from? This is a video sermon.
The Great Tribulation from the Mount of Olives. This sermon, given from the Mount of Olives, where Jesus Himself foretold the coming Great Tribulation (Matthew 24:21). gives details about the Great Tribulation as well as what to look for.
The Churches of Revelation 2 & 3 from 31 A.D. to present: information on all of the seven churches of Revelation 2 & 3. There is also a YouTube video: The Seven Church Eras of Revelation. There is also a version in the Spanish language: Las Siete Iglesias de Apocalipsis 2 & 3.
How To Determine If Someone is a True Prophet of God There are many false prophets. How can Christians determine who is a true prophet? There is also a sermon-length video titled How to determine if someone is a true prophet of God. Here is a related link in Spanish/español: ¿Cómo determinar si alguien es un verdadero profeta de Dios?
The Arab and Islamic World In the Bible, History, and Prophecy The Bible discusses the origins of the Arab world and discusses the Middle East in prophecy. What is ahead for the Middle East and those who follow Islam? What about the Imam Mahdi? What lies ahead for Turkey, Iran, and the other non-Arabic Muslims? An item of possibly related interest in the Spanish language would be: Líderes iraníes condenan la hipocresía de Occidente y declaran que ahora es tiempo para prepararse para el Armagedón, la guerra, y el Imán Mahdi.
Jerusalem: Past, Present, and Future What does the Bible say about Jerusalem and its future? Is Jerusalem going to be divided and eliminated? Is Jesus returning to the area of Jerusalem? There is also a related YouTube video you can watch titled Jerusalem To be divided and eliminated.
Anglo – America in Prophecy & the Lost Tribes of Israel Are the Americans, Canadians, English, Scottish, Welsh, Australians, Anglo (non-Dutch) Southern Africans, and New Zealanders descendants of Joseph? Where are the lost ten-tribes of Israel? Who are the lost tribes of Israel? What will happen to Jerusalem and the Jews in Israel? Will God punish the U.S.A., Canada, United Kingdom, and other Anglo nations? Why might God allow them to be punished first? Here is a link to the Spanish version of this article: Anglo-América & las Tribus Perdidas de Israel. A video of possible interest may be Will Will USA Spying Help the Beast Power?
Will the Anglo-Nations be Divided and Have People Taken as Slaves? Will the lands of the United States, United Kingdom, Canada, Australia, and New Zealand be divided? What about Jerusalem? What does Bible prophecy teach? Are there non-biblical prophecies that support this idea? Who will divide those lands? Who will end up with the lands and the people? Here is a link to a video titled Will the USA and other Anglo-nations be Divided and Their People Made Slaves? Here is a related item in the Spanish language ¿Serán divididas las naciones anglosajonas?
Who is the King of the West? Why is there no End-Time King of the West in Bible Prophecy? Is the United States the King of the West?
When Will the Great Tribulation Begin? 2014, 2015, or 2016? Can the Great Tribulation begin today? What happens before the Great Tribulation in the "beginning of sorrows"? What is the seven-year deal? What happens in the Great Tribulation and the Day of the Lord? Is this the time of the Gentiles? When is the earliest that the Great Tribulation can begin? What is the Day of the Lord? Who are the 144,000? This is a written article.
Barack Obama, Prophecy, and the Destruction of the United States-Second Edition for Second Obama Term This is a 160 page book for people truly interested in prophecies related to Barack Obama and the United States, including learning about many that have already been fulfilled (which the book documents in detail) and those that will be fulfilled in the future. It also has a chapter about a Republican choice. This book is available to order at www.barackobamaprophecy.com. The physical book can also be purchased at Amazon from the following link: Barack Obama, Prophecy, and the Destruction of the United States: Is Barack Obama Fulfilling Biblical, Islamic Catholic, Kenyan, and other America-Related Prophecies? What About Republican Leaders? Second Edition for Second Obama Term.
Barack Obama, Prophecy, and the Destruction of the United States-Second Term-Amazon Kindle edition. This electronic version is available for only US$2.99. And you do not need an actual Kindle device to read it. Why? Amazon will allow you to download it to almost any device: Please click HERE to download one of Amazon s Free Reader Apps. After you go to for your free Kindle reader and then go to Barack Obama, Prophecy, and the Destruction of the United States-Second Term-Amazon Kindle edition?