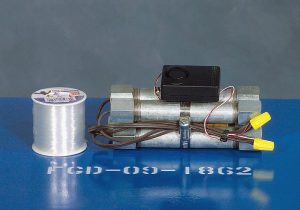 A tripwire-triggered pipe bomb mock-up
Some cowardly terrorist (or terrorists) mailed packages in the USA:
Suspicious devices sent to Clintons, Obamas, CNN NY offices

October 24, 2018


Authorities have intercepted devices intended for former President Barack Obama and 2016 Democratic presidential nominee Hillary Clinton.

Also, CNN's New York bureau in the Time Warner Center was evacuated after a suspicious package was discovered in the building.

CNN, citing a law enforcement official, was initially told a suspicious package containing a pipe bomb that was addressed to the White House was intercepted at Joint Base Bolling in Washington, DC. The Secret Service, however, later said it had only intercepted the two packages intended for Obama and Clinton and called reports of a package headed for the White House "incorrect."

The law enforcement official said the devices intended for Obama and Clinton appear to be rudimentary but functional and similar to the ones sent to the home of billionaire investor and major Democratic donor George Soros, which was discovered earlier this week.

Also on Wednesday morning, the New York Police Department responded to a suspicious device discovered in the Time Warner Center in New York City, where CNN has a bureau. It was not immediately clear who the package was addressed to, but CNN evacuated its newsroom as a precaution. https://www.cnn.com/2018/10/24/politics/bill-clinton-hillary-clinton-chappaqua/index.html

October 24, 2018

Two "suspicious packages" addressed to former President Obama and Hillary Clinton were intercepted by the Secret Service.
A package sent to CNN's offices in New York City was addressed to former CIA Director John Brennan.
The package addressed to Brennan contained what appeared to be a live explosive device, and an envelope containing white powder.
A package addressed to former Attorney General Eric Holder was instead delivered to the return address, the Florida office of former DNC chair Debbie Wasserman Schultz.
A suspicious package addressed to Democratic Rep. Maxine Waters was intercepted at a House mail facility, two sources told CBS News.
At least two packages included crude but functional low-ordnance explosive devices, a law enforcement official said.

A sprawling investigation unfolded Wednesday as authorities scrambled to respond to a series of suspicious packages. …

President Trump said Wednesday afternoon that "acts or threats of political violence of any kind have no place in the United States of America." He said in these times "we have to unify."

Speaking at a White House event Wednesday, Mr. Trump said he's been briefed about the several suspicious packages sent to top Democrats. …

John Miller, NYPD's chief of counterterrorism, said during a news conference Wednesday that the device sent to CNN's offices in New York appeared to be sent by the same individual who mailed devices to the homes of billionaire financier and liberal activist George Soros, Hillary Clinton and former President Obama.

Miller and FBI officials said the devices all appeared to be crude pipe bombs. …

New York City Mayor Bill de Blasio said Wednesday :"The situation at the Time Warner Center was clearly an act of terror attempting to undermine our free press and intimidate New Yorkers." https://www.cbsnews.com/live-news/suspicious-packages-pipe-bomb-clinton-obama-cnn-nyc-wasserman-schultz-office-live-updates/
The sending of pipe bombs or even something intended to cause terror through the mail is terroristic, cowardly, and wrong.
Terrorist acts remind me of the words of the Apostle Paul:
1 But know this, that in the last days perilous times will come: 2 For men will be lovers of themselves, lovers of money, boasters, proud, blasphemers, disobedient to parents, unthankful, unholy, 3 unloving, unforgiving, slanderers, without self-control, brutal, despisers of good, 4 traitors, headstrong, haughty, lovers of pleasure rather than lovers of God, 5 having a form of godliness but denying its power. And from such people turn away! … 13 But evil men and impostors will grow worse and worse, deceiving and being deceived. (2 Timothy 3:1-5, 13)
It is perilous, unloving, brutal, etc. to terrorize.
Since 9/11/2001, the USA has thwarted many suspected terrorist plots. It also, however, has done so with the view that it can deny its residents of most, if not all, of the liberties that the USA has long been proud of. How it now treats its residents and visitors at airports, including disabled ones is, let's simply say, intrusive. Citizens of the USA do not have many of the rights that their constitution seemingly provided for as those rights get in the way of government surveillance (How USA and UK espionage defeats internet privacy). This surveillance is sometimes related to looking for potential terrorists and at other times looking into other matters. Although sometimes judges intervene to try to protect constitutional rights (NSA illegally and unconstitutionally collected data on US residents), the trend has been for this surveillance to increase (e.g. USA and UK access 'smart phone' data).
Despite intrusive government efforts, the time will come when terrors will increase in the USA.
How can you be certain of that?
Well, because terrorism was prophesied in the Bible:
14 'But if you do not obey Me, and do not observe all these commandments, 15 and if you despise My statutes, or if your soul abhors My judgments, so that you do not perform all My commandments, but break My covenant, 16 I also will do this to you: I will even appoint terror over you, wasting disease and fever which shall consume the eyes and cause sorrow of heart. And you shall sow your seed in vain, for your enemies shall eat it. 17 I will set My face against you, and you shall be defeated by your enemies. Those who hate you shall reign over you, and you shall flee when no one pursues you. (Leviticus 26:14-17)

25 The sword shall destroy outside; There shall be terror within (Deuteronomy 32:25)

12 "Cry and wail, son of man; For it will be against My people, Against all the princes of Israel. Terrors including the sword will be against My people; Therefore strike your thigh. (Ezekiel 21:12)

12 Behold, these are the ungodly,Who are always at ease; They increase in riches…19 Oh, how they are brought to desolation, as in a moment! They are utterly consumed with terrors. (Psalms 73:12,19)

25 Because you disdained all my counsel, And would have none of my rebuke, 26 I also will laugh at your calamity; I will mock when your terror comes, 27 When your terror comes like a storm, And your destruction comes like a whirlwind, When distress and anguish come upon you. (Proverbs 1:25-27)

5 Also they are afraid of height, And of terrors in the way (Ecclesiastes 12:5).
The bringing in of certain Syrian refugees, which was supported by Hillary Clinton and Barack Obama, will not turn out well (cf. Isaiah 9:8-9, 11-12).
What is going to happen to the USA relatively soon will be so much worse than 9/11/2001 ever was (cf. Psalm 83:4-8; Daniel 11:39). Do not wait until it is too late to respond spiritually, so that you may be protected physically.
Now, the mail packages seem at this stage, to be an act of domestic political terrorism (cf. Deuteronomy 32:25).
Jesus warned:
24 If a kingdom is divided against itself, that kingdom cannot stand. 25 And if a house is divided against itself, that house cannot stand. (Mark 3:24-25)
We continue to see more and more division in the USA. And there are various ones that advocate violence on the political extremes.
There is not much real unity in the USA.
Without national repentance, the USA is doomed.
Since the USA seems to be going more into sin, national repentance seems unlikely.
Yet, personal repentance is still possible. Do you see what is happening in the USA and elsewhere?
If so, what do you plan to do about it?
Some items of possibly related interest may include:
Why Terrorism? Is Terrorism Prophesied? What does the Bible teach? Which nations may be affected? Here is a link to a related sermon: Terrorism, Christianity, and Islam.
What is the Meaning of Life? Who does God say is happy? What is your ultimate destiny? Do you really know? Does God actually have a plan for YOU personally? There is also a video titled What is the meaning of your life?
Christian Repentance Do you know what repentance is? Is it really necessary for salvation? A related sermon is also available titled: Real Christian Repentance.
Just What Do You Mean — Repentance? Do you know what repentance is? Have you truly repented? Repented of what? Herbert W. Armstrong wrote this as a booklet on this important subject.
When You Sin: Do You Really Repent? This is an article by Charles F. Hunting. A related sermon is Confess to God and truly repent.
Just What Do You Mean Conversion? Many think that they are converted Christians. But are they? Would you like to know more about conversion. Herbert W. Armstrong wrote this as a booklet on this important subject.
Real Conversion Many think that they are converted Christians. But are they? Would you like to know more about conversion?
False Conversion! Have you really been converted? Herbert W. Armstrong wrote an article on this important subject–but more scriptures have been added to it. How can you tell false conversion? A related video is also available: False Conversion.
All About Water Baptism What is baptism? Would you like to know more about it. Herbert W. Armstrong wrote this as a booklet on this important subject. As far as early history, see also Baptism and the Early Church.
God's Grace is For All Is being Jewish a hindrance to salvation? What about not being a descendant of Israel? What does the Bible really teach? Here is a link to a related sermon titled Race and Grace; Do you view race as God does?
Predestination: Did God really call You? Why? Predestination? Is your ultimate fate decided for you in advance? Here is a link to a related video sermon: Predestination: What it is and what it is not. Another related video is Predestination and Pentecost.
Is God Calling You? This booklet discusses topics including calling, election, and selection. If God is calling you, how will you respond? Here is a link to a related sermon: Could God be Calling You?
Anglo – America in Prophecy & the Lost Tribes of Israel Are the Americans, Canadians, English, Scottish, Welsh, Australians, Anglo-Saxon (non-Dutch) Southern Africans, and New Zealanders descendants of Joseph? Where are the lost ten-tribes of Israel? Who are the lost tribes of Israel? What will happen to Jerusalem and the Jews in Israel? Will God punish the U.S.A., Canada, United Kingdom, and other Anglo-Saxon nations? Why might God allow them to be punished first? Here is a link to the Spanish version of this article: Anglo-América & las Tribus Perdidas de Israel. Information is also in the YouTube sermons titled Where are the Ten Lost Tribes? Why does it matter? and British are the Covenant People. A short YouTube of prophetic interest may be: Are Chinese threats against Australia for real?
Will the Anglo-Saxon Nations be Divided and Have People Taken as Slaves? Will the lands of the United States, United Kingdom, Canada, Australia, and New Zealand be divided? What about Jerusalem? What does Bible prophecy teach? Are there non-biblical prophecies that support this idea? Who will divide those lands? Who will end up with the lands and the people? Here is a link to a video titled Will the USA and other Anglo-nations be Divided and Their People Made Slaves? Here is a related item in the Spanish language ¿Serán divididas las naciones anglosajonas?
British are the Covenant People What do 'British' and 'Britain' mean in Hebrew? Are the descendants of the Anglo-Saxons people of the covenant? Does the British royal family connect to the throne of David? What does the Bible teach? What does history show us? Is there any DNA evidence related to British-Israelism? When did Christianity make it to the British Isles? Could Jeremiah have made it to the British Isles? What type of Christians made it to the British Isles? Did the last King of England believe in British Israelism?
Who is the King of the West? Why is there no End-Time King of the West in Bible Prophecy? Is the United States the King of the West?