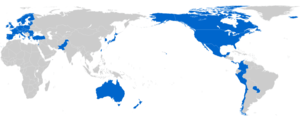 TISA nations in blue (www.dfat.gov.au)

A reader sent me the following information:
The TPP, TiSA and TTIP 'agreements' are in actuality treaties in all but name. Calling them agreements rather than a treaty lowers the constitutional requirement of passing by two-thirds for such and allows it to pass with a simple majority.

This trio of trade agreements are sometimes collectively referred to as ObamaTrade. While the TPP is available for limited Congressional review under supervision under the proviso that the trade language cannot be divulged, TISA and TTIP texts are unavailable for even members of Congress to read. The text of the TPP is strictly off limits to the public and even members of Congress must go to a secure, guarded room in the Capital building in order to view the text, and any hand written notes taken must be turned over to security personnel before leaving the premises.

The Trans-Pacific Partnership (TPP) is a wide-reaching and highly secretive multinational trade agreement between the United States and Australia, Brunei, Canada, Chile, Japan, Malaysia, Mexico, New Zealand, Peru, Singapore, and Vietnam encompassing 40% of trade worldwide.

The Trade in Services Agreement (TiSA) is a trade initiative focused on service industries from telecommunications and technology to distribution and delivery services and covers about 70% of the global services economy. Serious privacy concerns have been raised about the agreement, along with questions over the possible impact on immigration following several chapters of the agreement being published byWikiLeaks including one chapter titled "TiSA Annex on Movement of Natural Persons".

The Economic Policy Institute writes of TiSA that "there is little doubt that it will constrain the future ability of the United States Congress to regulate U.S. immigration policy." They go on to say "The TiSA draft annex on Movement of Natural Persons would also likely restrict the ability of the current and future administrations to continue some of the basic immigration procedures it currently follows, such as requiring an in-person interview with L-1 applicants."

The report concludes with the EPI stating that "TiSA has been written in secret by and for major corporations that will benefit greatly if it becomes law. The leaked TiSA text makes it clear that contrary to the claims by proponents of fast-track trade promotion authority, the reality is that those voting for fast track are ceding key powers to make immigration law and policy to an unelected group of corporations and foreign governments."  ttp://www.chrisrofot.com/the-tpp-tisa-ttip-triumvirate/

Uruguay's government decided to end its participation in the secret negotiations of the Trade in Services Agreement (TISA). After months of intense pressure led by unions and other grassroots movements that culminated in a national general strike on the issue – the first of its kind around the globe – the Uruguayan President Tabare Vazquez bowed to public opinion and left the US-led trade agreement.

Despite – or more likely because of – its symbolic importance, Uruguay's historic decision has been met by a wall of silence. Beyond the country's borders, mainstream media has refused to cover the story.

This is hardly a surprise given that the global public is not supposed to even know about TiSA's existence, despite – or again because of – the fact that it's arguably the most important of the new generation of global trade agreements. According to WikiLeaks, it "is the largest component of the United States' strategic 'trade' treaty triumvirate," which also includes the Trans Pacific Partnership (TPP) and the TransAtlantic Trade and Investment Pact (TTIP).

TiSA involves more countries than TTIP and TPP combined: The United States and all 28 members of the European Union, Australia, Canada, Chile, Colombia, Costa Rica, Hong Kong, Iceland, Israel, Japan, Liechtenstein, Mexico, New Zealand, Norway, Pakistan, Panama, Paraguay, Peru, South Korea, Switzerland, Taiwan and Turkey.

Together, these 52 nations form the charmingly named "Really Good Friends of Services" group, which represents almost 70% of all trade in services worldwide. Until its government's recent u-turn Uruguay was supposed to be the 53rd Good Friend of Services.

TISA TRAILER

TiSA has spent the last two years taking shape behind the hermetically sealed doors of highly secure locations around the world. According to the agreement's provisional text, the document is supposed to remain confidential and concealed from public view for at least five years after being signed. Even the World Trade Organization has been sidelined from negotiations.
Here is some of what the Canadians have written about it:
The Trade in Services Agreement (TISA) is a major attempt to further liberalize trade in services. TISA members represent an enormous services market with nearly 1.6 billion people and a combined GDP of more than $50 trillion in 2013—nearly two-thirds of the world's economy. In 2013, these countries exported more than $3.6 trillion in services.

There are 24 parties taking part in the TISA negotiations: Australia; Canada; Chile; Chinese Taipei; Colombia; Costa Rica; the European Union; Hong Kong (China); Iceland; Israel; Japan; Liechtenstein; New Zealand; Norway; Mexico; Pakistan; Panama; Paraguay; Peru; South Korea; Switzerland; Turkey; the United States; and Uruguay. As demonstrated by the addition of Uruguay, TISA participants have agreed to welcome other WTO members that wish to join the negotiations and that share the objectives of the group. Parties have recently agreed to Mauritius' request to join the Negotiations. A final agreement envisages an accession process to allow other WTO members to join in the future.

Since the negotiations were launched in March 2013, twelve rounds of negotiations have taken place in Geneva and two more are planned for 2015. At the end of 2013, the text negotiations were advanced enough to allow the TISA parties to table initial offers. Parties intend to intensify market access negotiations over the next year. During the July 2015 round, discussions focused on a number of proposals including transparency, domestic regulations, telecommunication services and e-commerce, financial services, transportation, and movement of natural persons. The July round also served as an opportunity for Parties to assess progress to date and discuss how the TISA should move forward toward in a timely conclusion.

The services industry includes sectors such as telecommunications services, financial services, computer services, retail distribution, transportation, environmental services, express delivery, energy services and professional services (e.g. accountants, lawyers, architects and engineers).  http://www.international.gc.ca/trade-agreements-accords-commerciaux/topics-domaines/services/tisa-acs.aspx?lang=eng
Here is a Q&A from the Europeans about it:
Why is TiSA important for the EU?

Quite simply: it will create growth and jobs.

The EU is the world's largest exporter of services with tens of millions of jobs throughout Europe in the services sector. Making it easier for EU firms to export services to other countries will help secure growth and jobs here in the EU. And making it possible for firms from outside Europe to offer their services in the EU will increase choice and lower prices for businesses and consumers alike.  http://ec.europa.eu/trade/policy/in-focus/tisa/questions-and-answers/
As services become a bigger part of the world economy, trade agreements related to services are becoming more important to more nations.
Some think that TISA will limit government controls, others have a different view.  It may well impact immigration and we are already seeing changes in the policies in Europe and the USA related to migrant issues.  This may result in increased terrorism (see FBI again warns about Syrian migrants; Bible prophecy suggests that the US and UK may be hurt by them).
TISA is one of at least three major trade deals that the Obama Administration has been involved with.  Here is something from the past Summer:
22 June 2015

U.S. President Barack Obama has for years been negotiating with European and Asian nations — but excluding Russia and China, since he is aiming to defeat them in his war to extend the American empire (i.e, to extend the global control by America's aristocracy) — three international 'trade' deals (TTP, TTIP, & TISA), each one of which contains a section (called ISDS) that would end important aspects of the sovereignty of each signatory nation…Bilderberg group, which brings together the leaders, and the advisers to the leaders, of international corporations, meeting annually or bi-annually, near the places where major national leaders or potential future leaders have pre-scheduled to congregate, such as this year's G-7 meeting in Bavaria, so that even heads-of-state (and/or their aides) can quietly slip away unofficially to join nearby the Bilderbergs and communicate privately with them…

A good deal has been said but very little has been done about trade policy, and this would be a good place to start the partnership." (Note the 'Partnership' in "Trans Pacific Partnership," and in "Transatlantic Trade & Investment Partnership"; but TISA doesn't use that term.) …

The fact that these 'trade' deals are being pushed right now, means that the people who are in power have concluded that, already, 'the free world' is so dictatorial, that the chances that their plan can now be imposed globally are about as good as is likely ever to be the case again. The time is ripe for them to establish a global corporate dictatorship.(http://www.thepeoplesvoice.org/TPV3/Voices.php/2015/06/22/title-211)
TISA also involves banking and other financial services. Basically, governments want more control over everything. A 'cashless society' is one way many believe that world leaders can better gain that control.
Why bring up concerns about a cashless society and trade agreements?
Well, because the Bible tells of a coming time of international cooperation and a highly monitored economy that is consistent with a cashless society bound by trade agreements:
1 Then I stood on the sand of the sea. And I saw a beast rising up out of the sea, having seven heads and ten horns, and on his horns ten crowns, and on his heads a blasphemous name. 2 Now the beast which I saw was like a leopard, his feet were like the feet of a bear, and his mouth like the mouth of a lion. The dragon gave him his power, his throne, and great authority. 3 And I saw one of his heads as if it had been mortally wounded, and his deadly wound was healed. And all the world marveled and followed the beast. 4 So they worshiped the dragon who gave authority to the beast; and they worshiped the beast, saying, "Who is like the beast? Who is able to make war with him?"

5 And he was given a mouth speaking great things and blasphemies, and he was given authority to continue for forty-two months. 6 Then he opened his mouth in blasphemy against God, to blaspheme His name, His tabernacle, and those who dwell in heaven. 7 It was granted to him to make war with the saints and to overcome them. And authority was given him over every tribe, tongue, and nation. 8 All who dwell on the earth will worship him, whose names have not been written in the Book of Life of the Lamb slain from the foundation of the world. (Revelation 13:1-8)

11 Then I saw another beast coming up out of the earth, and he had two horns like a lamb and spoke like a dragon. 12 And he exercises all the authority of the first beast in his presence, and causes the earth and those who dwell in it to worship the first beast, whose deadly wound was healed. 13 He performs great signs, so that he even makes fire come down from heaven on the earth in the sight of men. 14 And he deceives those who dwell on the earth by those signs which he was granted to do in the sight of the beast, telling those who dwell on the earth to make an image to the beast who was wounded by the sword and lived. 15 He was granted power to give breath to the image of the beast, that the image of the beast should both speak and cause as many as would not worship the image of the beast to be killed. 16 He causes all, both small and great, rich and poor, free and slave, to receive a mark on their right hand or on their foreheads, 17 and that no one may buy or sell except one who has the mark or the name of the beast, or the number of his name.

18 Here is wisdom. Let him who has understanding calculate the number of the beast, for it is the number of a man: His number is 666. (Revelation 13:11-18)
While the USA and all of its Anglo-Saxon descended allies are parties to TISA, the time will come when they will not be part of the deals the way they are planned.  The USA and all of its Anglo-Saxon descended allies (UK, Canada, Australia, and New Zealand) will ultimately lose their sovereignty, and not because of trade deals, but because of loss of warfare (Daniel 11:39).
A type of world government based in Europe, that will come out of war, will temporarily (42 months according to Revelation 13:5) have a lot of power and influence. It will try to have various economic plans, but according to the Bible, it will not be good nor end well (Revelation 18). But it is prophesied to be able to control buying and selling. If physical cash is eliminated, this will be easier.
As far as Uruguay goes, in the future it will more closely align with Europe, despite its withdrawal from TISA.
As far as TISA and the other trade agreements go, these moves towards a cashless 'global' society will make it easier for 666 to control buying and selling.
Several items of possibly related interest may include:
Europa, the Beast, and Revelation Where did Europe get its name? What might Europe have to do with the Book of Revelation? What about "the Beast"? Is an emerging European power "the daughter of Babylon"? What is ahead for Europe? Here is a link to a video titled: Can You Prove that the Beast to Come is European?
WTO/TTIP and the Babylonian Beast Will international trade agreements like WTO/TTIP/CETA lead to the fulfillment of end time prophecies concerning the Babylonian Beast power that the Book of Revelation warns against? What does the Bible teach? A related video would be WTO Trade Deal and the Rise of the European Beast Power.
European Technology and the Beast of Revelation Will the coming European Beast power would use and develop technology that will result in the taking over of the USA and its Anglo-Saxon allies? Is this possible? What does the Bible teach? Here is a related YouTube video: Military Technology and the Beast of Revelation.
Two Horned Beast of Revelation and 666 Who is 666? This article explains how the COG views this, and compares this to Ellen White. Here is a link to a prophetic video Six Financial Steps Leading to 666?
Will You Be Deceived by Antichrist? 1964 article by David Jon Hill, originally published in the old Good News magazine.
Some Doctrines of Antichrist Are there any doctrines taught outside the Churches of God which can be considered as doctrines of antichrist? This article suggests at least three. It also provides information on 666 and the identity of "the false prophet." Plus it shows that several Catholic writers seem to warn about an ecumenical antipope that will support heresy. You can also watch a video titled What Does the Bible teach about the Antichrist?
United Nations: Humankind's Last Hope or New World Order? Is the UN the last hope for humanity? Or might its goals end up with sinister results? A related video would be United Nations and Vatican Are Planning the New World Order.
Mexico, Central America, South America, Brazil, and the Caribbean in Prophecy [Español: México, América central, Suramérica, Brasil y el Caribe en la profecía] [Português: México, América Central, Ámérica do Sul, e Brasil na profecia] What will happen to those of Latin America? Will they have prosperity? Will they cooperate with Europe? Will they suffer in the future? What role might the various Caribbean nations/territories play?
Satan's Plan Does Satan have a plan? What is it? Has it already been successful? Will it be successful in the future? Here are links to a two-part sermon series: What are Some of the Parts of Satan's Plan? and Satan's Plan is More Dramatic than Many Realize.
Do Certain Catholic Prophecies About Antichrist Warn Against Jesus? Will the final "Anti-Christ" be Jewish, insist on Saturday, be opposed to the trinity, and bring in the millennium? Certain Catholic writings indicate this, while others take a different view, but what does the Bible show?
The Mark of Antichrist What is the mark of Antichrist? What have various ones claimed? Here is a link to a related sermon What is the 'Mark of Antichrist'?
Mark of the Beast What is the mark of the Beast? Who is the Beast? What have various ones claimed the mark is? What is the 'Mark of the Beast'?
Must the Ten Kings of Revelation 17:12 Rule over Ten Currently Existing Nations? Some claim that these passages refer to a gathering of 10 currently existing nations together, while one group teaches that this is referring to 11 nations getting together. Is that what Revelation 17:12-13 refers to? The ramifications of misunderstanding this are enormous. A related sermon is titled Ten Kings of Revelation and the Great Tribulation.
Jade Helm, Captivity, and Prophecy This is a video telling about Jade Helm and the frightening truth about what will happen after Jade Helm 15 is past.
Anglo – America in Prophecy & the Lost Tribes of Israel Are the Americans, Canadians, English, Scottish, Welsh, Australians, Anglo-Saxon (non-Dutch) Southern Africans, and New Zealanders descendants of Joseph? Where are the lost ten-tribes of Israel? Who are the lost tribes of Israel? What will happen to Jerusalem and the Jews in Israel? Will God punish the U.S.A., Canada, United Kingdom, and other Anglo-Saxon nations? Why might God allow them to be punished first? Here is a link to the Spanish version of this article: Anglo-América & las Tribus Perdidas de Israel. Information is also in the YouTube sermons titled Where are the Ten Lost Tribes? Why does it matter? and British are the Covenant People. A short YouTube of prophetic interest may be Barack Obama and the State of the Apocalypse.
Will the Anglo-Saxon Nations be Divided and Have People Taken as Slaves? Will the lands of the United States, United Kingdom, Canada, Australia, and New Zealand be divided? What about Jerusalem? What does Bible prophecy teach? Are there non-biblical prophecies that support this idea? Who will divide those lands? Who will end up with the lands and the people? Here is a link to a video titled Will the USA and other Anglo-nations be Divided and Their People Made Slaves? Here is a related item in the Spanish language ¿Serán divididas las naciones anglosajonas?
Does God Have a 6,000 Year Plan? What Year Does the 6,000 Years End? Was a 6000 year time allowed for humans to rule followed by a literal thousand year reign of Christ on Earth taught by the early Christians? Does God have 7,000 year plan? What year may the six thousand years of human rule end? When will Jesus return? 2022 or 20xx? There is also a video titled The 6000 Year Plan: Is the end of humanity's reign almost up? Here is a link to the article in Spanish: ¿Tiene Dios un plan de 6,000 años?
When Will the Great Tribulation Begin? 2015, 2016, or 2017? Can the Great Tribulation begin today? What happens before the Great Tribulation in the "beginning of sorrows"? What happens in the Great Tribulation and the Day of the Lord? Is this the time of the Gentiles? When is the earliest that the Great Tribulation can begin? What is the Day of the Lord? Who are the 144,000? Here is a version of the article in the Spanish language: ¿Puede comenzar la Gran Tribulación en 2015? ¿Es el Tiempo de los Gentiles? You can also see the English language sermon video: The Great Tribulation from the Mount of Olives.
Barack Obama, Prophecy, and the Destruction of the United States-Second Edition for Second Obama Term This is a 160 page book for people truly interested in prophecies related to Barack Obama and the United States, including learning about many that have already been fulfilled (which the book documents in detail) and those that will be fulfilled in the future. It also has a chapter about a Republican choice. This book is available to order at www.barackobamaprophecy.com. The physical book can also be purchased at Amazon from the following link: Barack Obama, Prophecy, and the Destruction of the United States: Is Barack Obama Fulfilling Biblical, Islamic Catholic, Kenyan, and other America-Related Prophecies? What About Republican Leaders? Second Edition for Second Obama Term.
Barack Obama, Prophecy, and the Destruction of the United States-Second Term-Amazon Kindle edition. This electronic version is available for only US$2.99. And you do not need an actual Kindle device to read it. Why? Amazon will allow you to download it to almost any device: Please click HERE to download one of Amazon s Free Reader Apps. After you go to for your free Kindle reader and then go to Barack Obama, Prophecy, and the Destruction of the United States-Second Term-Amazon Kindle edition.