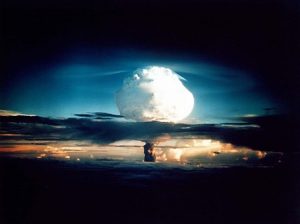 Hydrogen bomb blast

Donald Trump continues to signal that he is looking at non-diplomatic options with North Korea, though sometimes also hinting otherwise:
September 6, 2017
President Trump told British Prime Minister Theresa May on Tuesday he is not interested in diplomatic discussions with North Korean leader Kim Jong Un, according to a White House statement issued Wednesday.

"President Trump reiterated that now is not the time to talk to North Korea, and made clear that all options remain open to defend the United States and its allies against North Korean aggression," the White House Office of the Press Secretary said in a statement about the call.

 On Sept. 3, North Korea claimed to have tested a hydrogen bomb. Trump and May both agreed the recent test "only strengthens the world's determination to confront the growing North Korean threat."

The two also pledged to work together on increasing diplomatic and economic pressure on the country, despite Trump's message that now is not the time to talk.

Trump also spoke with Australian Prime Minister Malcolm Turnbull about the test and vowed to intensify joint efforts to denuclearize North Korea. They also talked about other foreign policy issues. http://www.washingtonexaminer.com/trump-now-is-not-the-time-to-talk-to-north-korea/article/2633507
Is there really a threat from North Korea?
Yes.
Notice the following:
It should be obvious, now, even to the most vocal and acetic naysayers that no matter how much they try to declare that nothing will happen regarding North Korea, they're wrong.  …

The news-twisters and politicos still only begrudgingly admit what recognized experts have been jumping up and down to warn the public about for years, namely this:

That North Korea does indeed possess nuclear weapons
North Korea does have ICBM's capable of delivering a nuclear warhead
North Korea possesses the technology and the ability to deploy an EMP (Electromagnetic Pulse) weapon
Submarine-Launched Ballistic Missiles (SLBM's) are in North Korea's arsenal
Two satellites (Kwangmyongsang-3 and Kwangmyongsang-4) are currently orbiting the earth, and each satellite passes over the United States several times per day
The possibility exists that the satellites are carrying/have been fitted with an EMP weapon
The central focus of North Korea's strategic doctrine regarding nuclear war is geared toward an EMP strike …

Skepticism will vanish when the power suddenly fails across the United States.  The North Koreans can reach the U.S. mainland with a missile, and it will survive reentry. 

They can do this, and they will…only it will not come in the form of air-raid sirens blaring and people scurrying to the basements of buildings (as Fallout Shelters don't exist anymore).  Here is the form that it will take. This is the real "kicker" that was just released Sunday by North Korea's state-run news agency, reported on Daily Mail and if falls in line with the items just mentioned:

"North Korea's state news agency warned that the weapon 'is a multifunctional thermonuclear nuke with great destructive power which can be detonated even at high altitudes for super-powerful EMP attack."

This falls in line with the warnings of Dr. Peter Pry, the head of the Committee to brief Congress on EMP threats against the U.S., the warnings of former Congressman Roscoe Bartlett (R, MD), and a slew of other with access to detailed information on North Korea's nuclear capabilities.  When asked if the military option is on the table on Sunday, September 3rd, President Trump responded with, "We'll see."

No, 'We the People' will see it, but he will not, except on television.  He will be in a bunker a mile underground, or in an area far removed from what happens in the moment of decisive action or the aftermath.  There's a good chance that nobody will ever see it coming.  Remember: The North Koreans launched a missile that flew directly over Japan! …

The next world war will be initiated with an EMP weapon detonated over the U.S., followed by a nuclear exchange and conventional warfare. http://www.zerohedge.com/news/2017-09-05/green-beret-warns-skepticism-will-vanish-when-power-suddenly-fails-across-us
The USA is susceptible to an emp attack from North Korea. The North Koreans have already demonstrated that they can launch ICBMs into outer space. However, it is NOT true that the "next world war will be initiated with an EMP weapon detonated over the U.S."
Yet, an emp attack could harm the USA and ultimately make it more susceptible to be taken over during World War III.
While the USA could obliterate North Korea, it is at risk of severe damage from North Korea.
A vengeful North Korea may have operatives try to detonate nuclear bombs and/or dirty bombs in the USA. North Korea may attempt to unleash chemical and/or biological weapons against the USA, South Korea, Japan, and/or Guam. Steps to prepare for some or all of this may have been begun by the North Koreans. North Korea's leaders may well decide that if they are attacked that they should attempt to cause the most damage possible. An electromagnetic pulse weapon attack may well be involved.
Jesus spoke of a time of wars, rumors of war, and troubles prior to the Great Tribulation (Mark 13:8). North Korea already is causing troubles and rumors of war.
The Bible shows that after the second seal in Revelation is opened (Revelation 6:3-4), there will be even less peace on the Earth. The old WCG put out the following:
Where is it all going to end? That was the question the twelve disciples of Jesus Christ posed in the twenty-fourth chapter of Matthew. Christ's answer, known as the Olivet Prophecy, is quite revealing. "And ye shall hear of wars and rumours of wars," Christ said, referring to one of the prophetic signals that would herald the end of an age (verse 6).

Certainly there have always been wars. And certainly Christ's words had particular meaning for that day and age. Within a few short decades Roman legions under the command of Titus sacked, burned and pillaged the city of Jerusalem.

But Jesus' warning about war was also applicable to another period in history. In the book of Revelation, Christ, speaking through the apostle John, amplified some of His previous prophetic statements. In the sixth chapter, John writes: "And there went out another horse that was red: and power was given to him that sat thereon to take peace from the earth, and that they should kill one another: and there was given unto him a great sword" (Rev. 6:4).

John was not speaking about the fall of Jerusalem. That war was already some twenty years behind him. John was referring to future events that would bring 6000 years of human history crashing to a cataclysmic close. … John is referring to a time yet ahead of us when "peaceful coexistence" will be a thing of the past. …

It's no wonder that Jeremiah, in referring to these tumultuous times, stated: "Alas! for that day is great, so that none is like it: it is even the time of Jacob's trouble …" (Jer. 30:7). (Ritter G. 4 Horsemen of the Apocalypse – The Red Horse – War, pp. 48, 52; see also Ritter R. The War that could end it all. Good News, December 1975)
We are getting very close to this time. It could start this month.
For at least three years, my article, Four Horsemen of the Apocalypse, contained the following:
There may also be wars in parts of the world that have rarely had them (perhaps, for example, even between some South American nations), as well as wars in areas that have long been especially tense (like Korea, possibly involving other Asian nations). Damascus ultimately will be destroyed and could be a signal for destruction to come for Jacob (Isaiah 17:1-4).  There will likely be civil unrest and perhaps rioting in scales not seen before, including within some Western nations (such as in Europe and North America). This will lead to military leaders rising up in various parts of the world. And one European (the final King of the North) will, after making one or more false peace deals/pronouncements (e.g. Daniel 9:26-27; 11:27; 1 Thessalonians 5:3), become the final Beast leader (Revelation 13:4) and he will take over many nations (Daniel 11:39-43).
North Korea, and US President Trump's reactions to it, are a threat to peace.
North Korea poses a variety of threats to the USA.
Some items of possibly related interest may include:
Four Horsemen of the Apocalypse What do each of the four horseman of the Apocalypse represent? Have they began their ride? Did Jesus discuss the any of this? Might their rides coincide with the "beginning of sorrows? Do they start their ride prior to the Great Tribulation? Did Nostradamus or any other 'private prophets' write predictions that may mislead people so that they may not understand the truth of one or more of the four horseman? There is also a related YouTube video titled The Four Horsemen of the Apocalypse.
Is China paving roads to Armageddon? China is working on something known as the 'Silk Road' project or the "One Belt, One Road" initiative. NBC reports that China intends to spend one trillion dollars to build roads, bridges, railroads, and maritime facilities to reach from China to Europe and China to the Middle East. Over 60 nations, including Russia, are involved with this. Could this Silk Road project possibly produce thoroughfares that could be used by troops that will amass at Armageddon? Dr. Thiel discusses this project and some of its potential prophetic ramifications in this video.
Armageddon Who is involved and when will this gathering happen? Here is also a video from Dr. Thiel, from Tel Megiddo in Israel: Armageddon.
World War III: Steps in Progress Are there surprising actions going on now that are leading to WWIII? Might a nuclear attack be expected? Does the Bible promise protection to all or only some Christians? How can you be part of those that will be protected? A related video would be Is World War III About to Begin? Can You Escape?
China, Its Biblical Past and Future, Part 1: Genesis and Chinese Characters Where did the Chinese people come from? This article provides information showing that the Chinese peoples must have known about various accounts in the Book of Genesis up until their dispersion after the Tower of Babel. Here is a link to a version of this article in Spanish: ¿Prueban los caracteres chinos la exactitud de la Biblia?
China, Its Biblical Past and Future, Part 2: The Sabbath and Some of God's Witness in China When did Christianity first come to China? And is there early evidence that they observed the seventh day sabbath?
Asia in Prophecy What is Ahead for Asia? Who are the "Kings of the East"? What will happen to nearly all the Chinese, Russians, Indians, and others of Asia? China in prophecy, where? Who has the 200,000,000 man army related to Armageddon? A YouTube video of interest may be Is China THE Threat to the United States of America?
The Eurasian Union, the Kings of the East, and Bible Prophecy Is there a Eurasian union that will be formed? Is one being formed right now? Are any leaders working on that in the 21st century? Does the Bible teach that there will be a Eurasian union? If some type of Eurasian union is formed, who might it benefit and who will it destroy? A related video would be Is The Eurasian Union Rising?
Japan, Its Biblical Past and Future, Part 1: Any Witness? Where did the Japanese people come from? Have they had any witness?
Japan, Its Biblical Past and Future, Part 2: Prophecy Japan in prophecy. What is prophesied for Japan? Will God save the Japanese?
USA in Prophecy: The Strongest Fortresses Can you point to scriptures, like Daniel 11:39, that point to the USA in the 21st century? This article does. A related sermon is titled: Do these 7 prophesies point to the end of the USA?
Is Russia the King of the North? Some claim it is. But what does the Bible teach? Here is a link to a video, also titled Is Russia the King of the North?
Ezekiel 38: For Russia & Iran in Our Day? Is Ezekiel 38 about to be fulfilled? A related video is available titled Ezekiel 38: For Russia, Ukraine, & Iran Now? Another could be Russia, Iran, Syria, & the Bible (Code).
Syria, North Korea, and Prophecy On April 7, 2017, 59 US Tomahawk missiles hit a military installation in Syria. While praised by NATO nations, Israel, and Saudi Arabia, this was denounced by Syria, Russia, and North Korea. Is this the start of World War III? Will the Bashar al-Assad regime remain as it is? What about North Korea? What does the Bible show will happen? Dr. Thiel answers these questions and more. This is a video.
Korea in Prophecy, Any Witness? Where did the Korean people come from? Does God have a plan for the Koreans? Is Korea mentioned in any prophecies? Will Koreans be among the first in the Kingdom of God? Here is a machine-translated link to that article in Korean: 한국의 언어로 : 한국 예언, 모든 증인에?. Here is a link to a magazine with that article in Mandarin Chinese: 在预言中的韩国:有任何证人吗?. A prophetic video is also available: Syria, North Korea, and Prophecy.
What is the Gospel? True religion should be based upon the true gospel. What are some of the different gospels and where did they come from? Do you believe the true or a false gospel? Who is preaching the gospel? Here is a version in Korean 복음이란 무엇인가?.
Asia in Prophecy What is Ahead for Asia? Who are the "Kings of the East"? What will happen to nearly all the Chinese, Russians, Indians, and others of Asia? China in prophecy, where? Who has the 200,000,000 man army related to Armageddon? A YouTube video of interest may be Is China THE Threat to the United States of America?
When Will the Great Tribulation Begin? 2017, 2018, or 2019? Can the Great Tribulation begin today? What happens before the Great Tribulation in the "beginning of sorrows"? What happens in the Great Tribulation and the Day of the Lord? Is this the time of the Gentiles? When is the earliest that the Great Tribulation can begin? What is the Day of the Lord? Who are the 144,000? Here is a version of the article in the Spanish language: ¿Puede comenzar la Gran Tribulación en 2016 o 2017? ¿Es el Tiempo de los Gentiles? You can also see the English language sermon videos: The Great Tribulation from the Mount of Olives and Can the Great Tribulation begin before 2020? A shorter video is: Will the Great Tribulation Start in 2017?
Jerusalem: Past, Present, and Future What does the Bible say about Jerusalem and its future? Is Jerusalem going to be divided and eliminated? Is Jesus returning to the area of Jerusalem? There are also two related YouTube videos you can watch: Jerusalem To be divided and eliminated and God's and Satan's Plan for Jerusalem.
Anglo – America in Prophecy & the Lost Tribes of Israel Are the Americans, Canadians, English, Scottish, Welsh, Australians, Anglo-Saxon (non-Dutch) Southern Africans, and New Zealanders descendants of Joseph? Where are the lost ten-tribes of Israel? Who are the lost tribes of Israel? What will happen to Jerusalem and the Jews in Israel? Will God punish the U.S.A., Canada, United Kingdom, and other Anglo-Saxon nations? Why might God allow them to be punished first? Here is a link to the Spanish version of this article: Anglo-América & las Tribus Perdidas de Israel. Information is also in the YouTube sermons titled Where are the Ten Lost Tribes? Why does it matter? and British are the Covenant People. A short YouTube of prophetic interest may be: Are Chinese threats against Australia for real?
Will the Anglo-Saxon Nations be Divided and Have People Taken as Slaves? Will the lands of the United States, United Kingdom, Canada, Australia, and New Zealand be divided? What about Jerusalem? What does Bible prophecy teach? Are there non-biblical prophecies that support this idea? Who will divide those lands? Who will end up with the lands and the people? Here is a link to a video titled Will the USA and other Anglo-nations be Divided and Their People Made Slaves? Here is a related item in the Spanish language ¿Serán divididas las naciones anglosajonas?
British are the Covenant People What do 'British' and 'Britain' mean in Hebrew? Are the descendants of the Anglo-Saxons people of the covenant? Does the British royal family connect to the throne of David? What does the Bible teach? What does history show us? Is there any DNA evidence related to British-Israelism? When did Christianity make it to the British Isles? Could Jeremiah have made it to the British Isles? What type of Christians made it to the British Isles? Did the last King of England believe in British Israelism?
Donald Trump in Prophecy Prophecy, Donald Trump? Are there prophecies that Donald Trump may fulfill? Are there any prophecies that he has already helped fulfill? Could a Donald Trump presidency be apocalyptic? A related video is titled: Donald: 'Trump of God' or Apocalyptic?
Trump Presidency Magic 8 Ball or Bible Prophecy? BBC reported that one might as well use a 'Magic Eight-Ball' to try to predict what will happen in the remaining time of Donald Trump's presidency. What is a 'Magic Eight-Ball'? Dr. Thiel not only explains that, but also briefly goes over 10 biblically-based warnings he wrote would happen if Donald Trump were elected that have already began to come to pass. He also goes over something he wrote back in 2008 that the Trump presidency is also helping lead to fulfillment. Should you trust Bible prophecy or not? Dr. Thiel says that Bible prophecy can be trusted, despite the view of skeptics and others that either overlook or despise the Bible. This is a video.
Donald Trump and America's Apocalypse This 188 page book is for people truly interested in prophecies related to Donald Trump and the United States, including learning about several that have already been fulfilled and those that will be fulfilled in the future. The physical book can be purchased at Amazon for $12.99 from the following link: Donald Trump and America's Apocalypse.
Donald Trump and America's Apocalypse-Kindle Edition This electronic version of the 188 page print edition is available for only US$3.99. And you do not need an actual Kindle device to read it. Why? Amazon will allow you to download it to almost any device: Please click HERE to download one of Amazon s Free Reader Apps. After you go to for your free Kindle reader and then go to Donald Trump and America's Apocalypse-Kindle Edition.
The Gospel of the Kingdom of God This free online pdf booklet has answers many questions people have about the Gospel of the Kingdom of God and explains why it is the solution to the issues the world is facing. Here are links to three related sermons: The World's False Gospel, The Gospel of the Kingdom: From the New and Old Testaments, and The Kingdom of God is the Solution.