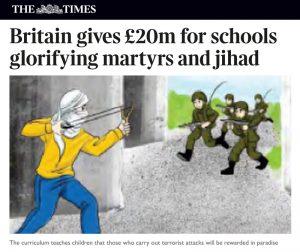 Screenshot from The Times article on British funding of a Palestinian curriculum

Palestinian President Abbas warns that lack of funds and peace may lead to more terror:
UK: Funding Textbooks That Teach Children To Blow Themselves Up

April 9, 2018

A science textbook intended for 12-year-olds, for example, claims to teach them Newton's second law of motion in the following way:

"During the first Palestinian uprising, Palestinian youths used slingshots to confront the soldiers of the Zionist Occupation and defend themselves from their treacherous bullets. What is the relationship between the elongation of the slingshot's rubber and the tensile strength affecting it?"

https://www.zerohedge.com/news/2018-04-08/uk-funding-textbooks-teach-children-blow-themselves

The British government last year gave £20 million to Palestinian schools teaching a curriculum that a watchdog group says embraces jihad, omits references to peace agreements with Israel, and encourages martyrdom, the Sunday Times reported.

A review by the Institute for Monitoring Peace and Cultural Tolerance in School Education (IMPACT-se) found that study material from the Palestinian Authority textbooks "exerts pressure over young Palestinians to acts of violence."

Among the ideas taught to pupils are the physics behind slingshots used to hurl rocks at Israel soldiers, the glorification of martyrs, and images that infuse ideas of war.

"The curriculum exerts pressure over young Palestinians to acts of violence in a more extensive and sophisticated manner," IMPACT-se wrote. "The discourse is couched in terms of nationalist and religious martyrdom, across science, literature, history and religious education textbooks."

"With a comprehensive and oft-stated justification for defensive (obligatory) jihad, the curriculum's focus appears to have expanded from demonization of Israel to providing a rationale for war," it continued. 04/01/18 https://www.timesofisrael.com/britain-gives-20m-to-palestinian-schools-teaching-jihad-martyrdom-report/
Two points.
First, the time will come when Israel will lose territory to the Palestinians (for scriptures, check out the following: Gaza and the Palestinians in Bible Prophecy).
Second, Bible prophecy specifically teaches that the British will have to deal with Palestinian issues:
8 The Lord sent a word against Jacob, And it has fallen on Israel. 9 All the people will know — Ephraim and the inhabitant of Samaria — Who say in pride and arrogance of heart: 10 'The bricks have fallen down, But we will rebuild with hewn stones; The sycamores are cut down, But we will replace them with cedars." 11 Therefore the Lord shall set up The adversaries of Rezin against him, And spur his enemies on, 12 The Syrians before and the Philistines behind; And they shall devour Israel with an open mouth. (Isaiah 9:8-12)
Since the above prophecy involves Ephraim (a reference to the British-descended peoples, watch: British are the Covenant People ) and Samaria (see: Spiritual Samaritans: Old and New), this is indicative that the UK and USA will be attacked (see also: Anglo – America in Prophecy & the Lost Tribes of Israel), apparently including terroristic tactics (hitting them before and behind)–though not all Syrians or Palestinians would be part of this.
The Bible shows that terrorism is prophesied:
14 'But if you do not obey Me, and do not observe all these commandments, 15 and if you despise My statutes, or if your soul abhors My judgments, so that you do not perform all My commandments, but break My covenant, 16 I also will do this to you: I will even appoint terror over you, wasting disease and fever which shall consume the eyes and cause sorrow of heart. And you shall sow your seed in vain, for your enemies shall eat it. 17 I will set My face against you, and you shall be defeated by your enemies. Those who hate you shall reign over you, and you shall flee when no one pursues you. (Leviticus 26:14-17)

25 The sword shall destroy outside; There shall be terror within (Deuteronomy 32:25)

12 "Cry and wail, son of man; For it will be against My people, Against all the princes of Israel. Terrors including the sword will be against My people; Therefore strike your thigh. (Ezekiel 21:12)

12 Behold, these are the ungodly,Who are always at ease; They increase in riches…19 Oh, how they are brought to desolation, as in a moment! They are utterly consumed with terrors. (Psalms 73:12,19)

25 Because you disdained all my counsel, And would have none of my rebuke, 26 I also will laugh at your calamity; I will mock when your terror comes, 27 When your terror comes like a storm, And your destruction comes like a whirlwind, When distress and anguish come upon you. (Proverbs 1:25-27)

5 Also they are afraid of height, And of terrors in the way (Ecclesiastes 12:5).
The UK's apparent funding of education to encourage violence among Palestinians is disturbing and will not result in Palestinians loving the British.
Of course, right now, because of his statements about Jerusalem being Israel's capital, plus the move of the US embassy to Jerusalem, US President Trump is considered to be a major problem by the Palestinians.
Understand that the current Anglo-American world order is on its way out and the final time of the Gentiles is coming (Luke 21:24; Revelation 11:1-2; see also The Times of the Gentiles).
The Bible shows that the time will come when the USA (Daniel 11:39) and its Anglo-Saxon descended allies will be conquered (Daniel 8:24-25; Jeremiah 30:7). And while upsetting the Palestinians will not be the primary cause, upsetting major parts of the Arab world and Europe will be (cf. Psalm 83:3-8).
The UK, USA, Canada, and others will be hit with more terrorism.
Some items of possibly related interest may include:
Gaza and the Palestinians in Bible Prophecy What does the Bible teach about Gaza and the fate of the Palestinians? Here is a link to a related video: Gaza and Palestine in Prophecy.
Evangelical support for Donald Trump's Jerusalem policy BBC asked, "Why do US evangelicals support Trump's Jerusalem policy?" BBC provided quotes from some believing it has to do with the 'last days' while others saying that is not the reason. Hal Lindsey's book, 'The Late Great Planet Earth' is one of the sources pointed to. In this video, Dr. Thiel addresses scriptures related to Jerusalem as well as prophetic ones. He goes over the common 'fig tree' interpretation, belief about a 'Third Temple,' and statements about animal sacrifices. He explains biblical statements on those subjects as well as the views of certain modern Jewish organizations. This is a video.
Jerusalem, Donald Trump, and Prophecy On December 6, 2017, US President Donald Trump fulfilled a campaign promise related to the recognition of Jerusalem as Israel's capital. This brought anger, protests, and rockets from some Palestinians. It also brought condemnation from European allies–it has been claimed to be disruptive and even catastrophic. The Palestinian President (Mahmoud Abbas) said that this pronouncement eliminated the USA as being a fair mediator for a peace deal. Others have claimed that Donald Trump is an end time Cyrus and his pronouncement will lead to a Third Temple in Jerusalem. Is there ever going to be a peace deal? If so, will Europeans be part of it? Is Donald Trump a 'Cyrus.' Do the Jews require a Third Temple for sacrifices? Dr. Thiel answer those questions and more in this video.
Why is a Jewish Temple in Jerusalem Not Required? Although people like Timothy LaHaye teach a third Jewish temple is required, who is 'the temple of God" in the New Testament? Does the Bible require a rebuilt Jewish Temple? Here is a related item in the Spanish language ¿Por qué no se requiere un templo judío en Jerusalén? Here is a link to a sermon titled The Temple, Prophecy, and the Work.
The Red Heifer, Jewish Beliefs, and the End of the World The Temple Institute is watching a 'red heifer.' Why might this be important in the sequence of end time events? Here is a related link in the Spanish language Novilla roja descubierta en EE.UU. e Instituto del Templo está interesado en ella. Here is a related video in English The Red Heifer and the End of the World.
Church of God on Jerusalem's Western Hill Could this building, often referred to as the Cenacle, which is located on a Mount Zion, possibly have been the oldest actual Christian church building?
Does the 'Cenacle' deal have prophetic ramifications? After a 20 year negotiation, the Church of Rome has negotiated the right to have Catholic mass in the building known as the Cenacle. It is in the area where the Church of God on Jerusalem's Western Hill once stood. This is believed to be the location of the earliest Christian church building. How does the Bible define the 'temple of God' in the New Testament? Could this be the area where the 'man of sin' will sit in the "temple of God' that Bible prophecy discusses in 2 Thessalonians 2:3-4? This is a YouTube video.
The Times of the Gentiles Has there been more than one time of the Gentiles? Are we in it now or in the time of Anglo-America? What will the final time of the Gentiles be like? A related sermon is available and is titled: The Times of the Gentiles.
United Nations: Humankind's Last Hope or New World Order? Is the UN the last hope for humanity? Or might its goals end up with sinister results? Two related videos include UN's 'New Universal Agenda' is a False Gospel! and United Nations and Vatican Are Planning the New World Order.
USA in Prophecy: The Strongest Fortresses Can you point to scriptures, like Daniel 11:39, that point to the USA in the 21st century? This article does. A related sermon is titled: Do these 7 prophesies point to the end of the USA?
Who is the King of the West? Why is there no Final End-Time King of the West in Bible Prophecy? Is the United States the King of the West? Here is a version in the Spanish language: ¿Quién es el Rey del Occidente? ¿Por qué no hay un Rey del Occidente en la profecía del tiempo del fin?
Who is the King of the North? Is there one? Do biblical and Roman Catholic prophecies for the Great Monarch point to the same leader? Should he be followed? Who will be the King of the North discussed in Daniel 11? Is a nuclear attack prophesied to happen to the English-speaking peoples of the United States, Great Britain, Canada, Australia, and New Zealand? When do the 1335 days, 1290 days, and 1260 days (the time, times, and half a time) of Daniel 12 begin? When does the Bible show that economic collapse will affect the United States? In the Spanish language check out ¿Quién es el Rey del Norte? Here is a link to a video titled: The Future King of the North.
Nazarene Christianity: Were the Original Christians Nazarenes? Who were the Nazarene Christians? What did they believe? Should 21st century Christians be modern Nazarenes? Is there a group that exists now that traces its history through the Nazarenes and holds the same beliefs today? Here is a link to a related video sermon Nazarene Christians: Were the early Christians "Nazarenes"?
Does the Church of God need to be headquartered in Jerusalem? Some say so. But what does the Bible teach?
Location of the Early Church: Another Look at Ephesus, Smyrna, and Rome What actually happened to the primitive Church? And did the Bible tell about this in advance?
The 'Peace Deal' of Daniel 9:27 This prophecy could give up to 3 1/2 years advance notice of the coming Great Tribulation. Will most ignore or misunderstand its fulfillment? Here is a link to a related sermon video Daniel 9:27 and the Start of the Great Tribulation.
Jerusalem: Past, Present, and Future What does the Bible say about Jerusalem and its future? Is Jerusalem going to be divided and eliminated? Is Jesus returning to the area of Jerusalem? There is also a related YouTube video you can watch titled Jerusalem To be divided and eliminated.
Anglo – America in Prophecy & the Lost Tribes of Israel Are the Americans, Canadians, English, Scottish, Welsh, Australians, Anglo-Saxon (non-Dutch) Southern Africans, and New Zealanders descendants of Joseph? Where are the lost ten-tribes of Israel? Who are the lost tribes of Israel? What will happen to Jerusalem and the Jews in Israel? Will God punish the U.S.A., Canada, United Kingdom, and other Anglo-Saxon nations? Why might God allow them to be punished first? Here is a link to the Spanish version of this article: Anglo-América & las Tribus Perdidas de Israel. Information is also in the YouTube sermons titled Where are the Ten Lost Tribes? Why does it matter? and British are the Covenant People. A short YouTube of prophetic interest may be: Are Chinese threats against Australia for real?
Will the Anglo-Saxon Nations be Divided and Have People Taken as Slaves? Will the lands of the United States, United Kingdom, Canada, Australia, and New Zealand be divided? What about Jerusalem? What does Bible prophecy teach? Are there non-biblical prophecies that support this idea? Who will divide those lands? Who will end up with the lands and the people? Here is a link to a video titled Will the USA and other Anglo-nations be Divided and Their People Made Slaves? Here is a related item in the Spanish language ¿Serán divididas las naciones anglosajonas?
British are the Covenant People What do 'British' and 'Britain' mean in Hebrew? Are the descendants of the Anglo-Saxons people of the covenant? Does the British royal family connect to the throne of David? What does the Bible teach? What does history show us? Is there any DNA evidence related to British-Israelism? When did Christianity make it to the British Isles? Could Jeremiah have made it to the British Isles? What type of Christians made it to the British Isles? Did the last King of England believe in British Israelism?
Donald Trump in Prophecy Prophecy, Donald Trump? Are there prophecies that Donald Trump may fulfill? Are there any prophecies that he has already helped fulfill? Could a Donald Trump presidency be apocalyptic? A related video is titled: Donald: 'Trump of God' or Apocalyptic?
Trump Presidency Magic 8 Ball or Bible Prophecy? BBC reported that one might as well use a 'Magic Eight-Ball' to try to predict what will happen in the remaining time of Donald Trump's presidency. What is a 'Magic Eight-Ball'? Dr. Thiel not only explains that, but also briefly goes over 10 biblically-based warnings he wrote would happen if Donald Trump were elected that have already began to come to pass. He also goes over something he wrote back in 2008 that the Trump presidency is also helping lead to fulfillment. Should you trust Bible prophecy or not? Dr. Thiel says that Bible prophecy can be trusted, despite the view of skeptics and others that either overlook or despise the Bible. This is a video.
Donald Trump and America's Apocalypse This 188 page book is for people truly interested in prophecies related to Donald Trump and the United States, including learning about several that have already been fulfilled and those that will be fulfilled in the future. The physical book can be purchased at Amazon for $12.99 from the following link: Donald Trump and America's Apocalypse.
Donald Trump and America's Apocalypse-Kindle Edition This electronic version of the 188 page print edition is available for only US$3.99. And you do not need an actual Kindle device to read it. Why? Amazon will allow you to download it to almost any device: Please click HERE to download one of Amazon s Free Reader Apps. After you go to for your free Kindle reader and then go to Donald Trump and America's Apocalypse-Kindle Edition.