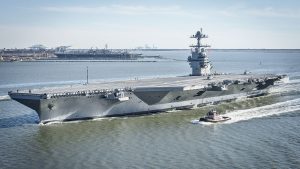 USS Gerald R. Ford
The USA and UK seem to be taking steps to prepare for possible war with North Korea:
READY FOR WAR: US battleships armed with futuristic HYPERSONIC weapons to take out Kim

US NAVY warships are set for a futuristic upgrade amid fears World War 3 may break out with missile-obsessed North Korea.

22 July 2017

The vessels will reportedly be equipped with "hypervelocity projectiles (HVP)" – weapons capable of firing rounds at speeds of up to 5,600mph (9,012kph) – to be mounted on to its current on-deck 5-inch guns.A normal bullet travels at speeds of around 1,800mph (2896kph).The high-tech weapon will be able to target drones, submarines, missiles and other long-range targets.The news comes as North Korea threatened it will "mercilessly annihilate" aggressors as it hit out the US for its military presence in the South.A Navy spokeswoman said it is "leveraging commercial electronics miniaturisation and computational performance increase to develop a common guided projectile for use in current 5 inch guns and future high velocity gun systems".The spokeswoman continued: "The HVP effort will seek to increase range and accuracy of the 5-Inch Gun Weapon System in support of multiple mission areas." http://www.dailystar.co.uk/news/world-news/631696/trump-warships-futuristic-weapons-north-korea-missile-test-hypervelocity-projectiles-war

Hawaii to test nuclear warning system amid North Korea's threats

July 22, 2017

Hawaii is set to become the first state in the US to test an "attack- warning" system in the event of a North Korean nuclear missile strike. http://www.cnn.com/2017/07/22/us/hawaii-nuclear-test-north-korea-attack/index.html

Britain in 'GRAVE' warning to North Korea as nuclear war looms

KIM Jong-un has been hit with an ultimatum by Britain to scale back North Korea's human rights abuses.

22 July 2017

Prime Minister Theresa May is backing the US in ratcheting up the pressure on the hermit state after numerous missile tests.Nuclear war is looming with world powers ganging up on North Korea.And with US citizen Otto Warmbier dying in prison after taking down a propaganda poster, Britain has issued a threat of its own.

In its annual report on human rights and democracy, the Foreign Office called on North Korea to sort itself out.It said: "We continue to have grave concerns about the DPRK's disregard for, and violations of, international human rights norms and obligations."The UK continued to urge the DPRK Government to acknowledge the existence and extent of its human rights violations and to demonstrate a willingness to take steps to address these issues." http://www.dailystar.co.uk/news/latest-news/631712/north-korea-nuclear-war-britain-grave-warning-kim-jong-un-theresa-may22 July 2017

North Korea travel ban …

The US Government has announced a "Geographical Travel Restriction" which will prevent Americans from entering North Korea.

The ban, which will come into effect next month, is a result of "mounting concerns over the serious risk of arrest and long-term detention under North Korea's system of law enforcement", said Heather Nauert, spokeswoman for US Secretary of State Rex Tillerson. …

Britons are free to enter North Korea as tourists, but should take extreme caution if doing so. http://www.express.co.uk/news/world/831705/North-Korea-travel-ban-US-otto-warmbier-safe-travel-affect-me-passport
The less US citizens in North Korea, the less potential American hostages are there for North Korea to take.
Despite these and other actions, should war break out, this would NOT be World War III. Though, how the USA and UK handle such a conflict may upset the Europeans, Chinese, Russians, and others who may have involvement in WWIII.
As far as military matters go, the US now has a new advanced aircraft carrier named after US President Gerald Ford:
July 22, 2017

The USS Ford is named after the country's 38th president, who rose to the rank of lieutenant commander in the Navy during World War II.

The warship joins the Navy fleet behind schedule and at inflated price tag of $12.9 billion. The Navy blames the delays and cost overruns on the ship's state-of-the-art systems.

The USS Ford, which is the first member of the next generation of nuclear-powered aircraft carriers, will be welcomed to the fleet with the words: "Man our ship and bring her to life." http://www.foxnews.com/us/2017/07/22/trump-to-attend-commissioning-uss-gerald-r-ford-newest-aircraft-carrier.html

Trump: USS Ford is '100,000-ton message to the world'

July 22, 2017

NORFOLK, Va. — With praise and a blessing for the military, President Donald Trump helped hand over the USS Gerald R. Ford to the Navy on Saturday and said the state-of-the-art aircraft carrier will send a "100,000-ton message to the world" about America's military might when it is ultimately deployed.  …

"American steel and American hands have constructed this 100,000-ton message to the world," Trump said of the Ford during a speech that praised the bravery and spirit of U.S. service members and referenced his desire for a buildup after years of spending restrictions.

"American might is second to none and we're getting bigger and better and stronger every day of my administration. That I can tell you," Trump told thousands of service members and guests, including former defense secretaries Dick Cheney and Donald Rumsfeld, and Govs. Terry McAuliffe of Virginia and Rick Snyder of Michigan, who were packed into the steamy hangar bay on the main deck.

"Wherever this vessel cuts through the horizon, our allies will rest easy and our enemies will shake with fear because everyone will know that America is coming, and America is coming strong," Trump said. http://www.politico.com/story/2017/07/22/trump-uss-ford-is-100-000-ton-message-to-the-world-240850
This aircraft carrier has been in the works for some time, but now could be used in a conflict with North Korea. At this instant, it is not obvious that North Korea's leader Kim Jong Un is shaking with fear–though perhaps he should be as the USA seems to be going over several military options related to North Korea.
In addition to that new carrier, the US has been testing its Terminal High Altitude Area Defense (THAAD) system (see US claims a successful THAAD test: A message to North Korea?). The US wants more THAAD systems in South Korea in the event of conflict with North Korea. The hope is that THAAD could knock out missiles from North Korea so that less would die in South Korea.
Three months ago (on April 11, 2017), Donald Trump sent the following from his Twitter account: "North Korea is looking for trouble. If China decides to help, that would be great. If not, we will solve the problem without them! U.S.A." Donald Trump, if he is looking for a military solution, likely has enough statements and actions from North Korea to legally 'justify' one, though the North Koreans also think the same thing.

Internationally, Kim Jong Un and US President Donald Trump are both considered to be unpredictable. The USA wants to change the situation in North Korea, while North Korea seems willing to risk itself against the USA (e.g. North Korea launches ICBM and says it can hit anywhere: What will Donald Trump do?).
North Korea will NOT continue as it has been.
It has severe economic problems and leadership issues. Its people have been suffering for decades and are in my prayers.
In my view, North Korea will one day reunify (at least to a degree, if not totally) with South Korea.
Because of prophecies involving "the kings from the east" cooperating at the end (cf. Revelation 16:12; Daniel 11:44: "news from the east and the north shall trouble him"), we in the Continuing Church of God have long felt that somehow North and South Korea would likely be unified (or at least work more closely together) prior to the return of Jesus Christ.
It could take military conflict for that type of unity to happen. This may not turn out well for the North Korean leadership.
While the USA can defeat North Korea militarily, understand that North Korea could try to set off a nuclear device (either through a launch or through some other means, including covert terroristic ones) or take other military actions that could hurt South Korea or the USA. As reported here a couple of days ago, some believe it may attempt to hurt the USA through electromagnetic pulse (EMP) weapons (see North Korea poses electromagnetic-pulse threat to USA).
Notice also something that Jesus said which is pertinent to this situation with North Korea:
4 "Take heed that no one deceives you. 5 For many will come in My name, saying, 'I am the Christ,' and will deceive many. 6 And you will hear of wars and rumors of wars. See that you are not troubled; for all these things must come to pass, but the end is not yet. 7 For nation will rise against nation, and kingdom against kingdom. And there will be famines, pestilences, and earthquakes in various places. 8 All these are the beginning of sorrows. (Matthew 24:4-8)
While we are in the 'beginning of sorrows,' the end is not yet. Why? Because other events in the Bible, such as those that Jesus spoke of Matthew 24:9-20 have not happened yet (see also When Will the Great Tribulation Begin? 2017, 2018, or 2019?).
That being said, Jesus spoke of a time of troubles prior to the Great Tribulation (Mark 13:8) and North Korea may well fit in with those (we also have a video related to some of this, which is titled: Syria, North Korea, and Prophecy). We are hearing rumors of war and seeing steps that point in that direction.
Some items of possibly related interest may include:
Syria, North Korea, and Prophecy On April 7, 2017, 59 US Tomahawk missiles hit a military installation in Syria. While praised by NATO nations, Israel, and Saudi Arabia, this was denounced by Syria, Russia, and North Korea. Is this the start of World War III? Will the Bashar al-Assad regime remain as it is? What about North Korea? What does the Bible show will happen? Dr. Thiel answers these questions and more. This is a video.
Korea in Prophecy, Any Witness? Where did the Korean people come from? Does God have a plan for the Koreans? Is Korea mentioned in any prophecies? Will Koreans be among the first in the Kingdom of God? Here is a machine-translated link to that article in Korean: 한국의 언어로 : 한국 예언, 모든 증인에?. Here is a link to a magazine with that article in Mandarin Chinese: 在预言中的韩国:有任何证人吗?. A prophetic video is also available: Syria, North Korea, and Prophecy.
What is the Gospel? True religion should be based upon the true gospel. What are some of the different gospels and where did they come from? Do you believe the true or a false gospel? Who is preaching the gospel? Here is a version in Korean 복음이란 무엇인가?.
Asia in Prophecy What is Ahead for Asia? Who are the "Kings of the East"? What will happen to nearly all the Chinese, Russians, Indians, and others of Asia? China in prophecy, where? Who has the 200,000,000 man army related to Armageddon? A YouTube video of interest may be Is China THE Threat to the United States of America?
Damascus and Syria in Prophecy Will Bashar Assad hold power as he has it? Does the Bible show that Damascus, the capital of Syria, will be destroyed? What will happen to Syria? Will the Syrians support the final King of the South that the Bible tells will rise up? Which scriptures discuss the rise and fall of an Arabic confederation? Does Islamic prophecy predict the destruction of Syria. This is a YouTube video.
World War III: Steps in Progress Are there surprising actions going on now that are leading to WWIII? Might a nuclear attack be expected? Does the Bible promise protection to all or only some Christians? How can you be part of those that will be protected? A related video would be Is World War III About to Begin? Can You Escape?
When Will the Great Tribulation Begin? 2017, 2018, or 2019? Can the Great Tribulation begin today? What happens before the Great Tribulation in the "beginning of sorrows"? What happens in the Great Tribulation and the Day of the Lord? Is this the time of the Gentiles? When is the earliest that the Great Tribulation can begin? What is the Day of the Lord? Who are the 144,000? Here is a version of the article in the Spanish language: ¿Puede comenzar la Gran Tribulación en 2016 o 2017? ¿Es el Tiempo de los Gentiles? You can also see the English language sermon videos: The Great Tribulation from the Mount of Olives and Can the Great Tribulation begin before 2020? A shorter video is: Will the Great Tribulation Start in 2017?
Donald Trump in Prophecy Prophecy, Donald Trump? Are there prophecies that Donald Trump may fulfill? Are there any prophecies that he has already helped fulfill? Could a Donald Trump presidency be apocalyptic? A related video is titled: Donald: 'Trump of God' or Apocalyptic?
Trump Presidency Magic 8 Ball or Bible Prophecy? BBC reported that one might as well use a 'Magic Eight-Ball' to try to predict what will happen in the remaining time of Donald Trump's presidency. What is a 'Magic Eight-Ball'? Dr. Thiel not only explains that, but also briefly goes over 10 biblically-based warnings he wrote would happen if Donald Trump were elected that have already began to come to pass. He also goes over something he wrote back in 2008 that the Trump presidency is also helping lead to fulfillment. Should you trust Bible prophecy or not? Dr. Thiel says that Bible prophecy can be trusted, despite the view of skeptics and others that either overlook or despise the Bible. This is a video.
Donald Trump and America's Apocalypse This 188 page book is for people truly interested in prophecies related to Donald Trump and the United States, including learning about several that have already been fulfilled and those that will be fulfilled in the future. The physical book can be purchased at Amazon for $12.99 from the following link: Donald Trump and America's Apocalypse.
Donald Trump and America's Apocalypse-Kindle Edition This electronic version of the 188 page print edition is available for only US$3.99. And you do not need an actual Kindle device to read it. Why? Amazon will allow you to download it to almost any device: Please click HERE to download one of Amazon s Free Reader Apps. After you go to for your free Kindle reader and then go to Donald Trump and America's Apocalypse-Kindle Edition.