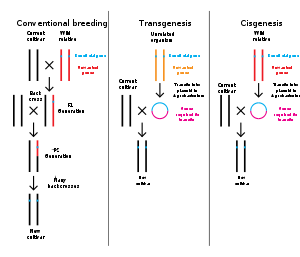 Non-GMO and GMO-Breeding for Plants
Although 'experts' have claimed that there is no GMO wheat in the food supply, the USA government now has reason to doubt that (note bolding below is from me):
WASHINGTON — A strain of genetically engineered wheat never approved for sale or consumption by authorities was found sprouting on a farm in Oregon, the U.S. Agriculture Department said on Wednesday.

The wheat was developed years ago by biotechnology company Monsanto Co. but never put into use because of worldwide opposition to genetically engineered wheat…

Roughly half of the U.S. wheat crop is exported and most of the crop is used in making food such as breads, pastries, cookies and noodles. USDA officials said the Food and Drug Administration determined years ago there is no health risk to humans from the strain, though.

"Hopefully, our trading partners will be very understanding," Michael Scuse, the acting U.S. deputy agriculture secretary, said at a briefing with reporters.

Scuse said trading partners and major customers for U.S. wheat had been informed of the discovery over the past day.

Genetically modified crops cannot be grown legally in the United States unless the government approves them after a review to ensure they pose no threat to the environment or to people.

Monsanto entered four strains of glyphosate-resistant wheat for U.S. approval in the 1990s but there was no final decision by regulators because the company decided there was no market.

The genetically modified wheat sprouted this spring on an Oregon farm, in a field that grew winter wheat in 2012.

When the farmer sprayed the so-called "volunteer" plants with a glyphosate herbicide, some of them unexpectedly survived. Samples were then sent to Oregon State University and to USDA for analysis…

Scuse and Michael Firko, who oversees USDA's biotechnology approval process, said USDA was investigating how the strain appeared on the farm when no seeds should have been available for several years.

"I think it will have a significant impact," said Ronnie Cummins, national director of the Organic Consumers Association, which battled to keep genetically modified wheat out of the marketplace years ago.

The U.S. Senate last week rejected by a wide margin a measure to allow states to order labeling of food made with genetically engineered, or GE, crops. Cummins said the discovery of the rogue plants in Oregon would accelerate efforts to require GE food labels.  http://www.voanews.com/content/us-unapproved-genetically-modified-wheat-oregon/1670962.html
There are many, many risks with GMO crops.  Notice that this crop allegedly occurred because "some of them unexpectedly survived."
No matter what the USA government or other officials claim, there is no humanly possible way to guarantee that genetically-modified organisms " no threat to the environment or to people."
The fact that this GMO strain of wheat survived when presumably USA government and/or Monsanto scientists did not think that it could is further proof (there have been other "unexpected" incidents as well).
While the supposed intent of GMOs is to increase the food supply and provide crops that are resistant to pesticides, the reality is that the GMO thrust is essentially based upon lust for profits.
10 For the love of money is a root of all kinds of evil, for which some have strayed from the faith in their greediness, and pierced themselves through with many sorrows. (1 Timothy 6:10)
The production of GMO crops places massive amounts of the food supply at risk for destruction. While in nature, there is variety of crops, with GMO-crops there is a uniformity that is unnatural. This uniformity puts the entire crop at risk as if one plant succumbs to a pesticide, the entire crop is susceptible as well–this can lead to famines. Paul told Timothy that love of money can cause many sorrows. Notice that Jesus told of famines were one of the sorrows that would come:
8 For nation will rise against nation, and kingdom against kingdom. And there will be earthquakes in various places, and there will be famines and troubles. These are the beginnings of sorrows. (Mark 13:8)
Now, well some claim that GMO-crops are resistant to various pests, the reality is that about two years ago, Monsanto learned that its corn that was supposed to be resistant to a root pest was, in fact, susceptible to it (see Pestilence Issues and Genetically-Modified Corn). The scientists there hope to work around this, but the time will come that disasters and troubles will result in famines and I have long suspected that GMOs would be part of the reason.  If the USA ever does also rely on GMO wheat as its main wheat and bread source, you can almost guarantee that will end in disaster for the USA.
Thousands of years ago, God inspired one of his prophets to pen the following, which encourages people to eat what is good:
2 Why do you spend money for what is not bread, And your wages for what does not satisfy? Listen carefully to Me, and eat what is good, And let your soul delight itself in abundance. (Isaiah 55:2)
Intentionally eating GMOs, in my view, is not good.  But as official policy, the US government does not want to let consumers know if they are buying GMO foods.  Furthermore, Monsanto has been given legal protection should its GMO crops cause problems (H.R. 933 includes pro-GMO provision that some call 'Monsanto Protection Act').  This is not good either.
Some items of possibly related interest may include:
Physical Preparation Scriptures for Christians. We all know the Bible prophecies famines. Should we do something?
Anglo – America in Prophecy & the Lost Tribes of Israel Are the Americans, Canadians, British, Scottish, Welsh, Australians, Anglo-Southern Africans, and New Zealanders descendants of Joseph? Where are the lost ten-tribes of Israel? Who are the lost tribes of Israel? Will God punish the U.S.A., Canada, United Kingdom, and other Anglo nations? Why might God allow them to be punished first?
Barack Obama, Prophecy, and the Destruction of the United States-Second Edition for Second Obama Term This is a 160 page book for people truly interested in prophecies related to Barack Obama and the United States, including learning about many that have already been fulfilled (which the book documents in detail) and those that will be fulfilled in the future. It also has a chapter about a Republican choice. This book is available to order at www.barackobamaprophecy.com. The physical book can also be purchased at Amazon from the following link: Barack Obama, Prophecy, and the Destruction of the United States: Is Barack Obama Fulfilling Biblical, Islamic Catholic, Kenyan, and other America-Related Prophecies? What About Republican Leaders? Second Edition for Second Obama Term.
Barack Obama, Prophecy, and the Destruction of the United States-Second Term-Amazon Kindle edition. This electronic version is available for only US$2.99. And you do not need an actual Kindle device to read it. Why? Amazon will allow you to download it to almost any device: Please click HERE to download one of Amazon s Free Reader Apps. After you go to for your free Kindle reader and then go to Barack Obama, Prophecy, and the Destruction of the United States-Second Term-Amazon Kindle edition.
When Will the Great Tribulation Begin? 2013, 2014, or 2015? Can the Great Tribulation begin today? What happens before the Great Tribulation in the "beginning of sorrows"? What happens in the Great Tribulation and the Day of the Lord? Is this the time of the Gentiles? When is the earliest that the Great Tribulation can begin? What is the Day of the Lord? Who are the 144,000? See also the video Can the Great Tribulation Begin in 2013?