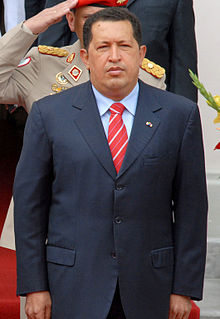 Hugo Chávez
Protests have been going on in Venezuela:
February 27, 2014

WASHINGTON — Venezuela's largest protests since the death of longtime leader Hugo Chavez nearly one year ago are sweeping the country. Rampant inflation, violent crime and chronic shortages of basic goods are fueling the outrage that is dividing the South American nation.

The country's main political opposition coalition on Wednesday refused to attend crisis talks called by the government in an attempt to halt the nearly three weeks of protests that have left 14 people dead.

President Nicolas Maduro had called a "national peace conference," but the main political opposition coalition denounced the planned talks as an insult to the slain protesters.

The most prominent opposition leader, Henrique Capriles, had earlier said he would not attend, dismissing the talks as a government photo op.

Divided country

Venezuela today is a divided country, with so-called Chavista supporters of President Nicolas Maduro on one side and an increasingly broad anti-government movement on the other.

Anti-government protesters hurled rocks in the northern city of Valencia Wednesday as police fired back with rubber bullets. In the capital, Caracas, Venezuelan women took to the streets to rally against Maduro while pro-government farmers protested in largely peaceful rival rallies.

"As we all know, young people here have an uncertain future and we are simply protesting against that uncertainty that Venezuelans live with every day, [protesting] like we did yesterday, and like we will do tomorrow and the day after, demonstrating in the streets," said Juan Quintana, a student demonstrator.

Polling data going back to 2012 reveal that Venezuelans have experienced a considerable drop in their quality of life, according to Gerver Torres, a Latin America specialist with Gallup.  http://www.voanews.com/content/venezuela-protests-reveal-deep-divide/1860228.html

Pope Francis is calling for "sincere dialogue" in his first public comments on the ongoing crisis in Venezuela…Pope Francis said he hoped "the country quickly returns to peace and calm".

The Pontiff invited all Catholics "to pray to God, through the maternal intercession of our Lady of Coromoto [the patron saint of Venezuela]", for peace and harmony to return to Venezuela.  http://www.voanews.com/content/pope-francis-calls-for-serious-dialogue-in-venezuela-/1859560.html
Venezuela's President Hugo Chávez died nearly a year ago. Right after he died, I warned that the situation in Venezuela (whose official name is República Bolivariana de Venezuela) could be quite volatile. Those in Venezuela need your prayers.
Here are some comments that Senator Marco Rubio made in a speech about some of the problems in Venezuela:
This is Genesis Carmona. She's a beauty queen and a student in a city called Valencia. She's on that motorcycle because the government in Venezuela and the thug, these so-called civilian groups that they've armed…And this is her being taken on a motorcycle to the hospital where they were unable to save her life because she was shot in the head by Venezuelan security forces…

Let me show you the next slide. Here's a demonstrator detained by police. Look how they drag him through the streets. This is in Caracas, Venezuela.

Let me show you another demonstrator. This is a student — by the way, these are all students in the street. You see this young man here? He was also shot in the head by security forces and pro-government groups in Caracas. This happened on February 11. This is what they do in Venezuela…

You know Venezuela's an oil-rich country with hardworking people? They have a shortage — we don't have an embargo against Venezuela. They have a shortage of toilet paper and tooth paste. Why? Because they are incompetent. Because communism doesn't work…

What's the first thing the Venezuelan government did when these broke out? They cut off access to Twitter and Facebook and the Internet. They ran CNN out of there. They closed down the only Colombian station. Years before, they had closed down all the independent media outlets that criticized the government.  http://www.realclearpolitics.com/video/2014/02/25/sen_rubio_speaks_about_the_crisis_in_venezuela.html
Most of the peoples in Latin America are Roman Catholic. And this is true of nearly every nation there. Religion, thus, is a major cultural tie to Europe. As far as Venezuela goes, according to government estimates, about 92% of the population is at least nominally Roman Catholic.
Latin America is of importance to the Vatican, especially now that the current pontiff is from there (specifically, Argentina, in Pope Francis' case).  On March 5, 2013 (see Hugo Chavez dies! Might this affect the Vatican election?), I posted the following:
Currently, cardinals of the Church of Rome are meeting in Vatican City to determine who to elect as their next pope. At least two "leading candidates" are from South America. It may be that the death of Hugo Chávez could be a factor in possibly selecting a pontiff from that region…The situation in Venezuela may well affect the Vatican as its cardinals conclave later this month.
Pope Francis was elected about a week after I made that post.  Pope Francis has European heritage (Italian), but was born and raised in Argentina.  Pope Francis is telling people to pray to his version of Mary (the 'Lady of Coromoto' is an apparition that that that allegedly appeared twice to the chief of the local tribe, once in 1651 and again on September 8, 1652).  Pope Francis has also prayed to Mary for peace in Syria, and elsewhere.  The Bible teaches that Jesus is the 'Prince of Peace' (Isaiah 9:6) and nowhere says to pray to Mary nor apparitions falsely claimed to be her. Despite Pope Francis' often made appeals to 'Mary,' certain Protestants feel now is the time to unify with Rome (see Protestant endorsement of the ecumenical agenda: Kenneth Copeland do you not understand? and/or watch Charismatic Kenneth Copeland and Anglican Tony Palmer: Protestants Beware!).  This is a mistake for all.
While the government in Venezuela may support the prayers for intercession by the 'Lady of Coromoto,' the Washington Post indicated that the government hopes with Mardi Gras occurring next Tuesday, the Carnaval atmosphere will cut or stop the protests:
CARACAS, Venezuela — It is Carnaval time in Venezuela, when revelers typically fill the streets in rum-powered dance parties leading up to Tuesday's Mardi Gras blowout.

And after two weeks of deadly street demonstrations against his government, embattled President Nicolás Maduro would like nothing more than for the country to go numb on booze and rumba. A social media campaign pushed
by his supporters, #ConMaduro­CarnavalSeguro ("a safe Carnaval with Maduro"), is promoting the government as the official guarantor of the good times.

So, then: To party or to protest?

For the student-led uprising that has convulsed Venezuelan cities but is showing signs of fatigue, that is the question.

The next few days appear to be a critical interval for the protest movement and the government's effort to contain it.  http://www.washingtonpost.com/world/the_americas/carnaval-could-sap-venezuela-protests/2014/02/26/50088b96-9f10-11e3-878c-65222df220eb_story.html
Carnaval could actually increase protests as more people tend to get together and talk than normally happens.  Carnaval is not a biblical holiday (see Mardi Gras: The Devil's Carnival? and/or watch Mardi Gras & Carnaval: Are they for Christians?).  Carnaval and Marian interventions are not the answer, the kingdom of God is.
The situation in Venezuela is volatile.  And, of course, so is the situation in Ukraine and many other parts of the world.  Many in Ukraine wish to be part of the European Union, while many in Venezuela likely suspect greater trade between their country and the EU would be beneficial.  That being said, expect to see more protests around the world, and even more in Europe itself, and at some point, civil unrest in the USA.
Because of the cultural, ethnic, language, legal, and religious ties between Europe and Latin America, those two regions will likely cooperate more in the future. These ties will be primarily economic, along with the religious and cultural ones, but also may include some type of military cooperation. This is consistent with Ezekiel 27:12-23 and other scriptures.
Some items of possibly related interest may include:
Mexico, Central America, South America, Brazil, and the Caribbean in Prophecy [Español: México, América central, Suramérica, Brasil y el Caribe en la profecía] [Português: México, América Central, Ámérica do Sul, e Brasil na profecia] What will happen to those of Latin America? Will they have prosperity? Will they cooperate with Europe? Will they suffer in the future? What role might the various Caribbean nations/territories play?
Europa, the Beast, and Revelation Where did Europe get its name? What might Europe have to do with the Book of Revelation? What about "the Beast"? Is an emerging European power "the daughter of Babylon"? What is ahead for Europe? Here is a link to a video titled: Can You Prove that the Beast to Come is European?
The Malachy Prophecies and "Peter the Roman" An Irish bishop allegedly predicted something about 112 popes in the 12th century. Pope Benedict XVI was number 111. Francis would be number 112–if he is that one–and if so, he is to reign until Rome is destroyed. May he be an antipope/final Antichrist?
Pope Francis: Could this Marian Focused Pontiff be Fulfilling Prophecy? Pope Francis has taken many steps to turn people more towards his version of 'Mary.' Could this be consistent with biblical and Catholic prophecies? This article documents what has been happening. There is also a video version titled Pope Francis: Could this Marian Focused Pontiff be Fulfilling Prophecy?
Mary, the Mother of Jesus and the Apparitions Do you know much about Mary? Are the apparitions real? What happened at Fatima? What might they mean for the rise of the ecumenical religion of Antichrist? Are Protestants moving towards Mary? How do the Eastern/Greek Orthodox view Mary? How might Mary view her adorers? Here is a link to a YouTube video Marian Apparitions May Fulfill Prophecy.
Do you understand the ramifications of the 'Lady of Guadalupe'? It is claimed that a female apparition appeared near Mexico City on December 12, 1531. How has it affected the world? What might it suggest about the future?
Mardi Gras: The Devil's Carnival? Is Mardi Gras Christian? Do you know that in Bolivia the carnival/Mardi Gras time is part of a celebration known as the Devil's Carnival? Where did it come from? There is also a related YouTube video Mardi Gras & Carnaval: Are they for Christians?
Is Lent a Christian Holiday? When did it originate? What about Ash Wednesday? If you observe them, do you know why? Here is an old, by somewhat related, article in the Spanish language by Dr. Hoeh: ¿Por Qué Se Observa la Cuaresma?
Which Is Faithful: The Roman Catholic Church or the Continuing Church of God? Do you know that both groups shared a lot of the earliest teachings? Do you know which church changed? Do you know which group is most faithful to the teachings of the apostolic church? Which group best represents true Christianity? This documented article answers those questions.
The Last Pope Do Biblical and Catholic Prophecies Point to Pope Francis? Why might Pope Francis be the last pope? What happens if he is? Biblical and other prophecies help explain what to expect.
The Last Pope: Do Biblical and Catholic Prophecies Point to Pope Francis? Amazon Book What does the Bible say about a pope near this time? Is the final pope to be an antipope and antichrist? Does Catholic prophecy point to Pope Francis as being the dreaded "Peter the Roman"? This 186 page book provides information and answers.
The Last Pope: Do Biblical and Catholic Prophecies Point to Pope Francis? Kindle This electronic version of the printed book which is available for only US$2.99. And you do not need an actual Kindle device to read it. Why? Amazon will allow you to download it to almost any device: Please click HERE to download one of Amazon s Free Reader Apps. After you go to for your free Kindle reader and then go to The Last Pope: Do Biblical and Catholic Prophecies Point to Pope Francis? Kindle.