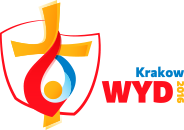 World Youth Day 2016 logo
Pope Francis reached millions with some of his agenda in Poland today:
31 July 2016
KRAKOW, Poland-Addressing a vast sea of young women and men gathered in Krakow for World Youth Day (WYD), Pope Francis told them not to be deterred by those who want to present the image of an insensitive God, and to believe in the power of God's mercy.

"People will try to block you, to make you think that God is distant, rigid and insensitive, good to the good, and bad to the bad. Instead, our heavenly father 'makes his sun rise on the evil and on the good,'" Francis said on Sunday.

The pope was addressing some two million women and men gathered in Campus Misericordiae, a field set up for the occasion in the outskirts of Krakow, Poland. …

"People may judge you to be dreamers, because you believe in a new humanity, one that rejects hatred between peoples, one that refuses to see borders as barriers and can cherish its own traditions without being self-centered or small-minded," Francis warned.  …

WYD this week caused the idea of reinforcing borders to dissolve in the mix of pilgrims from Syria and Iraq, brothers and sisters in the faith at one with Poles and Hungarians. …

For one week, the streets of Krakow, a deeply Catholic city, with over 300 churches, became a mirror of the Universal Church. A glimpse of a united Christianity was visible, too, as Russian Orthodox and Pentecostal pilgrims joined Catholics in the festivities.

A peek into one of the many churches offering permanent Eucharistic adoration during these days showed youngsters from Ukraine and Russia – whose nations are at war – praying together. … here the people were at peace with each other.

Perhaps nothing symbolized this more than to see Israeli and Palestinian flags mixed in with each other. https://cruxnow.com/world-youth-day-krakow/2016/07/31/not-afraid-trust-mercy-urges-pope-closing-mass/

July 31, 2016

Pope Francis on Sunday encouraged hundreds of thousands of young people gathered in southern Poland to "believe in a new humanity," which is stronger than evil and refuses to use borders as barriers. http://www.foxnews.com/world/2016/07/31/pope-urges-young-people-to-believe-in-new-humanity-as-world-youth-day-ends.html

July 31, 2016

Krakow, Poland Pope Francis has asked global young people to show the world a new way, "People may judge you to be dreamers, because you believe in a new humanity, one that rejects hatred between peoples, one that refuses to see borders as barriers and can cherish its own traditions without being self-centered or small-minded," he told the youths.

"Don't be discouraged!" he exhorted. "With a smile and open arms, you proclaim hope and you are a blessing for our one human family, which here you represent so beautifully!"

Francis was speaking Sunday in the last major event of his five-day trip to Poland, in which he celebrated World Youth Day events but also touched on political themes with the country's leaders … https://www.ncronline.org/news/vatican/francis-asks-worlds-youth-be-vanguard-new-humanity
Should people strive to be kinder, be nice to others, and smile more?
Yes.
Is promoting a 'new humanity' like this going to solve the real issues facing the world?
No.
Pope Francis is promoting a false gospel (cf. Galatians 1:6-9; view also Galatians 1 and the False Gospel).
If this was the only time he did anything like what he did today, perhaps it would not be as clear.
But it is not. From his Laudato Si encyclical to his endorsement of the United Nation's 'New Universal Agenda', Pope Francis has demonstrated he does not believe that it will take Kingdom of God to solve humanities' ills.
Furthermore, Pope Francis has personally taken several steps since becoming pope in March 2013 to direct people to Mary (see, for example, Pope Francis continues to direct his followers towards "Mary"). A lot of Catholic prophecy indicates that "Mary" will be a major factor in bringing people to the Catholic faith–which will be a changed faith. This changed faith is warned against in the Bible, yet steps are being taken to implement it.
Now, is it good for people to try to get along peaceably with each other?
Yes.
But Pope Francis' message is more than that.
His is a sometimes subtle attempt to get the world to unite into his version of interfaith and ecumenical unity.
To many in the world, he looks like a lamb (cf. Revelation 13:11a), but his words are really those of a dragon (Revelation 13:11b).
What about the idea of unity now?
Jesus did NOT come to bring worldwide unity in this age:
51 Do you suppose that I came to give peace on earth? I tell you, not at all, but rather division. (Luke 12:51)
The Apostle Paul taught that true unity of faith would not happen until after Jesus returns:
13 till we all come to the unity of the faith and of the knowledge of the Son of God, to a perfect man, to the measure of the stature of the fullness of Christ; (Ephesians 4:13)
Those who believe this unity comes prior to Jesus' return are in error. We are not 'perfect' until after He comes (cf. 1 John 1:8). The prophesied unity of faith does not happen prior to Jesus' return.
The Bible shows that a false ecumenical unity will come (Revelation 13:4-8; 17:-12). Christians are warned not to be part of it:
2 And he cried mightily with a loud voice, saying, "Babylon the great is fallen, is fallen, and has become a dwelling place of demons, a prison for every foul spirit, and a cage for every unclean and hated bird! 3 For all the nations have drunk of the wine of the wrath of her fornication, the kings of the earth have committed fornication with her, and the merchants of the earth have become rich through the abundance of her luxury."

4 And I heard another voice from heaven saying, "Come out of her, my people, lest you share in her sins, and lest you receive of her plagues. 5 For her sins have reached to heaven, and God has remembered her iniquities. (Revelation 18:2-5)
Notice also some passages from the Old Testament:
6 "Up, up! Flee from the land of the north," says the Lord; "for I have spread you abroad like the four winds of heaven," says the Lord. 7 "Up, Zion! Escape, you who dwell with the daughter of Babylon." (Zechariah 2:6-7)
Notice that even true believers are warned to get away from this. The next few verses tell about the timing and that God will cause the unity He wants:
8 For thus says the Lord of hosts: "He sent Me after glory, to the nations which plunder you; for he who touches you touches the apple of His eye. 9 For surely I will shake My hand against them, and they shall become spoil for their servants. Then you will know that the Lord of hosts has sent Me.

10 "Sing and rejoice, O daughter of Zion! For behold, I am coming and I will dwell in your midst," says the Lord. 11 "Many nations shall be joined to the Lord in that day, and they shall become My people. And I will dwell in your midst. Then you will know that the Lord of hosts has sent Me to you. 12 And the Lord will take possession of Judah as His inheritance in the Holy Land, and will again choose Jerusalem. 13 Be silent, all flesh, before the Lord, for He is aroused from His holy habitation!" (Zechariah 2:8-13)
So, the Bible is saying that GOD–not a 'new humanity'–will bring unity. And that does not come until AFTER Jesus returns.
Understand that the Bible also teaches that when Jesus actually returns, He will destroy the unity of nations that are against Him (Revelation 11:15-18, 19:6,19-21).
Consider that the New Testament teaches:
4 There is one body and one Spirit, just as you were called in one hope of your calling; 5 one Lord, one faith, one baptism (Ephesians 4:4-5)
The Bible does not endorse multiple religions along with multiple 'lords' and baptisms.  The time for true religious unity is not now–all religions would have to convert to the true Christian faith (Where is the True Christian Church Today? and Continuing History of the Church of God) and that is not what the ecumenical/interfaith movements are all about.
The Bible says that Jesus is the 'Prince of Peace' (Isaiah 9:6) and it will take the return of Jesus Christ and the establishment of the millennial kingdom of God to bring peace–not the false interfaith/ecumenical movement–which is what Pope Francis seems to mean when he calls for a "new humanity."
Some items of related interest may include:
The Gospel of the Kingdom of God This free online pdf booklet has answers many questions people have about the Gospel of the Kingdom of God and explains why it is the solution to the issues the world is facing.
The Gospel of the Kingdom of God was the Emphasis of Jesus and the Early Church Did you know that? Do you even know what the gospel of the kingdom is all about? You can also see a YouTube video sermon The Gospel of the Kingdom.
United Nations: Humankind's Last Hope or New World Order? Is the UN the last hope for humanity? Or might its goals end up with sinister results? Two related videos include UN's 'New Universal Agenda' is a False Gospel! and United Nations and Vatican Are Planning the New World Order.
Laudato Si: Pope's Agenda or Kingdom of God? Pope Francis' 2nd encyclical is titled 'Laudato Si.' In it, he goes over his views related to environmental, economic, social, moral, agricultural, and spiritual issues. He advocates international cooperation to solve various problems he believes are affecting humanity. Is that Pope's agenda the solution? What about the Kingdom of God? does the Bible teach? Two related articles include Laudato Si: Will Pope Francis' economic actions match his words? and Laudato Si: A call for a one-world government?
Pope Francis: Could this Marian Focused Pontiff be Fulfilling Prophecy? Pope Francis has taken many steps to turn people more towards his version of 'Mary.' Could this be consistent with biblical and Catholic prophecies? This article documents what has been happening. There is also a video version titled Pope Francis: Could this Marian Focused Pontiff be Fulfilling Prophecy?
Just What Do You Mean the Kingdom of God? A booklet that was written by Herbert Armstrong answers questions about the Kingdom.
The Last Pope: Do Biblical and Catholic Prophecies Point to Pope Francis? Kindle This electronic version of a new 186 page book (in the print version). And you do not need an actual Kindle device to read it. Why? Amazon will allow you to download it to almost any device: Please click HERE to download one of Amazon s Free Reader Apps. After you go to for your free Kindle reader and then go to The Last Pope: Do Biblical and Catholic Prophecies Point to Pope Francis? Kindle.
The Last Pope: Do Biblical and Catholic Prophecies Point to Pope Francis? What does the Bible say about a pope near this time? Is the final pope to be an antipope and antichrist? Does Catholic prophecy point to Pope Francis as being the dreaded "Peter the Roma"? This 186 page book provides information and answers. This book is available for USD$9.98 in printed form The Last Pope: Do Biblical and Catholic Prophecies Point to Pope Francis.
The Malachy Prophecies and "Peter the Roman" An Irish bishop allegedly predicted something about 112 popes in the 12th century. Pope Benedict XVI was number 111. Francis would seem to be number 112–if he is that one–and if so, he is to reign until Rome is destroyed. May he be an antipope/final Antichrist?
Beware: Protestants Going Towards Ecumenical Destruction! What is going on in the Protestant world? Are Protestants turning back to their 'mother church' in Rome? Does the Bible warn about this? What are Catholic plans and prophecies related to this? Is Protestantism doomed? See also World Council of Churches Peace Plan.
Why Should American Catholics Fear Unity with the Orthodox? Are the current ecumenical meetings a good thing or will they result in disaster? Is doctrinal compromise good? Here is a link to a related video Should you be concerned about the ecumenical movement?
Will the Interfaith Movement Lead to Peace or Sudden Destruction? Is the interfaith movement going to lead to lasting peace or is it warned against? A video of related interest could be Do You Know That Babylon is Forming?
Mary, the Mother of Jesus and the Apparitions Do you know much about Mary? Are the apparitions real? What happened at Fatima? What might they mean for the rise of the ecumenical religion of Antichrist? Are Protestants moving towards Mary? How do the Eastern/Greek Orthodox view Mary? How might Mary view her adorers? See also the video Marian Apparitions May Fulfill Prophecy.
Feast of the Immaculate Conception? Did early Christians teach Mary had an immaculate conception and led a sinless life?
Origin of the Marian Dogmas: Where Do Catholic Scholars Say The Four Dogmas of Mary Came From?
Assumption of Mary Did Mary die? Was she taken to heaven on August 15th? What is known? What does the Bible show?
Will You Be Deceived by Antichrist? 1964 article by David Jon Hill, originally published in the old Good News magazine.
Could Pope Francis be the Last Pope and Antichrist? According to some interpretations of the prophecies of the popes by the Catholic saint and Bishop Malachy, Pope Francis I is in the position of "Peter the Roman," the pontiff who reigns during tribulations until around the time of the destruction of Rome. Do biblical prophecies warn of someone that sounds like Peter the Roman? Could Francis I be the heretical antipope of Catholic private prophecies and the final Antichrist of Bible prophecy? This is a YouTube video.
Fatima Shock! What the Vatican Does Not Want You to Know About Fatima, Dogmas of Mary, and Future Apparitions. Whether or not you believe anything happened at Fatima, if you live long enough, you will be affected by its ramifications (cf. Isaiah 47; Revelation 17). Fatima Shock! is a highly documented book by Bob Thiel for those interested in the real truth about Fatima and how future apparitions may affect the future. In addition to the print version, there is a Kindle version of Fatima Shock! which you can acquire in seconds.