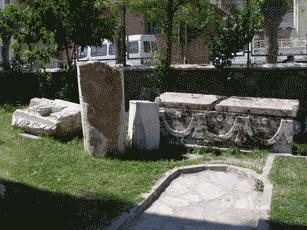 Remnants of Philadelphia (in Turkey)
For the past year or so I have wondered if perhaps the Living Church of God had lost the mantle that the Philadelphia remnant should have.  To be 100% certain, I have been trying to resolve many matters with those in Charlotte and telephoned Dr. Roderick C. Meredith every day this week.
Instead of speaking with me, a few hours ago I received a factually incorrect letter from Dr. Roderick C. Meredith.  Based upon its tone, numerous inaccurate statements, accusations, and his unwillingness to address the real issues that I wanted to bring up, this letter is 100% proof (to me at least) that my view that the Living Church of God lost the 'Philadelphia mantle' in 2011 or 2012.   I am saddened by this development and had hoped to avoid having to make a variety of decisions.  But, God's will is to be done (Matthew 6:10; 1 John 2:17).
After reading over that letter, I telephoned the LCG regional pastor for this area and clearly (and politely) told him that I was no longer affiliated with LCG (I had suspended my membership on 7/14/2012, but until today held out hopes that LCG would make various corrections, etc.; we also discussed, and agreed to, how I planned to close out the LCG video group in Arroyo Grande).
About an hour ago, I signed various notarized documents to declare the start of a new organization.  It is legally to be called the Continuing Church of God Overseer and successors, a corporation sole.  Next week, the corporate documents are to be filed–but legally CCOG now exists as a real church.  The late Herbert W. Armstrong formed a corporate sole in the 1970s and this seemed to be the best available option for me in California.
The Church will commonly likely be known as the Continuing Church of God, probably abbreviated as the CCOG.
We expect to best represent the true remnant of the Philadelphia era of the original Church of God that began on Pentecost in Acts 2 (c. 31 A.D.)
The following scripture, which I noticed yesterday for this purpose, is:
1 Let brotherly love continue.  (Hebrews 13:1)

.
Hebrews 13:1 is very interesting as literally, it says "Let Philadelphia continue" as the Greek word translated as "brotherly love" is transliterated as filadelphia or Philadelphia.
.
The Church's mission is to proclaim and promote Christ's loving Gospel of the Kingdom of God (Matthew 24:14) and all that implies.Here are seven specific parts of the mission of the Continuing Church of God:
1. To preach the Gospel of the Kingdom (Matthew 24:14) and salvation through Jesus Christ (Matthew 28:19-20; Acts 4:10,12; Romans 1:13).
2. To preach the end-time biblical prophetic warnings, including about the coming Great Tribulation, to the descendants of Jacob and others in this age (e.g. Ezekiel 3 and 33; Matthew 24:4-51).
3. To preach Philadelphian love (Revelation 3:7-12; James 2:8; John 13:35; Hebrews 13:1), feed the flock (Matthew 28:19-20), and encourage all to build character through growing in grace and knowledge of our Lord and Savior Jesus Christ (2 Peter 3:18).
4. To be examples (Matthew 5:14-16; 1 Thessalonians 1:7) and witnesses (Matthew 24:14) to the world in general, as well as other Christians.
5. To learn and practice the words of Jesus in all our dealings with others (John 13:35; 15:14).
6. To restore knowledge of more of the truths of original Christianity (Jude 3).
7. To teach that Christians should be led by the Holy Spirit and purse love, mercy, judgment, faith, and the other gifts of the Spirit (1 Corinthians 13:1-14:1; Galatians 5:22-25).
Teaching the truth and love of the word of God to the world in general and those called in this age in particular (Matthew 28:19-20) is the mission of the Continuing Church of God.
Our mailing address is Continuing Church of God, 1248 E. Grand #A, Arroyo Grande, CA 93420.  And yes, in the USA, donations postmarked by 12/31/2012 are immediately tax deductible.  For those who in live in the State of California, we signed a declaration to apply for the determination letter from California, which, for those in California is legal assurance of the deductibility of donations in California (they are now 100% deductible in all the other US states).
A few minutes ago (it is still not sunset here), I ordered  the URL for the Church and expect to go live with that sometime next week.
Until then, here is a draft that I hope to finish next week on beliefs: Draft Statement: Beliefs of the Continuing Church of God.
Since I have received a few emails asking for details, etc. the 12/28/12 p.m. post at News of Those Once Affiliated with GCG will provide some.