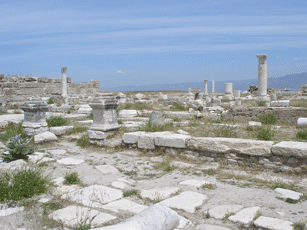 Laodicea Has Many Scattered Structures that Are Relatively Ineffective
COGaIC is a group that tends to be secretive about itself as it restricts outsiders from many of its publications.
However, I recently was sent a copy of a Fall 2008 report written by David Hulme (its leader, who was formerly president of the United Church of God–see also In Their Own Words: Doctrinal Differences Between the old United Church of God and the old Global Church of God) that gives some insight into its actual size:
What I'd like to give you today is a progress report that will explain what we've been doing in the Church and the Work over the last year or so…

In some parts of the world you will find that there are a lot of people coming into the Church. You find quite a multiplying going on in Africa at the moment. you don't find it very much in the UK, but it's not true of everywhere in the UK. You don't find it everywhere in the US…

What has been happening in the Church? In the US and Canada we have 1150 people in regular attendance and we have 53 churches. If you do your maths you realize that a lot of these churches are rather small…

At the Feast last year we had about 1300 people in attendance. Let's go to other parts of the world. In Australia we have 68 people and six churches. In the Philippines we have 156 people and seven churches. In addition we have 11 members in six countries, remote areas all around Southeast Asia who are looked after by Australia. Last year we had 77 people at the Feast in Bright, in Australia, and 132 in Iloilo, in the Philippines.

In Africa we have an interesting situation. We have English and French speaking brethren there numbering 700! So they are a sizable portion of our total numbers. They are scattered through 38 congregations. A recent report I saw has congregations in places that even I was not aware we had people! So there are some small groups forming in countries where hitherto we have not had anybody.

In the UK we have about 300 people in 14 congregations. The Feast there is one of our larger ones, about 320 there last year. In Germany we have two congregations and 20 people. We have people of the German language background in Switzerland as well. We have France and Switzerland represented in the French language: 21 people in two congregations. In Scandinavia we have about 10 people, mostly in Denmark and Norway and Sweden, I believe. (Hulme D. Feast of Tabernacles 2008 Progress Report. Church of God, an International Community)
The overall trend for COGaIC seems to be down as far as members and attendees are concerned.  Whether or not that trend will continue is unclear.
Some articles of possibly related interest may include:
Church of God, an International Community (COG aic) This is the group led by David Hulme. It seems to minimize parts of biblical prophecy.
The Laodicean Church Era was predominant circa 1986 A.D. to present. Non-Philadelphians who mainly descended from the old WCG.
Attending the Church of Choice This article discusses whose choice is important to worship God; should you attend the church of your choice or the church of God's choice?
Unity: Which COG for You? Why so many groups? Why is there lack of unity in the Churches of God? Has it always been this way? What can/should be done about it?
18 Truths Restored to the Churches of God Herbert W. Armstrong wrote that he felt he had restored at least 18 lost truths to the Church, here is Herbert W. Armstrong's list given 12/17/83. This articles also has links to show that these truths were believed by professors of Christ in earlier times, hence they were not some invention of Herbert Armstrong.
Do You Believe God Used Herbert W. Armstrong to Raise Up the Philadelphia Era of the Church of God? Nearly everyone while in WCG used to believe this, most do not seem to anymore.
In Their Own Words: Doctrinal Differences Between the old United Church of God and the old Global Church of God Older quotes from the leadership and some of the membership of these two organizations are included without added commentary (until the end and the 7/31/98 update) which highlighted some of the differences between them.
There are Many COGs: Why Support the Living Church of God? This is an article for those who wish to more easily sort out the different COGs. It really should be a MUST READ for current and former WCG members or any interested in supporting the faithful church. It also explains a lot of what the COGs are all about.