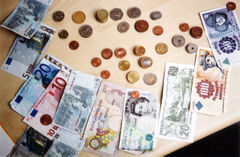 Yesterday, at the News of those Once Affiliated with the Global Church of God page, I posted several quotes from an 11/03/07 sermon from RCG's David Pack.
One item he said that I did not quote was that those in international areas (he mentioned Europe, Canada, Britain, Australia, and New Zealand if I recall correctly) should realize that since their currencies have increased in value against the US dollar, that their contributions will now help RCG more than ever.
 Here are a couple of the quotes from David Pack:
"Go get a big chunk out of your home. And put your money where your mouth is and send it here. And I'm not talking about one, two, three thousand either. How about ten, twenty, thirty, fifty, or one hundred thousand dollars? Go do it"

"Go get those assets and get them here"
More information is available at the News of those Once Affiliated with the Global Church of God page
Of course, I have long warned against RCG, never believed that David Pack was an apostle, and even question whether RCG is actually a COG (though it most likely has quite a few confused members who are).  People can do what they want with their assets, but I, of course, will not be one to send RCG any.
Hopefully, people in RCG will wake up.  And David Pack basically states in that sermon that those who are faithful in RCG will send him their assets and that the others are not faithful.  While David Pack can say what he wants, I consider his statements to be irresponsible at best.  Sadly, I also believe his position will reflect poorly on the COGs.
An article of related interest (which now includes many quotes from the 11/03/07 sermon) would be:
Why Not the Restored Church of God? This group, led by David Pack, claims to be the most faithful. The information in this article suggests otherwise.