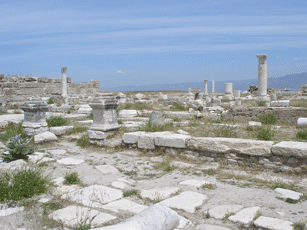 Ancient Laodicea

The situation related to the UCG crisis seems to be affecting more and more who were once parts of that organization.  Some of which are now part of something called the International Ambassador Outreach (IAO).
The website of International Ambassador Outreach states the following:
Mission Statement

The mission of International Ambassador Outreach is to help meet the financial needs of congregations and care for members of the Church of God around the world.

Who are we?

The Directors of International Ambassador Outreach are all long-time members of the Church of God. They recognize that recent tumult in the Church of God has created financial needs for many congregations, members, and elders around the world, both within the United States and internationally. The IAO is not a church nor will it become one. However, it recognizes these financial needs that exist and desires to help meet those needs.

Our goals specifically are to provide:

Financial assistance to congregations globally in order to conduct normal church activities,
Financial assistance to elders to assist in the execution of their normal job duties of caring for local congregations,
Financial assistance for  preaching the gospel of the Kingdom of God in all forms, including print, Internet and other electronic media and all other suitable means,
Scholarships for qualified students at colleges, universities, trade schools and other acceptable learning institutions,
Assistance to enable members of the Church of God to attend the annual biblical festivals,
Any other financial needs recognized by the Board as fulfilling the purposes of IAO.
Perhaps it will update the above list and mission, but to me, it clearly shows the wrong priorities (such as Matthew 24:14; 28:19) and ignores biblical governance.  Its initial focus, like UCG's when it was formed, seems to be to insure that disenfranchised ministers are paid and to try to support the members who follow those ministers.  While Matthew 28:20 does need to be done, that should be the secondary focus (Matthew 28:19-20).  Also notice that Jesus said:
35 For whoever desires to save his life will lose it, but whoever loses his life for My sake and the gospel's will save it. (Mark 8:35)
International Ambassador Outreach lists the following as Directors with the titles as shown (note, I listed them in the order they and their bios appeared at IAO's website):
Matthew R. Gus, Chairman
Cliff Demarest, Director
Arnold Cisco Mendez, Sr., Director
Robert L. Paine, II, Director
Larry Salyer, Director: Advisory Board
Leon Walker, Latin America Advisor
As regular readers of the COGwriter page should have noticed, I have not taken sides on the UCG crisis in the sense that I do not believe that either UCG nor the bulk of those that split off from it this year have actually indicated that they would repent and embrace Philadelphia-era church governance or the Philadelphia priority of public proclamation of the gospel.  I have tried, as imperfect as I am, to give some information on both sides (those supportive of UCG and the main ones who have in 2010 turned publicly against it).
But the bottom line is that just like I wrote over 12 years ago about those who rebelled against proper church governance in the old GCG, those groups and individuals all failed in my opinion to properly place their priority on public proclamation of the gospel, and thus with UCG and its splits this year, I see nothing to suggest that any will succeed in accomplishing that mission.  UCG itself may make the biggest attempt, but even in the past year or so, its financial priorities suggest to me at least that it will not truly accomplish this.
The problem is that few of those still in UCG believe enough in that priority to support the main group that has done that these past 12 years–which is clearly the Living Church of God.  And no, LCG is not perfect, and yes it has had various rebels (and likely will have more).  But, as the major COG that has retained the proper balance in Church governance (hierarchical with servant leadership), I believe that God will continue to use it (even if some day its name has to change again) to finish the Philadelphia-phase of His work.
Any interested in supporting the remnant of the Philadelphia era of the COG should prayerfully check out LCG.
Those not interested will either remain part of UCG (or where ever they are), go with one of the former UCG break-away ministers/groups like those paid by IAO, go somewhere else, or drop out. God will hold all accountable for what they do and do not do.
Some articles of possibly related interest may include:
Polycarp, Herbert W. Armstrong, and Roderick C. Meredith on Church Government What form of governance did the early church have? Was it hierarchical? Which form of governance would one expect to have in the Philadelphia remnant? The people decide and/or committee forms, odd dictatorships, or the same type that the Philadelphia era itself had?
Unity: Which COG for You? Why so many groups? Why is there lack of unity in the Churches of God? Has it always been this way? What can/should be done about it?
Differences between the Living Church of God and United Church of God This article provides quotes information from the two largest groups which had their origins in WCG as well as commentary.
There are Many COGs: Why Support the Living Church of God? This is an article for those who wish to more easily sort out the different COGs. It really should be a MUST READ for current and former WCG/GCI members or any interested in supporting the faithful church. It also explains a lot of what the COGs are all about.
Should the Church Still Try to Place its Top Priority on Proclaiming the Gospel or Did Herbert W. Armstrong Change that Priority for the Work? Some say the Church should mainly feed the flock now as that is what Herbert W. Armstrong reportedly said. Is that what he said? Is that what the Bible says? What did Paul and Herbert W. Armstrong expect from evangelists?
The Laodicean Church Era has been predominant circa 1986 A.D. to present. These are non-Philadelphians who mainly descended from the old WCG.