,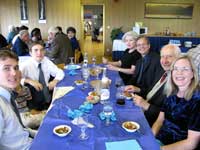 Dibar Apartian shown sitting between COGwriter and my wife Joyce (his wife Shirley is to my right)
I just confirmed with LCG in Charlotte, NC,  that long-time evangelist Dibar Apartian died last night.
I also received an email from unofficial sources that included the following:
Another mighty oak has fallen. Our beloved friend and brother, Evangelist Dibar Krikor Apartian, has gone to a well-earned rest. Mr. Apartian lived to 94 years of age—24 years beyond King David who died "old and full of days" at age 70. The Eternal God used Mr. Apartian to raise up the Work of God in the French language and to oversee and guide that Work for many decades. Through his ministry in the French language, through his sermons and articles in English, and through his well-known personal love and graciousness, Mr. Apartian had a wonderful impact on the lives of many thousands of people around the world.—Roderick C. Meredith
Dibar Apartian lived into his mid-90s.  As many know, he was responsible for the French language work in the old WCG, the old GCG, and the current Living Church of God.  He also handled other aspects of Church Administration in and out of the USA for LCG.
For decades, he also taught French at the old Ambassador College (Pasadena, California campus).
His voice was well known throughout much of the French-speaking world as he did a radio program for decades in the French-language that was heard in several French-speaking nations.  His radio program for the Living Church of God was titled Le Monde Demain (Tomorrow's World).  His last foreign trip was for the Feast of Tabernacles to the French-speaking island of Martinique.
Dibar Apartian and I have known each other for a long time and we counted each other as friends.  In one of our last conversations, he concluded with the words, "I love you".  I was emotionally touched.
I, and countless others, will miss him.