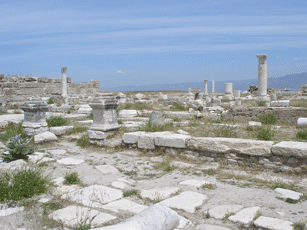 Ancient Laodicea

Last night, I got a letter from UCG's interim president Roy Holladay that included the following:
While it may not have been evident to the membership at large, in recent months a serious level of conflict existed about certain issues between the Council of Elders and some administrators…

During these past months, certain administrators severely disagreed with the oversight and direction that the Council was providing, even though they are bound by the bylaws of the Church to support it.
Roy Holladay has clearly been frustrated by UCG's governance.  So was its last president, Clyde Killough (apparently referred to above as part of "certain administrators", who just resigned.
I always have had issues with UCG's governance and bylaws, but that was the main original reason that I decided against UCG.
Some articles of possibly related interest may include:
Polycarp, Herbert W. Armstrong, and Roderick C. Meredith on Church Government What form of governance did the early church have? Was it hierarchical? Which form of governance would one expect to have in the Philadelphia remnant? The people decide and/or committee forms, odd dictatorships, or the same type that the Philadelphia era itself had?
Differences between the Living Church of God and United Church of God This article provides quotes information from the two largest groups which had their origins in WCG as well as commentary.
There are Many COGs: Why Support the Living Church of God? This is an article for those who wish to more easily sort out the different COGs. It really should be a MUST READ for current and former WCG/GCI members or any interested in supporting the faithful church. It also explains a lot of what the COGs are all about.