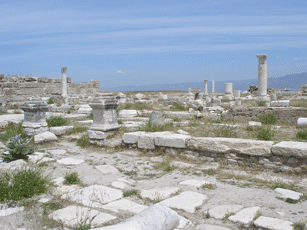 Ancient Laodicea has many ineffective structures

Today, UCG posted the following which was written by its Peter Eddington:
December 16, 2010

Re: Illegal Use of United Church of God, an International Association Name and Logo

Fellow Elders,

You may be aware that a few anonymously prepared letters that are critical of the Council of Elders and/or other Church leaders have been posted online that appear under the letterhead of our trademarked United Church of God, an International Association ("UCGIA") name and logo or seal. The use of our name and logo as contained in the letterhead from these anonymous writers falsely suggests that UCG leadership has endorsed such communications or that they in some fashion represent legitimate communication on behalf of the United Church of God.

By wrongly using these corporate symbols, the documents appear to be clearly intended to anonymously communicate, in what appears to be an official capacity, with the ministry and congregations of UCGIA. This wrong use of corporate logos and seals has caused some confusion as to the origin of these letters…

With regard to this wrongful use of the Church's name and logo, the Church's copyright attorney is sending letters to those who are helping to distribute these anonymous letters using the UCGIA Marks. The letter advises the parties concerned that doing so constitutes unlawful acts of trademark infringement, dilution and passing off, and the like, which are in clear violation of UCGIA's incontestable federal registrations for the trademark, service mark and trade name UNITED CHURCH OF GOD and its associated (globe) logo.
I will say that I was a little confused when some who were not part of UCG-Cincinnati were using UCG's logo.  So, I understand UCG's concerns here.  It has been about 15 years since since I spoke with Peter Eddington–because of certain things he said and did not do, he seemed fairly parochial to me.
I will add here that respect for UCG's copyrights is why I do not not tend to use its logo at COGwriter (although the way I would tend to use it would not be construed that I was part of it).  I prefer the picture these articles related to UCG, IAO, etc. tend to start with.
As I indicated before, I am not taking sides on this crisis as I do not believe that UCG, IAO, or some of the other alternatives I have read that some part of UCG are considering (like being independent) is the best choice for any who hope to be Philadelphian.  But I do understand the logo matter.
As far as I am concerned, the bottom line continues to be that the Living Church of God (LCG) has a governance structure and set of priorities more closely related to those that Jesus would support. Those who ridicule hierarchical governance through improper examples seem to forget that God expects people to follow leaders as they follow Christ (1 Corinthians 11:1; Acts 5:29). And that is what we in LCG try to do, as should all Christians. Recall that in Revelation 3 the Laodiceans are condemned by Jesus for having an approach to the work that differs from that of the Philadelphians–people need to look at all relevant scriptures on that as well as proper biblical governance.
Some articles of possibly related interest may include:
Polycarp, Herbert W. Armstrong, and Roderick C. Meredith on Church Government What form of governance did the early church have? Was it hierarchical? Which form of governance would one expect to have in the Philadelphia remnant? The people decide and/or committee forms, odd dictatorships, or the same type that the Philadelphia era itself had?
Should a Christian Vote? This article gives some of the Biblical rationale on this subject. Would Jesus vote for president? Is voting in the Bible? This is a subject Christians need to understand.
Unity: Which COG for You? Why so many groups? Why is there lack of unity in the Churches of God? Has it always been this way? What can/should be done about it?
Differences between the Living Church of God and United Church of God This article provides quotes information from the two largest groups which had their origins in WCG as well as commentary.
There are Many COGs: Why Support the Living Church of God? This is an article for those who wish to more easily sort out the different COGs. It really should be a MUST READ for current and former WCG/GCI members or any interested in supporting the faithful church. It also explains a lot of what the COGs are all about.
Should the Church Still Try to Place its Top Priority on Proclaiming the Gospel or Did Herbert W. Armstrong Change that Priority for the Work? Some say the Church should mainly feed the flock now as that is what Herbert W. Armstrong reportedly said. Is that what he said? Is that what the Bible says? What did Paul and Herbert W. Armstrong expect from evangelists?
The Laodicean Church Era has been predominant circa 1986 A.D. to present. These are non-Philadelphians who mainly descended from the old WCG.