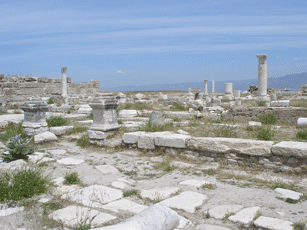 Ancient Laodicea

Yesterday, UCG posted the following which I had considered as possibly an act of desperation:
The Council of Elders wishes to thank the many brethren and congregations who signed a giant "Thank You" card that was presented to the Council on December 6.

Since it became known that more than 700 names of supporters appeared on the card, many more brethren wrote in and asked for their names to be included also. So far, close to 2,000 names have been submitted, with some representing the membership of entire congregations.

In addition, the Australian ministry sent in their names, along with a resolution from the Australian National Council dated Nov. 21, expressing its thanks to the Council and president of UCGIA, including unanimous support from the Australian ministry…
I considered it to be desperation, because it seems like this was intentionally posted to show that UCG had more support than those who recently have signed a letter to challenge aspects of it.  I was not going to post anything about it until I saw the following at John Carmack's website (John was, and still may be, in UCG but seems to have questions himself) just a few moments ago:
Facebook UWS site reports are that Roger West, Roy Demarest and Clyde Kilough have resigned today.  Previously, Demarest was suspended.
If this report on resignations is true (and it may not be–though perhaps I should add that I received confirmation related to Roger West 12/21/10), then the situation at UCG is worse than the average UCG member probably has considered that it is. I have seen no reports on where Clyde Killough, etc. may end up.  But if they end up in COGA (see COG America: A Group of Former UCG Ministers), this may be a significant problem for UCG.
The last time a former president left (David Hulme in 1998), UCG lost around 10% of its membership.  The crisis in UCG in 2010 has already cost UCG about that many (though mainly in Latin America).  This crisis is looking more like a disaster now for UCG.
The more it loses ministers in the USA, the greater its income drop will be.  UCG may end up not being the largest COG with origins in the old WCG.
UCG has long had issues. And governance, administration, and the limited fruits of its public gospel proclamation have long been part of them.  A major income drop may have major ramifications there–especially if UCG members believe that a truly competitive organization to UCG, with many former UCG ministers, awaits them.
Some articles of possibly related interest may include:
Polycarp, Herbert W. Armstrong, and Roderick C. Meredith on Church Government What form of governance did the early church have? Was it hierarchical? Which form of governance would one expect to have in the Philadelphia remnant? The people decide and/or committee forms, odd dictatorships, or the same type that the Philadelphia era itself had?
Unity: Which COG for You? Why so many groups? Why is there lack of unity in the Churches of God? Has it always been this way? What can/should be done about it?
Differences between the Living Church of God and United Church of God This article provides quotes information from the two largest groups which had their origins in WCG as well as commentary.
There are Many COGs: Why Support the Living Church of God? This is an article for those who wish to more easily sort out the different COGs. It really should be a MUST READ for current and former WCG/GCI members or any interested in supporting the faithful church. It also explains a lot of what the COGs are all about.
Should the Church Still Try to Place its Top Priority on Proclaiming the Gospel or Did Herbert W. Armstrong Change that Priority for the Work? Some say the Church should mainly feed the flock now as that is what Herbert W. Armstrong reportedly said. Is that what he said? Is that what the Bible says? What did Paul and Herbert W. Armstrong expect from evangelists?
The Laodicean Church Era has been predominant circa 1986 A.D. to present. These are non-Philadelphians who mainly descended from the old WCG.