Grace, which made landfall in Haiti as a tropical depression, has restrengthened into a tropical storm, the National Hurricane Center said. https://t.co/weq1IqBajV

— The New York Times (@nytimes) August 17, 2021
Haiti was hit with a large tropical storm after its devastating earthquake:
Heavy Rain to Haiti Days After Strong Earthquake

August 17, 2021

Days after a devastating earthquake hit Haiti, Tropical Depression Grace brought heavy rains and strong winds to the country.

Forecasters said the storm could drop 12 to 25 centimeters of rain on southern Haiti through Tuesday, bringing the threat of flash floods and mudslides.

It could also affect the search for survivors and aid efforts for the displaced, with the southern part of the country hardest hit by Saturday's magnitude 7.2 earthquake.

Haitian authorities said Monday that the death toll from the earthquake had climbed to 1,419 — nearly two hundred more than a previous figure released Sunday

At least 6,000 more were injured and seeking treatment at overwhelmed hospitals.

Hundreds of people waited on the steps of Les Cayes' general hospital, and many patients were being treated on mattresses on the ground outside as the hospital ran low on medication. https://www.voanews.com/americas/tropical-depression-brings-heavy-rain-haiti-days-after-strong-earthquake
Haiti has already had many problems and troubles, and this quake looks to make matters worse.
The quake was centered close to where most of the Continuing Church of God brethren in Haiti live.
I received several reports related to CCOG members there. 14 houses of the brethren in the area were destroyed by the quake. Here is one related photo:
There look to be other issues as well–including the upcoming Feast of Tabernacles.
Our leader in Haiti, Nicolas Moise, has been going around his area to visit the brethren. We know of no deaths among the brethren there, but there were two injuries: one broken wrist and one broken leg. Moise has sent a picture of Moma Simon, who has a broken left leg caused by her house falling on her: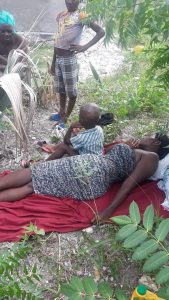 We are trying to figure out how to best assist physically, and have already provided some assistance–with more assistance needed and expected to be provided.
I have also spoken with Herb and Gisele Haddon who have had direct contact with Moise (Gisele is fluent in French which is the official language of Haiti). They also sent me a copy of something they sent out:
Hi all

I wish there was better news from Moise.   Things are not good!  Last night most of the brethren slept in an outdoor arena with some sort of tarp covering.  Heavy rain today and into tomorrow for Haiti.   Insult to injury!!??

Several have asked how they may help.  As all of you are aware,  Dr  Thiel has said that we should not send money directly for aid.  In keeping with God's Government,  Dr  Thiel  asks that any funds individuals may wish to send, should be sent through the Church.  In the USA,  through the US administration  and in Canada,  through the Canadian administration.  Earmark special funds for Haiti so they may be properly used.

FYI – the Church has sent funds and we are in contact with Moise so as to best be of assistance in their time of need.

Continue to pray for our brothers and sisters in these difficult trials and for those who have been injured. Also pray that God will show us where the limited funds may have a greater impact.

Herb and Gisele
Please keep those in Haiti in your prayers.