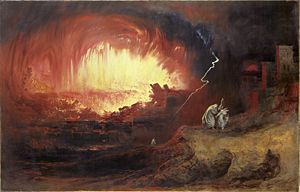 The Destruction of Sodom and Gomorrah
Freedom of religion and speech have long been under attack in the UK.  But it appears to be getting worse there as the following suggests:
July 4, 2013
Christian arrested for calling homosexuality a 'sin' warns of 'real-life thought police'
The individual arrested was an American street preacher who was arrested in London for his statements.  Apparently some were disturbed by his quoting and explanation of various biblical passages and considered that he was insulting and 'homophobic.'
Years ago, Canada fined someone who put an ad in a magazine, as well as the magazine's owner, for simply quoting (without additional comment) anti-homosexual scriptures years ago.  The UK is now getting closer to following Canada's lead.
There are times to cry aloud and spare not (Isaiah 58:1), and times to not speak.  We are getting closer to the time where we will not be able to publicly speak out against this in media and elsewhere as it is an evil time (cf. Amos 5:13).  However, on nationally-syndicated radio three days ago, I still came out against the sin of homosexuality and quoted various scriptures that were also part of a post that I made that day (see
After DOMA overturned, Western USA hit with massive heat wave: any connection?
).
The Bible declares that Sodom and Gomorrah were destroyed for going after "strange flesh" (homosexuality) and seemingly were proud of their sins:
7 as Sodom and Gomorrah, and the cities around them in a similar manner to these, having given themselves over to sexual immorality and gone after strange flesh, are set forth as an example, suffering the vengeance of eternal fire. (Jude 7)
6…the cities of Sodom and Gomorrah into ashes, condemned them to destruction, making them an example to those who afterward would live ungodly (2 Peter 2:6)

20 the outcry against Sodom and Gomorrah is great, and because their sin is very grave (Genesis 18:20)

9 The look on their countenance witnesses against them, And they declare their sin as Sodom; They do not hide it. (Isaiah 3:9)
Thus, the destruction of Sodom and Gomorrah were to serve as an example to those who would live as they did.
Homosexual acts are clearly prohibited in the Bible:
22 You shall not lie with a male as with a woman. It is an abomination. (Leviticus 18:22)

13 If a man lies with a male as he lies with a woman, both of them have committed an abomination. (Leviticus 20:13)
The Bible prohibits and condemns homosexual behavior.
The Bible also warns against accepting and condoning practices such as homosexuality and lesbianism, which is something that the Anglo-nations seems to be doing:
18 For the wrath of God is revealed from heaven against all ungodliness and unrighteousness of men, who suppress the truth in unrighteousness…

24 Therefore God also gave them up to uncleanness, in the lusts of their hearts, to dishonor their bodies among themselves, 25 who exchanged the truth of God for the lie, and worshiped and served the creature rather than the Creator, who is blessed forever. Amen.

26 For this reason God gave them up to vile passions. For even their women exchanged the natural use for what is against nature. 27 Likewise also the men, leaving the natural use of the woman, burned in their lust for one another, men with men committing what is shameful, and receiving in themselves the penalty of their error which was due.

28 And even as they did not like to retain God in their knowledge, God gave them over to a debased mind, to do those things which are not fitting; 29 being filled with all unrighteousness, sexual immorality, wickedness, covetousness, maliciousness; full of envy, murder, strife, deceit, evil-mindedness; they are whisperers, 30 backbiters, haters of God, violent, proud, boasters, inventors of evil things, disobedient to parents, 31 undiscerning, untrustworthy, unloving, unforgiving, unmerciful; 32 who, knowing the righteous judgment of God, that those who practice such things are deserving of death, not only do the same but also approve of those who practice them. (Romans 1:18,24-32)
The 'gay' agenda will end in destruction. Yet various government officials are promoting it. They apparently do not take the warnings of the Bible seriously and do not want others to be too bold in proclaiming what the Bible teaches on this subject.
Some items of possibly related interest may include:
The Bible Condemns Homosexuality "Same-sex marriage" for "gays" and lesbians is becoming more acceptable to many. What does the Bible teach about homosexuality? Can homosexuals change?
Cross-dressing and other assaults against your children. What should you do? Is there an agenda to turn your children and/or grandchildren away from biblical morality and towards practices promoted by homosexuals? What does the Bible teach about cross-dressing? What should parents do? If there is an agenda, what has been going on? There is also a YouTube video on this, titled Cross dressing and Other Assaults Against Your Children.
Love, Marriage, and Sex It is important to get them in the right order.
Anglo – America in Prophecy & the Lost Tribes of Israel Are the Americans, Canadians, English, Scottish, Welsh, Australians, Anglo (non-Dutch) Southern Africans, and New Zealanders descendants of Joseph? Where are the lost ten-tribes of Israel? Who are the lost tribes of Israel? What will happen to Jerusalem and the Jews in Israel? Will God punish the U.S.A., Canada, United Kingdom, and other Anglo nations? Why might God allow them to be punished first?
Will the Anglo-Nations be Divided and Have People Taken as Slaves? Will the lands of the United States, United Kingdom, Canada, Australia, and New Zealand be divided? What about Jerusalem? What does Bible prophecy teach? Are there non-biblical prophecies that support this idea? Who will divide those lands? Who will end up with the lands and the people?
Barack Obama, Prophecy, and the Destruction of the United States-Second Edition for Second Obama Term This is a 160 page book for people truly interested in prophecies related to Barack Obama and the United States, including learning about many that have already been fulfilled (which the book documents in detail) and those that will be fulfilled in the future. It also has a chapter about a Republican choice. This book is available to order at www.barackobamaprophecy.com. The physical book can also be purchased at Amazon from the following link: Barack Obama, Prophecy, and the Destruction of the United States: Is Barack Obama Fulfilling Biblical, Islamic, Catholic, Kenyan, and other America-Related Prophecies? What About Republican Leaders? Second Edition for Second Obama Term.
Barack Obama, Prophecy, and the Destruction of the United States-Second Term-Amazon Kindle edition. This electronic version is available for only US$2.99. And you do not need an actual Kindle device to read it. Why? Amazon will allow you to download it to almost any device: Please click HERE to download one of Amazon s Free Reader Apps. After you go to for your free Kindle reader and then go to Barack Obama, Prophecy, and the Destruction of the United States-Second Term-Amazon Kindle edition.