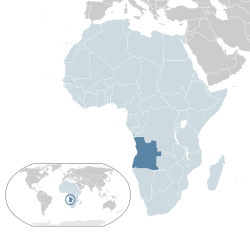 The African nation of Angola is proposing to make all abortions illegal.
March 18, 2017

Some 200 demonstrators have protested in Luanda against a draft law criminalizing all abortions to be voted on next week. Angola has one of the world's worst health care systems.  …

The draft penal code punishes anyone who has an abortion or performs one with up to 10 years in jail. It offers no exceptions to the punishments for those who have or perform abortions.

The government had proposed exceptions in cases of rape or when the mother's health is in danger, but parliament rejected these after lobbying by the Catholic Church.

Parliament is expected to vote on the criminal code on Thursday, March 23.

Angola, which had been ruled by President dos Santos since 1979, is updating its 1886 penal code dating back to the Portuguese colonial era. … Angola faces an important presidential election in August as President Jose Eduardo dos Santos, one of Africa's longest-serving leaders, has announced he will not run again after 38 years in power. http://www.dw.com/en/protests-against-abortion-bill-in-angola/a-38008433
I am glad that political leaders in Angola have the courage to propose outlawing the murder of innocent babies. Women do not have the right to intentionally kill their children.
We will see if Angola will make all abortion illegal, and if the West will try to punish Angola for this as the West has tried to punish Uganda and other African nations that will not promote the anti-biblical LGBTQ agenda. I will pray that Angola and other lands outlaw abortion.
The Bible condemns those that shed innocent blood, as that is something that God hates:
So you shall put away the guilt of innocent blood from among you when you do what is right in the sight of the LORD (Deuteronomy 21:9).

These six things the LORD hates, Yes, seven are an abomination to Him: A proud look, A lying tongue, Hands that shed innocent blood, A heart that devises wicked plans, Feet that are swift in running to evil, A false witness who speaks lies, And one who sows discord among brethren (Proverbs 6:16-19).

Their feet run to evil, And they make haste to shed innocent blood; Their thoughts are thoughts of iniquity; Wasting and destruction are in their paths. The way of peace they have not known, And there is no justice in their ways; They have made themselves crooked paths; Whoever takes that way shall not know peace (Isaiah 59:7-8).

Thus says the LORD: "Execute judgment and righteousness, and deliver the plundered out of the hand of the oppressor. Do no wrong and do no violence to the stranger, the fatherless, or the widow, nor shed innocent blood in this place (Jeremiah 22:3).

"Yet your eyes and your heart are for nothing but your covetousness, For shedding innocent blood, And practicing oppression and violence" (Jeremiah 22:17).
Babies are innocent. Killing them is the shedding of innocent blood.
Notice the following:
My tongue shall speak of Your word, For all Your commandments are righteousness (Psalm 119:172).

Righteousness exalts a nation, But sin is a reproach to any people (Proverbs 14:34).
Killing babies through abortion is not righteous. It is a reproach to nations that allow and encourage it. It is good that Angola is seriously considering outlawing this.
Those that consent to abortions are often proud, are normally lying to themselves that they are not doing violence to a human being, and often have abortions because of their own lusts and covetousness. Adding the sin of abortion to their other sins is simply not the answer.
They also place themselves in the same category as Judas Iscariot, for he admitted that when he betrayed Jesus Christ, he (Judas) betrayed "innocent blood" (Matthew 27:4). Jesus was betrayed by someone He considered to be a friend–no baby should be betrayed by the mother that is supposed to love them.
Women are struck emotionally for the rest of their lives when they consent to an abortion (the Bible even warns of curses for killing the innocent, Deuteronomy 27:25). That is not a choice they ever should make.
As far as Angola goes, I have long had interest in that nation. Furthermore, at the conference we had in Africa last month (see Africa Conference 2017), I asked the representative from Mozambique if he was fluent in Portuguese–and he said he was.
I told him that if possible, after we get more materials translated into Portuguese (which is something he agreed to do) that perhaps one day we would be able to send him to Angola, if there is serious interest there. I also told him that I had been praying about Angola and believed that God would open the door to us to reach those He is or will call there.
Some items of possibly related interest may include:
Abortion, the Bible, and a Woman's Right to Choose Do you know what the Bible teaches on this? Has the Roman Catholic Church allowed abortions? What about the real Church of God? Some may also, or instead, wish to view the YouTube video Abortion, the Bible, and US Debt.
Women and the New Testament Church What roles did women play in the ministry of Jesus and the apostles? Did Jesus and the Apostle Paul violate Jewish traditions regarding their dealings with women? Do women have any biblical limitations on their role in the Church? Were there female prophets? Do women have any special responsibilities in terms of how they dress? What does the New Testament really teach about women? Here is a related sermon titled: New Testament Women.
The Bible Condemns Homosexuality "Same-sex marriage" for "gays" and lesbians is becoming more acceptable to many. What does the Bible teach about homosexuality?  Can homosexuals change? A related video sermon is titled: What Does the Bible Really Teach about Homosexuality?
The Ten Commandments Reflect Love, Breaking them is Evil Some feel that the ten commandments are a burden. Is that what Jesus, Paul, Peter, James, and John taught? For a more detailed discussion of the first four commandments, please see the video The Ten Commandments: Loving God. For a more detailed discussion of the last six commandments, please see: The Ten Commandments: Loving Your Neighbor. Here is a link to a related article in Mandarin Chinese 十条诫命显示爱,违反诫命的就是邪恶的
Christian Repentance Do you know what repentance is? Is it really necessary for salvation? A related sermon is also available titled: Real Christian Repentance.
Africa: Its Biblical Past and Prophesied Future What does the Bible teach about Africa and its future? Did the early Church reach Africa? Will God call all the Africans? A video of possible interest is: Nairobi Conference: All About Love.