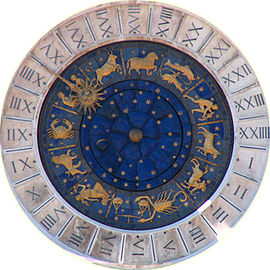 Astrological Signs
Voice of America reported the following:
Sri Lankan Election Upset Brings New Scrutiny to Astrological Forecasts

NEW DELHI—

In Sri Lanka, it was not just the country's powerful president, Mahinda Rajapaksa, who suffered a debacle when he was unexpectedly trounced in last week's elections. His astrologer, who had confidently forecast a certain win for him, has also quietly stepped away from the limelight in a country where faith in star power is high.

When former President Rajapaksa called elections two years ahead of schedule, it was not just on the basis of political calculations. He was also given the go-ahead by his trusted astrologer of over 30 years, Sumandasa Abeygunawardena. Calling Rajapaksa an "invincible personality and a blessed man", he forecast that he would win a great victory.

In the days preceding the January 8 vote, Abeygunawardena maintained that the election date was "immensely fortunate for Mr. Rajapaksa." And in the run up to the election, astrologers confidently predicted on state run television that nothing would stop a Rajapaksa victory.

Rajapaksa is a firm believer in astrology. While most politicians in the country share that belief, many observers noted that the former president had an excessive dependence on astrology.

"It became talked about quite openly and a matter of public discussion. Apparently the astrologer had said it was a good period for him and he should not delay it, the date was set according to some astrologer's prediction, his time of handing over the nomination paper, everything was determined by an astrologer," said Harini Amarasuriya, who teaches at the social sciences faculty at Sri Lanka's Open University.

But all calculations – planetary and political —  were thrown into disarray when Maithripala Sirisena defected from Rajapaksa's party, and cruised to victory after bringing together a disparate opposition.

The turn of events was unexpected. When Rajapaksa had called the election, there was no credible opposition to a leader once known as the strongman of Sri Lanka.

Now, Rajapaksa's shock defeat has put the man who was called the "royal astrologer" in the line of fire. Abeygunawardena has given up his official car and resigned from the directorship of a state-run bank, which were just some of the privileges bestowed on him. His credibility has taken a huge hit.

The astrologer told AFP that he knew Rajapaksa was doomed to lose, but did not have the heart to tell him. Defending himself, he said that even the French seer Nostradamus had some incorrect forecasts.

Millions of people in South Asia believe that the movement of planets has a deep influence on their lives. Marriage dates and auspicious events are decided as per the calculations of horoscopes, which are made on the basis of the time, place and date of birth.

However, the high profile astrological error made in Sri Lanka's election has triggered a debate on star power.

"This is a country that has a lot of these kind of beliefs going on a day to day basis. But this time, because this is such a high profile thing, it is also getting a lot of flak and I think that is a reasonable thing to happen. Because you cannot have a situation, where a country in this time of the 21st century, cannot really doing something this serious, depending this much on something like astrology," said Sasanka Perera, a Sri Lankan anthropologist and heads the Social Sciences Faculty at the South Asian University in New Delhi.

Harini Amarasuriya pointed out that politicians in Sri Lanka appear to put greater faith in astrology than most other people.

"Where it become such a big thing with politicians is also where there is a lot of insecurity about their position. When you are in those kind of positions, it is a very isolating place to be in, and you kind of cling to these kind of mystical practices in order to get some sense of security," said Amarasuriya.  http://www.voanews.com/content/sri-lanka-election-upset-brings-new-scrutiny-to-astrological-forecasts/2596106.html
So astrology failed in Sri Lanka.  Furthermore, the astrologer on the one hand is claiming he was a liar and on the other hand said it was okay to be wrong.  Well, it is not okay to lie:
8 … sorcerers, idolaters, and all liars shall have their part in the lake which burns with fire and brimstone, which is the second death (Revelation 21:8)
And astrology is wrong.  The Bible shows that the children of Israel had involvement with astrology and that God would punish them for it. Notice a passage in Amos:
26 But ye have borne the tabernacle of your Moloch and Chiun your images, the star of your god, which ye made to yourselves.

27 Therefore will I cause you to go into captivity beyond Damascus, saith the Lord, whose name is The God of hosts. (Amos 5:26-27, KJV)
Now what does this mean? Notice what some commentators have reported (bolding in source) about this:
Moloch and Chiun. Moloch means king, answering to Mars (Bengel); or answering to the Sun (Jablonski); or answering to Saturn, the same as "Chiun" (Maurer)…In an Arabic lexicon, Chiun means austere; so astrologers represented Saturn as a planet baleful in his influence…

Your images, the star of your god. R. Isaac Caro say all the astrologers represented Saturn as the star of Israel.

(Amos 5:25-26. Jamieson, Fausset, and Brown Commentary, Electronic Database. Copyright © 1997, 2003, 2005, 2006 by Biblesoft, Inc. All rights reserved.)
The children of Israel had astrological practices that God condemned them for.
But is astrology ever right?  Well, there is also the possibility that something can be predicted via astrology.  But that does not make it right.  Notice:
1 "If there arises among you a prophet or a dreamer of dreams, and he gives you a sign or a wonder, 2 and the sign or the wonder comes to pass, of which he spoke to you, saying, 'Let us go after other gods'–which you have not known–'and let us serve them,' 3 "you shall not listen to the words of that prophet or that dreamer of dreams, for the LORD your God is testing you to know whether you love the LORD your God with all your heart and with all your soul. 4 You shall walk after the LORD your God and fear Him, and keep His commandments and obey His voice, and you shall serve Him and hold fast to Him (Deuteronomy 13:1-4).
Despite occasional lip service, astrologers do not teach nor endorse God's ways. God's ways work, astrology truly does not.
Perhaps I should mention that I heard a report where a group of college students were given detailed horoscopes.  After reading the detailed horoscopes, many stated that they had not believed in astrology prior to reading this horoscope.  Many were impressed by the accuracy of how it described their personalities/lives.  The problem was, however, that all the students were given the exact same horoscope! Since all obviously did not share the date and time of birth, this helps show that sometimes horoscopes are broad enough that many feel that they are accurate, when they are not.
Although many are fascinated by astrology, it is not the source of truth or real knowledge of the future. While astrology is popular in the West, it is also popular in the far East.
Some items of possibly related interest may include:
The Bible and Astrology Should Christians avoid participating in astrology or did God inspire it? Does the Bible encourage astrology? What does the Bible actually teach? What is astrology? How does astrology differ from astronomy? Here are links to two videos Astrology, the occult, tattoos, and pornography and Should Christians Be Involved In Astrology?
OMENS? DIVINATION? HOROSCOPES? THE ORIGIN OF ASTROLOGY Where did astrology come from? Should you read your horoscope?
Does Astrology Work? Many believe and follow astrology–but does it work? Here is a link to the article in Mandarin Chinese: 占星术准确吗? .
Close Encounters of a 'Spirit' Kind discusses some experiences I believe were (demon) 'spirit' related.
Angels, Cherubim, and Seraphim This is information about various types of angelic beings.
Did God Create a Devil? If not, what happened? Herbert W. Armstrong wrote this as a booklet.
Read the Bible Christians should read and study the Bible. This article gives some rationale for regular bible reading.
How to Study the Bible David Jon Hill wrote this initially and Dr. Thiel added scriptures, tips, and suggestions to it. A 2015 sermon is available and is also titled How to Study the Bible.
India, Its Biblical Past and Future: Any Witness? The Bible discusses the origins of those of Indian heritage.  This article quotes the Bible and also discusses some of the witness to India throughout history and what is happening in the 21st century (including those in Bangladesh, Pakistan, and Sri Lanka).
India and the Beast of Revelation 13 Do biblical, Catholic, and even Hindu prophecies suggest that many in India will follow, for a while, the Beast and False Prophet/Antichrist? Here is link to a related YouTube video Will People in India Worship the Beast of Revelation 13?
Bible: Superstition or Authority? Should you rely on the Bible? Is it reliable? Herbert W. Armstrong wrote this as a booklet on this important subject.
Did Early Christians Celebrate Birthdays? Did biblical era Jews celebrate birthdays? Who originally celebrated birthdays? When did many that profess Christ begin birthday celebrations?
Why Were You Born? Why did God make you? Herbert W. Armstrong wrote this as a booklet on this important subject. You may also wish to read the article What is Your Destiny? or watch the video, also titled What is Your Destiny?
What is the Meaning of Life? Who does God say is happy? What is your ultimate destiny? Do you really know? Does God actually have a plan for YOU personally? There is also a video titled What is the meaning of your life?
Living as a Christian: How and Why? In what ways do Christians live differently than others. What about praying, fasting, tithing, holy days, and the world? There is also a YouTube video related to that also called: Living as a Christian: How and Why?
Getting the Gospel Out is More than a Local Job Discusses Biblical rationale for doing an international, and not just a local, work. Here is a link to the article in Mandarin Chinese: 宣传福音不只是一个本地作业.
Should the Church Still Try to Place its Top Priority on Proclaiming the Gospel or Did Herbert W. Armstrong Change that Priority for the Work? Some say the Church should mainly feed the flock now as that is what Herbert W. Armstrong reportedly said. Is that what he said? Is that what the Bible says? What did Paul and Herbert W. Armstrong expect from lower level leaders? A related sermon is available titled Priority of the Philadelphia Work.
The Final Phase of the Work What is the final phase of the work? Who will lead it? Do you have the courage to support it? Here is a related YouTube video titled The Final Phase of the Work. The written article has been translated into Spanish La Fase Final de la Obra.
Leading the Final Phase of the Work Matthew 24:14 teaches "And this gospel of the kingdom will be preached in all the world as a witness to all the nations, and then the end will come " will be fulfilled and RCG is not the group doing this. Who is leading the final phase of the work? What did Herbert Armstrong and the old WCG teach about that and about prophets? Does Bob Thiel meet the criteria that the Bible and the old WCG set? What is the proof? What has the Continuing Church of God been doing? This is a sermonette length video.
CCOG.ORG Continuing Church of God The group striving to be most faithful amongst all real Christian groups to the word of God. To see how CCOG has done so far, here are links to two sermons Continuing Church of God (CCOG) first year anniversary: What has been accomplished? and The Continuing Church of God: Two Years of Proclamation. Here is a written link to a version of that sermon in the Spanish language: Aniversario del primer año de la Continuación de la Iglesia de Dios: ¿Qué se ha cumplido?
CCOG.ASIA We in the Continuing Church of God also have the url www.ccog.asia which has a focus on Asia and has various articles in Mandarin Chinese as well as some in English, plus some items in other Asian languages. 我们在继续神的教会也提供此网址 www.ccog.asia, 关注于亚洲并且有各种各样的中英文文章,其中一些用菲律宾语翻译的文章也正在进行中,准备添加到这个网站中。 Here is a link to our Statement of Beliefs in Mandarin Chinese 继续神的教会的信仰声明.
CCOG.IN This is a website targeted towards those of Indian heritage. It has a link to an edited Hindi translation of The Mystery of the Ages and is expected to have more non-English language materials in the future.
CCOG.EU This is a website targeted towards Europe. It has materials in more than one language (currently it has English, Dutch, and Serbian, with links also to Spanish) and it is intended to have additional language materials added.
CCOG.NZ This is a website targeted towards New Zealand and others with a British-descended background.
CDLIDD.ES La Continuación de la Iglesia de Dios. This is the Spanish language website for the Continuing Church of God and has articles in español/castellano.
PNIND.PH Patuloy na Iglesya ng Diyos. This is the Philippines website Continuing Church of God. It has information in English and Tagalog.