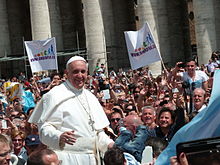 Pope Francis spoke before a crowd today and Zenit included one of his unbiblical statements in its subtitle article on this:
Francis Says Our Jesus Says to Each One of Us: 'If I Could Suffer More for You, I Would Do So'

March 23, 2016

"The Easter Triduum," the Holy Father said, "is the memorial of a drama of love that gives us the certainty that we will never be abandoned in life's trials." …

The Pontiff then told the story of a young woman to help faithful better understand the Lord's unlimited love for us.

"Her name was Julian of Norwich," the Pope began. "She was illiterate, this girl who had visions of Jesus' Passion and who then, having become a recluse, described in simple but profound and intense language, the meaning of merciful love."

"She said this: "Then our good Lord asked me: 'Are you happy that I suffered for you?' I said: 'Yes, good Lord, and I thank you very much; yes, good Lord, may you be blessed."

"Then Jesus, our good Lord, said: 'If you are happy, so am I. To have suffered the Passion for you is a joy for me, a happiness, and eternal bliss; and if I could suffer more, I would do so.'"

Our Jesus

"This is our Jesus," Francis said, "who says to each one of us: 'If I could suffer more for you, I would do so.'"

"How beautiful these words are!" he continued. "They enable us to truly understand the immense and limitless love that the Lord has for each one of us." https://zenit.org/articles/pope-at-general-audience-easter-triduum-gives-certainty-well-never-be-abandoned/
Would Jesus suffer more for us if that were needed?
Yes.
Does Jesus WANT to suffer more for us?
No.
The Pope's statement that Jesus said, "If I could suffer more for you, I would do so," is wrong. Jesus never said anything like that.
Jesus did NOT want to suffer more than necessary.
Let's look at a Roman Catholic translation of the Bible that verifies this:
36 Then Jesus came with them to a plot of land called Gethsemane; and he said to his disciples, 'Stay here while I go over there to pray.'

37 He took Peter and the two sons of Zebedee with him. And he began to feel sadness and anguish.

38 Then he said to them, 'My soul is sorrowful to the point of death. Wait here and stay awake with me.'

39 And going on a little further he fell on his face and prayed. 'My Father,' he said, 'if it is possible, let this cup pass me by. Nevertheless, let it be as you, not I, would have it.' (Matthew 26:36-39, New Jerusalem Bible)

35 And going on a little further he threw himself on the ground and prayed that, if it were possible, this hour might pass him by.

36 'Abba, Father!' he said, 'For you everything is possible. Take this cup away from me. But let it be as you, not I, would have it.' (Mark 14:35-36, NJB)

42 'Father,' he said, 'if you are willing, take this cup away from me. Nevertheless, let your will be done, not mine.' (Luke 22:42, NJB)
Despite Jesus' words, Roman Catholicism is often obsessed with needless suffering.
For one example, there is a book called the Incorruptibles. It is about Catholic saints whose bodies did not decay as would normally be expected after they died. On the  internet  it  has  been  claimed  "for each incorrupt body discovered, after research has been done  to  determine  who  the  person  was,  it  has  always been  determined  that  the  person  was  an  extremely devout Catholic," that claim is in error. This type of "incorruptibility" has happened to others who were not Catholic, as well as Catholics who were not devout (see also my book Fatima Shock! What the Vatican Does Not Want You to Know About Fatima, Dogmas of Mary, and Future Apparitions).
The writer of that Incorruptibles book frequently points to the fact that many of them wore a coarse, uncomfortable "hair shirt" as proof of their piety. The belief that people should be in constant pain to please God or to be a saint is not a biblical concept. Furthermore, the Bible teaches that the time is coming that "the prophets will all be ashamed to relate their visions when they prophesy and no longer put on their hair cloaks with intent to deceive" (Zechariah 13:4. NJB). Hence, wearing 'hair shirts' as proof of piety is not biblical.
It should also be mentioned that apparitions many believe to have been Jesus' mother Mary also have told people to suffer.
Notice something from my book Fatima Shock! that confirms there were issues with the 'Lady' that people later claimed was Jesus' mother Mary who appeared to three young children in Fatima, Portugal in 1917:
All Three Children were Afraid of the Apparition

Shortly after Jacinta claimed the apparition was not the devil, Lúcia claimed that the following happened to her:

I had a dream which only increased the darkness of my spirit. I saw the devil laughing at having deceived me…The 13th of July was now at hand, and I was still doubtful as to whether I should go. I thought to myself: "If it's the devil, why should I go see him?…I'm afraid it may be the devil who is appearing to us, and for that reason I'm not going…" I called Jacinta and Francisco, and told them …"No, I'm not going. Listen! If the Lady asks for me, tell her I'm not going because I'm afraid it may be the devil."

I left them…The following day…I suddenly felt I had to go, impelled by some strange force that I could hardly resist (Santos L. Fatima in Lúcia's Own Words, 14th edition. Priest L Kondor ed. Translated by Dominican Nuns of Perpetual Rosary. Imprimatur Fatimae, Junii 2003 + Seraphinus, Episc. Leir-Fatimensis, Ravengate Press, September 2004, pp. 86-87)

Francisco and Jacinta were apparently so afraid of the apparition that they refused to go unless Lúcia went with them, so they all went together (ibid, p. 87).

Perhaps it should be mentioned that Lúcia, Francisco, and Jacinta would sometimes intentionally cause them- selves pain as they would mutually agree to "offer this sacrifice to God" (such as inflicting "terrible suffering" through intentionally tying rough ropes around their waists that caused tears).    The God of the Holy Bible never suggests that children are to inflict intentional pain upon themselves (cf. 3 John 2).   Jesus repeatedly taught, "I will have mercy and not sacrifice" (Matthew 9:13; 12:7, DRB).  Yet, Lúcia wrote that the Lady kept telling the children to do sacrifices.  Notice, for one example, what she wrote Jacinta said:

That Lady told us to say the Rosary and to make sacrifices for the conversion of sinners. (Santos, p. 45)

The Apostle Paul wrote:

8 In saying before, Sacrifices, and oblations, and holocausts for sin thou wouldest not, neither are they pleasing to thee, which are offered according to the law… 12 He, on the other hand, has offered one single sacrifice for sins, and then taken his seat for ever, at the right hand of God…14 By virtue of that one single offering, he has achieved the eternal perfection of all who are sanctified. (Hebrews 10:8, 12, 14 DRB)

So, the word of God says Jesus made the ONE sacrifice for sinners.

Christians normally consider that Mary of the Bible would be kind and comforting, especially to children. Yet, the three children of Fatima were afraid of the apparition and hurt themselves because of her words.  Should they really have been afraid of Mary of the Bible?  Would Mary really tell children to hurt themselves? (Thiel B. Fatima Shock! What the Vatican Does Not Want You to Know About Fatima, Dogmas of Mary, and Future Apparitions. Nazarene Books, pp. 45-46)
Jesus already endured the suffering of his tortuous beating and then being killed on the stake.  He does NOT need to do that ever again.
People are not saved because they afflict themselves or because someone hurts them-self to save them.  Notice how we are saved:
8 Because it is by grace that you have been saved, through faith; not by anything of your own, but by a gift from God; 9 not by anything that you have done, so that nobody can claim the credit. (Ephesians 2:8-9)
The idea that one gains favor through intentionally inflicting suffering on oneself is false and demonic. It is also false and demonic to believe that intentionally causing suffering helps sinners.  Sinners need to accept Jesus to be saved (Acts 4:12; John 3:18), not others afflicting themselves for them.
Sadly, Pope Francis perpetuated that belief again that God wants more suffering today.
Pope Francis is also a big promoter of Fatima.  He even had his pontificate dedicated to the 'Lady of Fatima' and consecrated the world to her 'sacred heart' when he had a statue from Fatima flown into Vatican City for an October 12/13, 2013 dedication. The Fatima message promotes self-inflicted suffering–and I personally witnessed Catholics inflicting pain and suffering on themselves when I visited the Fatima shrine as part of my research years ago.
Notice also the following:
Padre Pio is … easily the most famous male stigmatic since St. Francis … the famous friar suffered more than the wounds in his body or bruises from the Devil. For example, there was a period in his life where Vatican officials suspected that Pio Padre's stigmata were self-inflicted …  Archbishop Pasquale Gagliardi of Manfredonia… denounced him to the Vatican's Holy Office. At various times, he was forbidden to say Mass, except privately, and to speak with women: at the age of seventy-three he was suspected, of all things, of taking sexual advantage of female penitents …

As late as 1960 … Bishop Albino Lúciani of Vittorio Veneto, who later became Pope John Paul I, dismissed the ministry of Padre Pio as "an indigestible dainty" which caters to the "craving for the supernatural and the unusual." (Woodward KL.  Making saints: how the Catholic Church determines who becomes a saint, who doesn't, and why.  Simon and Schuster, 1996, , pp. 184-185, 186, 187, 189)
Pope Francis recently promoted  veneration of Pio (Pope Francis to display remains of 'St. Pio of Pietrelcina'), who is now a Catholic saint.
He endorses those advocating intentional and self-afflicted 'suffering.'
While the Bible teaches that Christians will suffer, it does not teach that one should do anything to try to cause suffering (1 Peter 4:12-16).
Although Pope Francis looks like a lamb to many, his words are like that of a dragon (cf. Revelation 13:11). He also failed to tell people today that early Christians did not observe his "Easter Triduum."
I personally am concerned that Pope Francis, who years ago wrongly said atheists could be saved by their works (see Pope Francis' ecumenism includes atheists!), may be trying to use 'suffering' as a criteria for salvation and could use this (and other forms of 'piety') to justify parts of his ecumenical and interfaith agendas.
While we should be grateful that Jesus did suffer for humanity, it is NOT good to tell people that Jesus WANTS to suffer more for people.
The Apostle John wrote:
2 Dearly beloved, concerning all things I make it my prayer that thou mayest proceed prosperously, and fare well as thy soul doth prosperously. (3 John 2, Douay-Rheims)
God does not want us to suffer. He wants us to prosper and have an abundant life. Notice what Jesus said:
10 I am come that they may have life, and may have it more abundantly. (John 10:10, Douay-Rheims)
Jesus did not come with the hope people would inflict unnecessary suffering on themselves.
Notice something else about suffering:
13 Are any among you suffering? They should pray. (James 5:13, Catholic NRSV)
Christians are to pray to be delivered from suffering. They are not to intentionally inflict suffering on themselves.
God's plan is to eliminate suffering:
3 Then I heard a loud voice call from the throne, 'Look, here God lives among human beings. He will make his home among them; they will be his people, and he will be their God, God-with-them. 4 He will wipe away all tears from their eyes; there will be no more death, and no more mourning or sadness or pain. The world of the past has gone.' (Revelation 21:3-4, NJB)
Satan caused sin and suffering to come into the world when Eve fell for his temptations (Genesis 3). Humans have been suffering for 6000 years because of Satan's influence, not because God originally wanted humanity to suffer.
The 6000 years of this world being under the sway of Satan is almost over (see Does God Have a 6,000 Year Plan? What Year Does the 6,000 Years End?).
Until then, part of Satan's plan is to cause suffering and he has influenced many to believe that causing self-inflicted suffering gets God's favor. That is not true.
As the Bible teaches (Revelation 21:3-4), God will put an end to suffering (see also the free online booklet The Gospel of the Kingdom of God).
Some links of possibly related interest may include:
Why Does Man Suffer? Herbert Armstrong gives biblical reasons on this topic. I also wrote and added a section titled Suffering Has a Future Purpose.
Why Does God Allow Suffering? This is a pdf booklet put out by the old Worldwide Church of God that also answers questions about why God allows war as well as babies to die. Here is a link to a sermon titled Why YOU? Why Do YOU Suffer?
Which Is Faithful: The Roman Catholic Church or the Continuing Church of God? Do you know that both groups shared a lot of the earliest teachings? Do you know which church changed? Do you know which group is most faithful to the teachings of the apostolic church? Which group best represents true Christianity? This documented article answers those questions. [Português: Qual é fiel: A igreja católica romana ou a igreja do deus?]
Satan's Plan Does Satan have a plan? What is it? Has it already been successful? Will it be successful in the future? Here are links to a two-part sermon series: What are Some of the Parts of Satan's Plan? and Satan's Plan is More Dramatic than Many Realize.
Why Should American Catholics Fear Unity with the Orthodox? (And the Protestants) Are the current ecumenical meetings a good thing or will they result in disaster? Is doctrinal compromise good? Here is a link to a related video Should you be concerned about the ecumenical movement?
Will the Interfaith Movement Lead to Peace or Sudden Destruction? Is the interfaith movement going to lead to lasting peace or is it warned against? A video sermon of related interest is: Will the Interfaith Movement lead to World War III? and a video sermon is also available: Do You Know That Babylon is Forming?
What Happened in the 'Crucifixion Week'? How long are three days and three nights? Was Palm Sunday on a Saturday? Did Jesus die on "Good Friday"? Was the resurrection on Sunday? Do you really know? Who determined the date of Easter? (Here is a related link in Spanish/español: ¿Murió Jesús un día miércoles o un viernes?) A sermon of related interest is titled What did and did not happen in the 'Crucifixion week'?
Did Early Christians Celebrate Easter? If not, when did this happen? Where did Easter come from? What do scholars and the Bible reveal? Here is a link to a video titled Why Easter?
Holy Day Calendar This is a listing of the biblical holy days through 2024, with their Roman calendar dates. They are really hard to observe if you do not know when they occur 🙂 In the Spanish/Español/Castellano language: Calendario de los Días Santos. In Mandarin Chinese: 何日是神的圣日? 这里是一份神的圣日日历从2013年至2024年。.
Is There "An Annual Worship Calendar" In the Bible? This paper provides a biblical and historical critique of several articles, including one by the Tkach WCG which states that this should be a local decision. What do the Holy Days mean? Also you can click here for the calendar of Holy Days.
Should You Observe God's Holy Days or Demonic Holidays? This is a free pdf booklet explaining what the Bible and history teach about God's Holy Days and popular holidays.
Where is the True Christian Church Today? This free online pdf booklet answers that question and includes 18 proofs, clues, and signs to identify the true vs. false Christian church. Plus 7 proofs, clues, and signs to help identify Laodicean churches. A related sermon is also available: Where is the True Christian Church? Here is a link to the booklet in the Spanish language: ¿Dónde está la verdadera Iglesia cristiana de hoy? Here is a link in the German language: WO IST DIE WAHRE CHRISTLICHE KIRCHE HEUTE? Here is a link in the French language: Où est la vraie Église Chrétienne aujourd'hui?
Continuing History of the Church of God This pdf booklet is a historical overview of the true Church of God and some of its main opponents from Acts 2 to the 21st century. Related sermon links include Continuing History of the Church of God: c. 31 to c. 300 A.D. and Continuing History of the Church of God: 4th-16th Centuries. The booklet is available in Spanish: Continuación de la Historia de la Iglesia de Dios, German: Kontinuierliche Geschichte der Kirche Gottes, and Ekegusii Omogano Bw'ekanisa Ya Nyasae Egendererete.
The History of Early Christianity Are you aware that what most people believe is not what truly happened to the true Christian church? Do you know where the early church was based? Do you know what were the doctrines of the early church? Is your faith really based upon the truth or compromise?
Fatima Shock! What the Vatican Does Not Want You to Know About Fatima, Dogmas of Mary, and Future Apparitions. Whether or not you believe anything happened at Fatima, if you live long enough, you will be affected by its ramifications (cf. Isaiah 47; Revelation 17). Fatima Shock! is a highly documented book by Bob Thiel for those interested in the real truth about Fatima and how future apparitions may affect the future. In addition to the print version, there is a Kindle version of Fatima Shock! which you can acquire in seconds.