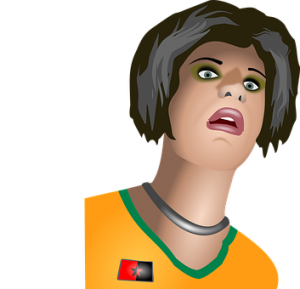 A while back, we produced a video warning against the transgender agenda as well as its expected negative impact on female sports:
The Continuing Church of God is pleased to announce the following video on our Bible News Prophecy YouTube channel:

On May 13, 2016, the Obama Administration sent notices to school districts around the USA on how it wants them to deal with toilets, lockers, sports, and other issues of interest to the LGBT crowd. The Obama Administration has redefined the word 'sex' as written in the 1964 Civil Rights Act as expanded in 1972. Does the Bible teach transgenderism? Are accommodations for those considering themselves transgendered helpful or evil? What does the Bible teach about cross-dressing and other transgender issues? Does the Bible warn of terrible consequences for those who merely approve the LBGT agenda?
Here is a link to our video: USA pushing gender confusion.
Various sports associations are trying to figure out how to handle this.
3-4 years ago, I wrote:
As far as sports go, if this transgender trash is taken to its logical extreme, there will be almost no females on female sports' teams. Overall, males are stronger and faster and taller than females. If males athletes claim that they identify as female, they will begin to dominate female sports' teams. This is not good for females.

The US government is creating 'rights' that do not exist in order to take away rights which historically have existed.
Notice something more recent:
February 24, 2019

Connecticut transgender sprinters won 1st and 2nd place at the state indoor track championships.

In other words, biological males competed against girls and won because they have higher bone density, larger muscles and higher testosterone levels than their biological female opponents.

Connecticut is one of 17 states that allows transgender athletes to compete without any type of restrictions – it's open season and high school girls are the ones suffering because of this insanity. …

Another competitor pointed out the fallout from allowing biological males to compete against biological girls is much wider.

Salina Soule, a female competitor said she believes that had the transgender athletes, Miller and Yearwood not competed against the girls, she would be on her way to race in Boston in front of more college coaches, reported the Washington Times.

"We all know the outcome of the race before it even starts; it's demoralizing," she said. https://www.thegatewaypundit.com/2019/02/high-school-transgender-sprinters-win-1st-and-2nd-place-at-connecticut-girls-indoor-track-championships/
The USA wants to act like males and females are the same–like something I saw in the news today: All-Male Military Draft Is Unconstitutional, Judge Rules, but despite "equality" claims, that is not the case.
When it comes to sports, having people born male competing as females against females puts people born female at great disadvantage in many sports.
Even the liberal Wikipedia has the following on the topic:
The participation of transgender or transsexual individuals in competitive sports is a controversial issue. Opposition to transgender or transsexual individuals competing in sporting events generally focuses on hormonal factors (such as higher testosterone levels among trans women), the socialisation of young men and women, and physiological factors such as height and weight. Insisting trans athletes compete against athletes of the same biological sex, sex verification testing, and access regulations have been used with the aim of ensuring fair competition. …

An early high-profile transgender athlete was tennis player Renée Richards. Already a promising tennis player in the mens circuit, Richards underwent gender reassignment therapy in 1975 and started playing in women's tournaments a year later. Her discovery and the resulting media frenzy sparked protests.[2] After she accepted an invitation to a warm-up tournament for the US Open the Women's Tennis Association (WTA) and the United States Tennis Association (USTA) withdrew their support and 25 of the 32 women withdrew.[3]

The USTA and WTA introduced the Barr body test, which identifies a person's sex chromosomes. Richards refused to take the test and was banned from the US Open.[2] She filed a lawsuit in 1977 claiming that her civil rights were violated. The judge agreed that the Barr body test as the sole determinant of sex was "grossly unfair" and ruled Richards legally female.[4] She competed in the 1977 Open, lost in the first round and retired four years later.[2] At the time, the ruling in Richards's case did not lead to major changes outside of tennis.[4] …

In 2003, a committee convened by the International Olympic Committee (IOC) Medical Commission drew up new guidelines for participation of athletes who had undergone sex reassignment. The report listed three conditions for participation. First, athletes must have undergone sex reassignment surgery, including changes in the external genitalia and gonadectomy. Second, athletes must show legal recognition of their gender. Third, athletes must have undergone hormone therapy for an appropriate time before participation, with two years being the suggested time.[5]

It was not until 2004 that the IOC allowed transsexual athletes to participate in the Olympic Games.[6] …

In 2015, the IOC modified these guidelines in recognition that legal recognition of gender could be difficult in countries where gender transition is not legal, and also that requiring surgery in otherwise healthy individuals "may be inconsistent with developing legislation and notions of human rights".[7][8] The new guidelines require only that trans woman athletes declare their gender and not change that assertion for four years, and demonstrate a testosterone level of less than 10 nanomoles/liter for at least one year prior to competition and throughout the period of eligibility. Athletes who transitioned from female to male were allowed to compete without restriction. These guidelines were in effect for the 2016 Rio Olympics, although no openly transgender athletes competed.[9]

In 2017 Mack Beggs, a teenager from Texas, was required to wrestle against girls throughout the season of his transition from female to male up through the state championship, despite wanting to wrestle against boys. This was due to state sport regulations requiring athletes to compete alongside athletes of their birth gender. Some opponents say the testosterone prescribed as part of his transition gives him an unfair advantage and made it unsafe for the other wrestlers. (He finished the regular season at 52-0 and won the state championship.) …

People who oppose transgender women competing in women's sports say that they are given an unfair advantage over cisgender women due to their testosterone levels, and different muscle and fat distribution. Testosterone regulates many different functions in the body, including the maintenance of bone and muscle mass.[14] It is also argued that athletes who transition to a woman after puberty will have a greater muscle to fat ratio compared to female athletes.[15] (Transgender people in sports. Wikipedia, retrieved 02/25/19)
It is not fair to females for people born male to compete as women in many sports. Everyone knows this, but courts, agencies, and surgeries seem to result in people over looking facts.
As far as transgender surgeries go, not only are they expensive, long-term studies for those surgically-transgendered tended to show such poor outcomes that places like Johns Hopkins stopped performing such surgeries (at least for a time).
Men and women are different. While one of the differences is genitalia, there are more differences than that.
Notice also the following:
4 May 2017

Researchers have revealed a breakthrough is how the sexes really differ from each other.

A groundbreaking genetic study pinponted 6500 genes that differ between men and women.

Experts say it could have a profound effect in the way we identify and treat everything from disease to fertility. http://www.dailymail.co.uk/sciencetech/article-4475252/There-6-500-genetic-differences-men-women.html#ixzz4l2KCqvLW

May 7, 2017

A biological male can take hormones, surgically alter his body and identify as "female," but the procedures still won't make him a woman, according to new evidence found by Israeli researchers.

That's because there are at least 6,500 genes that contain sex-specific instructions for males and females.

For the study by Israel's Weizmann Institute of Science, professor Shmuel Pietrokovski and Dr. Moran Gershoni, both researchers from the institute's Molecular Genetics Department, "looked closely at around 20,000 protein-coding genes, sorting them by sex and searching for differences in expression in each tissue. They eventually identified around 6,500 genes with activity that was biased toward one sex or the other in at least one tissue, adding to the already major biological differences between men and women." …

The new findings are further evidence that biological males cannot simply "transition" into females and vice versa, argues Mat Staver, founder and chairman of Liberty Counsel.

"This recent study from Israel's Weizmann Institute of Science further proves that you cannot fool Mother Nature," Staver said. "The saying, 'I think, therefore, I am' is best left to philosophy and not science. Gender confusion is mental, not physical or biological. God made male and female, and no amount of protestation will change the natural created order."

Staver called the idea that a person can choose his or her gender "fiction."

"These Israeli scientists identified over 6,500 genes with activity that was biased toward one sex or the other in at least one tissue," he said. "That clearly validates the genetic differences between men and women." http://www.wnd.com/2017/05/study-more-proof-a-man-can-never-become-a-woman/
Of course, many 'moderns' want to act like there is no difference, but the Bible is clear that men and women are different. God warned that there would be those "who suppress the truth in unrighteousness" (Romans 1:18). But the truth is still the truth.
Many, if not most, transgender people 'cross-dress' and that is condemned as an abomination in the Bible:
5 A woman shall not wear anything that pertains to a man, nor shall a man put on a woman's garment, for all who do so are an abomination to the Lord your God. (Deuteronomy 22:5)
The Bible clearly condemns cross-dressing. The Bible also condemns males acting effeminate:
9 Know ye not that the unrighteous shall not inherit the kingdom of God? Be not deceived: neither fornicators, nor idolaters, nor adulterers, nor effeminate, nor abusers of themselves with mankind, 10 Nor thieves, nor covetous, nor drunkards, nor revilers, nor extortioners, shall inherit the kingdom of God. (1 Corinthians 6:9-10, KJV)
Males are not to act like they are female. Nor females like males.
The Bible warns against not only sexual immorality, but approving it:
20 For since the creation of the world His invisible attributes are clearly seen, being understood by the things that are made, even His eternal power and Godhead, so that they are without excuse, 21 because, although they knew God, they did not glorify Him as God, nor were thankful, but became futile in their thoughts, and their foolish hearts were darkened. 22 Professing to be wise, they became fools, 23 and changed the glory of the incorruptible God into an image made like corruptible man — and birds and four-footed animals and creeping things.

24 Therefore God also gave them up to uncleanness, in the lusts of their hearts, to dishonor their bodies among themselves, 25 who exchanged the truth of God for the lie, and worshiped and served the creature rather than the Creator, who is blessed forever. Amen.

26 For this reason God gave them up to vile passions. For even their women exchanged the natural use for what is against nature. 27 Likewise also the men, leaving the natural use of the woman, burned in their lust for one another, men with men committing what is shameful, and receiving in themselves the penalty of their error which was due.

28 And even as they did not like to retain God in their knowledge, God gave them over to a debased mind, to do those things which are not fitting; 29 being filled with all unrighteousness, sexual immorality, wickedness, covetousness, maliciousness; full of envy, murder, strife, deceit, evil-mindedness; they are whisperers, 30 backbiters, haters of God, violent, proud, boasters, inventors of evil things, disobedient to parents, 31 undiscerning, untrustworthy, unloving, unforgiving, unmerciful; 32 who, knowing the righteous judgment of God, that those who practice such things are deserving of death, not only do the same but also approve of those who practice them. (Romans 1:20-32)
The USA is not benefiting from homosexuality or the transgender agenda. Surgically changing one's sex organs is dishonoring one's body. Pretending to be a sex other than what one was born as is not wise (the exceptionally rare people born with both sets of genitalia is another matter, which is beyond the scope of this article).
God made humans male and female:
27 So God created man in His own image; in the image of God He created him; male and female He created them. (Genesis 1:27)
Nowhere in the Bible is any human considered to be any sex/gender other than male or female. And those who act otherwise are warned against (Deuteronomy 22:5; 1 Corinthians 6:10-12; Romans 1:18-32). One is not a different gender than their actual genitalia.
But many others have their own, antibiblical ideas. Yet:
33 God is not the author of confusion (1 Corinthians 14:33)
The transgender agenda encourages and exploits confusion. It is NOT good for those who consider themselves transgendered.
The transgender movement is destructive to society and that includes female sports.
Some items of possibly related interest may include:
USA pushing gender confusion On May 13, 2016, the Obama Administration sent notices to school districts around the USA on how it wants them to deal with toilets, lockers, sports, and other issues of interest to the LGBT crowd. The Obama Administration has redefined the word 'sex' as written in the 1964 Civil Rights Act as expanded in 1972. Does the Bible teach transgenderism? Are accommodations for those considering themselves transgendered helpful or evil? What does the Bible teach about cross-dressing and other transgender issues? Does the Bible warn of terrible consequences for those who merely approve the LBGT agenda? This is a video.
Cross-dressing and other assaults against your children. What should you do? Is there an agenda to turn your children and/or grandchildren away from biblical morality and towards practices promoted by homosexuals? What does the Bible teach about cross-dressing? What should parents do? If there is an agenda, what has been going on? There are also two YouTube videos related to this, titled Transgender 'Woe to those who call evil good' and Cross dressing and Other Assaults Against Your Children.
Pornography: A scourge on society Is pornography harmless fun? Does the Bible teach anything about it? What are the views of some involved with it? A related sermons is titled: Pornography, False Comfort, and False Religion. Here a shorter YouTube video Pornography: Harmless Fun or a Scourge on Society?
The Bible Condemns Homosexuality "Same-sex marriage" for "gays" and lesbians is becoming more acceptable to many. What does the Bible teach about homosexuality? Can homosexuals change? A related video sermon is titled: What Does the Bible Really Teach about Homosexuality?
Making Your Marriage Work Marriage is not always easy, but it pictures a divine relationship. How can you make your marriage work? Here is a link to the video sermon: You Can Make YOUR Marriage Work.
Love, Marriage, and Sex It is important to get them in the right order.
Husbands Love Your Wives An article written by the late Selmer Hegvold.
Preparing for the 'Short Work' and The Famine of the Word What is the 'short work' of Romans 9:28? Who is preparing for it? Here is a link to a related video sermon titled: The Short Work.
The Final Phase of the Work What is the final phase of the work? Who will lead it? Do you have the courage to support it? Here is a related YouTube video titled The Final Phase of the Work. The written article has been translated into Spanish La Fase Final de la Obra.
When Will the Great Tribulation Begin? 2016, 2017, or 2018? Can the Great Tribulation begin today? What happens before the Great Tribulation in the "beginning of sorrows"? What happens in the Great Tribulation and the Day of the Lord? Is this the time of the Gentiles? When is the earliest that the Great Tribulation can begin? What is the Day of the Lord? Who are the 144,000? Here is a version of the article in the Spanish language: ¿Puede comenzar la Gran Tribulación en 2016 o 2017? ¿Es el Tiempo de los Gentiles? You can also see the English language sermon video: The Great Tribulation from the Mount of Olives. A shorter video is: Can the Great Tribulation Start in 2016?
Anglo – America in Prophecy & the Lost Tribes of Israel Are the Americans, Canadians, English, Scottish, Welsh, Australians, Anglo-Saxon (non-Dutch) Southern Africans, and New Zealanders descendants of Joseph? Where are the lost ten-tribes of Israel? Who are the lost tribes of Israel? What will happen to Jerusalem and the Jews in Israel? Will God punish the U.S.A., Canada, United Kingdom, and other Anglo-Saxon nations? Why might God allow them to be punished first? Here is a link to the Spanish version of this article: Anglo-América & las Tribus Perdidas de Israel. Information is also in the YouTube sermons titled Where are the Ten Lost Tribes? Why does it matter? and British are the Covenant People. A short YouTube of prophetic interest may be Barack Obama and the State of the Apocalypse.
Will the Anglo-Saxon Nations be Divided and Have People Taken as Slaves? Will the lands of the United States, United Kingdom, Canada, Australia, and New Zealand be divided? What about Jerusalem? What does Bible prophecy teach? Are there non-biblical prophecies that support this idea? Who will divide those lands? Who will end up with the lands and the people? Here is a link to a video titled Will the USA and other Anglo-nations be Divided and Their People Made Slaves? Here is a related item in the Spanish language ¿Serán divididas las naciones anglosajonas?
USA in Prophecy: The Strongest Fortresses Can you point to scriptures, like Daniel 11:39, that point to the USA in the 21st century? This article does. A related sermon is titled: Do these 7 prophesies point to the end of the USA?
Who is the King of the West? Why is there no Final End-Time King of the West in Bible Prophecy? Is the United States the King of the West? Here is a version in the Spanish language: ¿Quién es el Rey del Occidente? ¿Por qué no hay un Rey del Occidente en la profecía del tiempo del fin? A related sermon is also available: The Bible, the USA, and the King of the West.