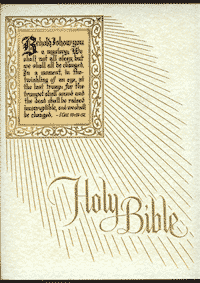 UCG sent the following today in an email:
3 Bible Tips: Self-Control

1. Lack of self-control will be a sign of the end time.

"But know this, that in the last days perilous times will come: For men will be lovers of themselves, lovers of money, boasters, proud, blasphemers, disobedient to parents, unthankful, unholy, unloving, unforgiving, slanderers, without self-control, brutal, despisers of good" (2 Timothy 3:1-3, italics added throughout).

2. Godly self-control comes through the Holy Spirit and is necessary to overcome the works of the flesh described in Galatians 5:19-21.

"But the fruit of the Spirit is love, joy, peace, longsuffering, kindness, goodness, faithfulness, gentleness, self-control. Against such there is no law" (Galatians 5:22-23).

3. Godly self-control requires making no provisions for the flesh—not allowing backup plans or harboring thoughts that could sprout into sins.

"But put on the Lord Jesus Christ, and make no provision for the flesh, to fulfill its lusts" (Romans 13:14).
The above is correct and Christians need to understand that self-control is important.
Furthermore, I would add that the Apostle Paul taught that self-control was important to a governor named Felix, who decided not to listen:
25 Now as he reasoned about righteousness, self-control, and the judgment to come, Felix was afraid and answered, "Go away for now; when I have a convenient time I will call for you." (Acts 24:25)
But we all need to listen to what the Bible says.  Including about matters like self-control.  And then the Apostle Peter said to add perseverance to that:
5 But also for this very reason, giving all diligence, add to your faith virtue, to virtue knowledge, 6 to knowledge self-control, to self-control perseverance, to perseverance godliness, 7 to godliness brotherly kindness, and to brotherly kindness love.  (2 Peter 1:5-7)
This would seem to be for all Christians for all times.  And, it is especially needed in these end times.
UCG, however, has other issues it is dealing with.  Its president, Dennis Luker, sent out the following yesterday, but that seemed to be posted today:
Ministers and brethren, the Council of Elders would like nothing more than to see sincere reconciliation. None of us wanted to see what happened in Latin America happen. We grieve for the members there who have been subjected to spiritual and emotional buffeting—in some cases for years. It is not pretty, and only the divine gift of love from God can truly heal this breach. Tempers have flared and accusations have been hurled by many people within our fellowship…

What is wrong is when the organizers, by clever and manipulative wording, imply and lead others to believe that the Council of Elders and administration lack the desire and have made no effort toward that goal. In fact the opposite is true. The former senior administrator in Latin America was asked at least twice to meet with members of the Council of Elders and Church administrators. In addition, other direct communication is ongoing with several ministers in the region.While the appeal posted on this formerly secret Web site is addressed to the full Council of Elders, we—Dennis Luker as president of the Church, and Melvin Rhodes, chairman of the Council of Elders—want to address these issues now. The full Council of Elders will meet later in August, and a formal response may come at that time.

Ministers and brethren, let's be clear here. We want nothing more than true unity and reconciliation! We don't doubt for a minute that the great majority of those who have agreed to add their names to the online appeal for reconciliation are sincere. Certainly we all want reconciliation!

But when we see among the signers the names of a number who have made and distributed unfounded attacks and accusations against the Council, some who have publicly and privately slandered Council members to their congregations and to other elders, some who have tried to organize efforts to recall certain Council members whom they accuse of "unethical" behavior (for which they have offered zero evidence), and some who are actively supporting a developing breakaway organization designed to draw members from the United Church of God—we clearly doubt their stated lofty intentions. (The fact that these words may come as an unpleasant shock to many of you reading this represents evidence that we have chosen not to respond to their actions in kind. The fact remains that we have tried to be patient in the hope that those who slander and speak falsely will repent.)

Let's call a spade a spade. In the outside world, forums of this nature are rightly called a political caucus. The purpose of a political caucus is two-fold: Marshal resources to achieve a specific political goal, and draw in as many as possible to support that goal. To the organizers of that Web site we say this: Is your purpose to reconcile, or is your purpose to divide and conquer? To be sure, God will be your Judge!

To you well-meaning ministers who have been drawn in by this seemingly well-intentioned effort—and again, we fully respect and share your desire for true unity and reconciliation—do you know what you are doing? Do you realize that by participating you are unknowingly aiding efforts to undermine the very governmental structure that we all, before God, agreed to some 15 years ago?

Ministers and brethren, please be assured that this is as hard to write as we're sure it is to read. Ministers are called by God to be peacemakers, to teach, to guide, to shepherd and most importantly to serve.

We would like nothing more than to reconcile with as many ministers and members in Latin America as possible—those who want to be with us. We have had several sound, spiritually mature, Spanish-speaking men traveling in Latin America for weeks now. Those men have been meeting with any and all who are willing. Yet they have been rejected with hostility by some who out of the other side of their mouth "seek" reconciliation.Those sent by the administration, with support from the Council, have been helping members and elders who want to remain part of the United Church of God to meet safely for Sabbath services, free of politics and heavy-handed rule. We have been working with them to set up Feast sites where they can meet and celebrate with us the wonderful promise of Jesus Christ's coming reign on earth. We have continued to financially support those who want to be part of us. They have not been cut off.

Meanwhile, the former UCG administrator of the Latin American region claims that he was independent all along, that he does not recognize any spiritual or managerial authority from the president, the home office or the Council, and has openly compared our ministers to Satan, who "appears as an angel of light." Some ministers who now follow him have used far worse language in describing loyal ministers and members of the Council of Elders…

To seek this divine and powerful healing, in our individual roles we are joining together to call a fast for the Church for the weekend of August 21-22. Some of you may choose to fast on the Sabbath and others may choose to fast on the following day. Either way please set aside that weekend for intensive prayer, meditation and focused Bible study. Please ask God to give us all a spirit of humility, repentance and unity. Please renew the very prayer of Christ on the night before His crucifixion, when He prayed for protection for all of us and asked God His Father that "You should keep them from the evil one" (John 17:15).

Let us truly forgive. Let us truly seek reconciliation. Let us abandon all efforts to divide—whether online or elsewhere—and draw together to accomplish the work that we have been given to do.
Whether self-control would have resolved this matters may be debated, but according to one UCG insider I spoke with a while back, it seemed like it would have.  UCG is not that into calling fasts, so this is somewhat out of the ordinary (especially with the Day of Atonement coming just a few weeks later).
As far as "calling a spade a spade", UCG's form of governance is certainly prone to "playing politics" and having "political caucuses".  This would seem likely to continue if UCG continues with its presbyterian form of governance.  Which, they seem to prefer.  At least those still with it.
Some articles of possibly related interest may include:
Polycarp, Herbert W. Armstrong, and Roderick C. Meredith on Church Government What form of governance did the early church have? Was it hierarchical? Which form of governance would one expect to have in the Philadelphia remnant? The people decide and/or committee forms, odd dictatorships, or the same type that the Philadelphia era itself had?
Unity: Which COG for You? Why so many groups? Why is there lack of unity in the Churches of God? Has it always been this way? What can/should be done about it?
Differences between the Living Church of God and United Church of God This article provides quotes information from the two largest groups which had their origins in WCG as well as commentary.
There are Many COGs: Why Support the Living Church of God? This is an article for those who wish to more easily sort out the different COGs. It really should be a MUST READ for current and former WCG/GCI members or any interested in supporting the faithful church. It also explains a lot of what the COGs are all about.
Should the Church Still Try to Place its Top Priority on Proclaiming the Gospel or Did Herbert W. Armstrong Change that Priority for the Work? Some say the Church should mainly feed the flock now as that is what Herbert W. Armstrong reportedly said. Is that what he said? Is that what the Bible says? What did Paul and Herbert W. Armstrong expect from evangelists?
The Laodicean Church Era has been predominant circa 1986 A.D. to present. These are non-Philadelphians who mainly descended from the old WCG.