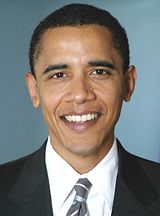 Barack Obama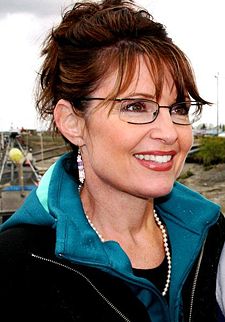 Sarah Palin

Tomorrow, history will be made in the USA.
Either the USA will have its first African-American president or its first female vice-president. (Note: Lest someone start rumors that I purposely sized the pictures in this post based on some type of personal preference, it should be mentioned that the fact is that the above are the sizes that the public domain photos I accessed came out–I do not endorse any of the candidates running for USA president or vice-president.)
If Christians are not supposed to vote, what should we do about leaders?
Pray for them!
Notice what Paul wrote:
Therefore I exhort first of all that supplications, prayers, intercessions, and giving of thanks be made for all men, for kings and all who are in authority, that we may lead a quiet and peaceable life in all godliness and reverence. For this is good and acceptable in the sight of God our Savior (1 Tim 2:1-3).
Notice that we are to pray for worldly leaders and those that have authority over us so that we may lead a quiet and peaceful life.
We also are to pray:
The will of the Lord be done (Acts 21:14).
Similarly,  Jesus taught:
7 And when you pray, do not use vain repetitions as the heathen do. For they think that they will be heard for their many words. 8 Therefore do not be like them. For your Father knows the things you have need of before you ask Him. 9 In this manner, therefore, pray:

Our Father in heaven, Hallowed be Your name. 10 Your kingdom come. Your will be done
On earth as it is in heaven (Matthew 6:7-10).

And that, I believe, should be the type of prayer that Christians have about elections.  Followers of the true God are also told to:
5 Trust in the LORD with all your heart,
And lean not on your own understanding;
6 In all your ways acknowledge Him,
And He shall direct your paths.
7 Do not be wise in your own eyes;
Fear the LORD and depart from evil (Proverbs 3:5-7).
Voting for one promoting evil (abortion in the case of Barack Obama and "country first", in violation of the first commandment, in the case of John McCain) is not a Christian thing to do.
Many people, however, apparently are not satisfied with the biblical admonitions to trust God to chose political leaders.  This is not new (1 Samuel 8:6-7).

And while I can certainly understand that people often feel that they should do more, people often forget that God inspired Jeremiah to write:
O LORD, I know the way of man is not in himself; It is not in man who walks to direct his own steps (Jeremiah 10:23).
Also notice what Hosea was inspired to write:
Observe mercy and justice, And wait on your God continually (Hosea 12:6).
Some of those that vote seem to forget what God said:
"For My thoughts are not your thoughts, Nor are your ways My ways," says the LORD. "For as the heavens are higher than the earth, So are My ways higher than your ways, And My thoughts than your thoughts…"(Isaiah 55:8-9).

'This decision is by the decree of the watchers, And the sentence by the word of the holy ones, In order that the living may know That the Most High rules in the kingdom of men, Gives it to whomever He will, And sets over it the lowest of men.' (Daniel 4:17).
It may be of interest to point out that Jesus suggested that people would take matters in their own hands thinking that they are doing God a service (John 16:2). And while this referred to killing, the principle is still that one should not violate what God instructs and justify it by thinking that God wants one to.
Those that are physically able may also wish to fast, an action that goes along with praying (cf. Matthew 6:16-18).
No matter who wins, I believe they will lead a nation in decline and will almost certainly increase the rate of ultimate decline of the Anglo-American powers.  God can decide who, when, and why we should get particular leaders.
Since we are getting closer to the time of the end, I believe that tomorrow's winner (even if it is not clear tomorrow) will help fulfill the following:
12 As for My people, children are their oppressors, And women rule over them. O My people! Those who lead you cause you to err, And destroy the way of your paths." (Isaiah 3:12)
16 For the leaders of this people cause them to err, And those who are led by them are destroyed (Isaiah 9:16).
Perhaps I should remind everyone that even Barack Obama winning helps fulfill the part about women ruling as it was actually the promotion and relatively early endorsement by Oprah Winfrey that, in my opinion, really made him a serious contender in the Democratic primaries.
But irrespective of that, Jesus did not vote while He was on this earth.  Neither will I.
Those truly concerned about this election should pray (and if safely possible fast) for "The will of the Lord be done" (Acts 21:14).
Several articles of possibly related interest may include:
Barack Obama, Prophecy, and the Destruction of the United States Some claim that Barack Obama is the prophesied "son of Kenya". Might Bible prophecy be fulfilled if he is elected president?
Anglo – America in Prophecy & the Lost Tribes of Israel Are the Americans, Canadians, British, Scottish, Welsh, Australians, Anglo-Southern Africans, and New Zealanders descendants of Joseph? Where are the lost ten-tribes of Israel? Who are the lost tribes of Israel? Will God punish the U.S.A., Canada, United Kingdom, and other Anglo nations? Why might God allow them to be punished first?
Barack Obama Carries Hindu Monkey God Although there are some strange and false stories about Barack Obama, this one seems to be true.
Might Sarah Palin Fulfill Prophecy? Why might Sarah Palin fulfill Bible prophecy?
Barack Obama is Not the Antichrist Some have suggested that he may be, but neither he nor John McCain will be.  Find out why they cannot be.
Some Doctrines of Antichrist Are there any doctrines taught outside the Churches of God which can be considered as doctrines of antichrist? This article suggests at least three. It also provides information on 666 and the identity of "the false prophet". Plus it shows that several Catholic writers seem to warn about an ecumenical antipope that will support heresy.
Do Certain Catholic Prophecies About Antichrist Warn Against Jesus? Will the final "Anti-Christ" be Jewish, insist on Saturday, be opposed to the trinity, and bring in the millennium? Catholic writings indicate this, but what does the Bible show?
Two Horned Beast of Revelation and 666 This article explains how the LCG views this, and compares this to Ellen White.  Neither John McCain nor Barack Obama are 666.
Can the Great Tribulation Begin in 2009, 2010, or 2011? Can the Great Tribulation begin today? When is the earliest that the Great Tribulation can begin? What is the Day of the Lord?
Should a Christian Vote? This article gives some of the Biblical rationale on this subject. Would Jesus vote for president? Is voting in the Bible? This is a subject Christians need to understand.