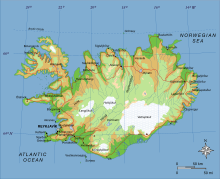 Bardarbunga Volcano Located Below Upper Left Corner of Largest White Glacial Region Above
Iceland is having a lot of earthquakes near the location of one of its volcanoes:
August 27, 2014
LONDON (AP) — Earthquakes are rocking Iceland's Bardarbunga volcano, adding to concerns that magma movements may trigger an eruption that could hinder air traffic.Iceland's Met Office says two earthquakes measuring over magnitude 5 shook the volcano under the vast Vatnajokull glacier on Wednesday. Some 500 quakes have hit the area since midnight.  http://www.seattlepi.com/news/world/article/Earthquakes-rock-Iceland-volcano-5715474.php
The rate of earthquakes has accelerated greatly in certain areas since 2009.  Here is a USA report:
A new United States Geological Survey study has found that middle America between Alabama and Montana is experiencing an "unprecedented" and "almost certainly manmade" increase in earthquakes of 3.0 magnitude or greater. In 2011, there were 134 events of that size. That's six times more than were normally seen during the 20th century. While the changes in the area's seismicity began in 2001, the trend has really accelerated since 2009, the geologists note. (Madrigal A. Middle America Is Experiencing a Massive Increase in 3.0+ Earthquakes. The Atlantic, April 6, 2012. http://www.theatlantic.com/technology/archive/2012/04/middle-america-is-experiencing-a-massive-increase-in-30-earthquakes/255568/
Jesus discussed earthquakes in His Olivet prophecy (a series of prophetic statements He made on the Mount of Olives).
Jesus taught that prior to the great tribulation, during a time called "the beginning of sorrows," that His followers would notice earthquakes:
7 For nation will rise against nation, and kingdom against kingdom. And there will be famines, pestilences, and earthquakes in various places. 8 All these are the beginning of sorrows. (Matthew 24:7-8, NKJV throughout unless otherwise indicated).

8 For nation will rise against nation, and kingdom against kingdom. And there will be earthquakes in various places, and there will be famines and troubles. These are the beginnings of sorrows. (Mark 13:8)

11 And there will be great earthquakes in various places, and famines and pestilences; and there will be fearful sights and great signs from heaven. (Luke 21:11)
Now, these earthquakes happen prior to the start of the Great Tribulation (which is listed as beginning in Matthew 24:21, Mark 13:19, and Luke 21:23). More information on the Great Tribulation and the "beginning of sorrows" can be found in the article Can the Great Tribulation Begin in 2014, 2015, or 2016? For years, I have wondered if the "beginning of sorrows" began in 2009, and the acceleration of certain earthquakes may be confirming that.
Some items of possibly related interest may include:
Earthquakes Today and Bible Prophecy Contains a cool up-to-the-hour update of earthquakes around the world from USGS. It also explains what did Jesus teach about earthquakes and how the Bible describes "the big one" (as well as when it is expected).
Islands and Bible Prophecy What's ahead for islands? What does the Bible prophesy about them?
Just What Do You Mean — Repentance? Do you know what repentance is? Have you truly repented? Repented of what? Herbert W. Armstrong wrote this as a booklet on this important subject.
Weather Blessings and Sorrows Are weather problems a warning? What should be done? Here is a related YouTube video Does God Use Weather?
The Gospel of the Kingdom of God was the Emphasis of Jesus and the Early Church Did you know that? Do you even know what the gospel of the kingdom is all about? True religion should be based upon the true gospel.
When Will the Great Tribulation Begin? 2014, 2015, or 2016? Can the Great Tribulation begin today? What happens before the Great Tribulation in the "beginning of sorrows"? What happens in the Great Tribulation and the Day of the Lord? Is this the time of the Gentiles? When is the earliest that the Great Tribulation can begin? What is the Day of the Lord? Who are the 144,000? Here is a version of the article in the Spanish language: ¿Puede comenzar la Gran Tribulación en 2014 o 2015? ¿Es el Tiempo de los Gentiles? You can also see the English language sermon video: The Great Tribulation from the Mount of Olives.
Does God Have a 6,000 Year Plan? What Year Does the 6,000 Years End? Was a 6000 year time allowed for humans to rule followed by a literal thousand year reign of Christ on Earth taught by the early Christians? Does God have 7,000 year plan? What year may the six thousand years of human rule end? When will Jesus return? 2021 or 20xx?
Physical Preparation Scriptures for Christians. We all know the Bible prophecies famines. Should we do something?