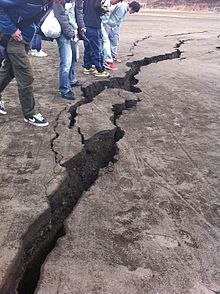 (Choo photo)
Ecuador was hit by a massive earthquake:
April 17, 2016

The death toll from the powerful earthquake in Ecuador has risen to 77.  Hundreds are injured.

Vice President Jorge Glas said the toll is likely to rise as reports from around the country continue to come in. …

The U.S. Geological Survey said the shallow 7.8-magnitude quake struck late Saturday along the South American country's coast.​

It was felt 170 kilometers away in Quito, the capital, where it knocked out electricity and cell phone coverage in several neighborhoods.

In Quito, buildings swayed for about 40 seconds, causing people to rush into the streets. http://www.voanews.com/content/at-least-seventy-seven-dead-in-ecuador-earthquake/3289207.html
Japan is still attempting to recover from its recent earthquakes:
April 17, 2016

TOKYO—

Four U.S. Marine Corps V-22 Osprey tilt-rotor aircraft took off from Okinawa Sunday as American forces in Japan joined the earthquake recovery effort in the southern part of the country.

"We are working closely with the government of Japan to provide assistance and support. To the people of Japan and the region affected by this tragedy we send our heartfelt sympathies," said Air Force Lt. Gen. John Dolan, commander of U.S. Forces Japan, in a statement, which did not provide any further details on the scope of the military assistance being provided.

The United States had offered support for airlift operations and the Defense Ministry in Tokyo is coordinating with USFJ to implement as soon as ready, Kenko Sone, Prime Minister Shinzo Abe's director of global communications, told VOA.

Aiding in rescue

Abe on Sunday boosted to 25,000 the number of Self Defense Force troops aiding in the rescue and recovery on the main southern island of Kyushu.

Strong aftershocks continue to rattle Kumamoto Prefecture (state) as rescuers confront harsh weather conditions in a race to rescue dozens of people believed still trapped or buried under collapsed buildings.

At least 41 people have died, 11 are reported missing – feared buried by landslides or trapped below rubble – and more than 800 have been injured since Thursday as a result of the strongest tremors, according to Japanese government officials and domestic media reports.

A magnitude-6.5 quake on Thursday, seen as a foreshock to the 7.3 tremor early Saturday, collapsed buildings and bridges, triggered fires and landslides and even derailed a bullet train.

Both quakes were at shallow depths, onshore and located under populated areas. http://www.voanews.com/content/us-forces-join-japan-quake-recover-effort/3289217.html
Jesus warned about a time earthquakes and troubles:
8 … And there will be earthquakes in various places, and there will be…troubles. These are the beginnings of sorrows. (Mark 13:8)
Earthquakes and other disasters should remind us that our lives can be changed quickly and that repentance is needed now. None should wait. Even Christians need to examine themselves and repent where needed (cf. 1 Corinthians 11:28-32).
While your life may seem 'normal,' consider that since the earthquake today, what was 'normal' for many in the Hindu Kush region is now gone. Sudden destruction can happen (cf. 1 Thessalonians 5:3). Are you spiritually prepared?
Some items of possibly related interest may include:
Earthquakes Today and Bible Prophecy Contains a cool up-to-the-hour update of earthquakes around the world from USGS. It also explains what did Jesus teach about earthquakes and how the Bible describes "the big one" (as well as when it is expected).
Mexico, Central America, South America, Brazil, and the Caribbean in Prophecy [Español: México, América central, Suramérica, Brasil y el Caribe en la profecía] [Português: México, América Central, Ámérica do Sul, e Brasil na profecia] What will happen to those of Latin America? Will they have prosperity? Will they cooperate with Europe? Will they suffer in the future? What role might the various Caribbean nations/territories play?
Japan, Its Biblical Past and Future, Part 1: Any Witness? Where did the Japanese people come from? Have they had any witness?
Japan, Its Biblical Past and Future, Part 2: Prophecy Japan in prophecy. What is prophesied for Japan? Will God save the Japanese?
The Gospel of the Kingdom of God This free online pdf booklet has answers many questions people have about the Gospel of the Kingdom of God and explains why it is the solution to the issues the world is facing.
The Gospel of the Kingdom of God was the Emphasis of Jesus and the Early Church Did you know that? Do you even know what the gospel of the kingdom is all about? You can also see a YouTube video sermons Why Teach the Kingdom of God? and The Gospel of the Kingdom.
Just What Do You Mean — Repentance? Do you know what repentance is? Have you truly repented? Repented of what? Herbert W. Armstrong wrote this as a booklet on this important subject.
Weather Blessings and Sorrows Are weather problems a warning? What should be done? Here is a related YouTube video Does God Use Weather?
Does God Have a 6,000 Year Plan? What Year Does the 6,000 Years End? Was a 6000 year time allowed for humans to rule followed by a literal thousand year reign of Christ on Earth taught by the early Christians? Does God have 7,000 year plan? What year may the six thousand years of human rule end? When will Jesus return? 2023 or 20xx? There is also a video titled The 6000 Year Plan: Is the end of humanity's reign almost up? Here is a link to the article in Spanish: ¿Tiene Dios un plan de 6,000 años?
When Will the Great Tribulation Begin? 2016, 2017, or 2018? Can the Great Tribulation begin today? What happens before the Great Tribulation in the "beginning of sorrows"? What happens in the Great Tribulation and the Day of the Lord? Is this the time of the Gentiles? When is the earliest that the Great Tribulation can begin? What is the Day of the Lord? Who are the 144,000? Here is a version of the article in the Spanish language: ¿Puede comenzar la Gran Tribulación en 2016 o 2017? ¿Es el Tiempo de los Gentiles? You can also see the English language sermon video: The Great Tribulation from the Mount of Olives. A shorter video is: Can the Great Tribulation Start in 2016?
Physical Preparation Scriptures for Christians. We all know the Bible prophecies famines. Should we do something?