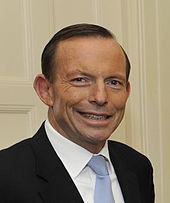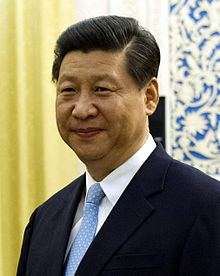 Tony Abbot and  Xi Jinping

After President of the United States made military related statements, the Prime Minister of Australia and President of China announced they signed a major trade deal:
China, Australia Sign Free Trade Deal

November 17, 2014

SYDNEY—Australia and China have signed a free trade agreement that officials hope will open up markets worth billions of dollars to Australian exporters. The deal was ratified after an address to the Australian parliament by the Chinese president, Xi Jinping.President Xi told the Australian parliament that his goal is to double China's national income by 2020 and create a modern socialist country. He is only the second Chinese leader to address MPs in Canberra. He said Beijing was dedicated to upholding peace, and received a standing ovation at the end of his speech.

Following his address, the Chinese leader ratified the free trade agreement. It is expected to open up markets to Australian farm exporters and the services sector while easing restrictions on Chinese investment in Australia. All tariffs on Australian resources will be scrapped under the deal, along with duties on beef and sheep exports. The trade pact will make it easier for Australian banks, insurance companies and universities to do business in China.

Xi said Australia is a prosperous and hard-working trading partner.

"Australia has a vast territory, rich resources and an advance[d] economy, and it is renowned for its diverse culture and unique landscape. It is not just a country on the sheep's back, or a country sitting on mine casts. More importantly, Australia is a country of dynamism and innovation," said Xi.

China is Australia's biggest trading partner, and its appetite for iron ore and other resources helped insulate Australia from the worst of the global financial crisis.

But as Australia's resources boom begins to fade, Canberra is keen to maintain prosperity through its services, manufacturing and agricultural sectors.

Senior government ministers insist the free trade agreement with China is one of the most important Canberra has ever signed.

Prime Minister Tony Abbott told parliament it was a day to remember.

"With free trade negotiations concluded and with a comprehensive strategic partnership established, this is a historic and memorable day. On behalf of the government and the people of Australia, I welcome His Excellency Xi Jinping on his first visit to Australia as president of China, but on his fifth visit to our country," said Abbott.

Critics of the free trade agreement believe it could raise food prices for Australian consumers. Outside parliament, demonstrators urged President Xi to ease China's grip on Tibet and end the persecution of religious groups.  http://www.voanews.com/content/china-australia-sign-free-trade-deal/2522734.html

US, Japan, Australia agree to deepen security ties

BRISBANE, Australia — Eyeing Chinese assertiveness, President Barack Obama and the prime ministers of Japan and Australia committed Sunday to deepen their military cooperation and work together on strengthening maritime security in the Asia Pacific.

The meeting, the first since 2007 among leaders of the three allies, risked antagonizing Beijing after a week when Obama reached a surprising level of consensus with Chinese President Xi Jinping on climate change and trade, and Japan and China took steps to improve their relationship.

China has viewed Obama's efforts to deepen alliances with other countries in the region, particularly on security issues, as an attempt to counter Beijing's rise.

In a joint statement following the meeting, the three leaders said they had agreed to "deepen the already strong security and defense cooperation" between their countries. They also agreed to work on boosting "maritime security capacity building" in a region rife with disputes between China and its neighbors over claims to waters and islands. http://www.thenewstribune.com/2014/11/15/3489569/amid-doubts-obama-seeks-to-reinvigorate.html#storylink=cpy
Australia believes that as long as the USA will defend it, its security is fine and that its arrangements with China will prosper its citizens.  While this will may well be true for a time, Chinese actions in Tibet as well as with many of its neighbors should show all in Australia that China does not have the same view of the world as they do.
China wants not only the resources from Australia, in my view, it also wants the land.
For at least five years I have warned that China may ultimately end up with at least part of Australia (see Thiel B. 2012 and the Rise of the Secret Sect. Nazarene Books, 2009).  This assessment was based upon biblical prophecy, world events, and geography.  Since that time, there have been various indications that China had interest in Australia and that the Australians have had defensive concerns related to China.
The Australians have chosen to rely on the USA and trade deals with China, yet what will it do once the USA itself is taken over?  The Bible does teach this will happen in Daniel 11:39 (for one example, many others are in the article Anglo – America in Prophecy & the Lost Tribes of Israel), yet few in Australia take the Bible that seriously.
China will not prove to be the type of partner that Australians will care for.  Ultimately, like those of the USA, those in Australia, as well as those in its close ally New Zealand, will be taken over and the survivors made slaves.  Scripturally, Asians seem to be involved with the dividing up and selling of people in the future in certain prophecies (e.g. Ezekiel 27:12-14). Since Australia and New Zealand are the closest of the Anglo-Saxon descended nations to Asia, they seem to be possible candidates to be taken over by the Asians.
More details are in the article Will the Anglo-Saxon Nations be Divided and Have People Taken as Slaves?
While there are benefits of cooperation and trade, those who ignore biblical prophecy are taking massive risks which will not turn out well.
Some items of possibly related interest may include:
China, Its Biblical Past and Future, Part 1: Genesis and Chinese Characters Where did the Chinese people come from? This article provides information showing that the Chinese peoples must have known about various accounts in the Book of Genesis up until their dispersion after the Tower of Babel. Here is a link to a version of this article in Spanish: ¿Prueban los caracteres chinos la exactitud de la Biblia?
China, Its Biblical Past and Future, Part 2: The Sabbath and Some of God's Witness in China When did Christianity first come to China? And is there early evidence that they observed the seventh day sabbath?
Asia in Prophecy What is Ahead for Asia? Who are the "Kings of the East"? What will happen to nearly all the Chinese, Russians, Indians, and others of Asia? China in prophecy, where? Who has the 200,000,000 man army related to Armageddon? A YouTube video of interest may be Is China THE Threat to the United States of America?
CCOG.ASIA We in the Continuing Church of God also have the url www.ccog.asia which has a focus on Asia and has various articles in Mandarin Chinese as well as some in English, plus some items in other Asian languages. 我们在继续神的教会也提供此网址 www.ccog.asia, 关注于亚洲并且有各种各样的中英文文章,其中一些用菲律宾语翻译的文章也正在进行中,准备添加到这个网站中。 HHere is a link to our Statement of Beliefs in Mandarin Chinese 继续神的教会的信仰声明.
Anglo – America in Prophecy & the Lost Tribes of Israel Are the Americans, Canadians, English, Scottish, Welsh, Australians, Anglo-Saxon (non-Dutch) Southern Africans, and New Zealanders descendants of Joseph? Where are the lost ten-tribes of Israel? Who are the lost tribes of Israel? What will happen to Jerusalem and the Jews in Israel? Will God punish the U.S.A., Canada, United Kingdom, and other Anglo-Saxon nations? Why might God allow them to be punished first? Here is a link to the Spanish version of this article: Anglo-América & las Tribus Perdidas de Israel. Information is also in the YouTube sermons titled Where are the Ten Lost Tribes? Why does it matter? and British are the Covenant People. A short YouTube of prophetic interest may be Barack Obama and the State of the Apocalypse.
Will the Anglo-Saxon Nations be Divided and Have People Taken as Slaves? Will the lands of the United States, United Kingdom, Canada, Australia, and New Zealand be divided? What about Jerusalem? What does Bible prophecy teach? Are there non-biblical prophecies that support this idea? Who will divide those lands? Who will end up with the lands and the people? Here is a link to a video titled Will the USA and other Anglo-nations be Divided and Their People Made Slaves? Here is a related item in the Spanish language ¿Serán divididas las naciones anglosajonas?
British are the Covenant People What do 'British' and 'Britain' mean in Hebrew? Are the descendants of the Anglo-Saxons people of the covenant? Does the British royal family connect to the throne of David? What does the Bible teach? What does history show us? Is there any DNA evidence related to British-Israelism? When did Christianity make it to the British Isles? Could Jeremiah have made it to the British Isles? What type of Christians made it to the British Isles? Did the last King of England believe in British Israelism?
WTO/TTIP and the Babylonian Beast Will international trade agreements like WTO/TTIP/CETA lead to the fulfillment of end time prophecies concerning the Babylonian Beast power that the Book of Revelation warns against? What does the Bible teach? A related video would be WTO Trade Deal and the Rise of the European Beast Power.
Can those in the USA/UK see the Handwriting on the Wall? Is everything fine in the USA/UK or is it like the days of Noah? Can we learn from the handwriting that appeared on a wall thousands of years ago? Here is a link to a related YouTube video Can you see the 'Handwriting on the Wall'?
When Will the Great Tribulation Begin? 2014, 2015, or 2016? Can the Great Tribulation begin today? What happens before the Great Tribulation in the "beginning of sorrows"? What happens in the Great Tribulation and the Day of the Lord? Is this the time of the Gentiles? When is the earliest that the Great Tribulation can begin? What is the Day of the Lord? Who are the 144,000? Here is a version of the article in the Spanish language: ¿Puede comenzar la Gran Tribulación en 2014 o 2015? ¿Es el Tiempo de los Gentiles? You can also see the English language sermon video: The Great Tribulation from the Mount of Olives.
World War III: Steps in Progress Are there surprising actions going on now that are leading to WWIII? Might a nuclear attack be expected? Does the Bible promise protection to all or only some Christians? How can you be part of those that will be protected? A related video would be Is World War III About to Begin? Can You Escape?
Barack Obama, Prophecy, and the Destruction of the United States-Second Edition for Second Obama Term This is a 160 page book for people truly interested in prophecies related to Barack Obama and the United States, including learning about many that have already been fulfilled (which the book documents in detail) and those that will be fulfilled in the future. It also has a chapter about a Republican choice. This book is available to order at www.barackobamaprophecy.com. The physical book can also be purchased at Amazon from the following link: Barack Obama, Prophecy, and the Destruction of the United States: Is Barack Obama Fulfilling Biblical, Islamic Catholic, Kenyan, and other America-Related Prophecies? What About Republican Leaders? Second Edition for Second Obama Term.
Barack Obama, Prophecy, and the Destruction of the United States-Second Term-Amazon Kindle edition. This electronic version is available for only US$2.99. And you do not need an actual Kindle device to read it. Why? Amazon will allow you to download it to almost any device: Please click HERE to download one of Amazon s Free Reader Apps. After you go to for your free Kindle reader and then go to Barack Obama, Prophecy, and the Destruction of the United States-Second Term-Amazon Kindle edition.