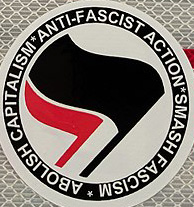 Antifa sticker
The group calling itself Antifa was again violent. This time against reporters and police:
August 13, 2018

NBC News reporters covering demonstrations marking the one-year anniversary of the deadly "Unite the Right" rally in Charlottesville, Virginia, said they were attacked by protesters they identified as members of anti-fascist group Antifa.

Reporter Cal Perry tweeted videos late on Saturday of at least one protester shouting obscenities at him and batting away his camera. …

Perry noted in a separate tweet that protesters were being "very aggressive with the media," sharing video of rallygoers placing their hands in front of his camera.

One protester asked: "Could you stop filming please," before covering his camera with her hand. Perry said the protesters were "almost exclusively Antifa at that point."

CNN reporters Jake Tapper and Brian Stelter condemned Antifa members over the incident, calling their behavior "unacceptable." https://www.newsweek.com/reporter-attacked-during-antifa-rally-charlottesville-f-you-snitch-ass-news-b-1070076

Antifa says it fights fascists and neo-Nazis. But this weekend, members attacked cops and journalists.

Sunday's counterprotests against the white nationalist "Unite the Right 2" rally in Washington, DC, were largely peaceful. Thousands of people held multiple rallies across the city to celebrate diversity and push back against the hateful views the white nationalists espouse.

But a few left-wing "antifa" (short for "anti-fascist") counterprotesters did engage in violence, throwing eggs and water bottles and shooting fireworks at police officers and some journalists who were covering the demonstrations. …

This is not the first time antifa protesters have been violent. In August 2017, about 100 anarchists and antifa members assaulted far-right demonstrators who were marching peacefully in Berkeley, California, with pepper spray, water bottles, and direct physical assault.

As Vox's German Lopez wrote at the time, "The argument for antifa activists is that the current crop of right-wing protesters — which are partly but not entirely made up of neo-Nazis, KKK members, and other white supremacists and nationalists — are so extreme that they must be stopped swiftly and even violently." …

This weekend in Charlottesville and DC, though, it wasn't neo-Nazis and white supremacists the antifa attacked. It was police who were there to help keep the peace among all the demonstrators and journalists who were there to cover the events.

How that factors into antifa's ideology is anyone's guess. https://www.vox.com/identities/2018/8/12/17681986/antifa-leftist-violence-clashes-protests-charlottesville-dc-unite-the-right
So, Antifa wants to stifle the press and force people to accept its views.
Well, that is a lot like fascism. The fact that it wants to also abolish capitalism (as the sticker at the beginning of this post states) shows that it has problems with private ownership of property and businesses.
Notice something from Webster's dictionary:
Definition of

fascism

1

often capitalized

: a political philosophy, movement, or regime (such as that of the Fascisti) that exalts nation and often race above the individual and that stands for a centralized autocratic government headed by a dictatorial leader, severe economic and social regimentation, and forcible suppression of opposition

2

: a tendency toward or actual exercise of strong autocratic or dictatorial control
Antifa is autocratic and has repeatedly used forcible suppression of its opposition.
While people certainly should be free to protest racism, they should do so peaceably.
Violence, when it is supposed to be protesting racism, shows some of the hypocrisy of the Antifa movement–particularly when it was the press and police who were the main recipients of the violence.
Here is an earlier report about Antifa:
Antifa Is Not Fighting For Freedom, But For Communist Revolution

November 1, 2017

Despite antiseptic portrayals throughout American media, Antifa are more than 'anti-fascists.' Antifa provide the violent complement to academic neo-Marxism. …


Antifa returns to the news this week. On Tuesday night, former Breitbart.com editor Milo Yiannopoulos spoke at California State University, Fullerton in a program sponsored by that university's College Republicans. Seven were arrested amid reports of head-punching and pepper-spraying. Protesters of the event chanted "Cops and the Klan go hand in hand!" and held signs reading "Only socialist revolution can defeat capitalist reaction." In February, Antifa militants committed such mayhem while protesting Yiannopoulos' appearance at the University of California at Berkeley that university officials cancelled his speech at the last minute.

On Saturday, Antifa will join other leftist groups in massive nationwide protests designed to force President Donald Trump's administration out of office. Organizing those protests is "Refuse Fascism," which declares that "in the name of humanity, we REFUSE to accept a Fascist America!"

Despite antiseptic portrayals throughout American media, Antifa are more than "anti-fascists." Antifa represent the chaos of Germany's Weimar Republic and provide the violent complement to academic neo-Marxism. Like their philosophical comrades, Antifa seek to destroy the American emphasis on liberty under law and to impose a revival of one of history's most repressive ideologies.

Antifa Is Anti-West and Anti-Capitalist

Bernd Langer, whose "80 Years of Anti-Fascist Action" was published by Germany's Association for the Promotion of Anti-Fascist Literature, succinctly defined the rhetorical subterfuge. "Anti-fascism is a strategy rather than an ideology," wrote Langer, a former Antifa member, for "an anti-capitalist form of struggle."

Short for the German phrase, "Antifaschistische Aktion," Antifa served as the paramilitary arm of the German Communist Party (KPD), which the Soviet Union funded. In other words, Antifa became the German Communists' version of the Nazis' brown-shirted SA.

The KPD made no secret of Antifa's affiliation. http://thefederalist.com/2017/11/01/antifa-not-fighting-freedom-communist-revolution/
Below is a banner Antifa has put forth: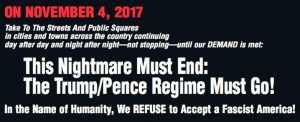 Getting rid of US President Donald Trump is one of Antifa's ongoing themes.
UPDATE 1300: Added the following to this post:
August 13, 2018

Multiple members of the progressive protest group who gathered outside the White House Sunday threatened President Trump with physical violence and murder.

The Secret Service tells The Daily Caller they are now "aware" of the threats and are "investigating" the progressive protesters.

"The Secret Service is aware of the incident," a Secret Service spokesperson tells The Daily Caller, clarifying that they cannot further comment on "protective intelligence investigations" as a matter of policy. https://dailycaller.com/2018/08/13/secret-service-aware-of-antifa-threats/
People should not be making such death threats.
Antifa has a history of violence as some associated with it believe in violent protest as was again shown this past weekend.
The group Antifa brings the following scriptures to mind:
3 For your hands are defiled with blood, And your fingers with iniquity; Your lips have spoken lies, Your tongue has muttered perversity.
4 No one calls for justice, Nor does any plead for truth. They trust in empty words and speak lies; They conceive evil and bring forth iniquity. 5 They hatch vipers' eggs and weave the spider's web; He who eats of their eggs dies, And from that which is crushed a viper breaks out.
6 Their webs will not become garments, Nor will they cover themselves with their works; Their works are works of iniquity, And the act of violence is in their hands. 7 Their feet run to evil, And they make haste to shed innocent blood; Their thoughts are thoughts of iniquity; Wasting and destruction are in their paths. 8 The way of peace they have not known, And there is no justice in their ways; They have made themselves crooked paths; Whoever takes that way shall not know peace. (Isaiah 59:3-8)
A major divide is occurring in the USA. This is not good.
Violence by protesters is wrong and should be denounced.
Increasingly, the USA is becoming more polarized. Violence from groups like Antifa fan the flames.
Jesus taught:
25 Every kingdom divided against itself is brought to desolation, and every city or house divided against itself will not stand. (Matthew 12:25)

17 Every kingdom divided against itself is brought to desolation, and a house divided against a house falls. (Luke 11:17)
Partially because of that, we have seen many speakers and protests cancelled by US state and local government authorities this year.
Consider also the following from the prophet Amos:
9 'Assemble on the mountains of Samaria; See great tumults in her midst, And the oppressed within her. 10 For they do not know to do right, 'Says the Lord, 'Who store up violence and robbery in their palaces.'" (Amos 3:9-10)
The reference to Samaria is pointing to the USA (see also Spiritual Samaritans: Old and New). The above is consistent with both civil unrest and terrorism. Expect more to hit the USA. Many of the right and left feel oppressed, they do not know how to do right, and they have stored up violence, and in 'protests' can display violence and robbery.
Violence, itself, often begets violence. So, sadly, we seem to be seeing more and more protests and terror.
The Bible warns:
25 … There shall be terror within (Deuteronomy 32:25)
There is violence in the USA. We are seeing increased civil unrest in the USA, by groups like Antifa. We will see riots in the USA.
The Bible teaches:
9 'Thus says the Lord God: "Enough, O princes of Israel! Remove violence and plundering, execute justice and righteousness (Ezekiel 45:9)

9…You shall love your neighbor as yourself." 10 Love does no harm to a neighbor; therefore love is the fulfillment of the law. (Romans 13:9-10)
As far as violence goes, the Bible shows that God is against violence and that destruction will come because of it:
23 'Make a chain,
For the land is filled with crimes of blood,
And the city is full of violence.
24 Therefore I will bring the worst of the Gentiles,
And they will possess their houses;
I will cause the pomp of the strong to cease,
And their holy places shall be defiled. (Ezekiel 7:23-24)

28 And even as they did not like to retain God in their knowledge, God gave them over to a debased mind, to do those things which are not fitting; 29 being filled with all unrighteousness, sexual immorality…30…violent, proud, boasters,…31…unmerciful; 32 who, knowing the righteous judgment of God, that those who practice such things are deserving of death, not only do the same but also approve of those who practice them. (Romans 1:28-32)

8…And the violence of the land and the city, And of all who dwell in it. ( Habakkuk 2:8)
Notice the violence is prophesied to get worse.
So much so that Gentiles will one day come and take possession of houses–this will happen to the USA during the Great Tribulation (see also When Will the Great Tribulation Begin?).
The time of Jacob's trouble (Jeremiah 30:7), also known as the Great Tribulation (Matthew 24:21), is coming and the USA and its Anglo-Saxon allies (including Canada) will be affected.
National repentance is the only way to prevent it, and that does not look likely. Personal repentance, however, is still possible. If you are an American, your personal future can still be much brighter than that of your country.
Though for the nation, the Kingdom of God is the solution, but the USA will first have to go through a horrific 3 1/2 years. The end of the USA/UK world order is coming and the final Time of the Gentiles is getting nearer.
Some items of possibly related interest may include:
Who is the King of the West? Why is there no End-Time King of the West in Bible Prophecy? Is the United States the King of the West?
When Will the Great Tribulation Begin? 2018, 2019, or 2020? Can the Great Tribulation begin today? What happens before the Great Tribulation in the "beginning of sorrows"? What happens in the Great Tribulation and the Day of the Lord? Is this the time of the Gentiles? When is the earliest that the Great Tribulation can begin? What is the Day of the Lord? Who are the 144,000? Here is a version of the article in the Spanish language: ¿Puede comenzar la Gran Tribulación en 2018 o 2019? ¿Es el Tiempo de los Gentiles? You can also see the English language sermon videos: The Great Tribulation from the Mount of Olives and Can the Great Tribulation begin before 2020? A shorter video is: Can the Great Tribulation begin in 2018?
The Times of the Gentiles Has there been more than one time of the Gentiles? Are we in it now or in the time of Anglo-America? What will the final time of the Gentiles be like? A related sermon is available and is titled: The Times of the Gentiles.
God's Grace is For All Is being Jewish a hindrance to salvation? What about not being a descendant of Israel? What does the Bible really teach? Here is a link to a related sermon titled Race and Grace; Do you view race as God does?
Christian Repentance Do you know what repentance is? Is it really necessary for salvation? A related sermon is also available titled: Real Christian Repentance.
The Gospel of the Kingdom of God This free online pdf booklet has answers many questions people have about the Gospel of the Kingdom of God and explains why it is the solution to the issues the world is facing. Here are links to three related sermons: The World's False Gospel, The Gospel of the Kingdom: From the New and Old Testaments, and The Kingdom of God is the Solution.
The Times of the Gentiles Has there been more than one time of the Gentiles? Are we in it now or in the time of Anglo-America? What will the final time of the Gentiles be like? A related sermon is available and is titled: The Times of the Gentiles.
Are You Being Called by God? Norman Shoaf wrote various points to consider.
Is God Calling You? Alfred E Carrozzo wrote this.
What Did Christ Mean – Many Are Called, But Few Are Chosen? This article was by Raymond McNair.
Anglo – America in Prophecy & the Lost Tribes of Israel Are the Americans, Canadians, English, Scottish, Welsh, Australians, Anglo-Saxon (non-Dutch) Southern Africans, and New Zealanders descendants of Joseph? Where are the lost ten-tribes of Israel? Who are the lost tribes of Israel? What will happen to Jerusalem and the Jews in Israel? Will God punish the U.S.A., Canada, United Kingdom, and other Anglo-Saxon nations? Why might God allow them to be punished first? Here is a link to the Spanish version of this article: Anglo-América & las Tribus Perdidas de Israel. Information is also in the YouTube sermons titled Where are the Ten Lost Tribes? Why does it matter? and British are the Covenant People. A short YouTube of prophetic interest may be Barack Obama and the State of the Apocalypse.
Will the Anglo-Saxon Nations be Divided and Have People Taken as Slaves? Will the lands of the United States, United Kingdom, Canada, Australia, and New Zealand be divided? What about Jerusalem? What does Bible prophecy teach? Are there non-biblical prophecies that support this idea? Who will divide those lands? Who will end up with the lands and the people? Here is a link to a video titled Will the USA and other Anglo-nations be Divided and Their People Made Slaves? Here is a related item in the Spanish language ¿Serán divididas las naciones anglosajonas?
There is a Place of Safety for the Philadelphians. Why it May Be Petra This article discusses a biblical 'place of safety' and includes quotes from the Bible and Herbert W. Armstrong on this subject–thus, there is a biblically supported alternative to the rapture theory. There is also a video on the subject: Might Petra be the Place of Safety?
Donald Trump in Prophecy Prophecy, Donald Trump? Are there prophecies that Donald Trump may fulfill?  Are there any prophecies that he has already helped fulfill?  Is a Donald Trump presidency proving to be apocalyptic?  Two related videos are available: Donald: 'Trump of God' or Apocalyptic? and Donald Trump's Prophetic Presidency.
Trump Presidency Magic 8 Ball or Bible Prophecy? BBC reported that one might as well use a 'Magic Eight-Ball' to try to predict what will happen in the remaining time of Donald Trump's presidency. What is a 'Magic Eight-Ball'? Dr. Thiel not only explains that, but also briefly goes over 10 biblically-based warnings he wrote would happen if Donald Trump were elected that have already began to come to pass. He also goes over something he wrote back in 2008 that the Trump presidency is also helping lead to fulfillment. Should you trust Bible prophecy or not? Dr. Thiel says that Bible prophecy can be trusted, despite the view of skeptics and others that either overlook or despise the Bible. This is a video.
Donald Trump and America's Apocalypse This 188 page book is for people truly interested in prophecies related to Donald Trump and the United States, including learning about several that have already been fulfilled and those that will be fulfilled in the future. The physical book can be purchased at Amazon for $12.99 from the following link: Donald Trump and America's Apocalypse.
Donald Trump and America's Apocalypse-Kindle Edition This electronic version of the 188 page print edition is available for only US$3.99. And you do not need an actual Kindle device to read it. Why? Amazon will allow you to download it to almost any device: Please click HERE to download one of Amazon s Free Reader Apps. After you go to for your free Kindle reader and then go to Donald Trump and America's Apocalypse-Kindle Edition.