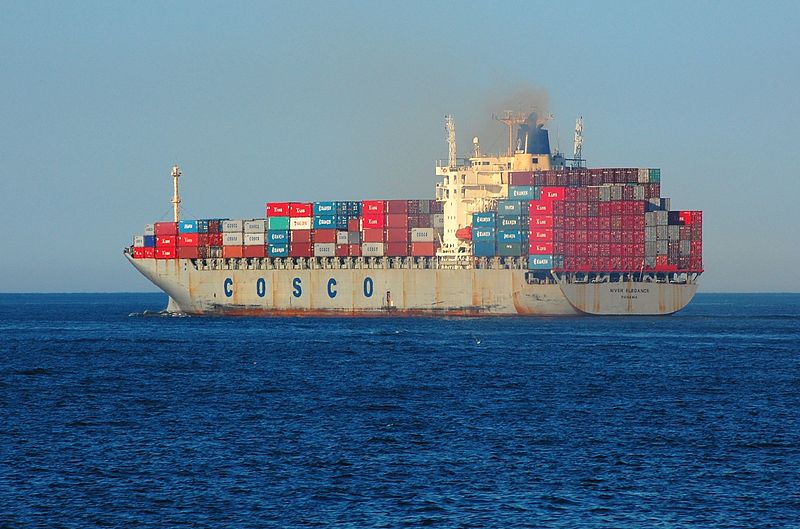 Chinese COSCO Freighter (Fletcher6)

The following headline caught my attention:
Are America And China Destined For War?

March 27, 2017

Knowing the odds history has given us, is war between China and America unstoppable?

To answer such questions, we first need to understand the complexity that is the US-China relationship. In fact, there are two US-China relationships.

The first, is the economic relationship. At least until the election of Donald Trump, many scholars and Asia hands would argue that both sides prospered from their deep economic ties. US-China bilateral trade in goods and services has skyrocketed since the two nation's opened their doors to each other in 1971 and is now more than US$600 billion per year. Trade between both Washington and Beijing has made both countries wealthier with millions of jobs created on both sides of the Pacific.

The second part is the strategic relationship — something that was bound to become strained after the collapse of the Soviet Union, the real threat that brought America and China together. Without a common foe, tensions on both sides have begun to grow. Washington and Beijing now face off in various parts of the Asia-Pacific with no letup in sight.

Such an odd, dual-sided relationship, filled with equal promise and peril, made sense for decades. When times got tough — look no further than the 1995-1996 Taiwan Crisis, the 1999 Chinese Embassy bombing, the 2001 EP-3 Crisis and many other smaller incidents — the dangers of severing the economic relationship always seemed to smooth out any talk of a rupture. But with Trump and advisers such as Death by China author Peter Navarro calling into question the economic benefits of trade with Beijing, the one thing that always seemed to anchor relations in times of trouble seems to be at an end.

Why Destined for War is a must read:

To be fair, there are many great articles, long-form pieces and books that detail the dangers of a US-China military clash and how to avoid it. So why read this one?

I offer three reasons: Comprehensiveness, readability and telling hard truths most Asia experts here in Washington won't want to hear.

In the interests of full disclosure, I have published Allison's works on many occasions as Executive Editor of the National Interest, but Allison's efforts in Destined for War will surely be praised, and for good reasons. …

But some will likely have a problem with some of what the work offers. For example, he compares Xi Jinping and Donald Trump as two men who have similar goals: to make their nations great again. At the same time, Allison boldly, and quite correctly, couches China's quest for primacy in Asia as something like what the United States did when it rose to power almost a century ago. While clearly stating that China has not acted as aggressively as America did in the past, especially back around the turn of century during the time of President Theodore Roosevelt, Allison skillfully hints at what could occur if China were to take such a step — and embark on a real path to war. http://www.zerohedge.com/news/2017-03-26/are-america-and-china-destined-war
China wants world domination and the USA is in its way. Trade wars between the USA and China may well occur. While we can expect even military skirmishes between the USA and China, no, China and the USA are not going to start World War III (see also World War III: Steps in Progress). However, I believe that the Chinese will assist Europe in its conquering of the USA (Daniel 11:39; see also USA in Prophecy: The Strongest Fortresses), and could do this in several ways.
Notice something that Reuters reported that China is involved in:
March 27, 2017

Chinese state firms have expressed an interest to develop land around the Panama Canal, the chief executive of the vital trade thoroughfare said, underlining China's outward push into infrastructure via railways and ports around the world.

The Panama Canal Authority will officially open a tender to develop about 1,200 hectares of land – roughly the size of 1,200 football fields – around the waterway by the end of this year into a logistics park, after completing a five-year-long decontamination of the area, Chief Executive Jorge Quijano said.

"We have been talking to people here in China," Quijano told Reuters on Monday ahead of a meeting with the canal's advisory board in Shanghai. China Communications Construction Corp (601800.SS)(1800.HK), its subsidiary China Harbour Engineering Company and China Railway Group (601390.SS)(0390.HK) have shown interest in the project, he added.

This comes at a time when China is urging its companies to invest in infrastructure overseas as part of Beijing's "One Belt, One Road" initiative to improve global trade links. http://www.reuters.com/article/us-panama-canal-land-idUSKBN16Y13J
The USA used to completely control the Panama Canal. And now China does to a significant degree–and it is trying to have more dominance. Cutting off the Panama Canal could greatly hurt the USA economically and militarily, and China is more and more in a position to do that. Perhaps I should add that my family and I visited the Panama Canal a few months ago and even produced a video about it (watch The Panama Canal and its Impact on Biblical Prophecy). The USA's gain and loss of it is consistent with biblical prophecies (see also Will the UK Lose Gibraltar and the Falkland Islands?).
The reference in the "One Belt, One Road" initiative related to the Panama Canal was interesting, as before I read that, I saw the following article regarding Australia and China:
March 27, 2017

China's Foreign Affairs Ministry produced an official to say: "In the future we would like our friends in Australia to discard … ideological prejudice and take the right approach to China."

This was headlined in the Financial Review as "China Rebukes Bishop on Eve of Li's Visit."

In this line of thinking, where Australia should shut up and live in fear of China, we were surely in line to receive not just a kicking but a triple kicking.

Because Australia last week signed a letter, together with 10 other nations including Canada, Japan, Germany and Britain, asking China to stop torturing human rights lawyers.

And, at the same time, the Turnbull government had rejected a Chinese overture to join its signature infrastructure plan. The Beijing government wanted Australia's northern development plans to come under the rubric of its ambitious "One Belt, One Road" initiative, but was rebuffed. …

Why bouquets, not brickbats, for Australia?

Two simple reasons. One, China has been accelerating every aspect of its engagement with Australia for years now because Australia is useful to its long-term needs.

Two, China sees an historic opportunity to hasten the end of US military and strategic domination of the Asia-Pacific. This opportunity is a gift straight from Donald Trump.

Central to breaking US dominance is the breaking of the US alliance system. Australia is a vital part of that system. China is charming Australia in the hope of luring it out of America's sphere.

Does this mean China will never try to kick Australia? It does not.

Australia's economic relationship with China has flourished …, "but this flourishing relationship also gives … China the increased ability to threaten and use economic coercion in its relations with Australia.
With the election of Donald Trump and his executive order to stop the TPP agreement, this has emboldened China to move to increase trade ties all around the world. And yes, China wants Australia to be free of its military ties with the USA.
China wants to dominate trade around the world and its "One Belt, One Road" initiative is one way it is hoping to do that with trade. (It is also building a 'Silk Road' that could be involved in getting troops to gather for Armageddon (see Might the USA back China's 'road to Armageddon'?).
As far as Australia goes, despite current financial benefits, the situation with China will NOT end well.
Decades ago, the old Radio Church of God earlier warned of a threat from Asia in general, and China in particular, to Australia:
Simply because of her geographical situation, Australia is a land of opportunity. Yes, OPPORTUNITY- opportunity for the teeming masses of Asia! …

lndonesia is only ONE of Australia's worries!

Still further to the north lies the sprawling mainland of Red China. Standing on the Baok of China, like a sentinel on the alert, is the booming, highly industrialized nation of Japan with its progressive millions!

Australia is in trouble-and doesn't know it! (Armstrong GT. Australia's Deadly Peril! Plain Truth, February 1963, p. 9)

What if Britain Enters the Common Market? …

Faced with this potential effecr of the Common Market-Australia has been FORCED to look hopefully toward ASIA for new and expanded outlets for its produce! …

Australia, like all of Israel, is headed toward captivity! …

Just as ancient Israel made the mistake of seeking to the Gentile nations for her protection, making pacts and treaties, instead of trusting in God-so is modern-day Israel guilty of the same sin! Australia at the present time is linked with Gentile nations as a member of SEATO, the Southeast Asian Treaty Organization. She like other nations of Israel, is looking to Gentile nations for protection from her potential enemies.

This practice God condemns. …

While the United States and Great Britain are faced with the prophesied revival of the "beast," a union of ten powerful nations in Europe, forming the rebuilding of the ancient Roman Empire, Australia may well be taken over by an entirely different enemy! Australia, trying to populate and industrialize to stave off Communism, may become the SLAVES OF COMMUNISTS! And -make no mistake about it-aggression is actually BEING PLANNED against Australia! (Armstrong GT. Australia's Deadly Peril! Plain Truth, February 1963, pp. 42-44)
Well, Britain did enter the old Common Market and as the 1963 article indicated, Australia has become more and more dependent upon Asian markets. Furthermore, as the 1963 article suggested, Australia is becoming vulnerable for captivity from China.
Anyway, I expect problems in Australia and its eventual loss of sovereignty. I also expect New Zealand to lose its sovereignty. Though it is likely that the USA and UK will lose theirs first (Canada too, will lose its sovereignty).
This Asian threat to Australia and New Zealand is  something I started warning about in writing back in 2009. Perhaps I should mention that I had not seen the warnings from the old Radio Church of God until July 14, 2016–but did find it intriguing that we seem to be on the same page.
So while Australia, New Zealand, and others will look more towards China, I believe that this will have s huge cost (watch Are Chinese threats against Australia for real?).
One day I believe that the Asians, including the Chinese, will decide to takeover the lands of Australia and New Zealand.
The following prophecies from Ezekiel and Isaiah seem to suggest that the Asians will end up with peoples, which would probably include Anglo-Saxon descended ones, like those in Australia and New Zealand (both of which have a lot of pasture land):
13 Javan, Tubal, and Meshech were your traders. They bartered human lives and vessels of bronze for your merchandise. 14 Those from the house of Togarmah traded for your wares with horses, steeds, and mules. (Ezekiel 27:13-14)

9 That You may say to the prisoners, 'Go forth,' To those who are in darkness, 'Show yourselves.' "They shall feed along the roads, And their pastures shall be on all desolate heights. 10 They shall neither hunger nor thirst, Neither heat nor sun shall strike them; For He who has mercy on them will lead them, Even by the springs of water He will guide them. 11 I will make each of My mountains a road, And My highways shall be elevated. 12 Surely these shall come from afar; Look! Those from the north and the west, And these from the land of Sinim. (Isaiah 49:9-12)
It should also be mentioned that the bartering above also includes sales of people to the Europeans (Revelation 18:9-13)–Europe will rise up to be a major trading power, and will, for a time, cooperate more with China.
While Australia and New Zealand may now feel that they have no choice but to edge towards China, this will not end up well for them (see also Anglo – America in Prophecy & the Lost Tribes of Israel and Will the Anglo-Saxon Nations be Divided and Have People Taken as Slaves?).
Some items of possibly related interest may include:
Anglo – America in Prophecy & the Lost Tribes of Israel Are the Americans, Canadians, English, Scottish, Welsh, Australians, Anglo-Saxon (non-Dutch) Southern Africans, and New Zealanders descendants of Joseph? Where are the lost ten-tribes of Israel? Who are the lost tribes of Israel? What will happen to Jerusalem and the Jews in Israel? Will God punish the U.S.A., Canada, United Kingdom, and other Anglo-Saxon nations? Why might God allow them to be punished first? Here is a link to the Spanish version of this article: Anglo-América & las Tribus Perdidas de Israel. Information is also in the YouTube sermons titled Where are the Ten Lost Tribes? Why does it matter? and British are the Covenant People. A short YouTube of prophetic interest may be: Are Chinese threats against Australia for real?
Will the Anglo-Saxon Nations be Divided and Have People Taken as Slaves? Will the lands of the United States, United Kingdom, Canada, Australia, and New Zealand be divided? What about Jerusalem? What does Bible prophecy teach? Are there non-biblical prophecies that support this idea? Who will divide those lands? Who will end up with the lands and the people? Here is a link to a video titled Will the USA and other Anglo-nations be Divided and Their People Made Slaves? Here is a related item in the Spanish language ¿Serán divididas las naciones anglosajonas?
British are the Covenant People What do 'British' and 'Britain' mean in Hebrew? Are the descendants of the Anglo-Saxons people of the covenant? Does the British royal family connect to the throne of David? What does the Bible teach? What does history show us? Is there any DNA evidence related to British-Israelism? When did Christianity make it to the British Isles? Could Jeremiah have made it to the British Isles? What type of Christians made it to the British Isles? Did the last King of England believe in British Israelism?
The Panama Canal and its Impact on Biblical Prophecy Do you know much of the history of the Panama Canal? Is there anything in the Bible to support the idea that the USA could have gotten it and then lost it? Dr. Thiel goes over aspects of the history of the Panama Canal, as well as biblical prophecies related to it and some of the other "sea gates" that the UK and USA have controlled. This was videoed at the actual Miraflores locks at the Panama Canal and some of the audio varies.
Will the UK Lose Gibraltar and the Falkland Islands? Spain wants Gibraltar and Argentina wants the Falklands (also known as the Malvinas). Does the Bible give clues as to what will happen with these 'sea gates'? A related video would be Will the UK Lose Gibraltar and the Falkland Islands? A version in Spanish ¿Perderá el Reino Unido a Gibraltar y las Islas Falkland (Malvinas)? Here is a version in Mandarin Chinese 英国将失去直布罗陀和福克兰群岛.
Who is the King of the North? Is there one? Do biblical and Roman Catholic prophecies for the Great Monarch point to the same leader? Should he be followed? Who will be the King of the North discussed in Daniel 11? Is a nuclear attack prophesied to happen to the English-speaking peoples of the United States, Great Britain, Canada, Australia, and New Zealand? When do the 1335 days, 1290 days, and 1260 days (the time, times, and half a time) of Daniel 12 begin? When does the Bible show that economic collapse will affect the United States? In the Spanish language check out ¿Quién es el Rey del Norte? Here is a link to a video titled: The Future King of the North.
World War III: Steps in Progress Are there surprising actions going on now that are leading to WWIII? Might a nuclear attack be expected? Does the Bible promise protection to all or only some Christians? How can you be part of those that will be protected? A related video would be Is World War III About to Begin? Can You Escape?
China, Its Biblical Past and Future, Part 1: Genesis and Chinese Characters Where did the Chinese people come from? This article provides information showing that the Chinese peoples must have known about various accounts in the Book of Genesis up until their dispersion after the Tower of Babel. Here is a link to a version of this article in Spanish: ¿Prueban los caracteres chinos la exactitud de la Biblia?
China, Its Biblical Past and Future, Part 2: The Sabbath and Some of God's Witness in China When did Christianity first come to China? And is there early evidence that they observed the seventh day sabbath?
Asia in Prophecy What is Ahead for Asia? Who are the "Kings of the East"? What will happen to nearly all the Chinese, Russians, Indians, and others of Asia? China in prophecy, where? Who has the 200,000,000 man army related to Armageddon? A YouTube video of interest may be Is China THE Threat to the United States of America?
When Will the Great Tribulation Begin? 2017, 2018, or 2019? Can the Great Tribulation begin today? What happens before the Great Tribulation in the "beginning of sorrows"? What happens in the Great Tribulation and the Day of the Lord? Is this the time of the Gentiles? When is the earliest that the Great Tribulation can begin? What is the Day of the Lord? Who are the 144,000? Here is a version of the article in the Spanish language: ¿Puede comenzar la Gran Tribulación en 2016 o 2017? ¿Es el Tiempo de los Gentiles? You can also see the English language sermon videos: The Great Tribulation from the Mount of Olives and Can the Great Tribulation begin before 2020? A shorter video is: Will the Great Tribulation Start in 2017?
Does God Have a 6,000 Year Plan? What Year Does the 6,000 Years End? Was a 6000 year time allowed for humans to rule followed by a literal thousand year reign of Christ on Earth taught by the early Christians? Does God have 7,000 year plan? What year may the six thousand years of human rule end? When will Jesus return? 2024 or 20xx? There is also a video titled The 6000 Year Plan: Is the end of humanity's reign almost up? Here is a link to the article in Spanish: ¿Tiene Dios un plan de 6,000 años?The Gospel of the Kingdom of God was the Emphasis of Jesus and the Early Church Did you know that? Do you even know what the gospel of the kingdom is all about? You can also see a YouTube video sermons Why Teach the Kingdom of God, The Gospel of the Kingdom, and The Kingdom of God is the Solution.
Europa, the Beast, and Revelation Where did Europe get its name? What might Europe have to do with the Book of Revelation? What about "the Beast"? Is an emerging European power "the daughter of Babylon"? What is ahead for Europe? Here is a link to a video titled: Can You Prove that the Beast to Come is European?
European Technology and the Beast of Revelation Will the coming European Beast power would use and develop technology that will result in the taking over of the USA and its Anglo-Saxon allies? Is this possible? What does the Bible teach? Here is a related YouTube video: Military Technology and the Beast of Revelation.
Must the Ten Kings of Revelation 17:12 Rule over Ten Currently Existing Nations? Some claim that these passages refer to a gathering of 10 currently existing nations together, while one group teaches that this is referring to 11 nations getting together. Is that what Revelation 17:12-13 refers to? The ramifications of misunderstanding this are enormous. A related sermon is titled Ten Kings of Revelation and the Great Tribulation.
WTO/TTIP and the Babylonian Beast Will international trade agreements like WTO/TTIP/CETA lead to the fulfillment of end time prophecies concerning the Babylonian Beast power that the Book of Revelation warns against? What does the Bible teach? A related video would be WTO Trade Deal and the Rise of the European Beast Power.
Is the USA now an Evil Empire? Dr. Thiel gives many reasons to consider. A related video is also available: Is the USA an Evil Empire?
USA in Prophecy: The Strongest Fortresses Can you point to scriptures, like Daniel 11:39, that point to the USA in the 21st century? This article does. A related sermon is titled: Do these 7 prophesies point to the end of the USA?
Donald Trump in Prophecy Prophecy, Donald Trump? Are there prophecies that Donald Trump may fulfill? Are there any prophecies that he has already helped fulfill? Could a Donald Trump presidency be apocalyptic? A related video is titled: Donald: 'Trump of God' or Apocalyptic?
Donald Trump and America's Apocalypse This 188 page book is for people truly interested in prophecies related to Donald Trump and the United States, including learning about several that have already been fulfilled and those that will be fulfilled in the future. The physical book can be purchased at Amazon for $12.99 from the following link: Donald Trump and America's Apocalypse.
Donald Trump and America's Apocalypse-Kindle Edition This electronic version of the 188 page print edition is available for only US$3.99. And you do not need an actual Kindle device to read it. Why? Amazon will allow you to download it to almost any device: Please click HERE to download one of Amazon s Free Reader Apps. After you go to for your free Kindle reader and then go to Donald Trump and America's Apocalypse-Kindle Edition.