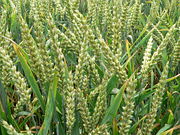 Wheat: How Long Will There Be Enough of It?
Drought is affecting many parts of the world, including South America:
Argentina declares drought crisis
Argentina has declared an agricultural emergency as it confronts one of the worst droughts in decades.
President Cristina Fernandez said the decree would defer tax payments for thousands of farmers for a year.
Farmers' leaders had been calling for action to tackle the drought, which is estimated to have caused losses of at least $4bn (£2.8bn).http://news.bbc.co.uk/1/hi/world/americas/7852886.stm
GRAINS-U.S. grains mixed as Argentina awaits rain
Reuters – Jan 28, 2009
SYDNEY (Reuters) – U.S. corn and soybeans futures rose slightly on Wednesday, boosted by firmer crude prices and a lower dollar, but attention remained focused on the weather outlook for Argentina, where crops are threatened by the worst drought in 48 years.
Rain is forecast early next week but doubt remains whether the expected wet weather will be sufficient to save crops such as corn, now at the crucial pollinating stage.
Argentina is the world's second largest corn exporter and third largest soybeans exporter.
"There's export orders going through the market and all sorts of bits and pieces going round, but really everyone is waiting on further weather updates from Argentina," said Garry Booth, a trader at MF Global Australia.
"If the drought continues to get worse it will cause significant damage so that's determining prices day-to-day."
Booth said analysts had suggested there had been definite yield damage in the Argentinian/Brazilian corn crop but its extent would not be known for a while…
Argentina's government is considering restricting the issue of wheat export permits to ensure domestic supplies.
Australia's largest wheat exporter, CBH Group, said a reduction in Argentine exports could have some impact on prices. http://www.forbes.com/feeds/reuters/2009/01/28/2009-01-28T073425Z_01_SYD69454_RTRIDST_0_MARKETS-GRAINS-UPDATE-2.html
What many people do not seem to realize is that nations that export food, tend to do less of that when their own people have shortages.  Nations that import food (which increasingly now includes the USA) are vulnerable to crop reductions in other nations.
Eventually, the Bible foretells a time of major famines (Luke 21:11), as well as a time that wheat will become very expensive:
6 And I heard a voice in the midst of the four living creatures saying, "A quart of wheat for a denarius, and three quarts of barley for a denarius; and do not harm the oil and the wine." (Revelation 6:6)
Now how expensive is that?  Notice the following:
Rev 6:1-8
The Roman coin denarius…was the equivalent of a man's wages for a day of work (from The Wycliffe Bible Commentary, Electronic Database. Copyright (c) 1962 by Moody Press).
To put this in perspective, it takes someone earning minimum wage to make enough (in California) working only about 25 minutes to purchase a quart of wheat.  So, wheat would be about 17 times as expensive as it is now.  And of course, working all day just for a quart of wheat leaves no money for anything else!
And while I feel that the medium term economic outlook for Argentina, Brazil, and much of South America is bright, it will not remain that way during the coming Day of the Lord.
Some articles of possibly related interest may include:
Mexico, Central America, South America, and Brazil in Prophecy [Español: México, America Central, Suramérica, y el Brasil en profecíal] [Português: México, América Central, Ámérica do Sul, e Brasil na profecia] What will happen to those of Latin America? Will they have prosperity? Will they cooperate with Europe? Will they suffer in the future? What rule might the various Caribbean nations/territories play?
Does God Have a 6,000 Year Plan? What Year Does the 6,000 Years End? Was a 6000 year time allowed for humans to rule followed by a literal thousand year reign of Christ on Earth taught by the early Christians? When does the six thousand years of human rule end?
Can the Great Tribulation Begin in 2009, 2010, or 2011? Can the Great Tribulation begin today? When is the earliest that the Great Tribulation can begin? What is the Day of the Lord?
End of Mayan Calendar 2012–Might 2012 Mean Something? There is a Mayan calendar prediction for change in 2012. 2012 changes were also centuries ago predicted by the Hopi Native Americans (the Hindus may have some predictions for the next decade as well). Do these Mayan/Hindu/Hopi prophecies have any value? Why might Satan have inspired this date? Does the Dresden codex show destruction of the earth by flood? Can the great tribulation start before 2012?