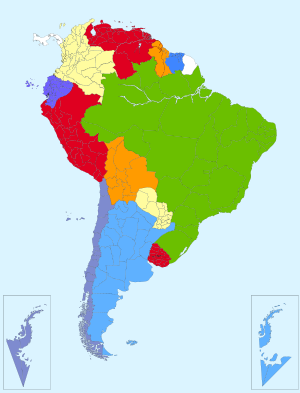 (Illustration by Camilo Sanchez)
Argentina is indicating that it has some international weight:
Argentina launches naval campaign to isolate Falkland Islands

Argentina has launched a naval campaign to isolate the Falkland Islands that has seen it detain Spanish fishing vessels on suspicion of breaking the country's "blockade" of the seas around the British territories.

Argentina flirts with Iran as West watches nervously

Times of India – Dec 5, 2011

Argentina is quietly reaching out to Iran, worrying key Western powers and Israel as they try to tighten Tehran's international isolation over its nuclear program, UN diplomats told Reuters…Argentine exports to Iran, which dropped to a few tens of millions of dollars annually amid sour relations, have grown in recent years, soaring more than 70 percent last year to $1.5 billion. Iran is the biggest buyer of Argentine corn, a key crop for the Latin American country as it strives to bolster its trade surplus.   http://timesofindia.indiatimes.com/world/us/Argentina-flirts-with-Iran-as-West-watches-nervously/articleshow/10995416.cms

The British have been losing influence all over the world, including the Western Hemisphere.  The Falkland Islands is one of the old empire's remaining "sea gates" and Argentina has tried a variety of tactics to obtain it over the years.  The current move is certainly potentially provocative.
As far as Iran goes, Argentina may be going in a very different direction than the US and UK towards it as the following indicates:
Has the War with Iran Already Begun?

The evidence of an extensive Western covert program against Tehran, and Iranian retaliation, is now too obvious to ignore

National Journal – Dec 4, 2011

Two incidents that occurred on Sunday—Iran's claim of a shoot-down of a U.S. drone, and an explosion outside the British embassy in Bahrain—may have been unrelated. But they appear to add to growing evidence that an escalating covert war by the West is under way against Iran, and that Tehran is retaliating with greater intensity than ever.  http://www.nationaljournal.com/has-the-war-with-iran-already-begun–20111204?page=1
It may be that we are close to a regional war in the Middle East.  It also seems that Iran, Saudi Arabia, and others are taking steps:
Iran's Revolutionary Guards prepare for war

Iran's Growing Latin American Ties Raise US Terror Fears

Published December 06, 2011  NewsCore
An alleged plot by Iran to hire a hit man from a Mexican cartel shed light on Iran's growing presence in Latin America and the difficulties that poses for Washington…US officials say they were sufficiently concerned about Iranian terror links to South America that they briefed Argentine officials in May about the alleged Iranian plot to kill the Saudi ambassador, for fear the Iranians might carry out similar attacks against US, Saudi or Israeli interests in Argentina and other Latin American nations.http://latino.foxnews.com/latino/news/2011/12/06/irans-growing-latin-american-ties-raise-us-terror-fears/#ixzz1fm0FurZN

"Cold War" with Iran heats up across Mideast

Saudi may join nuclear arms race: ex-spy chief

AFP – Dec 5, 2011
I have been warning for almost two years that Saudi Arabia has been interested in nuclear weapons and may have already made a back-up deal with Pakistan in order to acquire them in case it felt it really needed them in that country (see Pakistan's Nuclear Weapons, Saudi Arabia, and the King of the South, More on Saudi Nuclear Ambitions, and Saudi's Say They Will Get Nukes if Iran Does).
As I have also written for quite some time, it may take a regional war to bring about the likely peace deal of Daniel 9:26-27.  We will see if that is the case, especially since it looks like there could be a regional war before the end of 2012.
The economy of Argentina may be affected by a regional war involving Iran.
As far as Argentina itself goes, it is my belief that based upon biblical prophecy that most of South America will ultimately align itself with the rising European power.  And includes Argentina.
Some articles of possibly related interest may include:
Mexico, Central America, South America, Brazil, and the Caribbean in Prophecy [Español: México, America Central, Suramérica, y el Brasil en profecíal] [Português: México, América Central, Ámérica do Sul, e Brasil na profecia] What will happen to those of Latin America? Will they have prosperity? Will they cooperate with Europe? Will they suffer in the future? What rule might the various Caribbean nations/territories play?
Islands and Bible Prophecy What's ahead for islands? What does the Bible prophesy about them?
Anglo – America in Prophecy & the Lost Tribes of Israel Are the Americans, Canadians, English, Scottish, Welsh, Australians, Anglo (non-Dutch) Southern Africans, and New Zealanders descendants of Joseph? Where are the lost ten-tribes of Israel? Who are the lost tribes of Israel? What will happen to Jerusalem and the Jews in Israel? Will God punish the U.S.A., Canada, United Kingdom, and other Anglo nations? Why might God allow them to be punished first?
Is There A Future King of the South? Some no longer believe there needs to be. Might Egypt, Islam, Iran, Arabs, or Ethiopia be involved? Might this King be called the Mahdi? What does the Bible say?
The Arab and Islamic World In the Bible, History, and Prophecy The Bible discusses the origins of the Arab world and discusses the Middle East in prophecy. What is ahead for the Middle East and those who follow Islam? What about the Imam Mahdi? What lies ahead for Turkey, Iran, and the other non-Arabic Muslims?