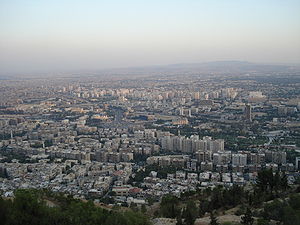 Damascus, Capital of Syria
Syrian government troops, as well as opposition troops, both claim to have made military progress:
January 12, 2013Syrian troops have captured most of a strategic Damascus suburb used by rebels as a base to threaten key regime facilities in the capital, a government official said Saturday.

The announcement that regime forces had taken Daraya came a day after anti-government activists said rebels and Islamic militants seeking to topple President Bashar Assad took full control of Taftanaz air base in the northwest. That dealt a significant blow to Assad's military, with helicopters, tanks and multiple rocket launchers seized.  http://www.ynetnews.com/articles/0,7340,L-4331569,00.html
The first part of above seems to be given the Assad regime hope as well as more time.  The second would seem to have the opposite affect.
Yet, both biblical and Islamic prophecy tell of the destruction of at least parts of Syria, such as Damascus. Here is some of what Bible prophecies teaches:
7 thus says the Lord God: "It shall not stand, Nor shall it come to pass. 8 For the head of Syria is Damascus (Isaiah 7:7-8)

3 Thus says the Lord: "For three transgressions of Damascus, and for four, I will not turn away its punishment, Because they have threshed Gilead with implements of iron. (Amos 1:3)

1 The burden against Damascus. "Behold, Damascus will cease from being a city, And it will be a ruinous heap. (Isaiah 17:1)

23 Against Damascus. "Hamath and Arpad are shamed, For they have heard bad news. They are fainthearted; There is trouble on the sea; It cannot be quiet. 24 Damascus has grown feeble; She turns to flee, And fear has seized her. Anguish and sorrows have taken her like a woman in labor. 25 Why is the city of praise not deserted, the city of My joy? 26 Therefore her young men shall fall in her streets, And all the men of war shall be cut off in that day," says the Lord of hosts. 27 "I will kindle a fire in the wall of Damascus, And it shall consume the palaces of Ben-Hadad." (Jeremiah 49:23-27)
While this destruction could come as the result of the current civil war (and that is likely to be a factor), the reality is that the Syrian rebel forces at this instant may not have the military ability to do so (but because they are getting outside assistance, they may be able to do so soon).  Because the Bible suggests that Syria will be involved in a confederation of North African and Middle Eastern nations (Ezekiel 30:1-8; Psalm 83:4-8) who will support a leader that the Bible refers to as the final King of the South (Daniel 11:40-43), this likely means that the Assad regime will have to at least change, if not completely fall.
Interestingly, there are various Islamic views on an Muslim leader, sometimes called the Imam Mahdi rising up (who could be the King of the South of Daniel 11:40-43) in a time related to Syria. Here is one that suggests this Islamic leader does so after Syria has problems:
Traditions have been reported mentioning the signs for the time of the appearance of the Imam who will arise (qa'im), peace be on him, and the events which will take place before his appearance, together with the indications and features of it. Among them are: The Sufyani will come out in revolt; the Hasanid will be killed; the Abbasids will dispute over worldly kingdom…the people of Egypt will kill their ruler and destroy Syria; and three standards will dispute over it (Syria)…

The Abbasids will dispute; a voice will call from the sky; one of the villages of Syria called al-Jabiyya will be swallowed up; the Turks will occupy the region of al-Jazira; the Byzantines will attack al-Ramla; at that time there will be much conflict throughout the land until Syria is destroyed.  (Kitab al Irshad Chapter: The Twelfth Imam (Peace be on him) Page (s): 541 – 548 Published by Tehrike Tersile Qura'n. Contributed by Br. Ali Abbas, abbas@seas.gwu.edu http://www.al-islam.org/masoom/bios/12thimam.html viewed 7/22/12)
So, there are biblical and Islamic prophecies suggesting destruction to at least parts of Syria and the rise of a leader in that region.  And while I am relying on biblical prophecy, it may be that some in the Islamic world may decide that Islamic prophecy is encouraging them to change the situation currently in Syria.
Yet, partially because of the internal civil war in Syria, Syria's President Assad may decide that attacking Israel, probably in conjunction with support from Iran, is his best carnal option (which could include supporting Iran if it attacks Israel or Israel attacks it). Attacking Israel, however, will not be his best option (he should repent and probably leave office), though he may do that. Since the Bible suggests that Syria will support the coming final King of the South it will come to pass.
More trouble is coming to Damascus as it will be destroyed (Isaiah 17:1). An Islamic confederation that will include the land of Syria is coming (Daniel 11:40-43; Ezekiel 30:1-8; Psalm 83:4-8) is coming.
"And what I say to you, I say to all: Watch!" (Mark 13:37).
Some articles of possibly related interest may include:
Is There A Future King of the South? Some no longer believe there needs to be. Might Egypt, Islam, Iran, Arabs, or Ethiopia be involved? Might this King be called the Mahdi? What does the Bible say?
The Arab and Islamic World In the Bible, History, and Prophecy The Bible discusses the origins of the Arab world and discusses the Middle East in prophecy. What is ahead for the Middle East and those who follow Islam? What about the Imam Mahdi? What lies ahead for Turkey, Iran, and the other non-Arabic Muslims?