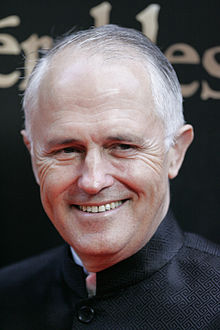 Malcolm Turnbull (Photo credit Eva Rinaldi)

The Liberal Party in Australia voted to change prime ministers today:
September 14, 2015

Australia is to have a new prime minister after Tony Abbott was ousted as leader of the Liberal Party by cabinet minister Malcolm Turnbull.

In the hastily-arranged party leadership ballot, Mr Abbott, who had been plagued by poor opinion polls, received 44 votes to Mr Turnbull's 54. …

Mr Turnbull will be Australia's fourth prime minister since 2013. …

Many in his party dislike his support for climate change action and gay marriage http://www.bbc.com/news/world-australia-34245005
Malcolm Turnbull is a former Protestant who switched to become Roman Catholic, but holds various positions in opposition to the Bible, as well as his church.
Here is some background information about him:
Malcolm Turnbull was born on 24 October 1954 to Bruce Bligh Turnbull and Coral Magnolia Lansbury. His father was a hotel broker; his mother was a radio actor, writer and academic and a cousin of the British film and television actor Angela Lansbury.  …

In 1978, Turnbull won a Rhodes Scholarship and attended Brasenose College, Oxford, where he studied for a Bachelor of Civil Law between 1978 and 1980, eventually graduating with Honours. While at Oxford, he worked for The Sunday Times as well as contributing to newspapers and magazines in the United States and Australia.

After graduating with honours from Oxford, Turnbull returned to Australia and began working as a barrister. …

In 1987, he established an investment banking firm, Whitlam Turnbull & Co Ltd, in partnership with Neville Wran (a former Labor Premier of New South Wales) and the former State Bank of New South Wales chief executive, Nicholas Whitlam (son of Gough Whitlam, a former Labor Prime Minister of Australia). ….

Turnbull was Federal Treasurer of the Liberal Party and a member of the party's federal and New South Wales executives from 2002 to 2003 and was a director of the Menzies Research Centre, the Liberal Party's research centre. …

Religion

Although Turnbull is a convert to Roman Catholicism from Presbyterianism,he has found himself at odds with the church's teaching on abortion, stem cell research and gay marriage.Turnbull supported legislation relaxing restrictions on abortion pill RU486 and he also voted for the legalisation of somatic cell nuclear transfer (therapeutic cloning).  He did so despite the vocal public opposition to both proposals by Cardinal George Pell, at the time, the Archbishop of Sydney.

Personal wealth

In 2005, the combined net worth of Malcolm and Lucy Turnbull was estimated at A$133 million, making him Australia's richest parliamentarian until the election of billionaire Clive Palmer in the 2013 elections. (Malcolm Turnbull.  Wikipedia, accessed 09/14/15)
His support of abortion and the homosexual agenda sounds like all the Democratic candidates for the USA presidency.  His support of human stem cell research reminds me of at least one the USA's Republican candidates, whereas his conversion to Roman Catholicism reminds me of another Republican candidate.
We will see how many Roman Catholic leaning leaders the USA and its Anglo-Saxon descended allies like Australia will have at the end.  Many leaders in those nations have an interfaith and ecumenical agenda that the Bible opposes, but that Pope Francis and the United Nations are pushing (see United Nations: Humankind's Last Hope or New World Order?  Two related videos include UN's 'New Universal Agenda' is a False Gospel! and United Nations and Vatican Are Planning the New World Order).
Since abortion is wrong and homosexual marriage is wrong, Malcolm Turnbull does not have the type of moral leadership that Australia needs.  Notice also the following scriptures:
12… O My people! Those who lead you cause you to err, And destroy the way of your paths." (Isaiah 3:12)

16 For the leaders of this people cause them to err, And those who are led by them are destroyed (Isaiah 9:16).
Malcolm Turnbull holds immoral positions that err.
Malcolm Turnbull is not the real answer for Australia. Australia needs national repentance and the return of Jesus and the Kingdom of God.
Several items of possibly related interest may include:
Anglo – America in Prophecy & the Lost Tribes of Israel Are the Americans, Canadians, English, Scottish, Welsh, Australians, Anglo-Saxon (non-Dutch) Southern Africans, and New Zealanders descendants of Joseph? Where are the lost ten-tribes of Israel? Who are the lost tribes of Israel? What will happen to Jerusalem and the Jews in Israel? Will God punish the U.S.A., Canada, United Kingdom, and other Anglo-Saxon nations? Why might God allow them to be punished first? Here is a link to the Spanish version of this article: Anglo-América & las Tribus Perdidas de Israel. Information is also in the YouTube sermons titled Where are the Ten Lost Tribes? Why does it matter? and British are the Covenant People. A short YouTube of prophetic interest may be Barack Obama and the State of the Apocalypse.
Can you see the 'Handwriting on the Wall'? Thousands of years ago, King Belshazzar saw a hand appear at a big party he was hosting. The hand wrote Mene, Mene, Tekel, Upharsin. Shortly after the Prophet Daniel explained it, his empire was taken over and King Belshazzar died. Is this applicable today? Are there signs right before our eyes that show that the end is coming to the United States and its Anglo-descended allies. Do abortions, sexual immorality, celebrity pornography, and increased debt mean anything? What does the Bible show?
Hillary Clinton in Prophecy Prophecy, Hillary Clinton? Are there prophecies that Hillary Clinton may fulfill? Are there any prophecies that she has already helped fulfill? Could Hillary Clinton be apocalyptic? Could Hillary Clinton be the final Antichrist? A video of related interest is titled Hillary Clinton and Bible Prophecy.
United Nations: Humankind's Last Hope or New World Order? Is the UN the last hope for humanity? Or might its goals end up with sinister results? Two related videos include UN's 'New Universal Agenda' is a False Gospel! and United Nations and Vatican Are Planning the New World Order.
Beware: Protestants Going Towards Ecumenical Destruction! What is going on in the Protestant world? Are Protestants turning back to their 'mother church' in Rome? Does the Bible warn about this? What are Catholic plans and prophecies related to this? Is Protestantism doomed? See also World Council of Churches Peace Plan.
Will the Interfaith Movement Lead to Peace or Sudden Destruction? Is the interfaith movement going to lead to lasting peace or is it warned against? A video sermon of related interest is: Will the Interfaith Movement lead to World War III? and a video sermon is also available: Do You Know That Babylon is Forming?
When Will the Great Tribulation Begin? 2015, 2016, or 2017? Can the Great Tribulation begin today? What happens before the Great Tribulation in the "beginning of sorrows"? What happens in the Great Tribulation and the Day of the Lord? Is this the time of the Gentiles? When is the earliest that the Great Tribulation can begin? What is the Day of the Lord? Who are the 144,000? Here is a version of the article in the Spanish language: ¿Puede comenzar la Gran Tribulación en 2014 o 2015? ¿Es el Tiempo de los Gentiles? You can also see the English language sermon video: The Great Tribulation from the Mount of Olives.
Abortion, the Bible, and a Woman's Right to Choose Do you know what the Bible teaches on this? Has the Roman Catholic Church allowed abortions? What about the real Church of God? Some may also, or instead, wish to view the YouTube video Abortion, the Bible, and US Debt.
Cross-dressing and other assaults against your children. What should you do? Is there an agenda to turn your children and/or grandchildren away from biblical morality and towards practices promoted by homosexuals? What does the Bible teach about cross-dressing? What should parents do? If there is an agenda, what has been going on? There is also a YouTube video on this, titled Cross dressing and Other Assaults Against Your Children.
The Bible Condemns Homosexuality "Same-sex marriage" for "gays" and lesbians is becoming more acceptable to many. What does the Bible teach about homosexuality? Can homosexuals change? A related video sermon is titled What Does the Bible Really Teach about Homosexuality?
Just What Do You Mean — Repentance? Do you know what repentance is? Have you truly repented? Repented of what? Herbert W. Armstrong wrote this as a booklet on this important subject.
The Gospel of the Kingdom of God was the Emphasis of Jesus and the Early Church Did you know that? Do you even know what the gospel of the kingdom is all about? You can also see a YouTube video sermon The Gospel of the Kingdom.