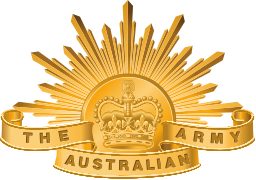 Official logo of the army of Australia

Australian leaders are concerned about China:
Why are Australian officials hinting at war with China?

May 5, 2021

For a country with a much smaller military and no nuclear weapons, Australia is suddenly hinting an awful lot about a war with China. …

Defense Minister Peter Dutton said a conflict with China over Taiwan shouldn't "be discounted," adding that Australians needed to be "realistic" about tensions around the region. In another Anzac Day message, the top official at Australia's powerful Home Affairs department, Mike Pezzullo, told his staff "free nations" were hearing the "drums of war" beating again. …

Prime Minister Scott Morrison announced $580 million in military upgrades. One week on, several newspapers published a confidential briefing by Australia's Maj. Gen. Adam Findlay to special forces soldiers, in which he said conflict with China was a "high likelihood." The idea of Australia fighting a war against China on its own is ridiculous.

Last year, Australia's military spending was about $27 billion, according to the Stockholm International Peace Research Institute. China's was estimated to be 10 times higher, for the same period, at about $252 billion, the second highest in the world.

The Australian government's words, however, may reflect real concerns about the possibility of a Chinese invasion of Taiwan — a conflict that could ultimately involve the entire Asia region and even the US. https://www.cnn.com/2021/05/05/china/australia-china-war-military-mic-intl-hnk/index.html

Top Australian General's Leaked Classified Briefing Says War With China A "High Likelihood"

The leaked content of a fiery anti-China speech and secretive briefing to elite military personnel by one of Australia's top generals has landed on the front pages of major newspapers from Sydney to Melbourne to London on Tuesday. The confidential address issued by Major-General Adam Findlay, who was then commander of Australia's special forces and currently advises the Australian Defense Force, had focused on a coming war with China which he said is a "high likelihood". Publication of the speech's full key controversial contents is now threatening to plunge China-Australia relations past breaking point.

The April 2020 briefing given to the country's most elite special forces units was obtained and first published by The Sydney Morning Herald and The Age, and quickly spread to the front page of London's The Times. The general's words were leaked by anonymous sources. He had detailed that China is now engaged in "grey zone" covert operations against Australian and Western allied interests and that Aussie defense forces must prepare for the "high likelihood" of this turning into direct war.

Major-General Findlay was heard in the leaked briefing saying:

"Who do you reckon the main (regional) threat is?" General Findlay asked his troops and officers before answering: "China." …

In words sure to add more fuel to the fire of Chinese officials' outrage, Findlay was further described as saying China knew "Western democracies have peace, and then, when they cross a line, we get really angry."

"Then we start bombing people. China said, let's be smarter. Let's just play below the threshold, before it goes to war," The Sydney Morning Herald quoted him as saying. …

just the day before the leaked contents were exposed Tuesday, Senator Jim Molan wrote in an op-ed in The Australian newspaper that he believes a war is "likely"…

It wouldn't start as a direct war between Australia and China, but would more likely be a war that Australia could find itself fighting on behalf of its most powerful ally, Senator Molan said.

"Many ordinary Australians, not just those who have personally experienced global conflict, are awakening to the sombre reality that war is not just possible in our region, but likely," he wrote.

"Armed to the teeth, adversaries are maneuvering ships and planes around each other, intimidating and threatening, loaded with real weapons of war, forging alliances."

He said Australia would be making a mistake if leaders do not act now to strengthen a military that is not capable of winning a war against "a peer opponent".

Of course, the "most powerful ally" being referenced here is the United States, 05/04/21 https://www.zerohedge.com/geopolitical/top-australian-generals-leaked-classified-briefing-says-war-china-high-likelihood
The time will come when the USA is defeated militarily (cf. Daniel 11:39; see also USA in Prophecy: The Strongest Fortresses) and Australia will be considered fairly "easy pickens" to use an American expression.
As long-term readers of this COGwriter Church of God News page are aware, China has made military threats against Australia in the past.
China's Global Times published the following nearly five years ago:
'Paper cat' Australia will learn its lesson

07/31/16

Around the announcement of the arbitration tribunal over the South China Sea, Australia was one of the most delirious countries. Canberra immediately supported the arbitration result and claimed China "must" abide by it, and also signed a joint declaration with the US and Japan. Australia has inked a free trade agreement with China, its biggest trading partner, which makes its move of disturbing the South China Sea waters surprising to many.

Australia is a unique country with an inglorious history. It was at first an offshore prison of the UK and then became its colony, a source of raw materials, overseas market and land of investment. This country was established through uncivilized means, in a process filled with the tears of the aboriginals. …

Australia calls itself a principled country, while its utilitarianism has been sizzling. It lauds Sino-Australian relations when China's economic support is needed, but when it needs to please Washington, it demonstrates willingness of doing anything in a show of allegiance.

Analysts say that besides trying to please the US, it also intends to suppress China so as to gain a bargaining chip for economic interests. China must take revenge and let it know it's wrong. Australia's power means nothing compared to the security of China. If Australia steps into the South China Sea waters, it will be an ideal target for China to warn and strike.

Australia is not even a "paper tiger," it's only a "paper cat" at best. At a time when its former caretaker country the UK is dedicated to developing relations with China, and almost the whole of Europe takes a neutral position, Australia has unexpectedly made itself a pioneer of hurting China's interest with a fiercer attitude than countries directly involved in the South China Sea dispute. But this paper cat won't last. http://www.globaltimes.cn/content/997320.shtml
So, China was indicating that Australia is basically illegitimate (established through uncivilized means) and that its power basically means nothing to China. Plus it is indicating that Australia does not have a real military capacity that could do serious damage to China. Furthermore, China must take revenge and let it know it's wrong.
China also has long had eyes on Australia. Notice the following:
24 May 2018

Trade Minister Steven Ciobo sought to downplay reports of strained ties with China after state media said Australia should be punished for its arrogance.

In an interview with Bloomberg Television, Ciobo acknowledged that there were differences of opinion and said dialogue between the two trading partners was critical. But he insisted the relationship was on a sound footing.

"None of us get particularly worked up over media. Whether it is media here in Australia or media in China, there are elements of it that frankly hyperventilate," Ciobo said Thursday. "What matters is the high-level discussions that actually take place."

China's Foreign Minister Wang Yi earlier this week blamed Australia for difficulties in the relationship, saying the nation should "discard its traditional thinking and take off its tinted glasses to take a proactive approach towards China's development." …

China's Global Times newspaper this week said Beijing should cut imports to teach "arrogant" Australia a lesson and leave it "hanging for a while."

Ciobo said that China had in the past accused Australia of being too "beholden" to the U.S. — its most important security partner. China is Australia's biggest trading partner. https://www.bloomberg.com/news/articles/2018-05-23/australia-downplays-china-spat-says-media-can-hyperventilate
China has made similar disparaging comments about Australia before. Contrary to the hopes of people like Australia's Trade Minister Steven Ciobo, this will not end well for Australia. We made a video with Chinese comments about Australia and biblical prophecies that you may wish to watch: Are Chinese threats against Australia for real?
What will Australia do?
Australia has always believed that it doesn't have to choose between its economic relationship with China and its defense alliance with the United States. But 2018 is already shaping up to be the year of the hard choice. …

There is a lot at stake, including potentially Australia's ongoing prosperity.

China is clearly not happy with Australia's adherence to the US alliance and if it follows through on veiled threats to boycott Australian exports and limit investment, Canberra's loyalty to Washington could come at the expense of significant economic pain.

China's hawkish Global Times newspaper, widely viewed as a mouthpiece for the ruling Communist Party, spared no niceties in an op-ed last week that warned Australia against "interference" in the South China Sea (SCS) territorial disputes.

Australia was "kissing up" to the US and risked "poisoning" its relations with China, which could "adopt strong countermeasures which will seriously impact Australian economic development." 01/08/18 http://www.atimes.com/article/australias-hard-choice-china-us/
Militarily, the Aussies realized decades ago that they would want to rely on the USA.
It is in agreement with the USA on various matters related to China (e.g. 'Five Eyes: Is the alliance in trouble over China?' as New Zealand does not endorse condemnation of China over Uyghur treatment and USA and Australia have concerns over China's 'Belt and Road Initiative,' but the new 'Silk Road' has prophetic ramifications).
Australia will likely find out that China will take it over (watch Are Chinese threats against Australia for real?). Notice steps it was looking to take last Summer:
July 1, 2020

There is one threat, in five letters, that sits, unspoken, at the centre of the strategy – China. Australia now realises it lacks the tools for holding hostile forces of a major adversary at bay.

That major adversary, which is about to deploy its third aircraft carrier, has developed its military capability much faster than a complacent Canberra imagined just four years ago.

And China under Xi Jinping has demonstrated a more aggressively ambitious intent, too. Xi has cast aside the pretence of mutual respect and is now striving openly for dominance.
Australia hopes to defend itself, but must realize that China is too powerful.
Since no later than 2009, I warned about China potentially taking over Australia.
Since then, many actions and statements by China are aligning with that.
Both the Bible and possibly an old Chinese prophecy point to a land like Australia being taken over.
Regarding prophecies related to Australia, the Continuing Church of God put out the following sermon on its ContinuingCOG channel:
Who are the ancestors of the British peoples who went to Australia and New Zealand? Are there biblical and even non-biblical prophecies that point to the nations of Australia and New Zealand? If so, what do they teach? Have any been fulfilled? What are some of the blessings and cursings the Bible tells of? Does prophecy help explain the wealth of Australia and New Zealand? Will future prophecies still be fulfilled? Does Isaiah 49:12 refer to Australia or New Zealand? What about the Five Eyes? Are there any Catholic or Chinese prophecies that point to Australia and New Zealand? What about the Cook Islands and Australia's external territories? How will the Great Tribulation affect Australia and New Zealand? Will military alliances fail? Are Australians and New Zealanders prophesied to be slaves? Is China a real threat? What about Japan?
The current world order dominated by the USA, and formerly by the British Empire is being changed. The Bible shows that the time of Jacob's trouble (Jeremiah 30:7) is getting nearer–and that will greatly affect the USA, the UK, Canada, Australia, and New Zealand which have descendants from Jacob, also known as Israel.
China is trying to rise up and spread its influence. It is not pleased with interference from the USA or Australia.
Australia will be taken over, and it is most likely that China will be involved.
Some items of possibly related interest may include:
China, Its Biblical Past and Future, Part 1: Genesis and Chinese Characters Where did the Chinese people come from? Japeth, Javan, Magog? Is there evidence that the Chinese peoples must have known about various accounts in the Book of Genesis up until their dispersion after the Tower of Babel? What do Chinese writings and characters help show? What about the Garden of Eden, Noah's Flood, and the Tower of Babel? Here is a link to a version of this article in Spanish: ¿Prueban los caracteres chinos la exactitud de la Biblia? A related sermon is also available: China's biblical past and prophetic actions.
China, Its Biblical Past and Future, Part 2: The Sabbath and Some of God's Witness in China When did Christianity first come to China? What about the Apostle Thomas? Did Confucius say anything to get the Chinese to possibly consider Christianity? Is there early evidence that they observed the seventh day sabbath? What about the Ten Commandments? What type of Church of God witness has there been to China? What has been happening with China that ties it together with prophecies in Revelation? What about the 200 million man army and Armageddon? What about the Belt and Road Initiative and end time Babylon the Great? A related sermon is also available: China's biblical past and prophetic actions. Watch also China's Silk Road and Babylon the Great.
Asia in Prophecy What is Ahead for Asia? Who are the "Kings of the East"? What will happen to nearly all the Chinese, Russians, Indians, and others of Asia? China in prophecy, where? Who has the 200,000,000 man army related to Armageddon? Here is a link to a related sermon: Asia in Prophecy. Two YouTube video are Is China THE Threat to the United States of America? and China: A King of the East.
Russia and Ukraine: Their Origins and Prophesied Future Russia in prophecy. Where do the Russians come from? What about those in the Ukraine? What is prophesied for Russia and its allies? What will they do to the Europeans that supported the Beast in the end? There is also a video sermon available: Russia in the Bible and in Prophecy and a video sermonette available: Ukraine in Prophecy?
Is Russia the King of the North? Some claim it is. But what does the Bible teach? Here is a link to a video, also titled Is Russia the King of the North?
Ezekiel 38: For Russia & Iran in Our Day? Is Ezekiel 38 about to be fulfilled? A related video is available titled Ezekiel 38: For Russia, Ukraine, & Iran Now? Another could be Russia, Iran, Syria, & the Bible (Code).
Islands and Bible Prophecy What's ahead for islands? What does the Bible prophesy about them?
The End of US Dollar Dominance Is the USA losing its economic status? What about the petro-gold-yuan? A related video is also available: US Dollar being challenged by Gold-Petro-Yuan.
Does God Have a 6,000 Year Plan? What Year Does the 6,000 Years End? Was a 6000 year time allowed for humans to rule followed by a literal thousand year reign of Christ on Earth taught by the early Christians? Does God have 7,000 year plan? What year may the six thousand years of human rule end? When will Jesus return? 2028 or 20xx? There is also a video titled 6000 Years: When will God's Kingdom Come? Here is a link to the article in Spanish: ¿Tiene Dios un plan de 6,000 años?
Might the U.S.A. Be Gone by 2028? Are there prophetic reasons to believe that the USA will not last two complete presidential terms? Yes. There is a tradition attributed to the Hebrew prophet Elijah that humanity had 6,000 years to live before being replaced by God's Kingdom. There are scriptures, writings in the Talmud, early Christian teachings that support this. Also, even certain Hindu writings support it. Here is a link to a related video: Is the USA prophesied to be destroyed by 2028? In Spanish: Seran los Estados Unidos Destruidos en el 2028?
The Great Tribulation: What Happens First? What events have happened? What are some events that are now happening? And what events need to happen for the Great Tribulation to start? Here is a link to a related sermon video: Counting Down to the Great Tribulation. Here is a video in the Spanish language: Contando los eventos y el inicio de la Gran Tribulación.
When Will the Great Tribulation Begin? 2021, 2022, or 2023? Can the Great Tribulation begin today? What happens before the Great Tribulation in the "beginning of sorrows"? What happens in the Great Tribulation and the Day of the Lord? Is this the time of the Gentiles? When is the earliest that the Great Tribulation can begin? What is the Day of the Lord? Who are the 144,000? Here is a version of the article in the Spanish language: ¿Puede la Gran Tribulación comenzar en el 2020 o 2021? ¿Es el Tiempo de los Gentiles? A related video is: 2021: The Great Tribulation or the Great Reset? Here is a video in the Spanish language: Es El 2021 el año  de La Gran Tribulación o el Grande Reseteo Financiero.
The Times of the Gentiles Has there been more than one time of the Gentiles? Are we in it now or in the time of Anglo-America? What will the final time of the Gentiles be like? A related sermon is available and is titled: The Times of the Gentiles.
Armageddon Who is involved and when will this gathering happen? Here is also a video from Dr. Thiel, from Tel Megiddo in Israel: Armageddon. Other videos include: Armageddon Will it come on Trump's watch?, Iraq, Armageddon, & Prophecy, Freemasonry, Armageddon, and Rome, Is China paving roads to Armageddon?, and Jordan, Petra, and Armageddon.
The Eurasian Union, the Kings of the East, and Bible Prophecy Is there a Eurasian union that will be formed? Is one being formed right now? Are any leaders working on that in the 21st century? Does the Bible teach that there will be a Eurasian union? If some type of Eurasian union is formed, who might it benefit and who will it destroy? A related video would be Is The Eurasian Union Rising?
Korea in Prophecy, Any Witness? Where did the Korean people come from? Does God have a plan for the Koreans? Is Korea mentioned in any prophecies? Will Koreans be among the first in the Kingdom of God? Here is a machine-translated link to that article in Korean: 한국의 언어로 : 한국 예언, 모든 증인에?; here is a link to that article in Mandarin Chinese: 在预言中的韩国:有任何证人吗?
Japan, Its Biblical Past and Future, Part 1: Any Witness? Where did the Japanese people come from? Have they had any witness?
Japan, Its Biblical Past and Future, Part 2: Prophecy Japan in prophecy. What is prophesied for Japan? Will God save the Japanese?
Islands and Bible Prophecy What's ahead for islands? What does the Bible prophesy about them?
Anglo – America in Prophecy & the Lost Tribes of Israel Are the Americans, Canadians, English, Scottish, Welsh, Australians, Anglo-Saxon (non-Dutch) Southern Africans, and New Zealanders descendants of Joseph? Where are the lost ten-tribes of Israel? Who are the lost tribes of Israel? What will happen to Jerusalem and the Jews in Israel? Will God punish the U.S.A., Canada, United Kingdom, and other Anglo-Saxon nations? Why might God allow them to be punished first? Here is a link to the Spanish version of this article: Anglo-América & las Tribus Perdidas de Israel. Information is also in the YouTube sermons titled Where are the Ten Lost Tribes? Why does it matter? and British are the Covenant People. A short YouTube of prophetic interest may be: Are Chinese threats against Australia for real?
Will the Anglo-Saxon-Celtic Nations be Divided and Have People Taken as Slaves? Will the lands of the United States, United Kingdom, Canada, Australia, and New Zealand be divided? What about Jerusalem? What does Bible prophecy teach? Are there non-biblical prophecies that support this idea? Who will divide those lands? Who will end up with the lands and the people? Here is a link to a video titled Will the USA and other Anglo-nations be Divided and Their People Made Slaves? Here is a related item in the Spanish language ¿Serán divididas las naciones anglosajonas?
British are the Covenant People What do 'British' and 'Britain' mean in Hebrew? Are the descendants of the Anglo-Saxons people of the covenant? Does the British royal family connect to the throne of David? What does the Bible teach? What does history show us? Is there any DNA evidence related to British-Israelism? When did Christianity make it to the British Isles? Could Jeremiah have made it to the British Isles? What type of Christians made it to the British Isles? Did the last King of England believe in British Israelism?
Canada in Prophecy: What Does Bible Prophecy, Catholic Prophecy, and other Predictions Suggest About the Future of Canada? There are prophecies that suggest involvement with Canada. And many are not positive about its future. A sermon of related interest is also available: Canada in Prophecy.
Australia and New Zealand in Prophecy Do biblical prophecies help explain the wealth blessings for Australia and New Zealand? Might cursings from disobedience come in the 21st century? Here is a link to a related sermon: Australia and New Zealand: Origins and Prophecy.
Europa, the Beast, and Revelation Where did Europe get its name? What might Europe have to do with the Book of Revelation? What about "the Beast"? Is an emerging European power "the daughter of Babylon"? What is ahead for Europe? Here is a link to a video titled: Can You Prove that the Beast to Come is European?
European Technology and the Beast of Revelation Will the coming European Beast power would use and develop technology that will result in the taking over of the USA and its Anglo-Saxon allies? Is this possible? What does the Bible teach? Here is a related YouTube video: Military Technology and the Beast of Revelation.
The Large Hadron Collider has Military Potential Some say this European project is only peaceful. So why is it working on capturing antimatter? Here is a link to a related video: Could the Large Hadron Collider lead to destruction?
USA in Prophecy: The Strongest Fortresses Can you point to scriptures, like Daniel 11:39, that point to the USA in the 21st century? This article does. Two related sermon are available: Identifying the USA and its Destruction in Prophecy and Do these 7 prophesies point to the end of the USA?
Who is the King of the West? Why is there no Final End-Time King of the West in Bible Prophecy? Is the United States the King of the West? Here is a version in the Spanish language: ¿Quién es el Rey del Occidente? ¿Por qué no hay un Rey del Occidente en la profecía del tiempo del fin? A related sermon is also available: The Bible, the USA, and the King of the West.
Who is the King of the North? Is there one? Do biblical and Roman Catholic prophecies for the Great Monarch point to the same leader? Should he be followed? Who will be the King of the North discussed in Daniel 11? Is a nuclear attack prophesied to happen to the English-speaking peoples of the United States, Great Britain, Canada, Australia, and New Zealand? When do the 1335 days, 1290 days, and 1260 days (the time, times, and half a time) of Daniel 12 begin? When does the Bible show that economic collapse will affect the United States? In the Spanish language check out ¿Quién es el Rey del Norte? Here are links to two related videos: The King of the North is Alive: What to Look Out For and The Future King of the North.