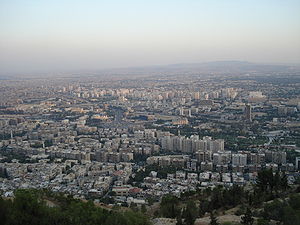 Damascus, Capital of Syria
Syria's capital Damascus is increasingly being affected by the unrest there and some were killed in bomb blasts there:
November 6, 2012

(Reuters) – Deadly explosions struck a Damascus district housing members of Syrian President Bashar al-Assad's Alawite sect and gunmen killed the brother of the speaker of parliament, as violence escalated in the capital…

Syrian state media said at least 10 people were killed and 30 wounded by a deadly explosion in the Hai al-Wuroud district in the northwest of the capital.

The hilltop neighborhood is situated near a barracks and housing for elite army units, and is home to members of Assad's Alawite sect, an offshoot of Shi'ite Islam. Syria's rebellion in is drawn mainly from the Sunni Muslim majority.  http://www.reuters.com/article/2012/11/06/us-syria-crisis-idUSBRE88J0X720121106
This shows that Damascus is at risk by the opposition in Syria, as well as the fact that it is mainly Sunni Muslims who are rebelling against the minority Shi-ites (the Iranians are mostly Shi'ite, while most Muslims, including the Muslim Brotherhood, is Sunni).
Both biblical and Islamic prophecy tell of the destruction of  Damascus. Here is some of what Bible prophecies teaches:
7 thus says the Lord God: "It shall not stand, Nor shall it come to pass. 8 For the head of Syria is Damascus (Isaiah 7:7-8)

3 Thus says the Lord: "For three transgressions of Damascus, and for four, I will not turn away its punishment, Because they have threshed Gilead with implements of iron. (Amos 1:3)

1 The burden against Damascus. "Behold, Damascus will cease from being a city, And it will be a ruinous heap. (Isaiah 17:1)

23 Against Damascus. "Hamath and Arpad are shamed, For they have heard bad news. They are fainthearted; There is trouble on the sea; It cannot be quiet. 24 Damascus has grown feeble; She turns to flee, And fear has seized her. Anguish and sorrows have taken her like a woman in labor. 25 Why is the city of praise not deserted, the city of My joy? 26 Therefore her young men shall fall in her streets, And all the men of war shall be cut off in that day," says the Lord of hosts. 27 "I will kindle a fire in the wall of Damascus, And it shall consume the palaces of Ben-Hadad." (Jeremiah 49:23-27)
While this destruction could come as the result of the current civil war (and that is likely to be a factor), the reality is that the Syrian rebel forces at this instant may not have the military ability to do so. The Bible also suggests that Syria will be involved in a confederation of North African and Middle Eastern nations (Ezekiel 30:1-8; Psalm 83:4-8) who will support a leader that the Bible refers to as the final King of the South (Daniel 11:40-43).  Since the Muslim Brotherhood wants a similar confederation, I have long believed that Syria will align with it or a group like it–and since Syria's President is opposed to that, he will have to go or change his views.
But since he does not wish to do either, Syria's President Assad may decide to engage in an attack with Israel, which is more likely to result in the destruction of Damascus, as well as a change in the Islamic world to unite closer together behind a group like the Muslim Brotherhood.
The Muslim Brotherhood wants an Islamic confederation called a caliphate to rise up as its official website teaches the following:
What is the Muslim Brotherhood?
The world's largest and most influential Islamist movement. Founded in Egypt in 1928, the group was originally focused on ridding the country of corrupting secular influences brought by British colonial rule. Over the years, it established branches and affiliates in many countries to promote traditional Sunni Islamic morals, social justice, and the eradication of poverty and corruption. "The Islamic nation," its charter states, "must be fully prepared to fight the tyrants and the enemies of Allah as a prelude to establishing an Islamic state"—ideally a re-established caliphate, stretching from Spain across the Middle East and Central Asia to Indonesia, to be governed according to Islamic sharia law. (Understanding the Muslim Brotherhood. February 14, 2011. © The Muslim Brotherhood. http://www.ikhwanweb.com/article.php?id=28019 viewed 11/21/2011)
The Muslim Brotherhood apparently wants as its top priority a pan-national Islamic caliphate ruled by an Imam. Many Muslims long for the rising up of a leader called the 12th Imam, often referred to as the Imam Mahdi. This power will not end up with Spain if I understand certain aspects of Bible prophecy correctly, but the confederation of the final King of the South may go from around Western Sahara and/or Mauritania to Oman (with possible involvement and/or coordination with Afghanistan, Iran, Pakistan and/or Indonesia).
The Muslim Brotherhood is active in many Islamic-dominated lands, including Syria. And in Syria, it is basically in opposition to the Assad regime there. But of itself, the Muslim Brotherhood in Syria is currently not strong enough to take over Syria (though it is getting some support from outside of Syria).
More trouble is coming to Damascus as it will be destroyed (Isaiah 17:1). An Islamic confederation that will include the land of Syria is coming (Daniel 11:40-43; Ezekiel 30:1-8; Psalm 83:4-8) is coming. A worsening situation in Syria would seem to be a factor in speeding up this occurrence.
"And what I say to you, I say to all: Watch!" (Mark 13:37).
Some articles of possibly related interest may include:
Is There A Future King of the South? Some no longer believe there needs to be. Might Egypt, Islam, Iran, Arabs, or Ethiopia be involved? Might this King be called the Mahdi? What does the Bible say?
The Arab and Islamic World In the Bible, History, and Prophecy The Bible discusses the origins of the Arab world and discusses the Middle East in prophecy. What is ahead for the Middle East and those who follow Islam? What about the Imam Mahdi? What lies ahead for Turkey, Iran, and the other non-Arabic Muslims?