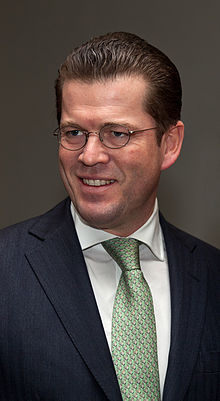 Karl-Theodor zu Guttenberg
Today's German press, in English, reported the following:
Cake in the face for 'Baron Cut-and-Paste'

Published: 3 Feb 12

Critics of disgraced former German Defence Minister Karl-Theodor zu Guttenberg hit him in the face with a big cake on Thursday night, while he was meeting a Pirate Party politician in a Berlin café.

…But on his Facebook site Guttenberg responded with good humour. "Hooray, a pie attack!" he wrote. "I thought I would starve in Friedrichshain."

The Local/DPA/mdm http://www.thelocal.de/politics/20120203-40519.html
His response was amusing and consistent with that of a polished politician.
Notice that even the problems Karl zu Guttenberg is having seem consistent with Daniel 11:21. Here are two translations of that:
21 And there shall stand up in his place one despised, and the kingly honour shall not be given him: and he shall come privately, and shall obtain the kingdom by fraud. (Daniel 11:21, Douay-Rheims)

21 "'His place will be taken by a reject, a man spurned and passed over for advancement. He'll surprise everyone, seemingly coming out of nowhere, and will seize the kingdom. (Daniel 11:21 from THE MESSAGE: The Bible in Contemporary Language © 2002 by Eugene H. Peterson. All rights reserved.)
Resigning in disgrace because of the plagiarism scandal, combined with other criticisms (and a cake in the face), is consistent with one who may be considered as "despised" or a "reject."
As regular readers know, I have long had my eye on former German Defense Minister Baron Karl-Theodor zu Guttenberg as one to watch as a possible candidate to be the final King of the North of Daniel 11 and Beast of Revelation.
Baron Guttenberg was in Germany discussing internet matters with a politician known for his an anti-survelliance views (Stephan Urbach), when the cake hit his face .  He has long been involved in technology as one would suspect that the final Beast (Revelation 13:1-10,15-17) and King of the North (Daniel 1121-45) might be.
On the other hand, Karl-Theodor zu Guttenberg could simply be a somewhat politician with many ups and downs.  And all his intentions could be fine.   But Karl-Theodor zu Guttenberg does seem, to me at least, make statements as well as to be taking the types of steps that one who could possibly be the final King of the North would actually take.
We will see.
Some articles of possibly related interest may include:
Europa, the Beast, and Revelation Where did Europe get its name? What might Europe have to do with the Book of Revelation? What about "the Beast"?
Who is the King of the North? Is there one? Do biblical and Roman Catholic prophecies point to the same leader? Should he be followed? Who will be the King of the North discussed in Daniel 11? Is a nuclear attack prophesied to happen to the English-speaking peoples of the United States, Great Britain, Canada, Australia, and New Zealand? When do the 1335 days, 1290 days, and 1260 days (the time, times, and half a time) of Daniel 12 begin? What MUST happen BEFORE the Great Tribulation?
Might German Baron Karl-Theodor zu Guttenberg become the King of the North? Is the German Defense Minister one to watch? What do Catholic, Byzantine, and biblical prophecies suggest?
Anglo – America in Prophecy & the Lost Tribes of Israel Are the Americans, Canadians, British, Scottish, Welsh, Australians, Anglo (non-Dutch) Southern Africans, and New Zealanders descendants of Joseph? Where are the lost ten-tribes of Israel? Who are the lost tribes of Israel? What will happen to Jerusalem and the Jews in Israel? Will God punish the U.S.A., Canada, United Kingdom, and other Anglo nations? Why might God allow them to be punished first? How will Europeans be involved in this?