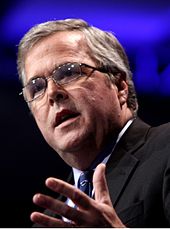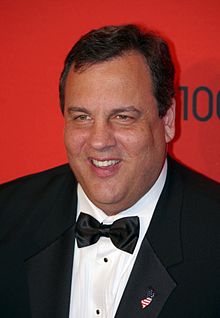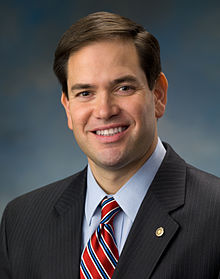 Jeb Bush, Chris Christie, and Marco Rubio

The New York Times had some comments about three prospective Republican party candidates for the US presidency:
December 14, 2014

As Jeb Bush seemingly leans toward a presidential run, many observers are casting him as a centrist. And there are indeed elements of his current message that suggest that if he won "the nomination as well as the presidency, it could reshape Republican politics for a generation," as Jonathan Martin wrote in The Times late last week. But Martin noted other elements of Bush's message and record as well, the ones that explain why a separate camp of observers look at him and see someone else. For instance, in Politico Magazine, the journalist S. V. Dáte observed that for him and others "who covered Jeb's two terms in Tallahassee," characterizations of Bush as a moderate are "mind-boggling."

Just what kind of Republican is Jeb Bush? That question is being asked with increasing frequency. And the absence of a clear answer, coupled with the insistence on one, is instructive. …

The Republican field is almost always broken down into candidates of the right and those of the center: a schematic to which we journalists cling. It's hugely flawed this time around. Rand Paul evades it so completely that he gets his own adjective — libertarian — even though some of his positions on social issues contradict it.

Chris Christie gets the moderate box, because he was twice elected governor of a blue state; signed legislation granting in-state tuition to undocumented immigrants in New Jersey; pushed criminal-justice reforms that stress rehabilitation; outlawed therapy that aims to turn gay teenagers straight; and accepted the Medicaid expansion under Obamacare. And right after Hurricane Sandy, he and President Obama had their soggy, windswept bromance.

But Christie also opposes same-sex marriage and abortion rights. He has vetoed some sensible gun-control legislation. And he sidesteps questions about immigration reform. He's not exactly a paragon of moderation.

Marco Rubio, another possible presidential contender, isn't easily labeled either. Back in 2010, when he won election to the Senate, he was presented as a mascot of the right, a Tea Party darling. But he has endorsed a path to citizenship for undocumented immigrants. And his proposals for making college more affordable and student loans less onerous aren't just bold. They're progressive.  http://www.nytimes.com/2014/12/14/opinion/sunday/frank-bruni-jeb-bush-chris-christie-and-the-2016-presidential-campaign.html?_r=0
Since I have covered a bit about Rand Paul (e.g. Rand Paul beats Hillary Clinton in Colorado Presidential Poll) and Ted Cruz (e.g. Ted Cruz emerges as a top potential candidate), two other Republicans who are believed to be considering running, I thought mentioning the others today would help round the coverage out a bit.
As far as Jeb Bush being a potential candidate, notice the following:
Jeb Bush says he is planning to release 250,000 e-mails from his years as governor of Florida as well as a new e-book — perhaps the firmest indication to date he is moving toward a presidential run.

In the interview, which is scheduled to air Sunday on WPLG-TV, ABC's Miami affiliate Bush said he plans to "make up my mind in short order" about jumping into the 2016 race. http://abcnews.go.com/Politics/jeb-bush-releasing-giant-batch-mails-years-florida/story?id=27582206
And on the Democratic party side, I have covered Hillary Clinton and made some mention of Elizabeth Warren .
Here is something I posted before:
Who worries Hillary? Four Republicans worry Hillary Clinton's allies as the former secretary of state mulls a White House campaign, according to the Hill: Jeb Bush, Chris Christie, Rand Paul and Scott Walker. As the Hill puts it, Clinton World believes Paul, the Kentucky senator, has run the best "pre-campaign" of the group. But time and again, Bush's is the top name to roll off everyone's tongue, given the former Florida governor's enormous resources and solid networking structure. http://www.marketwatch.com/story/republicans-shout-down-ted-cruz-over-spending-bill-2014-12-04
The mainstream media has tended to dislike Ted Cruz more than many other Republicans, but apparently he is not one that Hillary Clinton's supporters are that worried about.
Republicans will not be able to fix the problems that the USA has.
Neither will the Democrats.
Hillary Clinton has stated that she plans to announce her presidential intentions around the start of 2015. If she announces she will run, this will reinvigorate some in her party to support her as well as motivate many Republicans to support someone they feel could possibly beat her in an election. Of course, Hillary Clinton lost the primary election to Barack Obama back in 2008, hence while she is considered as 'the favorite' at this time according to something else I saw yesterday, she is not unbeatable.
The USA is going the wrong moral direction. From legalization of abortion and homosexual 'marriage' to increased acceptance of mind-altering drugs like marijuana as well as celebrity pornography while continuing to increase its debt, the USA is making major mistakes.
No candidate that has been proposed that I am aware of has laid out any serious plan to reverse abortion policies or the homosexual agenda, despite some comments about their personal views of these issues.  The mainstream media would object loudly if they thought any really could outlaw abortions or reverse homosexual marriages–and the media would be relentless.
The USA needs national repentance, otherwise it is doomed. It is almost impossible to believe that the next USA president would call for meaningful repentance before the USA is hit with more massive problems. The USA needs the return of Jesus Christ and the Kingdom of God.
Several items of possibly related interest may include:
Anglo – America in Prophecy & the Lost Tribes of Israel Are the Americans, Canadians, English, Scottish, Welsh, Australians, Anglo-Saxon (non-Dutch) Southern Africans, and New Zealanders descendants of Joseph? Where are the lost ten-tribes of Israel? Who are the lost tribes of Israel? What will happen to Jerusalem and the Jews in Israel? Will God punish the U.S.A., Canada, United Kingdom, and other Anglo-Saxon nations? Why might God allow them to be punished first? Here is a link to the Spanish version of this article: Anglo-América & las Tribus Perdidas de Israel. Information is also in the YouTube sermons titled Where are the Ten Lost Tribes? Why does it matter? and British are the Covenant People. A short YouTube of prophetic interest may be Barack Obama and the State of the Apocalypse.
Can you see the 'Handwriting on the Wall'? Thousands of years ago, King Belshazzar saw a hand appear at a big party he was hosting. The hand wrote Mene, Mene, Tekel, Upharsin. Shortly after the Prophet Daniel explained it, his empire was taken over and King Belshazzar died. Is this applicable today? Are there signs right before our eyes that show that the end is coming to the United States and its Anglo-descended allies. Do abortions, sexual immorality, celebrity pornography, and increased debt mean anything? What does the Bible show?
Hillary Clinton in Prophecy Are there prophecies that Hillary Clinton may fulfill? Are there any prophecies that she has already helped fulfill? Could Hillary Clinton be apocalyptic? Could Hillary Clinton be the final Antichrist?
Should a Christian Vote? This article gives some of the Biblical rationale on this subject. Would Jesus vote for president/prime minister? Is voting in the Bible? This is a subject Christians need to understand.
When Will the Great Tribulation Begin? 2015, 2016, or 2017? Can the Great Tribulation begin today? What happens before the Great Tribulation in the "beginning of sorrows"? What happens in the Great Tribulation and the Day of the Lord? Is this the time of the Gentiles? When is the earliest that the Great Tribulation can begin? What is the Day of the Lord? Who are the 144,000? Here is a version of the article in the Spanish language: ¿Puede comenzar la Gran Tribulación en 2014 o 2015? ¿Es el Tiempo de los Gentiles? You can also see the English language sermon video: The Great Tribulation from the Mount of Olives.
Abortion, the Bible, and a Woman's Right to Choose Do you know what the Bible teaches on this? Has the Roman Catholic Church allowed abortions? What about the real Church of God? Some may also, or instead, wish to view the YouTube video Abortion, the Bible, and US Debt.
Pornography: A scourge on society Is pornography harmless fun? Does the Bible teach anything about it? What are the views of some involved with it? Here is a link to a YouTube video Pornography: Harmless Fun or a Scourge on Society?
British and American Moral Decay Public nudity is becoming more prevalent in the Anglo-Saxon lands. What are some of the consequences?
Cross-dressing and other assaults against your children. What should you do? Is there an agenda to turn your children and/or grandchildren away from biblical morality and towards practices promoted by homosexuals? What does the Bible teach about cross-dressing? What should parents do? If there is an agenda, what has been going on? There is also a YouTube video on this, titled Cross dressing and Other Assaults Against Your Children.
The Bible Condemns Homosexuality "Same-sex marriage" for "gays" and lesbians is becoming more acceptable to many. What does the Bible teach about homosexuality? Can homosexuals change?
Just What Do You Mean — Repentance? Do you know what repentance is? Have you truly repented? Repented of what? Herbert W. Armstrong wrote this as a booklet on this important subject.
The Gospel of the Kingdom of God was the Emphasis of Jesus and the Early Church Did you know that? Do you even know what the gospel of the kingdom is all about? You can also see a YouTube video sermon The Gospel of the Kingdom.
Just What Do You Mean the Kingdom of God? A booklet that was written by Herbert Armstrong answers questions about the Kingdom.
Barack Obama, Prophecy, and the Destruction of the United States-Second Edition for Second Obama Term This is a 160 page book for people truly interested in prophecies related to Barack Obama and the United States, including learning about many that have already been fulfilled (which the book documents in detail) and those that will be fulfilled in the future. It also has a chapter about a Republican choice. This book is available to order at www.barackobamaprophecy.com. The physical book can also be purchased at Amazon from the following link: Barack Obama, Prophecy, and the Destruction of the United States: Is Barack Obama Fulfilling Biblical, Islamic Catholic, Kenyan, and other America-Related Prophecies? What About Republican Leaders? Second Edition for Second Obama Term.
Barack Obama, Prophecy, and the Destruction of the United States-Second Term-Amazon Kindle edition. This electronic version is available for only US$2.99. And you do not need an actual Kindle device to read it. Why? Amazon will allow you to download it to almost any device: Please click HERE to download one of Amazon s Free Reader Apps. After you go to for your free Kindle reader and then go to Barack Obama, Prophecy, and the Destruction of the United States-Second Term-Amazon Kindle edition.
Prophecy Obama: Prophecies of Barack Obama? Reasons why Barack Obama is apocalyptic and reasons why Barack Obama is not the Antichrist. This article includes many biblical and non-biblical prophecies, from around the world, that seem to discuss Barack Obama. Did Nostradamus predict Barack Obama dealing with the Antichrist?  Might Barack Obama set the stage for the kings of the North and South as at least one Shiite prophecy suggests?  Read it and decide for yourself if President Obama seems to be fulfilling various prophecies. Watch also the YouTube Barack Obama and the State of the Apocalypse.